Mexico City is one of the most popular places to visit in North America for its heritage and culture.
It's a big reason why there are so many hotels to choose from.
Whether you're traveling as a couple, with family, or with a group of friends, there'll be suitable rooms.
But after all the sightseeing, we know a private hot tub will hit the spot!
We'll show you a range of highly-rated places from 5-star properties to spa hotels.
Even better, some rooms have hot tubs on your private balcony.
To make sure you have the most incredible trip, we've selected the best hotels in Mexico City with hot tubs in the rooms.
1. Marquis SkySuites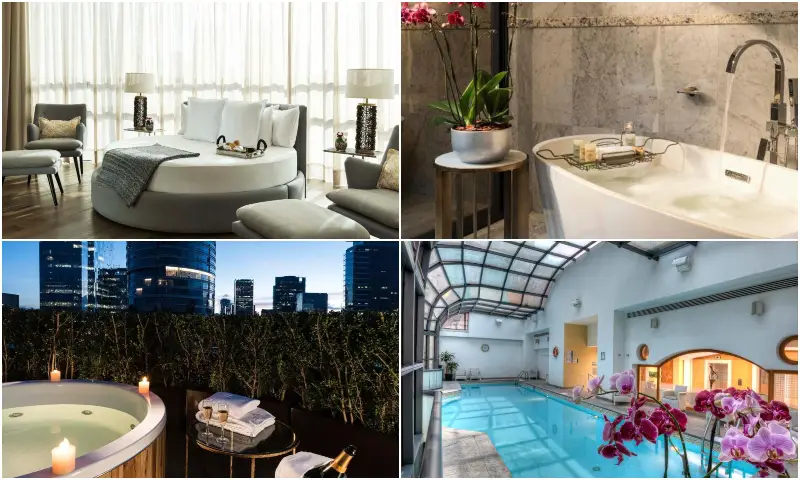 The Sky Suites at the Marquis Hotel offer a level of luxury and exclusivity that is pretty much unrivaled.
The top-floor Marquis Loft is one of the biggest king suites in town.
For guaranteed relaxation, you'll have robes and slippers to dry off after soaking in the balcony hot tub.
You'll have incredible views, but when the curtains close, no light gets through – perfect for a good nights' sleep.
Then, there's the marble bathroom complete with spa bath and L'Occitane bath amenities.
Onsite there's a restaurant and bar, fitness center, and swimming pool.
It's also home to one of the best spas in Mexico City.
Here, you can get massages, jump in the hydrotherapy tub, or relax under the Swiss shower in the huge 16,000 square foot space.
Guest Rating: 10.0

Star Rating: 5 stars

Best Rooms: Marquis Loft (King suite with spa bath)

Address: Paseo de la Reforma 465 Penthouse, 06500 Mexico City, Mexico
---
2. Hotel Novit 
This 4-star address is located in the business district of Mexico City.
It puts you within walking distance of some excellent restaurants, entertainment venues, and shops.
If you'd prefer to stay onsite, you'll find Aktuel restaurant which serves international cuisine with a Mediterranean touch.
Not to be missed is the outdoor lounge bar which is famous for its cocktails, especially martinis.
Other notable facilities include an indoor pool and hot tub from which you can enjoy views of the city.
Bedrooms are air-conditioned and decorated smartly.
They feature TVs, seating areas, luxury bathrooms, and gourmet coffee-making kits.
We recommend choosing a Suite that features a fully-equipped kitchenette and a hot tub in the bathroom.
Guest Rating: 9.1

Star Rating: 4 stars

Best Rooms: Suite

Address: Avenida Insurgentes Sur. 635 colonia Napoles, 03810 Mexico City, Mexico
---
3. Kali Escandón Mexico City 
There's a total of 77 rooms at the Kali Escandon that cater to all types of visitors.
Inside, they all have TVs, seating areas, and comfy beds – but the Presidential Suite is the best.
It has a huge balcony complete with a lounge area and hot tub.
If that's not available, the Junior suites also have hot tubs in room.
Days can be started with a buffet breakfast which is included in your room rate.
In the hotel lobby, you'll find courtesy coffee, water, and snacks which are available 24-hours a day.
There's also an onsite restaurant that specializes in Mexican and international cuisine.
If you want to get out and explore the local area, there's a bicycle loan service.
Guest Rating: 9.0

Star Rating: 4 stars

Best Rooms: Presidential suite

Address: Avenida Jose Marti 178, 11800 Mexico City, Mexico
---
4. MC Suites Mexico City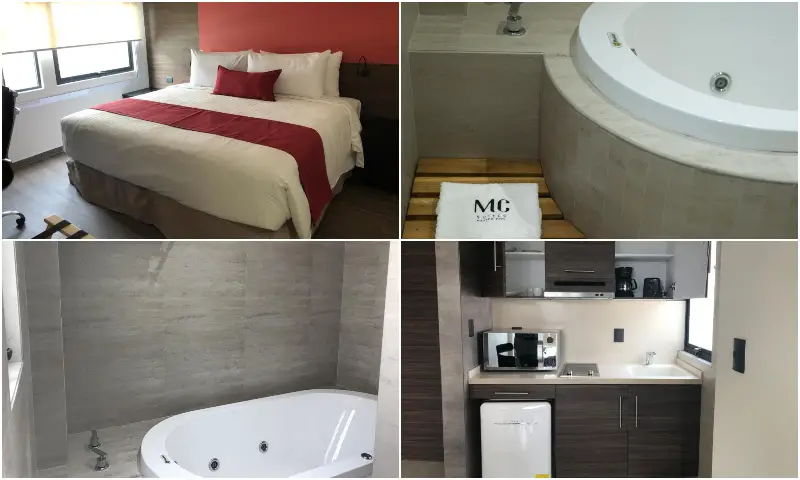 The MC Suites is a comfortable and affordable option close to the action of Mexico City.
Rooms come with everything you need including private bathrooms with excellent showers and complimentary toiletries.
But if you want your own spa bath, check out the suites.
There's also a small kitchen fitted with microwaves and coffee machines.
When it comes to kicking back and relaxing, enjoy the smart TVs with satellite channels and apps such as Netflix and Disney+. 
Other facilities onsite include a fitness center with a Jacuzzi too.
To stay connected, WiFi is available free of charge in all guest areas and rooms.
Guest Rating: 9.0

Star Rating: 5 stars

Best Rooms: Superior suite

Address: 106 Calle General Prim, 06600 Mexico City, Mexico
---
5. Hotel Punto MX 
This art-deco address is located in the historic center of the city.
It's only a short walk to popular attractions like Estanquillo Museum and The Palace of Iturbide.
Inside the hotel, all 60 guest rooms are fitted with everything you'd expect including comfy beds and private bathrooms.
There's even a pillow menu to ensure you'll have the best sleep.
The Queen Suite with Spa Bath is the one you want though.
This sumptuous bedroom is soundproofed and has a terrace spa bath, ideal for couples.
In the morning, enjoy a delicious continental or buffet breakfast.
And at Cafe MX, you'll get the best coffee in town.
Guest Rating: 8.9

Star Rating: 4 stars

Best Rooms: Queen suite with spa bath

Address: 47 Republica de Uruguay, 06000 Mexico City, Mexico
---
6. Econo Express Hotel
For a 3-star dwelling, the Econo Express offers guests everything required for a relaxing stay.
Rooms have comfortable beds, private bathrooms, and working desks.
For the most romantic room, choose the Deluxe Suite with spa bath.
You'll find a huge circular hot tub next to a walled mirror, ideal for couples.
Other facilities onsite include a fitness center and a shared lounge.
Before you head out for the day, there's a buffet breakfast available.
Metro Nativitas and Walmart are practically a few steps away, so it's a very convenient location.
Guest Rating: 8.9

Star Rating: 3 stars

Best Rooms: Deluxe suite with spa bath

Address: Calzada de Tlalpan No. 1035, 03610 Mexico City, Mexico
---
7. Hilton Mexico City Reforma 
A mixture of business and leisure travelers choose the Hilton brand for good reason.
This particular venue is often selected by guests due to its excellent location.
It's across the road from Alameda Central and within walking distance of the Palace of Fine Arts.
Spacious rooms are classically designed in soft color palettes.
For a private hot tub, check out the marble bathroom in their King master suite. 
Onsite, there are two restaurants – one serving traditional Mexican, and the other is a steakhouse.
Spa Alameda is worth a mention.
You can expect relaxing therapies and beauty treatments, as well as a steam room, whirlpool, and relaxation room.
There's also a lovely rooftop lap pool if you want to cool off.
Guest Rating: 8.8

Star Rating: 5 stars

Best Rooms: King master suite

Address: Avenida Juarez, 70, 06010 Mexico City, Mexico
---
8. Camino Real Polanco Mexico 
Camino Real Polanco Mexico is very close to the open park Bosque de Chapultepec.
So if you want to visit some of the best attractions in Mexico City, this is one of the best locations.
On arrival, you'll see the quirky and eye-catching architectural design by renowned Ricardo Legorreta.
Inside the hotel, there are a variety of shops, restaurants, and bars for guests to enjoy.
There are options like Japanese cuisine, steaks, Spanish dishes, and two relaxed coffee shops.
Leisure facilities include a large swimming pool, spa, and fitness center.
Certain rooms, like the Master Suites, have private hot tubs.  
Guest Rating: 8.7

Star Rating: 5 stars

Best Rooms: Master suite

Address: Mariano Escobedo No. 700, 11590 Mexico City, Mexico
---
9. Hotel Astor 
This recently refurbished hotel is located a block away from the open park Jardín del Arte.
Rooms are decorated in neutral, elegant tones with a stylish minimalist vibe.
Go for the King Room with Spa Bath which has a luxurious marble hot tub.
There's plenty of space for two, so prepare for a long night in with a bottle of wine and snacks.
Other services onsite include free parking, complimentary WiFi, taxi service, and room service.
Open for breakfast, lunch, and dinner, there's a wide variety of both national and international dishes available at the Astor Restaurant.
If you prefer to step out, you'll find a heap of restaurants and bars within a 5-minute walk.
Guest Rating: 8.6

Star Rating: 4 stars

Best Rooms: King room with spa bath

Address: Antonio Caso 83, 06740 Mexico City, Mexico
---
10. Exe Cities Reforma 
Held in a renovated 20th-century house, the Exe Cities Reforma is located next to the Paseo De La Reforma.
It's a stylish address with decor inspired by the cities of New York, Rome, and Tokyo.
For full comfort, rooms are complete with sound-proofed windows.
All have private bathrooms, and some include spa baths.
There's a range of facilities including a small gym, sauna, Jacuzzi, and onsite restaurant.
Perhaps one of the highlights is the location of this hotel.
It's within walking distance of plenty of tourist attractions including popular monuments, museums, and shops.
Guest Rating: 8.5

Star Rating: 4 stars

Best Rooms: Superior double room with jacuzzi

Address: Roma 40, 06600 Mexico City, Mexico
---
11. We Hotel Aeropuerto 
This property is conveniently located near Mexico City International Airport.
So if you have a late arrival or quick stopover, this is a good place to relax.
There's free airport transfer from terminals 1 and 2 every 15 minutes.
At the hotel, you'll find well-appointed rooms with everything guests could possibly need.
But the Master suite is where you find the jetted hot tub, enough space for two.
For dining, there's a convenient onsite restaurant, Mexico Mi Amor.
There's also a gym and sauna if you want to shake off the jetlag.
Guest Rating: 8.4

Star Rating: 4 stars

Best Rooms: Master suite

Address: Boulevard Puerto Aereo 390 Colonia Moctezuma 2da Seccion, Venustiano Carranza, 15530 Mexico
---
12. Cadillac Hotel Boutique 
If you prefer smaller, boutique-style lodgings then this one is for you.
All rooms at this colorful 5-star hotel are cozy and well decorated.
Choose the Suite with Hot Tub to have access to a private hot tub on your patio.
Also onsite, there's both a café and restaurant that serve delicious food in bright, relaxed settings.
Don't miss the in-house breakfast.
A drink or two is best enjoyed at Bar Las Hamacas which serves snacks and refreshing cocktails.
For day activities, their staff can arrange tours that showcase Mexican history, culture, and food.
Guest Rating: 8.3

Star Rating: 5 stars

Best Rooms: Suite with hot tub

Address: Jose Maria Izazaga 35, 06000 Mexico City, Mexico
---
13. Hotel Escala Siglo XXI
Previous guests of the Hotel Escala Siglo XXI are generally surprised by the spacious rooms.
Whilst rooms are fairly basic, they are decorated nicely and are extremely sizable.
The Twin Room, particularly, is a real gem.
You'll be treated to a huge circular hot tub, big enough for 4 people.
Facilities include an onsite restaurant and bar as well as complimentary private parking.
When you're ready to explore Mexico City, the closest subway is Chabacano station.
Guest Rating: 8.3

Star Rating: 4 stars

Best Rooms: Twin room

Address: Antonio Solis, 101, 06800 Mexico City, Mexico
---
Mexico City Hotels Map
Find More Mexico City Hotels with Hot Tubs
---
FAQs
Summary