Menorca is a popular Spanish island known for its long sandy beaches and beautiful sunny weather.
If you want to enjoy a romantic getaway or party with friends, you'll want to book an adults-only hotel.
We'll show you luxury 5-star resorts, beachfront properties, and hotels with all-inclusive options.
There are also hotels with swim-up rooms so you can relax in private.
To get the most out of your next trip, we've found the best Menorca hotels for adults only.
1. Hotel Petit Sagitario
Hotel Petit Sagitario is an intimate adults-only resort close to Cala Santandria Beach.
For couples, we recommend the Suite with a balcony.
More than just a room, this private, cozy suite features a double bed, living room, and a walk-in shower.
A furnished terrace is ideal for relaxing afternoons or romantic evenings.
Spend the day with your partner, swimming and sunning at the outdoor pool.
Enjoy dinner for two at the hotel's onsite restaurant, with a private table on the pool terrace.
You'll experience Menorcan dishes, all prepared with local meats, cheeses, and vegetables.
During the day, get pampered in the spa's massage cabins, or indulge in a signature Halotherapy treatment.
Guest Rating: 9.4
Star Rating: 4 stars
Best Rooms: Suite with balcony
Address: Carrer des Falciot 20, 07769 Son Carrio, Spain 
---
2. Sindic Hotel
Sindic Hotel is an adults-only boutique hotel in Menorca's capital Mahon.
With only eight rooms, it's perfect for private getaways.
Their Penthouse with a private pool is the most popular.
But if that's not available, the Deluxe junior suites are just as luxurious.
This loft-style suite has a king bed and two balconies overlooking the Plaza del Bastion.
Couples will love the rounded hot tub and the double showers, both big enough for two.
Before you head out to explore Mahon, start the day with the hotel's buffet breakfast.
After a day of sightseeing, cool off with a swim at the rooftop pool, or relax on the sun terrace.
In the evening, grab a cocktail at the bar, or enjoy dinner for two at one of the restaurants nearby.
Guest Rating: 9.4
Star Rating: 4 stars
Best Rooms: Deluxe junior suites
Address: Carrer de Sant Roc, 34, 07701 Mahón, Spain
---
3. Bordoy Casa Ládico
Bordoy Cas Ladico is a 5-star boutique spa hotel in historic Mahon, Menorca.
For a romantic getaway, we recommend the Ladico Suite.
You'll find a fully furnished private terrace overlooking the hotel courtyard.
With a king bed, a large soaking tub, and a walk-in rain shower, you won't want to leave the room.
Elevate your romantic getaway with a private spa suite at Ladico Spa.
There's a massage room for couples, an aromatic bath, and a steam sauna.
Outside, you can cool off in the pool, or pick out a lounge on the surrounding solarium terrace.
And before you start the day, Café Ladico serves a delicious breakfast from 8am to 11am.
Guest Rating: 9.3
Star Rating: 5 stars
Best Rooms: Suite with terrace
Address: Anuncivay 26, 07701 Mahón, Spain
---
4. Divina Suites Hotel Singular
Davina Suites Hotel Singular is an adults-only property in Cuiadella Davina.
Built in the 17th century, the property was converted into eight comfortable suites.
There are no common guest areas, so it's ideal for private, intimate getaways.
For something unique, choose the Deluxe suite with a terrace.
Inside you'll find original Menorcan architecture, including Arabic windows and slanted ceilings.
Couples will love the separate soaking tub and the large walk-in rain shower.
In the morning, you'll have the best breakfast delivered straight to your suite. 
Guest Rating: 9.3
Star Rating: 4 stars
Best Rooms: Deluxe suite with terrace
Address: Carrer Sant Sebastià Nº 12-B, 07760 Ciutadella, Spain
---
5. Hotel Rural Biniarroca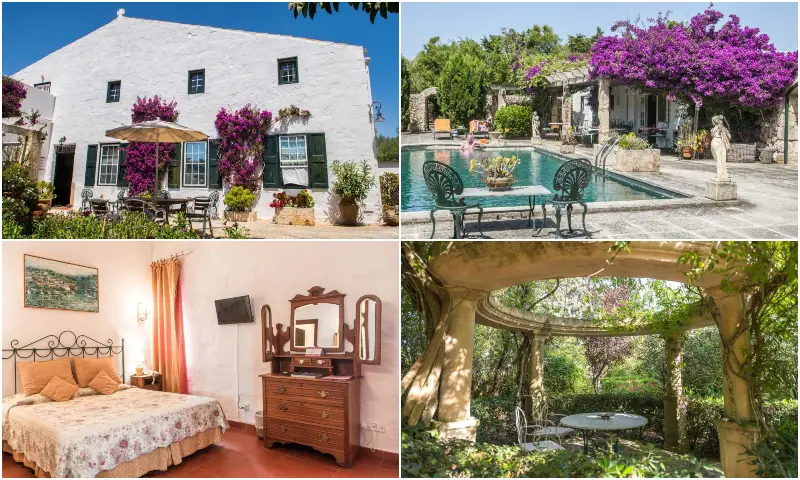 Hotel Rural Biniarroca is a charming 17th-century country hotel outside Sant Lluis.
If you're looking for something spacious and private, book a Superior double room in the garden.
It's the largest room and comes with a double bed and bathtub.
From the private terrace, you can enjoy a beautifully landscaped garden and relax on the sun lounges.
If you want to go for a swim, there are two pools, one with bar service.
The hotel restaurant offers some of the best Menorcan cuisines on the island.
They have a continental breakfast buffet featuring local cheeses, bacon, eggs, and Iberian ham.
If you're traveling with friends, they're happy to prepare a special group dinner just for you.
You'll enjoy a variety of local recipes, as well as several regional dishes.
Guest Rating: 9.3
Star Rating: 4 stars
Best Rooms: Superior double room
Address: Camí Vell, 57, 07710 Sant Lluis, Spain
---
6. Lago Resort Menorca – Suites del Lago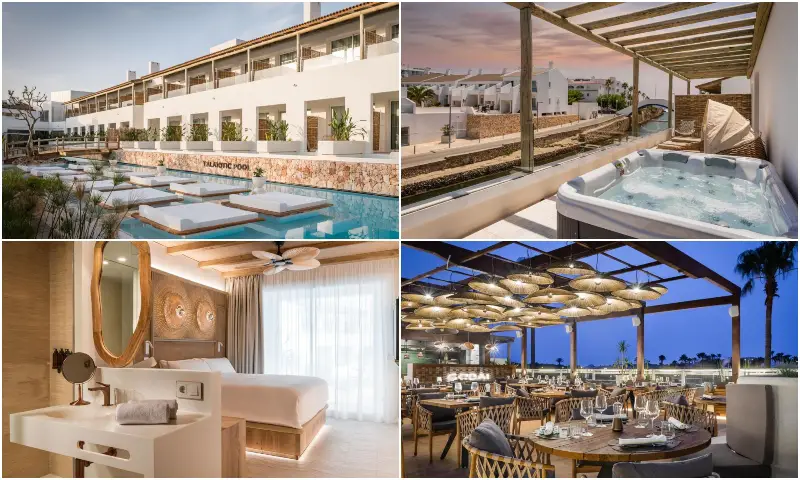 Lago Resort Menorca is an exclusive adults-only resort on Cala en Bosch Marina.
This resort stands out for its elegant rooms and suites, with private terraces and views of the Mediterranean.
For a cozy Menorcan-style suite, choose the Suite with an underwater sunbed in the private terrace pool.
During cooler months, you may want to opt for the Double rooms with hot tubs.
Cross over the bridge to the outdoor Thalasso pool for a refreshing swim or a drink at the swim-up pool.
At Lago Resort Menorca, they offer a wide range of dining options with 24 bars and restaurants.
Among them is the world's first Japanese-Menorcan restaurant, created by a renowned Michelin star chef.
If you want to relax in a 5-star facility, look no further than the resort's Spa Lago.
In the wet area, there's a therapy pool with jets, waterfalls, hydro beds, and hot tubs.
Guest Rating: 9.2
Star Rating: 5 stars
Best Rooms: Suite with private pool
Address: Via circunvalacion parcela 5, 07769 Cala'n Bosch, Spain
---
7. ARTIEM Carlos
ARTIEM Carlos is an adults-only hotel set on a beautiful bay in Menorca's capital Mahon.
For the most romantic room, we recommend the Suite with a sea view.
Besides a comfy queen bed inside, you'll love the hot tub right on the terrace.
Outside, the seawater pool is ideal for cooling off or enjoying a drink at the Dock lounge.
For something more relaxing, spend an afternoon at the resort's Sea Spa.
There's an infinity jacuzzi overlooking the bay, plus thermal loungers, a Turkish bath, and a sauna.
At the restaurant Medi, they serve the best local dishes in Mahon.
Add epic sea views and you'll have one of the most romantic nights in Menorca.
Guest Rating: 9.0
Star Rating: 4 stars
Best Rooms: Suite with sea view
Address: Carlos III, 2-4, 07720 Es Castell, Spain
---
8. Valentin Star Menorca
Valentin Star Menorca is an adults-only hotel opposite Cala en Bosch marina and a saltwater lagoon.
If you love the beach, it's close to two of Menorca's best, Cala en Bosch and Son Xoriguer.
Most rooms are quite similar and have a furnished outdoor terrace.
The pool is the ideal spot to cool off and unwind with a hydromassage or enjoy a cocktail from the snack bar.
At the buffet restaurant, guests enjoy local and international dishes cooked to order at live cooking stations.
Sample the area nightlife at Sa Terrassa, located at the front on Cala en Bosch Boulevard.
Spend a lively evening with sophisticated cocktails, and the island's best wines.
And don't forget to pamper yourself with one of the spa's personalized massage treatments.
Guest Rating: 9.0
Star Rating: 4 stars
Best Rooms: Double rooms with pool view
Address: Passeig del Port, 07760 Cala'n Bosch, Spain 
---
9. La Quinta Menorca by PortBlue Boutique
La Quinta Menorca is a 5-star hotel boutique hotel close to the town of Ciutadella.
It's an adult's only property close to beaches and water sports.
For a suite that's bright and spacious, we recommend the Junior suite.
Each suite features twin beds, a living room, and a large terrace that's perfect for sunbathing.
Thre's also an ensuite bathroom with the large whirlpool bath.
Son Xoriguer restaurant serves traditional local and Mediterranean dishes.
You'll enjoy breakfast buffets, cocktails, and nightly themed dinners with live music.
After a day at the beach, relax with a massage in one of Ocean Spa's eight treatment rooms.
They offer a wide range of services, including two pools, sensation showers, a sauna, and a steam room.
Guest Rating: 8.9
Star Rating: 5 stars
Best Rooms: Junior suite
Address: Urbanización Son Xoriguer s/n, 07769 Cala'n Bosch, Spain
---
10. ARTIEM Audax
ARTIEM Audax is a beachfront adults-only hotel overlooking Cala Galdana Bay.
If you like water sports, you can kayak, paddleboard, or snorkel in the waters off Cala Galdana Beach.
For a relaxing stay, choose the Double room with a spa bath.
There's also a private balcony to enjoy spectacular views of Cala Galdana Bay.
Outside, you can spend the day by the pool swimming or sipping cocktails at the View Pool Club.
Sample Menorcan flavors at Oliva Restaurant, and watch as the chef prepares your food.
Besides all the great facilities, ARTIEM Audax is well known for Menorca's largest thermal circuit – The Blue Spa. 
It's a full 90 minutes, including hydro pools, Roman Baths, saunas, and Turkish baths.
Guest Rating: 8.8
Star Rating: 4 stars
Best Rooms: Double room with spa bath
Address: Urbanización Serpentona – Cala Galdana, 07750 Cala Galdana, Spain
---
11. Antic Menorca
Antic Menorca is a 5-star adults-only hotel located in Alaior.
For the largest and most comfortable accommodation, book one of the suites.
Each suite has a typical Menorcan design, with stone walls and wood-beam ceilings.
There's a private lounge, and the bathrooms come with soaking tubs or showers.
Guest's favorite features are the outdoor terraces and private gardens.
After a long hot day, there's no better place to cool off than the outdoor pool.
If you enjoy Mediterranean cuisine, you'll love the restaurant at Antic Menorca.
Everything is prepared with organic, local ingredients that are delivered fresh daily.
Guest Rating: 8.6
Star Rating: 5 stars
Best Rooms: Suites
Address: Carretera Alaior a Calan Porter, S/N, 07730 Alaior, Spain 
---
12. AluaSoul Menorca
AluaSoul Menorca is an all-inclusive resort in S'Algar.
It's adults-only and ideal for couples who want to explore the area's beaches.
For the best experience, book one of the Swim up suites.
With ocean or garden views, these suites feature a private pool right on the terrace.
With the all-inclusive package, meals, snacks, plus Spanish and international drinks are all covered.
For a special day out, visit the resort's Kentia Sea Club's exclusive sundeck area.
You can relax on a Bali bed, listen to music, or enjoy lunch and a cocktail.
The Wellness area is a quiet space, offering state-of-the-art massages and body treatments.
You can also relax in the indoor pool, whirlpool bath, sauna, or Turkish bath.
Guest Rating: 8.6
Star Rating: 4 stars
Best Rooms: Swim-up suites
Address: Avinguda 3ª S'Algar, 07713 S'Algar, Spain 
---
Menorca Hotels Map
Find More Menorca Hotels for Adults-Only
---
FAQs
Summary