There is no doubt that the Maldives is a top getaway destination for everyone. With pristine waters, white sandy beaches, and lush greenery, it looks picturesque everywhere. Aside from Maldives' natural charm, their islands have many luxury, all-inclusive resorts. We'll show you the properties that offer world-class facilities, perfect for couples and families. There are overwater bungalows, luxury suites with hot tubs, and villas with private pools. Here are the best Maldives resorts with all-inclusive packages.
---
1. Emerald Faarufushi Resort & Spa 
With a scenic beachfront location, Emerald Faarufushi Resort & Spa is a luxury resort in Raa Atoll. The surrounding lush nature and white sand beaches elevate this 5-star haven's charm. Onsite, you'll find facilities like a gym and sports center, a kids' club, and an array of water activities. As an all-inclusive resort, guests can enjoy a variety of cuisines at the 7 onsite restaurants and bars. Besides that, it boasts 80 deluxe villas with easy beach access, and most have a private pool. The 2-Bedroom Presidential Beach Villa with vaulted timber ceilings is best for families. It's the most luxurious room with a living space, a dining area, an infinity pool, and a hot tub. For some undisturbed relaxing time, the Emerald Spa offers world-class spa treatments.
Guest Reviews: Our deluxe all-inclusive covers everything from champagne to gourmet dinners. 
Star Rating: 5 stars
Best Rooms: Two-bedroom presidential beach villa
Address: North Mallhosmadulu (Raa) Atoll,21012 Raa Atoll, Maldives
---
2. Emerald Maldives Resort & Spa 
Emerald Maldives Resort & Spa takes on a modern style but with a touch of sustainability. Using eco-friendly materials, this 5-star sanctuary features 120 beach and water villas. Each villa is designed with exquisite facilities and tropical interiors, exuding a cozy ambiance. There are rooms for couples, but the 3-Bedroom Royal Beach Villa is most suitable for families. Occupying 2 floors, it has a lounge, massage area, garden, a private pool, and a bathroom in each room. On the main property, this resort also features a fitness center, kids' club, and a spa. Well-prepared food and drinks are available at 6 restaurants and cafés like Aqua Restaurant and Sunrise Café. Don't forget to try various land and water activities run by their staff daily.
Guest Reviews: We had an unforgettable experience. Excellent food and many fun activities like snorkeling and scuba diving.
Star Rating: 5 stars
Best Rooms: Three-bedroom royal beach villa
Address: Fasmendhoo, 20081 Raa Atoll, Maldives
---
3. Constance Moofushi Maldives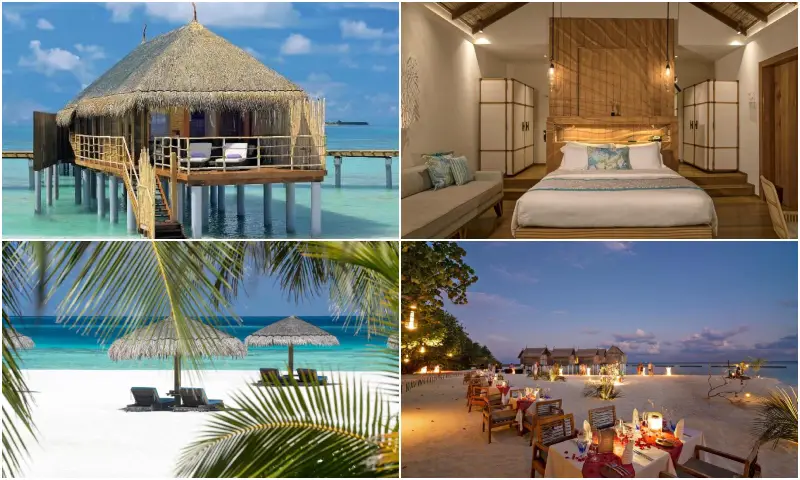 Constance Moofushi Maldives is an idyllic island resort on South Ari Atoll, a popular diving spot. Pristine lagoons, coral gardens, and white sand beaches surround this luxury retreat. Its all-inclusive package includes group-guided snorkeling sessions and Dhoni boat excursions. Guests can also enjoy 5-star food and drinks at Manta Restaurant and Bar, Alizée Restaurant, and Totem Bar. Unwind in any of its well-furnished, tropical-style villas with breathtaking Indian Ocean views. While the Senior Water Villa can accommodate a family of four, you'll have a better time staying as a couple. Floating above the lagoon, it features a spacious bathtub where you can stargaze at night. And if you want some time alone, treat yourself to a rejuvenating spa treatment at the Constance Spa.
Guest Reviews: The meals were excellent and included all our cocktails, coffees, and soft drinks.
Star Rating: 5 stars
Best Rooms: Senior water villa
Address: South Ari Atoll, 00200 Himandhoo, Maldives
---
4. Lily Beach Resort and Spa 
Booking a stay at the beautiful 5-star Lily Beach Resort and Spa is an adventure of a lifetime. Located on a secluded island, this award-winning resort offers a platinum all-inclusive package.Fo r starters, feast on unlimited food and drinks at the 6 onsite restaurants and bars. Go snorkeling or try other fun water activities around the island. If you want to take it easy, join complimentary yoga sessions or play ball at the sports complex. For small families on a Maldives holiday, the Sunset Water Suite with a private pool is the best choice. Built on wooden stilts, this over-the-water villa features picturesque views of the azure Indian Ocean. And while you're at it, don't forget to experience a holistic journey at the full-service Tamara Spa.
Guest Reviews: Our stay in the water villa was wonderful. We loved the pool and went snorkeling every day.
Star Rating: 5 stars
Best Rooms: Sunset water suite with private pool
Address: Huvahendhoo, South Ari Atoll, Maldives, 20077 Dhangethi, Maldives
---
5. Dhigali Maldives 
Dhigali Maldives occupies a slender coral cay where corals and tropical sunshine abound. It's a 5-star resort with premium all-inclusive features, including physical and wellness activities. You'll have access to a fitness center, group yoga activities, a swimming pool, and a kids' club. There is also the relaxing Dhigali Spa that offers extensive spa treatments and services. Fancy food and beverages are available at 8 restaurants and bars like Capers, Jade, Faru, and Haali. Surrounded by lush gardens and blue ocean waters, its suites and villas are designed to feel like your home. The 2-bedroom Dhigali Suite is the best choice for large families on a holiday getaway. It features a private infinity pool, a separate living area, an outdoor bathroom, and a personal butler.
Guest Reviews: Everything was amazing! The food was excellent and we loved the live music at Haali Bar.
Star Rating: 5 stars
Best Rooms: Dhigali suite
Address: Raa Atoll North Province, Maldives, 21012 Raa Atoll, Maldives
---
6. Heritance Aarah 
A serene haven with a lot of adventures to offer – this is what Heritance Aarah is all about. They have the best water sports facilities and an interactive club for the kids. Get that adrenaline rush by trying flyboarding, sailing, and kite surfing. Exceptional dining and innovative drinks are served at 7 restaurants and 5 bars onsite. For some pampering time, head to IASO Spa and get that stress gently soothed away from your body. With a 5-star rating under its name, it offers modern suites and villas designed with traditional interiors. Families will enjoy the luxurious 2-bedroom Ocean Residence with an infinity pool overlooking the ocean. Romantic couples will find a more intimate space in their Overwater villas.
Guest Reviews: Wonderful resort with a big beautiful lagoon. The restaurants and bars had great sunset views.
Star Rating: 5 stars
Best Rooms: Ocean residence
Address: Heritance Aarah, Maldives, 05150 Raa Atoll, Maldives
---
7. OZEN LIFE MAADHOO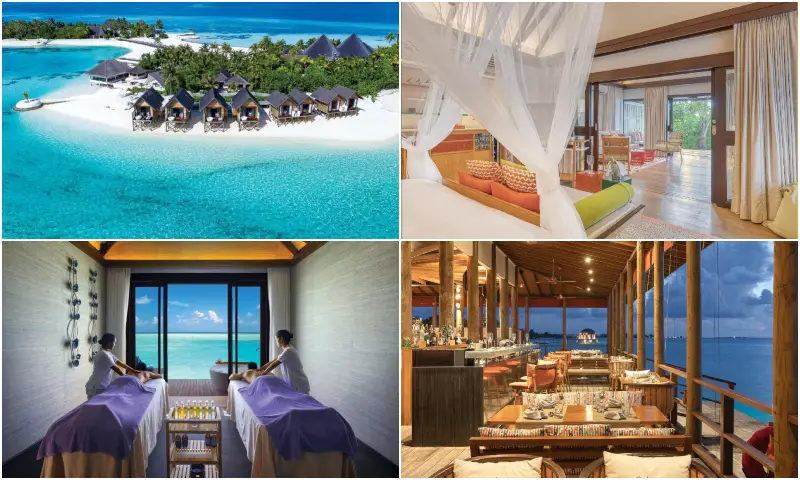 Staying true to its name, OZEN LIFE MAADHOO gives that oh-zen life with its calm and relaxing ambiance. Guests get a 5-star treatment with complimentary airport transfers by a luxury speedboat. An abundance of delectable food, drinks, and champagne are available at 5 restaurants and 2 bars. One of the standout facilities is the elegant overwater spa with glass-floor treatment rooms. There is also a kids' club with a pool and a wide range of indoor and outdoor activities for families. Complete the OZEN experience by staying in the 2-bedroom Beach Pool Pavilion. Designed for small families, it has a large living room, a sun terrace, and 2 ensuite outdoor bathrooms. For couples, there are plenty of beach and water villas to choose from.
Guest Reviews: We were in an overwater villa. The food was delicious. Snorkeling and the beach were wonderful.
Star Rating: 5 stars
Best Rooms: Beach Pool Pavilion
Address: South Male Atoll, 08250 South Male Atoll, Maldives
---
8. VARU by Atmosphere 
Boasting modern, tropical-style architecture, VARU by Atmosphere is an all-inclusive 5-star retreat. It's a family-friendly resort and a romantic venue for couples on their honeymoons. Gorgeous villas and suites are perfectly built along the white beaches and over the water. The 2-bedroom Majlis Suite with a private pool, ensuite bathroom, and ocean views is best fitted for families. The beach villas surrounded by lush gardens are designed for an intimate stay. For dining, an exquisite selection of food and drinks are served at Lime & Chill, Bay Rouge Kaagé, Nü, and Charcoal. Sunset fishing and other complimentary excursions are also available for everyone to enjoy. For a minimum of 4 nights, adult guests have a complimentary treatment at the overwater ELE | NA Spa.
Guest Reviews: Loved the clear lagoon and beautiful beaches. Lots of activities like snorkeling and jet skiing. 
Star Rating: 5 stars
Best Rooms: Majlis suite
Address: Maldives, 20500 North Male Atoll, Maldives
---
9. Pullman Maldives 
A magical experience awaits you at the Pullman Maldives, a 5-star vacation resort. Spacious villas are set amongst lush greenery and blue waters. One of the standout options is the elegant Aqua Villa that features an underwater bedroom. Although the Beach Pool Villas with private pools are just as luxurious. Complement an incredible getaway with unlimited food and drinks at 3 restaurants and 3 bars. Keep yourself fit by going to the 24/7 fitness center or joining holistic yoga sessions. Enjoy an array of recreational activities too, like snorkeling, tennis, and beach volleyball. And for some beauty and wellness downtime, head to the Pullman Spa, which also has a kid's spa.
Guest Reviews: The villa with the pool was wonderful. The food was great, especially the seafood dinners.
Star Rating: 5 stars
Best Rooms: Beach pool villa
Address: Gaafu Alifu Atoll, 20219 Maamutaa, Maldives
---
10. Cinnamon Hakuraa Huraa Maldives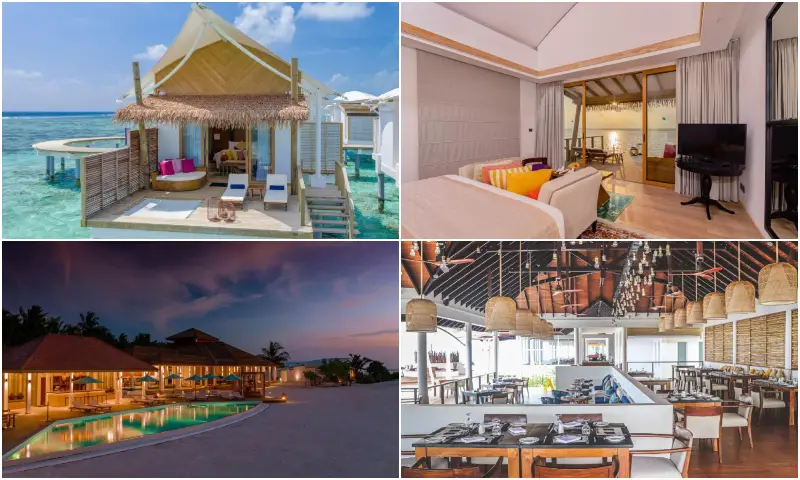 Cinnamon Hakuraa Huraa Maldives is an idyllic tropical paradise exclusive to adult guests. Surrounded by a beautiful lagoon, this resort offers 5-star relaxation and adventure. Guests get to enjoy a range of activities and entertainment, like kayaking, snorkeling, and live music. Relax in one of its beachfront and overwater bungalows designed with calming interiors. The Platinum Bungalow with picturesque sea views is a perfect room choice for couples on a honeymoon. Several dining options are served at Manzaru Restaurant, The Crab Restaurant, Veli Bar, and Vevu Bar. Treat yourself to indulgent spa treatments and therapies at the intimate Mandara Spa. This all-inclusive experience is available to guests with a minimum stay of 5 nights.
Guest Reviews: Water villas were spectacular with lots of marine life. The food choices and the spa were amazing.
Star Rating: 4 stars
Best Rooms: Platinum bungalow
Address: Meemu Atoll, 20252 Meemu Atoll, Maldives
---
11. Atmosphere Kanifushi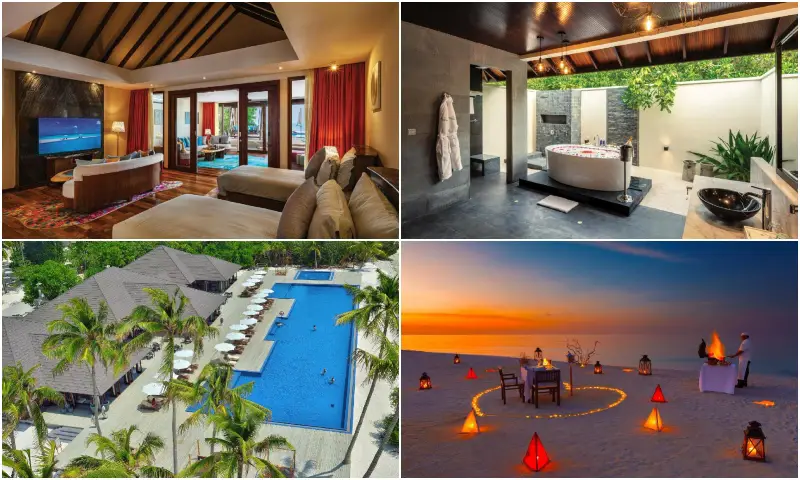 Set on a secluded island in Lhaviyani Atoll, Atmosphere Kanifushi is a 5-star island resort. It features an outdoor swimming pool, a fitness center, and a yoga pavilion for relaxation. Stay in spacious villas designed with modern amenities and sophisticated furnishings. The 2-bedroom Kanifushi Residence is the best room for small families or groups of friends. There is also a living area, dining area, two open-air bathrooms, and a gorgeous private pool on the outdoor deck. Onsite, it has several restaurants and bars serving a variety of international and local cuisines. Various activities and water sports, like diving and windsurfing, are available to guests. Complimentary spa treatments at The Akiri Spa are offered, depending on the length of stay.
Guest Reviews: The sunsets from the water villa were spectacular. All the food and drinks across the resort were 5-star.
Star Rating: 5 stars
Best Rooms: Kanifushi Residence
Address: Kanifushi Island, Lhaviyani Island, 07020 Lhaviyani Atoll, Maldives
---
12. Riu Atoll 
Hues of white welcome guests as they enter the all-inclusive haven Riu Atoll. Mixed with the natural colors of the ocean, beach, and greenery, you are in for a luxurious stay. This resort features a swimming pool with a swim-up bar, a children's pool, and a kids' club. Enjoy an array of dining and drinking options at 3 restaurants and 3 bars with stunning ocean views. Get active by going to the gym, joining group fitness sessions, and trying water-based activities. Chill with live music and other entertainment programs that the resort has prepared for the guests. For the most comfortable stay, choose the Overwater Superior Junior Suite with direct access to the lagoon. Featuring a terrace with a hot tub and loungers, it's perfect for relaxing and enjoying the views.
Guest Reviews: Our stay exceeded expectations. Pristine beaches, free-flowing cocktails, and fantastic food.
Star Rating: 4 stars
Best Rooms: Overwater superior junior suite
Address: Kudahuvadhoo, Maldives, 20219 Dhaalu Atoll, Maldives
---
13. OBLU SELECT Sangeli 
A chic and vibrant resort, OBLU SELECT Sangeli offers a 5-star, all-inclusive experience. Pristine white beaches, turquoise waters, and tall palm trees create its picturesque setting. Guests get to enjoy complimentary airport transfers, a variety of activities, and excursions. International cuisines and unlimited drinks are available at 3 restaurants and 3 bars. Complimentary spa treatments at ELE | NA The Spa are available for stays longer than 4 nights. The 2-bedroom Beach Pool Suite is the finest suite with an outdoor bathtub and a veranda. Ideal for large families, it's a cozy room styled with exquisite furnishings and plush amenities. If you're on a honeymoon though, check out their romantic Ocean Villas.
Guest Reviews: Our family stayed in the beach pool villa. Beautiful views, great food, and never-ending cocktails.
Star Rating: 5 stars
Best Rooms: Two-bedroom beach pool suite
Address: North Male Atoll, 20094 North Male Atoll, Maldives
---
14. Angsana Velavaru In-Ocean Villas 
Known as Turtle Island in local translation, Angsana Velavaru is nestled on a secluded lagoon. It's a 5-star, all-inclusive resort offering a range of recreational activities for guests to enjoy. From water activities to tours, live entertainment, and educational talks, the choices abound. Dolphin watching, diving, and whale shark swimming are a few adventures to try. An all-villa haven, this resort takes pride in its sleek and modern overwater and beach villas. The 2-story, 2-bedroom Villa is the most luxurious residence for families on a getaway.  Exuding an opulent oasis, it features a rooftop terrace and an infinity pool right above the ocean waters. For couples, the Deluxe InOcean Villas are just as over the top and fitted with endless luxuries.
Guest Reviews: The Deluxe InOcean villa was magical. Great watersports, including jet skiing, paddle boards, and kayaking. 
Star Rating: 5 stars
Best Rooms: Two-bedroom villa
Address: South Nilandhe Atoll, Maldives, 08110 Dhaalu Atoll, Maldives
---
15. Cocoon Maldives 
Cocoon Maldives is a stunning, 5-star island resort situated in the Lhaviyani Atoll. Rated with 5 stars, it displays Italian designs that go well with the natural beauty of Maldives. For the most comfortable stay, the 2-bedroom Suite with Private Pool has the best features. Configured with a kitchen, a living space, a patio, and a balcony with undistorted sea views. Themed buffets, international cuisines, and beverages are served at 3 restaurants and 2 bars. Be adventurous by trying different island activities like water sports and trips to nearby islands. Enjoy breathtaking views of the Indian Ocean while soaking up the sun around the outdoor infinity pool. Then go to the elegant Cube Spa, where you can relax and rejuvenate with treatments of your choice.
Guest Reviews: Amazing villa over the lagoon. Loved the dinner on the beach with champagne and lobster.
Star Rating: 5 star
Best Rooms: Two-bedroom suite with private pool
Address: Ookolhufinolhu, 07040 Lhaviyani Atoll, Maldives
---
Best Time To Visit Maldives
If you long to visit the breathtaking Maldives, it is best to go there between November and April. Though it's a tropical island country, you get to enjoy plenty of sunshine during those months. It's recommended to book in advance for trips between January to March since they are in the peak season. The cheapest months are from May to November when there are a lot of affordable flights and room offers. The chance of rain is slightly higher, but most resorts have fewer guests. December through to February are the most expensive months, especially over Christmas and New Year. Many travelers go to the Maldives to enjoy sunny days during the winter season.
---
Things To Consider Before Booking All-Inclusive Maldives Resorts
Private Pools – Select resorts that offer rooms with private pools. With a private pool, guests can still enjoy swimming even if it's raining.
Overwater Villas- If you love unobstructed views of the blue ocean, it is best to stay in an overwater villa. One of the main benefits to guests is direct access to the water. You can dive straight into the sea from your terrace.
Activities & Excursions – Stay in a resort that offers free activities and excursions to enjoy, especially if you're traveling with your family.
Transfers – Make sure to check the all-inclusive package includes transfers. Most of these transfers are done by a speedboat, but some resorts may even offer a seaplane if it's further away.
Dining & Alcohol – When booking an all-inclusive resort in the Maldives, make sure that food and beverages are included. Remember that the Maldives is a Muslim country, so bringing alcohol into the country is prohibited.
---
How Many Days To Spend In Maldives
The number of days to spend in the Maldives depends on various factors. This includes your budget, travel preferences, and the type of activities you want to do. Most travelers recommend spending a minimum of 5-7 days in the Maldives to fully experience the beauty and serenity. This allows enough time to relax, enjoy the beaches and water activities, and explore the local culture. Keep in mind, many resorts in Maldives require a minimum stay of 3-5 nights. Additionally, the Maldives is quite far from many parts of the world. You may want to consider adding a few extra days to account for travel time and potential jetlag. Ultimately, the ideal duration of your trip to the Maldives is up to you. If you have specific activities or experiences you want to enjoy, it may be worth extending your stay.
---
Best All-Inclusive Maldives Resorts For Families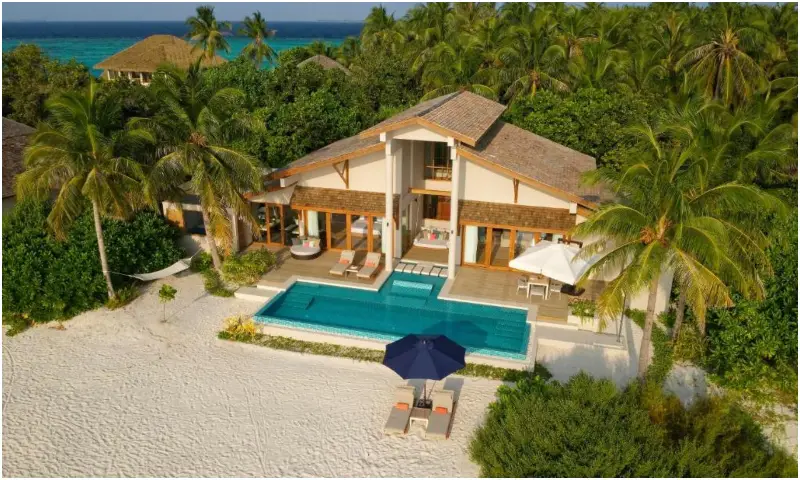 Two Bedrooms Presidential Beach at Emerald Faarufushi Resort & Spa
---
Best All-Inclusive Maldives Resorts For Honeymoons
M6m underwater restaurant at Ozen Life Maadhoo
Ozen Life Maadhoo – With the gorgeous M6m under-the-ocean restaurant, this resort is a top choice for couples on a honeymoon. Its private villas are also set to provide a relaxing sanctuary for the guests. The Beach Villas are great, but the Water Villas are most popular for couples.
Lily Beach Resort & Spa – Located on a remote private island, this resort provides a more romantic setting to honeymooners. The all-inclusive package covers unlimited food and drinks, and complimentary leisure activities and excursions. Besides that, the Beach Suites with a pool or a jacuzzi are perfect for newlyweds.
Cinnamon Hakuraa Huraa Maldives – This resort is ideal for honeymoons because it's exclusive to adult guests. Couples can enjoy an intimate and relaxing spa date at the Mandara Spa. And with scenic sea views, staying in the Platinum Bungalow makes the vacation more romantic.
---
Are All-Inclusive Resorts In Maldives Worth It?
All-inclusive dining at Constance Moofushi Maldives
It's no surprise that a vacation in the Maldives is an expensive experience. But if you're on a tight budget, resorts with all-inclusive packages are worth it. This is especially helpful if you're traveling with children or friends. Staying in an all-inclusive resort already covers food and drinks, helping guests save on meals. Various onsite activities and excursions are also part of the all-inclusive experience. It is also important to consider the resort's location as transfers may not be covered. However, there are resorts with complimentary transfers so it's best to book that resort to save on extra costs. Based on guest reviews, these Maldives resorts offer the best value in their all-inclusive packages:
---
Find More All-Inclusive Resorts in Maldives
---
Best Suites & Villas in Maldives