Is the UAE on your travel wishlist?
Consider visiting Ras Al Khaimah, one of the 7 Emirates and a lesser-known destination compared to neighbors like Dubai.
Ras Al Khaimah is home to incredible mountain peaks, ancient excavations, and impressive architecture. 
The intriguing cultural features and abundance of nature make Ras Al Khaimah a neat place to go on, particularly for camping.
Not sure where to stay?
Maybe our list of glamorous camping sites will inspire you during the planning of your dream trip to Ras Al Khaimah.
1. The Ritz-Carlton Ras Al Khaimah, Al Hamra Beach
The Ritz-Carlton Ras Al Khaimah, Al Hamra Beach is located along the Arabian Gulf coastline.
It is 30 kilometres south of the eponymous capital Ras Al Khaimah.
You'll have easy beach access and lounges that overlook the Arabian Gulf.
This resort prides itself on having fantastic tents for a one-of-a-kind stay.
Their Tented Pool Villas measure almost 200 square metres, feature a private pool, and grant guests access to a personally furnished cabana at the beachside.
With a snap of the finger, you can sip on cocktails in your own pool.
In-tent dining is also available 24 hours per day. 
Adjoining the common pool, the Shore House restaurant sets its best foot forward by serving fresh seafood and international classics.
While you hear the calm waves washing ashore, you can lie down for a pampering treatment in the beachside Ritz-Carlton Spa.
Directly from the resort, you can engage in activities like paddleboarding, kayaking, fishing, or golfing.
Guest Rating: 8.7
Address: Vienna Street Al Hamra, Al Hamra Village , 35288 Ras al Khaimah, United Arab Emirates
---
2. The Ritz-Carlton Ras Al Khaimah, Al Wadi Desert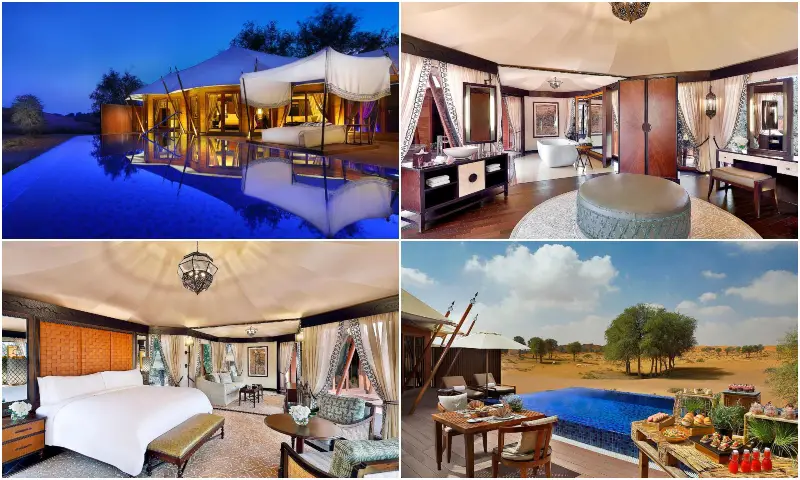 The Ritz-Carlton Ras Al Khaimah has another ritzy camp in Al Wadi Desert.
From this gorgeous 5-star resort, you can gaze upon wildlife and the incredible sand dunes of the desert.
Inside, exquisite elements like Persian rugs, hand-crafted furniture, and paintings make for a classy look.
Pick from two types of tented villas.
Whatever you choose, you'll have a homely lounge, a mammoth bathtub, and a private outdoor pool with desert views.
To enhance your experience here, order a delightful meal from one of the on-site restaurants.
You can request an intimate poolside dinner or a feast in the desert. 
Alternatively, please your tummy in the international restaurant Farmhouse, get a taste of Asian cuisine at Kaheela Restaurant, or enjoy the vistas with a drink at the rooftop Moon Bar.
Hang out on a deck chair next to the shared outdoor pool, go for a rejuvenating massage in the spa centre, or work out in the 24-hour fitness facility.
Guest Rating: 8.6
Star Rating: 5 stars
Address: PO Box 35288, Wadi Khadeja, Ras al Khaimah, United Arab Emirates
---
3. Longbeach Campground
On the outskirts of the city Ras Al Khaimah sits Longbeach Campground.
This is a beachside holiday resort with different kinds of extravagant tents.
For the most comfort and space, opt for the Safari Suite Tent that sleeps up to 4 people.
It comes with a generous bathroom and living area.
There's no better way to start the day than with a complimentary breakfast at the beach, where a buffet line with fresh dishes is displayed. 
Are you planning a trip with the family?
Longbeach Campground has a nearly endless list of kid-friendly amenities.
Think of a petting zoo, a tinkering area, a beach volleyball court, and a shallow pool with playsets. 
Enjoy the outdoor lifestyle at this camping around the firepit with some marshmallows, or organize a banquet feast at the barbecue area.
Guest Rating: 8.4
Address: King Faisal Street, Ras al Khaimah, United Arab Emirates
---
4. The Dunes Camping & Safari RAK
The Dunes Camping & Safari RAK is like an oasis in the vast Al Wadi desert.
Take your glamping trip to the next level in a dome-shaped tent or a wooden treehouse.
Both are fitted with a private bathroom and a seating area.
Regardless of which one you choose, you'll be treated to some cool welcome gifts.
Upon arrival, you can relish in dates and coffee, plus soft drinks and water.
The Dunes Camping & Safari RAK provides guests with complimentary sand boards and a camel ride through the desert to add a pinch of adventure.
You can arrange numerous other tours from this resort, including camel safaris, dining in the desert, and mountain expeditions.
Guest Rating: 8.3
Address: Al Wadi Desert, Nearby Ritz Carlton Al Wadi RAK Ras Al Khaimah, Ras al Khaimah, United Arab Emirates
---
5. Desert Inn Resort and Camp
Desert Inn Resort & Camp is located in the southern part of the Emirate Ras Al Khaimah.
Featuring cute plastered homes, this property aims to reach people that wish to spend their time in the desert in a comfortable manner.
In the carpeted accommodations, guests have an ensuite bathroom, a scenic deck, and a coffee machine at their disposal.
The Luxury Triple Room has a large bathtub, as well as a private outdoor pool.
Relaxation is key at the poolside, where you can observe the spellbinding desert from a reclining chair.
If you're eager to discover the desert, you can join a camel safari, quad riding, or sandboarding from the majestic dunes.
Alternatively, stay within the resort for a dancing show, a henna painting session, or do pictorials in Arabian-style dresses.
Guest Rating: 7.9
Address: Ashis In Wadi Muzira Area, Ras al Khaimah, Ras al Khaimah, United Arab Emirates
---
6. Bedouin Oasis Camp
Reside in the desert like a true nomad by staying in a simple yet comfortable tent at Bedouin Oasis Camp.
The authentic tents are furnished with a sofa, an attached bathroom and toilet, and an outdoor patio to unwind.
If you're travelling with a group of friends or family, you can ask for connected tents.
Savour a warm welcome with gifts that include Arabic coffee and sweets, and a barbecue dinner.
Enjoy a breakfast and dinner banquet – included in the price – in front of the tents on cushions or rugs.
You can also choose to eat in the shared outdoor dining area, which is sandwiched between two towering sand dunes and lit with oil lamps.
This camp in the Arabian wilderness organizes several activities in the sand, from quad and camel riding to cruising in a 4WD vehicle.
Guest Rating: 7.5
Address: Near Banyan Tree Al Wadi, Ras al Khaimah, United Arab Emirates
---
Ras Al Khaimah Camping Map
Also read:
Find More Camping Sites in Ras Al Khaimah
FAQs
Summary