Are you making plans to travel to Da Nang with your family?
Da Nang is a coastal city with 1.1 million inhabitants, in the heart of Vietnam.
Some of the highlights of this city include the Marble Mountains, the Dragon Bridge, and Son Tra Mountain, which boasts fantastic sea and city views.
On your next family trip, stay in comfort at one of the many luxury hotels in Da Nang.
Below, you'll find some fabulous 5-star resorts catered to families.
1. Furama Villas Danang
What's better than waking up to the sounds of waves, and the sea to dip in just inches away?
Furama Villas Danang is a beachfront resort with splendid villas, each of which has 2 floors, a separate living and dining room, and a private pool.
Furthermore, you'll have your own patio to hang out on, a generous bathtub, and a fully furnished kitchen to serve up a feast to your family.
If you're not in the mood for cooking, the on-site Danaksara Restaurant with its Vietnamese cuisine and Cafe Indochina are excellent spots to sit down for a meal.
Otherwise, grab a bite at the steakhouse, the Italian restaurant, or go for drinks at one of the resort's 4 bars.
Kids will appreciate the easy access to the beach, the activities in the Kid's Club, and the hotel's large outdoor pool.
Furama Villas Danang offers spa facilities, a tennis court, billiard, and a fitness centre for guest's entertainment.
Guest Rating: 9.1
Address: 107 Vo Nguyen Giap Street, Khue My Ward, Ngu Hanh Son District, Da Nang, Vietnam
---
2. Vinpearl Resort & Spa Da Nang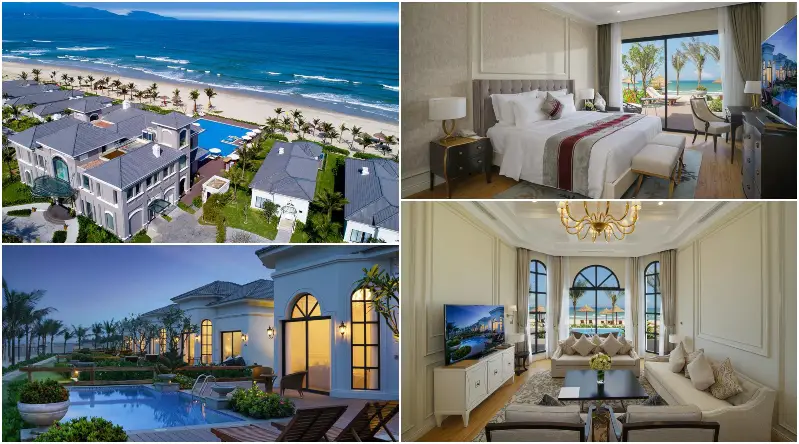 Vinpearl Resort & Spa Da Nang is located within walking distance from the ocean and is home to 122 opulent villas.
The massive villas here have a neoclassical designs.
They sleep up to 6 people, come with a private pool, and have an extensive dining room perfect for family gatherings.
Villas at Vinpearl Resort & Spa Da Nang range from 370 to a mind-blowing 567 square metres.
Whichever one you choose, you'll have your own balcony and unspoiled sea views.
Eat out in one of the 4 restaurants, or have all the goodies delivered to your room through the complimentary room service.
Enjoy an unwinding massage in the spa centre, or work on your fitness routine in the on-site gym.
Before you head out to explore Da Nang, start the day with a sumptuous breakfast spread.
Guest Rating: 9.0
Address: Truong Sa, Ngu Hanh Son, Da Nang, Vietnam
---
3. Vinpearl Condotel Riverfront Da Nang
Vinpearl Condotel Riverfront Da Nang is a serviced apartment complex in the heart of Da Nang.
You'll have incredible views of the Han River and the Dragon Bridge as a bonus.
This property features classic studios with modern conveniences like a kitchen, a private balcony, and a flatscreen TV.
Wake up relaxed in your bathrobes, and feast on a sumptuous breakfast buffet, which is displayed in a restaurant with awesome river views.
Spend the day at a relaxing pace, and jump in the outdoor infinity pool, which overlooks the Han River. 
Kids can be entertained in the playing corner, where they can play with puzzles and toys. 
Meanwhile, the adults will certainly enjoy the on-site gym, the leisure spa facilities, and the rooftop bar where the vistas are simply unbeatable.
Guest Rating: 8.9
Address: Ngo Quyen, Da Nang, Vietnam
---
4. Altara Suites by Ri-Yaz
Altara Suites by Ri-Yaz is a beachfront resort that houses 151 apartment-style dwellings for visitors to enjoy.
Spacious suites here are paired with ocean or city views, plus a kitchen, dining room for quality time with family, balcony, and private laundry facilities.
Other neat facilities in the gorgeous apartments are a lounge area with TV, bathtub, and free toiletries.
Are you tired after a day of discovering Da Nang?
Altara Suites by Ri-Yaz welcomes you back with a rooftop pool and a sauna room at your disposal.
In the Altitude Restaurant, you can indulge in the spectacular scenery and rich Vietnamese cuisine.
To have your excursions arranged, the concierge team at the ground level is happy to assist you with any recommendations or bookings.
Guest Rating: 8.8
Address: 120 Vo Nguyen Giap Street, Phuoc My ward, Son Tra District, Da Nang, Vietnam
---
5. Fusion Maia Resort
Along Da Nang's long-stretched beach sits Fusion Maia Resort, a 5-star property that specialises in upscale private villas.
Feel the tropical vibes with the waving palm trees outside, and soak up the welcoming atmosphere of the modernly-designed villas.
Take in the beach views through the floor-to-ceiling windows, plunge in your own outdoor pool, and get seated for a family feast in the open dining room.
Within the resort, you'll have easy access to the beach and the shared pool.
Unique family features at this hotel include a cinema with a popcorn machine and the Maia Kids Club where the small travellers can enjoy toys, game computers, and other activities.
You can have breakfast anywhere you want.
From the beach to the poolside or the intimacy of your suite.
For food, the Five Dining Room and Fresh Restaurant display the finest Vietnamese ingredients in lovely dishes.
Guest Rating: 8.8
Address: Vo Nguyen Giap Street, Khue My Ward, Ngu Hanh Son District, Da Nang, Vietnam
---
6. Danang Golden Bay
Danang Golden Bay is situated in a sky rising building in the Da Nang Bay area and boasts 949 guest rooms.
Having earned 5 stars for its opulence and comfort, this resort has a rooftop infinity pool covered with 24k gold, fine dining options, and extravagant residences.
Stay in a deluxe king room or suite, where you'll be pampered with a complete kitchen, washing machine, and a balcony where you can read a book in peace.
You can't go wrong with any of the spa arrangements.
Pick from a menu of steam baths, massages, manicure and pedicure, and facial treatments.
Danang Golden Bay has a food court on the first floor, as well as fine dining venues, and the breathtaking Golden Pool Bar on the 29th floor.
At the reception, you can have tours booked or rent a car.
Guest Rating: 8.7
Address: 1 Le Van Duyet, Son Tra, Da Nang, Vietnam
---
7. Risemount Premier Resort Da Nang
Risemount Premier Resort Da Nang is a true 5 star stay.
It lives up to that reputation due to its high-end amenities and services. 
Everything in this resort screams luxury, from the blue and white Santorini-style interior to the large outdoor pools and the delicate food options.
Pick a family room fit for 4 guests.
Enjoy the welcome drinks and the daily replenished minibar, plus facilities like 2 separate bathrooms and a seating area.
The hotel offers countless culinary endeavours, whether you're in for a buffet afternoon tea, an alfresco wine & dine experience or a seafood barbecue.
Heaps of eateries surround the hotel, in case you want to go out for dinner and experience the atmosphere of the local neighbourhood.
To balance your calorie intake a bit, you can use the resort's gym or pool.
Guest Rating: 8.7
Address: 120 Nguyễn Văn Thoại Bac My An ward, Ngu Hanh Son district, Da Nang, Vietnam
---
8. Vinpearl Luxury Da Nang
In the southeast of Da Nang sits Vinpearl Luxury Da Nang, a large hotel complex within walking distance from the waterfront. 
Vinpearl Luxury Da Nang mixes French and Vietnamese styles of design, with lots of classic wooden furniture and artworks on the wall.
As a travelling family, it's best to opt for a villa that has room for up to 6 guests.
You'll have a private pool, 3 bedrooms, and an outdoor patio for relaxation.
For in-room entertainment, soak in your own hot tub or hang out in the lounge with TV.
If you're seeking amusement outside, the hotel provides no less than 5 pools, spa facilities, and a gym exclusively for guests to use.
Are you feeling hungry?
Devour the abundant breakfast buffet in the gastronomic restaurant, and savour Vietnamese specialities later on in the Oriental Restaurant.
Vinpearl Luxury Da Nang lies near the Non-Nuoc Pagoda and the Tam Thai Pagoda, two marvellous Buddhist temples that are worth visiting.
Guest Rating: 8.7
Address: No. 7 Truong Sa Street, Hoa Hai Ward, Ngu Hanh Son District, Da Nang, Vietnam
---
9. Novotel Danang Premier Han River
Novotel Danang Premier Han River is a hotel with modern rooms and suites, based in a 31-storey complex right beside the Han River.
Settle for the Presidential Suite with its 3 bedrooms, dining room, a fully-furnished kitchen, and unrivalled panoramic views of Da Nang.
When booking the suites, you'll have access to the Premier Executive Lounge that comes with loads of extras.
You'll have a free breakfast buffet, a personal greeting and welcome tea, unlimited non-alcoholic beverages throughout the day, and evening cocktails to be enjoyed in the lounge.
On the 5th floor, the Kid's Club provides your young family members with fun games, toys, and activities.
For dining, snack on tapas and international dishes in the Gourmet Bar, or book a table for a-la-carte at The Balcony.
Later on, overlook the Marble Mountains with a drink from the Splash Pool Bar.
Guest Rating: 8.6
Address: 36 Bach Dang, Da Nang, Vietnam
---
10. Furama Resort Danang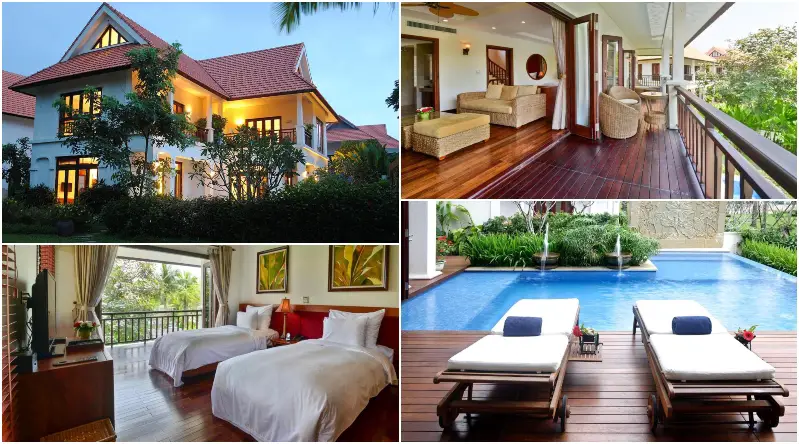 Furama Resort Danang borders the city's long beach.
It boasts Vietnamese and French colonial rooms with pool villas for an unwinding holiday.
You'll experience a delightful vacation when staying in the 2-storey villa.
Your family can revel in a private pool, a rooftop terrace, a patio with deckchairs, and a spacious kitchen.
When you book a villa, one free afternoon tea per stay will be available for all of your travel companions.
The Kids Club is a paradise for the children, as this room packs a whole bunch of toys, games, and painting materials.
Older kids can participate in the Senior Kids Club, with activities such as sand-castle building and kite flying on the beach.
For adults, there's plenty of entertainment in and around the hotel: staff operate diving trips in the area, you can join a cooking class, or you can head for the sea for some hair-raising watersports.
In the resort's restaurants, the Italian, Vietnamese, and Asian cuisines shine through the able hands of the chefs.
Guest Rating: 8.6
Address: 105 Vo Nguyen Giap Street, Khue My Ward, Ngu Hanh Son District, Da Nang, Vietnam
---
11. Premier Village Danang Resort
Staying closer to the sea than in Premier Village Danang Resort is barely possible, as this exclusive property is just a stone's throw away from Da Nang's popular beach.
Premier Village Danang Resort houses 3 types of villas.
They are all fitted with modern furniture, elegant dark timber chairs, and pastel coloured cushions for a joyous note.
No matter which villa you decide to reside in, you'll have a full kitchen, your own swimming pool, a garden, and a massive bathroom at your disposal.
Sit or lay down for a selection of VIP treatments in the spa centre, where massages, steam rooms, and saunas await.
For a quick snack or drink to take back to your villa, shop around in the hotel's Deli Boutique convenient store.
Discover the traditional Vietnamese recipes from the kitchen of Lemongrass restaurant, or have a meal delivered to your villa.
Guest Rating: 8.6
Address: Vo Nguyen Giap street, Ngu Hanh Son district, Da Nang, Vietnam
---
12. Hyatt Regency Danang Resort and Spa
Within walking distance from the Marble Mountains UNESCO World Heritage Site sits Hyatt Regency Danang Resort and Spa.
With over 300 suites, residences and villas, there's lots of dwellings to choose from if you're eyeing this place for your Vietnam trip.
Are you planning a big family holiday?
The 3-bedroom Ocean Villa offers not only magnificent sea views, but also a snuggly TV lounge, private beach access, and an own pool.
After a day of exploring humid Da Nang, it's comforting to return to your villa.
Jump into the huge marble bathroom with tub, then dry off in comfy robes and slippers.
When it's time to eat, you can head out for one of the hotel's 3 restaurants, and enjoy seafood, Vietnamese food, or grilled dishes.
Thanks to the on-site souvenir shop and reception staff who can arrange your excursion, you won't get bored here.
Guest Rating: 8.5
Address: Hoa Hai Ward, Ngu Hanh Son, Da Nang, Vietnam
---
13. The Ocean Villas
The Ocean Villas is located on the coastline, conveniently between the cities of Da Nang and Hoi An.
This modern complex consists of 116 suites and 114 villas, and it provides tons of services for you to fully appreciate your stay here.
Nothing beats the fantastic villas with their private swimming pool, flatscreen TVs, personal coffee machine, and cosy dining area.
Arrange a beach dining experience with the family, or an in-villa barbecue, during which your private chef will cook up a delicious feast at your own residence.
For snacks and drinks, take a seat at The Pool Bar, and challenge your family members for a game of pool or table football.
You get to delight in numerous services, including a convenience store, fitness centre, outdoor swimming pools, a tennis court, and a free shuttle to the charming city of Hoi An.
For the children, the Kids Club is an exciting space to play with toys and video games.
Guest Rating: 8.4
Address: Truong Sa Street, Group 74, Hoa Hai Ward, Ngu Hanh Son District, Da Nang, Vietnam
---
Map of 5-Star Family Hotels in Da Nang
Da Nang is home to plenty of stunning 5-star hotels and resorts, most of which border the sea.
While most of them award guests with exceptional residences, some of them stand out for their extra facilities.
When it comes to services, we would recommend The Ocean Villas and Furama Villas Danang.
Both of these resorts have a long list of family-friendly facilities, from billiard rooms and tennis courts to Kids Clubs for the youngest adventurers.
Also read:
Find More Family Hotels in Da Nang
Summary