Lanzarote is one of the most visited Canary Islands, known for its beaches and warm weather.
But if you want to splash around in your own space, there are a few hotels with private pools in their rooms.
We'll show you the best luxury 5-star properties and all-inclusive hotels.
Some are even designed for adults only, perfect for couple retreats.
From plunge pools in the backyard to swim-up rooms, there'll be rooms suitable for all visitors.
So, before you book your trip to Lanzarote, check out our list of the best hotels with private pools.
1. Kamezí Boutique Hotel Villas
Kamezi Boutique Hotel Villas is a 5-star beachfront resort close to Playa Blanca.
If you stay here, you'll enjoy the comfort and privacy of a villa with the services of a hotel.
They have a range of 2 to 5 bedroom villas.
Designed for groups and families, there'll be plenty of living space plus a private kitchen.
Outside, there's a heated private pool, garden, and furnished patio.
Its another great spot to enjoy meals or gatherings with your group.
If you don't want to cook, enjoy a tasting menu at Kamezi Deli & Bistro or tapas at Ocean View.
At Wellness Kamezi, they offer treatments and facilities designed for your well-being.
Indulge in a soothing massage, relax in the jacuzzi, or detoxify in the sauna.
Guest Rating: 9.3
Star Rating: 5 stars
Best Rooms: 5-bedroom villa
Address: Monaco, 2, 35580 Playa Blanca, Spain
---
2. La Cala Suites Hotel
La Cala Suites is a luxury adults-only boutique hotel located in Playa Blanca.
If you're traveling with friends, book the Two-bedroom villa.
It's two stories with a bedroom and a bath on each floor.
The large living area opens onto an outdoor terrace and a private pool overlooking the sea.
For couples, there's a similar setup in the One-bedroom villa.
For a proper swim, there's also a shared outdoor pool where you can enjoy snacks and cocktails from the pool bar.
If you're hungry, there's a breakfast buffet and an ala carte menu featuring local food and wine.
During the day, check out La Cala Suites spa for a variety of massages and body treatments.
You can also soak in the thermal pool and jacuzzi, then enjoy a sauna or Turkish bath.
Guest Rating: 9.1
Star Rating: 5 stars
Best Rooms: 2-bedroom villa
Address: C/ La Cómoda s/n, 35580 Playa Blanca, Spain
---
3. Finca Marisa
Finca Marisa is a secluded resort not far from the quiet town of Tinajo.
Surrounded by nature and small local villages, it's ideal for an romantic getaway.
For couples, we recommend the Deluxe apartment with swimming pool.
Rustic style Canarian furnishings of wood and stone create a unique living space.
Inside, you'll find a spacious king bedroom, a sofa bed, a large bath, and a kitchen.
You'll love the private outdoor area, featuring a garden, heated pool, and a jacuzzi.
Also included is a breakfast buffet for two and the use of all the resort's facilities.
When you want to relax, Finca Marisa offers yoga, in-room massages, and meditation.
Then have a soak in one of the jacuzzis, or enjoy the views while you swim in the outdoor pool.
Guest Rating: 9.0
Star Rating: 3 stars
Best Rooms: Deluxe apartment with swimming pool
Address: La Costa, 9, 35560 Tinajo, Spain 
---
4. Villas Alondra
Villas Alondra are luxury villas in an exclusive enclave in Puerto del Carmen.
They have a range of villas designed for families and groups, but the Villa with sea views is most impressive. 
This 5-star villa has 5 bedrooms, a master bath with a spa tub, a dining room, and a kitchen.
Outside is a furnished private garden with a huge swimming pool, the best spot for sunset views on the island.
For an extra fee, they will include a pool table, ping pong table, and a BBQ grill.
With all these features, you won't want to leave the villa.
At Villas Alondra, you can enjoy the best Canarian cuisine in two unique restaurants.
African-themed Kentia combines international cuisines with traditional Canarian flavors.
While Arenas Lounge serves delicious Canarian lunches and dinners with the island's best wines.
Guest Rating: 9.0
Star Rating: 5 stars
Best Rooms: Villa with sea view
Address: Los Volcanes, s/n, 35510 Puerto del Carmen, Spain
---
5. Secrets Lanzarote Resort & Spa
Secrets Lanzarote is one of the most luxurious resorts & spa in Puerto Calero Marina.
Elevate your stay and enjoy personalized service by booking a Preferred Club suite.
This includes access to the club lounge, breakfast, and a private bar with premium brands.
The bedroom and living area open onto an outdoor terrace with direct access to a swim up pool.
For the best Italian food or grilled seafood, reserve a table at Portofino or Oceana grill.
Then, head to one of the resort's five bars for creative cocktails and spectacular views over the marina.
If you just want to relax, Secret's Spa circuit offers one of the most amazing experiences in Lanzarote.
Start in the thermal pool with soothing water jets and waterfalls, then finish with a sauna or Turkish bath.
Guest Rating: 8.7
Star Rating: 5 stars
Best Rooms: Swim-up suites ocean view
Address: Urbanizacion Cortijo Viejo, 35570 Puerto Calero, Spain 
---
6. Eco Village Finca De Arrieta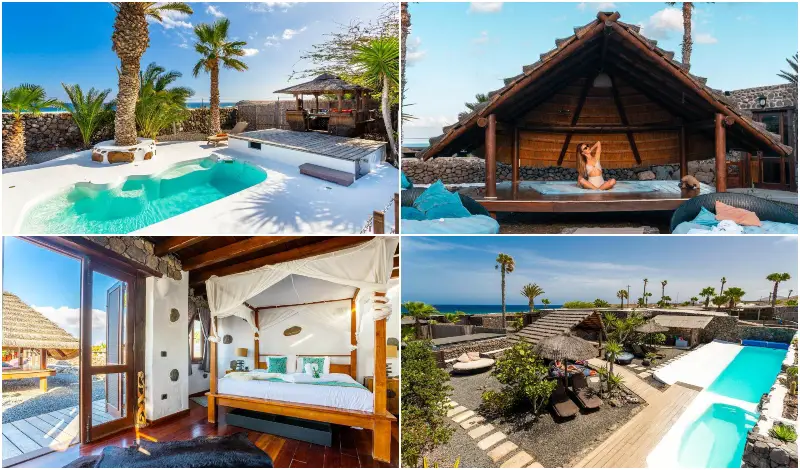 Eco Village Finca De Arrieta is a unique Lanzarote resort with 16 different dwellings for guests.
There are yurts, cottages, and luxurious private villas.
Everything is eco-friendly from solar-heated pools to local, sustainable materials.
If you're a family with children, we recommend the 3-bedroom house.
With two double poster beds, two single beds, and a sofa bed, it's perfect for a group of six,
There's a large lounge, a dining area, a full kitchen, and ensuite baths with walk-in showers.
The front garden leads to the private pool area and a shaded sundeck with sunbeds and lounges.
For those who like to cook and eat outdoors, there's a bamboo dining hut and a BBQ grill.
Guest Rating: 8.5
Star Rating: 4 stars
Best Rooms: 3-bedroom house
Address: Finca de Arrieta, 35542 Tabayesco, Spain
---
7. Meliá Salinas
Melia Salinas is a 5-star adults-only resort in Costa Teguise.
Simplify your holiday with the resort's All-Inclusive package.
This includes meals, snacks, drinks, plus local and Spanish brand alcoholic beverages.
To top it off, book the luxurious Level Presidential Villa.
It's two separate villas surrounded by lush gardens and an outdoor terrace overlooking the sea.
You can lounge by the private outdoor pool, or cool off under the volcanic stone shower.
Or, enjoy the sun at the beaches of Costa Teguise if you want a different scenery.
If you want some real pampering, head to Melia Salinas Spa for a massage or facial.
There's also a sauna and jacuzzi for guests.
Guest Rating: 8.5 
Star Rating: 5 stars
Best Rooms: The level villa
Address: Avenida Islas Canarias S/N, 35508 Costa Teguise, Spain 
---
8. Villas Puerto Rubicon
Villas Puerto Rubicon is a luxury property offering 2-and 3-bedroom villas in Rubicon Marina.
They're ideal for couples, groups, or family getaways.
You'll find private pools in all their villas along with a furnished terrace, and a BBQ area.
It's a great spot for afternoon pool parties and lunch gatherings.
Inside, there's a spacious lounge area and a full kitchen, including a dishwasher.
Whether you're a family of four, or a party group of friends, there'll be a suitable configuration.
If you want to explore the area, there are shopping malls and restaurants just a 5 minute walk from the property.
Guest Rating: 8.3
Star Rating: 4 stars
Best Rooms: 3-bedroom villas with private pool
Address: La Calera, 11, 35580 Playa Blanca, Spain 
---
Lanzarote Hotels Map
Find More Lanzarote Hotels with Private Pools
---
FAQs
Summary