Lanzarote is a popular Canary island among naturists for its many nude beaches. Wouldn't you like a hotel with an exclusive naturist area, where you can relax in private? We'll show you the island's best luxury hotels, all-inclusive properties, and naturist resort areas. For couples looking for a private getaway, there are adults-only hotels too. So before you take all your clothes off, check out the best Lanzarote hotels with naturist facilities.
---
1. Charco del Palo Apartments
Charco Del Palo Apartments is a naturist resort in Lanzarote's only nudist village. With six unique rooms, we recommend the Apartments with a terrace. It's the best in the complex, with furnished open space and direct access to the pool. With comfortable sun lounges, it's the ideal spot to soak up some sun. And if you want to cool off with a swim, there's no need to change into a swimsuit. The pool area is exclusively for naturists, so you can swim or sunbathe in total privacy. More importantly, the coast of Charco del Palo is right on your doorstep. Here, you'll find secluded beaches and clear natural pools, all exclusive to naturists.
Guest Reviews: Our apartment was beautiful with a sea view from the balcony. We loved the pool and the beaches nearby.
Star Rating: 4 stars
Best Rooms: Apartments
Address: 2 Calle Seifio, 35543 Charco del Palo, Spain
---
2. Hipotels Natura Palace
Hipotels Natura Palace is an adults-only hotel on the seafront in Playa Blanca. For couples, try to book one of the premium double rooms with a sea view. You'll love the amenities, including a king bed and a private balcony overlooking the sea. Enjoy Lanzarote's sunny days with two outdoor pools, a hot tub, and a landscaped garden. Hipotels Natura Palace is not a naturist resort, but there is an area for nudists. It's a screened private area with sun lounges, palm trees, and a shower exclusively for hotel guests. After a day in the sun, relax with a massage, a sauna, or a steam bath at Talasso Natura Spa. In the evening, treat yourself to a drink in the hotel's cozy bar. Or indulge in a feast of local and international favorites at the nightly dinner buffet.
Guest Reviews: Our room was nice and clean. The pool area was amazing. The food in the restaurant was delicious.
Star Rating: 4 stars
Best Rooms: Premium double room
Address: Urbanización, C. Lanzarote, 9, 35580 Playa Blanca, Las Palmas, Spain
---
3. Seaside Los Jameos
Seaside Los Jameos is an all-inclusive hotel on Los Pocillos beach in Puerto del Carmen. For a relaxing stay, choose one of the Junior Suites. This spacious suite features comfortable beds, a lounge, and a balcony with sea or pool views. With the all-inclusive package, meals, drinks, and selected alcohol brands are all covered. If you want an allover tan, there is a private naturist area at the hotel. Surrounded by a wall, it can't be viewed from rooms, or by other guests. A Canarian-style outdoor area features three pools, and the beach is right across the road.  If you want to unwind, the wellness area has a Finnish spa, a bio-sauna, and a Turkish bath. For a fun night out, Belingo Bar offers drinks, live music, and dancing.
Guest Reviews: Our room was very clean and spacious. The beach is fabulous, and we loved the sauna and Turkish bath.
Star Rating: 4 stars
Best Rooms: Junior suites
Address: Calle Marte, 2 – Playa de los Pocillos, 35510 Puerto del Carmen, Spain
---
4. Hotel The Mirador Papagayo
Hotel the Mirador Papagayo is a 4-star property in Playa Blanca, with views of Papagayo Beach. For the best views, we recommend the Junior balcony suites that open up to the sea. Each modern suite features full or twin beds and a separate lounge. What guests really love is the private terrace with views over the Atlantic. For guests who want to go naked, there is a nudist sunbathing area available. It's a private rooftop terrace complete with comfortable sun beds and relaxing ocean views. Lanzarote is known for its warm weather, so when you want to cool off there are three outdoor pools. Plus, you'll love the pool bar serving your favorite cocktails and snacks. At the Wellness Center, guests can unwind with a hot tub or sauna, and then finish with an experience shower.
Guest Reviews: The suite was comfortable and spacious with a nice sea view. The pools and nearby beaches were amazing.
Star Rating: 4 stars
Best Rooms: Junior suites
Address: Urbanización San Marcial del Rubicón, 35570 Playa Blanca, Spain
---
5. H10 Timanfaya Palace
H10 Timanfaya Palace is an adults-only hotel in the fishing village of Playa Blanca. They have all-inclusive packages that cover meals, drinks, and cocktails. For the best room, choose a Junior suite. Each suite is large and bright, with a king bedroom and a furnished terrace with incredible sea views. If you want an all-over tan, there's a discreet nudist area away from the main pool. It's a rooftop retreat complete with sunbeds and umbrellas where naturists can relax in private. After a day in the warm Canarian sun, cool off with a swim at one of two outdoor pools. And if you want to chill after a long day, the outdoor hot tub is ideal. Or, you can enjoy a day at the spa with a massage, a sauna, and a Turkish bath.
Guest Reviews: Our suite was spacious with a lovely sea view. The food was delicious and there's a good selection of branded drinks.
Star Rating: 4 stars
Best Rooms: Junior suites
Address: Urbanización Montaña Roja, s/n, 35570 Playa Blanca, Spain 
---
Best Naturist Resort Areas In Lanzarote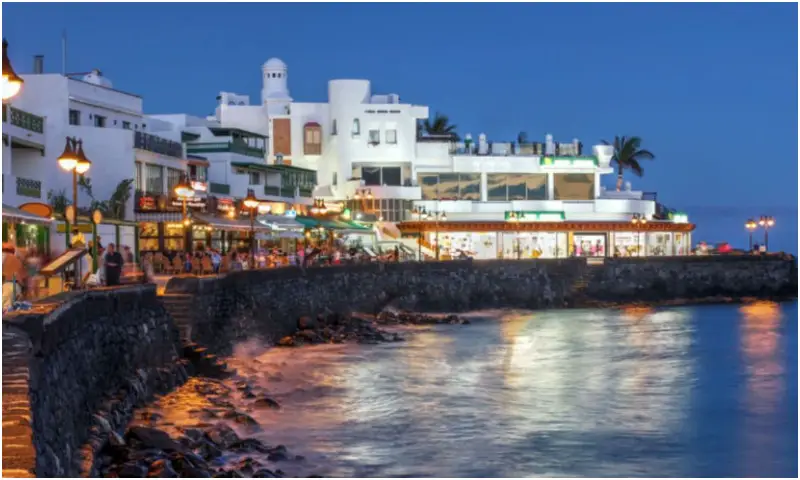 Charco del Palo – Charco del Palo is Lanzarote's only naturist village located on the northeastern coast. Naturism is practiced on many of its beaches and along its coastline. Charco del Palo Apartments is a naturist resort, where all the facilities are clothing optional.
Playa Blanca – Located on the island's southern tip, Playa Blanca is quieter and more relaxed than Puerto del Carmen. It's known for its white sandy beaches and a charming promenade with lots of bars and restaurants. You'll also find several oceanfront resorts like Hipotels Natura Palace. 
Puerto Del Carmen – Puerto del Carmen is a popular tourist destination on the east coast of Lanzarote. It's known for its beautiful beaches, vibrant nightlife, plus excellent restaurants and bars. It offers a wide selection of hotels including the 4-star Seaside Los Jameos.
---
Best Things To Do In Lanzarote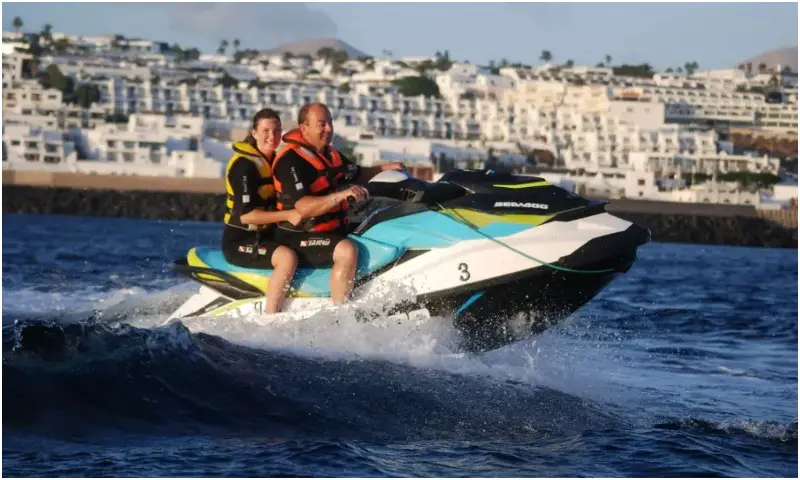 Enjoy the Beaches – Lanzarote offers an array of beautiful beaches like Playa Papagayo and Playa Blanca. Here you can swim, sunbathe, or engage in a variety of watersports. Some beaches like La Caleta del Congrio are clothing optional and popular with naturists.
Watersports  – Lanzarote features excellent conditions for a variety of water-based activities. Surfing, windsurfing, jet skiing, scuba diving, and snorkeling are available in most areas around the island.
Sailboat Cruises – There are a variety of sailboat cruises, with a wide range of activities and entertainment. Daytime cruises feature swimming, snorkeling, lunch, and an open bar. In the evening, sunset cruises include canapes, cocktails, and dolphin watching.
Ferry to Fuerteventura – Swap Lanzarote for a day exploring the beaches and sand dunes of Fuerteventura. The express ferry is a fast, safe, and convenient way to get to Fuerteventura. Once on board, you'll have both inside and outside seating to choose from.
---
Best Times To Visit Lanzarote
Lanzarote in the Canary Islands offers pleasant weather and a variety of attractions throughout the year. Whether you're looking for sunny beach days or outdoor adventures, Lanzarote has something for everybody. Here are the best times to visit this beautiful Island.
Spring (March to May) – Spring is an ideal time to visit with warm temperatures and smaller crowds at the tourist spots. Enjoy pleasant beach weather, go exploring, or take part in outdoor activities.
Summer (June to August) – Summer is the peak tourist season in Lanzarote. The weather is hot and dry, ideal for beach lovers. You can enjoy long sunny days, lots of water sports, and a variety of lively events and festivals.
Autumn (September to November) – Autumn brings mild temperatures and fewer crowds. It's an excellent time to enjoy outdoor activities and visit popular attractions without the peak season rush.
Winter (December to February) – Lanzarote's mild winters make it an appealing destination for those wanting to escape a colder climate. While temperatures are cooler, They're still comfortable for outdoor activities. It's also a great time to visit the island's museums and cultural attractions.
---
Best Ways To Get Around Lanzarote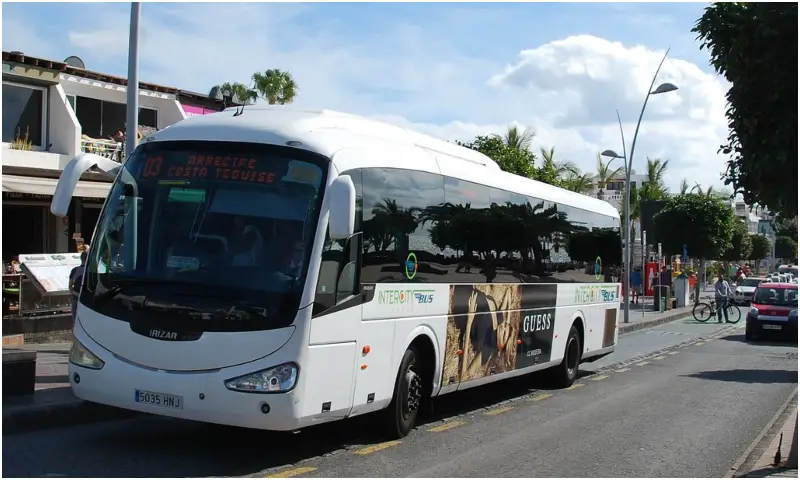 Lanzarote offers various transportation options for getting around and exploring its attractions. Which options you choose depend on your personal preferences. Here are the best ways to get around Lanzarote. 
Rental Car – Renting a car provides the most convenient and flexible way to explore Lanzarote. Having a car allows you to visit remote areas, beaches, and attractions at your own pace. Several rental car agencies operate on the island, and booking in advance is recommended.
Public Buses – Intercity Bus Lanzarote connects major towns, tourist areas, and attractions. The buses are comfortable and reliable. It's one of the more affordable ways to travel around the island.
Taxis – Taxis are readily available in Lanzarote and you'll find them at hotels and taxi stands. Taxis are regulated and the fares are metered, making them convenient for short trips. Be sure to confirm the fare with the driver before starting your journey.
Excursions & Tours – Joining organized excursions and tours is another way to explore Lanzarote. These can range from coach tours that take you to multiple attractions, to specialized tours, or boat trips.
Cycling – Renting a bicycle can be an enjoyable way to explore the island's scenic landscapes. There are dedicated cycling routes in the coastal areas and close to resorts. Bike rental shops can be found in major towns and tourist areas.
---
Best All-Inclusive Lanzarote Hotels
Seaside Los Jameos (photo above) – This is one of the best all-inclusive packages on the island. It includes meals, drinks, snacks, selected international alcohol brands, and afternoon tea. There's even a secluded naturist area where you can tan all over in private.
H10 Timanfaya Palace – With this hotel's all-inclusive package, guests can relax without having to worry about a thing. Meals, snacks, cocktails, and top-brand international drinks are all covered. For naturists, there's a rooftop retreat where they can relax in private.
---
Best Luxury Lanzarote Hotel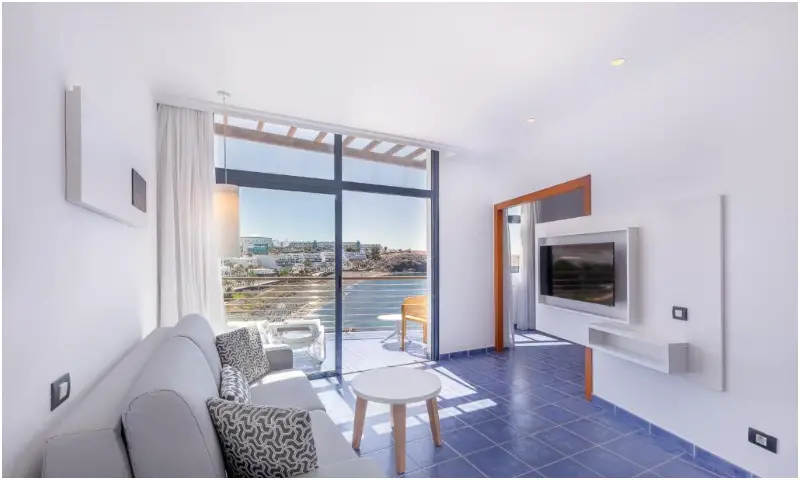 Hipotels Natura Palace – With premium rooms, two pools, a hot tub, and a spa, Hipotels Natura Palace is one of the most luxurious hotels in Lanzarote. There's also a private designated naturist area with sunbeds and a shower.
Hotel Mirador Papagayo (photo above) – For a luxurious stay in Lanzarote, choose Hotel the Mirador Papagayo. They offer ocean-view suites with private balconies and three outdoor pools. For naturists, you'll love the private rooftop terrace with sunbeds and a relaxing ocean view.
---
Best Adults-Only Lanzarote Hotels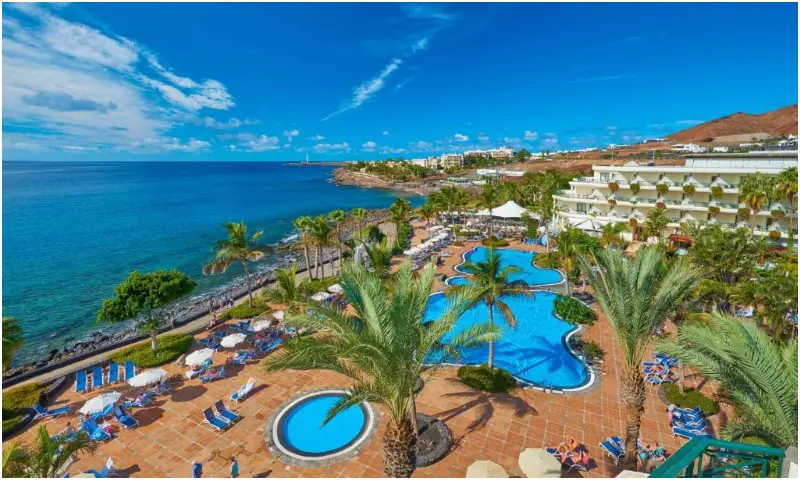 H10 Timanfaya Palace – Their suites are made for couples, with large king beds and terraces overlooking the Atlantic. There are two outdoor pools, plus a spa with a couples massage, a hot tub, and a Turkish bath. Naturists can enjoy the private rooftop nudist area with sunbeds and umbrellas.
Hipotels Natura Palace (photo above) – This adults-only hotel is one of the best in Lanzarote with luxurious rooms, a spa, and two outdoor pools. At the spa, guests can choose from a massage, a sauna, or a steam bath. Even though Hipotels Natura Palace is not well-known as a naturist resort, there is a private area for their naturist guests.
---
Lanzarote Hotels Map
Find More Lanzarote Hotels for Adults Only
---
Best Lanzarote Rooms