If you're looking for a romantic getaway in Northern Ireland, Belfast is a unique option.
The city has the perfect mix of history and modern attractions like the Titanic Quarters.
And, there are plenty of romantic hotels for couples.
You'll find cozy suites, rooftop spas, as well as beautiful city and river views.
Add a luxurious bathtub in room and you'll have the perfect weekend.
Before you plan your getaway, have a look at Belfast's most romantic hotels with bathtubs.
You'll discover why Belfast is a city made for two.
1. The Merchant Hotel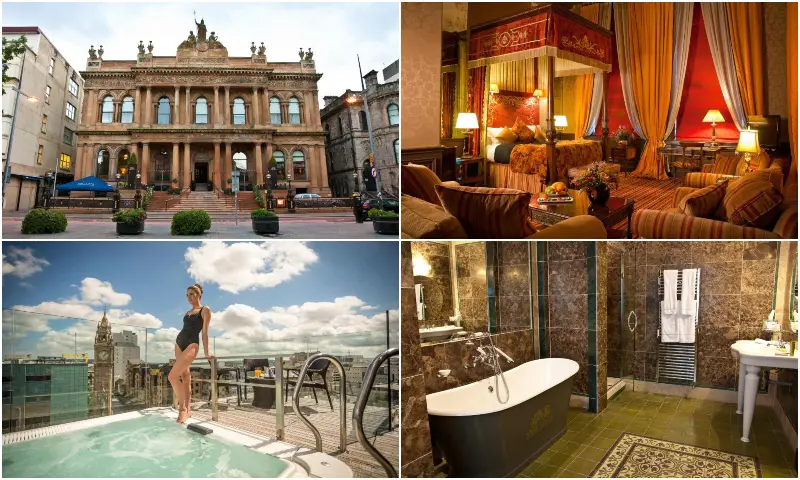 The Merchant Hotel is a 5-star luxury hotel in Belfast's historic Cathedral District.
They offer a variety of rooms and suites all designed for romantic getaways.
Victorian loft suites feature a lounge, king beds, and roll-top bathtubs big enough for two.
The Merchant Spa has 5 treatment rooms and a relaxation room, perfect for couples.
On the roof, you'll find a hot tub, steam room, and sauna.
Bert's Jazz Bar is Belfast's only jazz venue.
Here, couples can relax with a cocktail and enjoy jazz seven nights a week.
The Great Room Restaurant offers all-day dining as well as afternoon tea.
For an intimate dinner or Sunday Brunch, we recommend you book ahead.
Guest Rating: 9.3

Star Rating: 5 stars

Best Rooms: Suite

Address: 16 Skipper Street, Belfast, BT1 2DZ, United Kingdom
---
2. The Fitzwilliam Hotel Belfast
The Fitzwilliam Hotel is a 5-star luxury hotel on Belfast's Great Victoria Street.
It's next to the city's historic opera house so check out their shows at night.
For the best room, make sure you book the deluxe junior suites.
They feature a king-size bed, floor-to-ceiling windows, and a roll-top tub in the bath.
You'll have unobstructed city views of Belfast too.
After a romantic walk through historic Belfast, drop into the restaurant for Crafternoon Tea.
Instead of Afternoon Tea, Crafternoon Tea features craft beers, cocktails, and appetizers.
It's a great way to spend a relaxing afternoon together.
Guest Rating: 9.1

Star Rating: 5 stars

Best Rooms: Deluxe junior suite

Address: Great Victoria Street, Belfast, BT2 7BQ, United Kingdom
---
3. Ten Square Hotel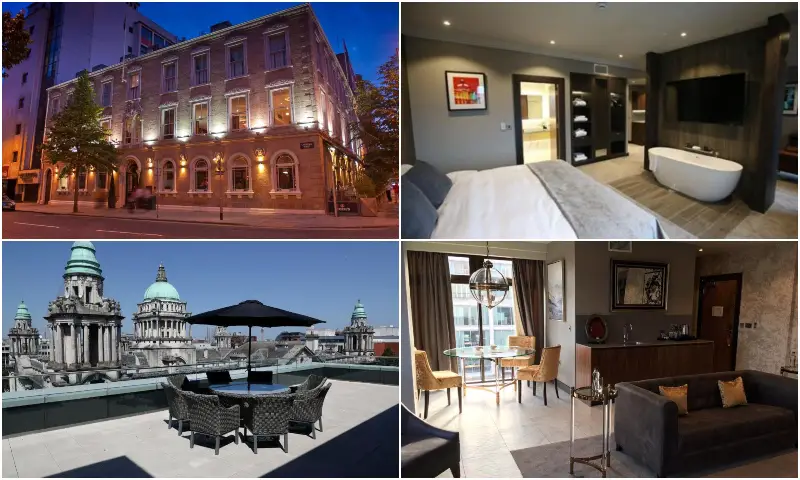 Ten Square Hotel sits in the heart of Belfast City Center, 5-minutes from the city's major attractions.
It's a short walk to the Titanic Quarter, Belfast Cathedral, and the city's shopping district.
The hotel offers a selection of rooms and suites, including the popular junior suite.
Each junior suite has a lounge, king bed, and a free-standing double in-room bathtub.
You'll love that's it's just a few steps from the bed to the tub.
For a romantic dinner, Josper's Steakhouse serves juicy charcoal grilled steaks.
After dinner guests can head up to the Loft rooftop bar for cocktails, wine, or champagne.
Particularly at night, the Loft has the most romantic views in Belfast.
Guest Rating: 9.0

Star Rating: 4 stars

Best Rooms: Junior suite

Address: 10 Donegall Square South, Belfast, BT1 5JD, United Kingdom
---
4. Grand Central Hotel Belfast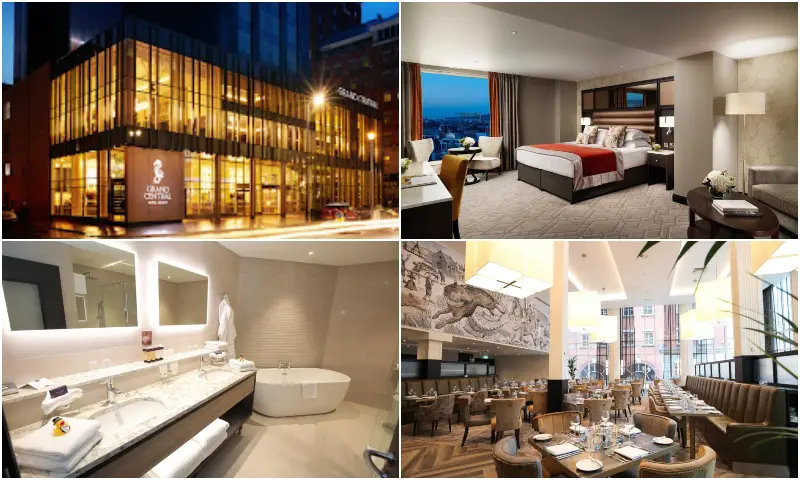 You won't miss the Grand Central Hotel as it's Belfast's tallest building.
The hotel is close to several attractions including the SSE Arena and St. Georges Market.
It's the perfect hub for walks through the historic Cathedral and Titanic Quarters.
If you want the best night, the deluxe suites are the most romantic.
They come with Cloud king beds, free-standing tubs, and walk-in rain showers.
And the city and sunrise views are some of the best in Belfast.
For more views of Belfast and beyond, go up to the Observatory Bar.
Set on the 23rd floor it's the tallest bar in Ireland.
It's perfect for enjoying a romantic cocktail before heading back to the suite.
Guest Rating: 8.9

Star Rating: 4 stars

Best Rooms: Deluxe suite

Address: 9-15 Bedford Street, Belfast, BT2 7FF, United Kingdom
---
5. Titanic Hotel Belfast
The Titanic Hotel is located opposite the city's Titanic Belfast monument.
Many of the hotel's rooms come with views of the historic Titanic Quarter.
Check out the Superior suites which are modeled on White Star Line staterooms.
Each suite has a large bedroom, sitting room, and old-fashioned bathroom.
Inside, is an emperor-size bed, retro drenching shower, and private bathtub.
For dining, Titanic's Wolff Grill features the best Irish food and breakfasts in Belfast.
If you just want a drink, The Drawing Office Two Bar is the hotel's centerpiece.
It's the same room where they drew the plans for the Titanic.
Most couples come here for the cocktails and the intimate seating.
Guest Rating: 8.7

Star Rating: 4 stars

Best Rooms: Superior suite

Address: Queens Road Titanic Quarter, Belfast, BT3 9DT, United Kingdom
---
6. The Stormont Hotel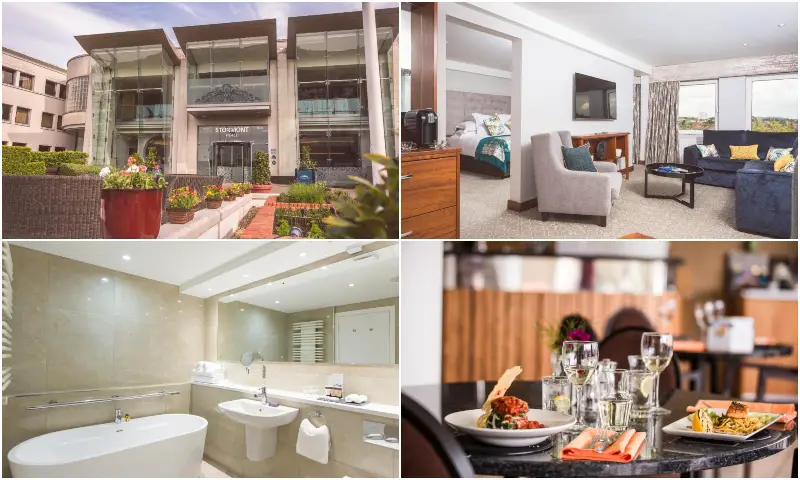 The Stormont Hotel is a 4-star hotel overlooking the gardens of Stormont Castle.
Its secluded location away from Belfast's city center.
Each of the 105 rooms and suites are decorated and furnished to the highest standards.
If you want the most romantic stay, check out the Junior suites.
Each suite is furnished with a super king bed, and an oversized bathtub.
For date nights, try La Scala Bistro, one of Belfast's finest gourmet restaurants.
La Scala is especially known for its traditional Irish breakfasts and Sunday buffet.
Alternatively, try afternoon tea at the cocktail bar, which also serves a range of beers.
Guest Rating: 8.6

Star Rating: 4 stars

Best Rooms: Junior suite

Address: 587 Upper Newtownards Road, Belfast, BT4 3LP, United Kingdom
---
7. Europa Hotel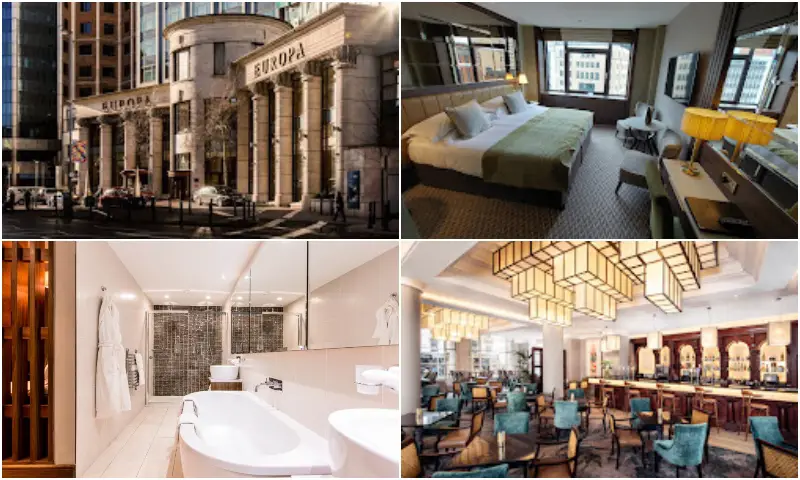 The 4-star Europa Hotel sits in the heart of Belfast, next to Great Victoria Street Station.
Set on Belfast's Golden Mile, it's close to shopping and other major attractions.
Couples will love the city view suites with their high floor views of Great Victoria Street.
The super king beds and oversized bathtubs offer guests the ultimate romantic experience.
For lunch, try the Causerie Restaurant or chill in the Lobby Bar.
If you want something more traditional, head to the Piano Lounge for afternoon tea.
Once the sun goes down, you can order cocktails and an array of hot and cold snacks at their dining venues.
Guest Rating: 8.6

Star Rating: 4 stars

Best Rooms: Suite with city view

Address: Great Victoria Street, Belfast, BT2 7AP, United Kingdom
---
8. Hilton Belfast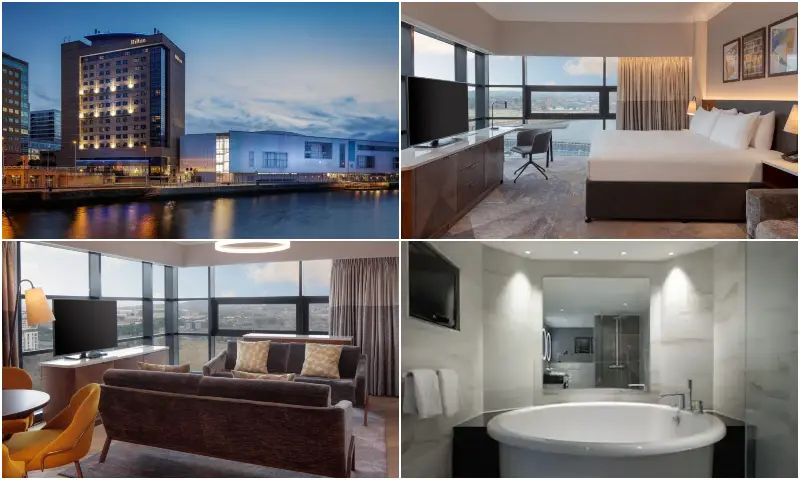 The Hilton Belfast overlooks the River Langan close to central Belfast.
It's a five-minute walk to Belfast's primary shopping district, Victoria Square.
Stay in the luxurious King Executive Suite, which sits on the top floor and comes with Executive Lounge access.
The suite features a king bed, a deep-fill bathtub, and spectacular city views.
You'll love the views and the intimate tub.
For onsite dining, Sonoma Bar & Grill serves breakfast, lunch, and dinner.
Floor-to-ceiling windows feature views of River Langan and the old Titanic shipyards.
Also onsite, is No. 4 – an Art Deco style bar from the Roaring 20s.
They feature classic cocktails as well as Belfast's best artisan distillery.
Guest Rating: 8.5

Star Rating: 4 stars

Best Rooms: King executive suite

Address: 4 Lanyon Place, Belfast, BT1 3LP, United Kingdom
---
9. The Culloden Estate and Spa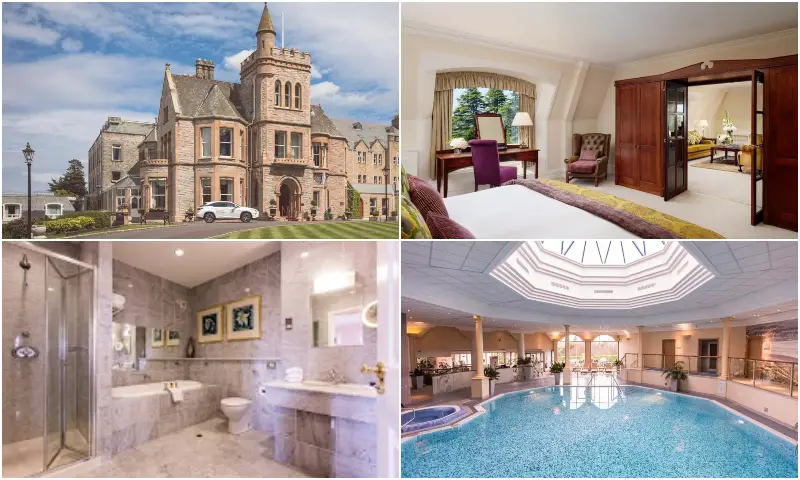 Culloden Estate & Spa is one of the best 5-star luxury resorts in Northern Ireland.
Overlooking Belfast Lough, the property sits on over 12 romantic acres of gardens and woodlands.
Make sure you stay in the King suite with balcony, featuring gas fireplaces, and views of the estate.
You'll love the soft cloud beds and the marble bathtubs.
For relaxation, The Spa at Culloden is the perfect spot to enjoy some pampering.
They offer luxurious treatment rooms, heat therapies, and a swimming pool.
Also onsite, Vesper's restaurant and the Lough bar showcase the flavors of Northern Ireland.
From artisan whiskey to local preserves, everything they serve is locally sourced.
For a luxurious 5-star experience in Belfast, Culloden Estate is the best choice.
Guest Rating: 8.4

Star Rating: 5 star

Best Rooms: King suite with balcony

Address: Bangor Road, Holywood, Belfast, BT18 0EX, United Kingdom
---
10. Malmaison Belfast
Malmaison Belfast is a luxurious 4-star hotel in the heart of the city's Cathedral Quarter.
It's an easy walk to Titanic Quarter, Victoria Square, or the city's coolest clubs.
There's so much to do in Belfast and Malmaison is in the center of it all.
Stay a few nights in the Superior king suite to add to your romantic getaway.
Each suite features a comfy bed, a gas fireplace, a walk in dual shower, and a roll-top bathtub.
For food and drinks, the hotel's Chez Mal and MalBar are the places to be day or night.
Chez Mal's talented chefs offer one of the best culinary experiences in Belfast.
At MalBar you'll find afternoon tea, mixed cocktails, champagne, and even a drop of Guinness.
Guest Rating: 8.1

Star Rating: 4 stars

Best Rooms: Superior king suite

Address: 34-38 Victoria Street, Belfast, BT1 3GH, United Kingdom
---
11. Radisson Blu Hotel Belfast
The Radisson Blu is a 4-star hotel situated in Belfast's Gasworks business district.
Guests can walk to shops and restaurants or easily travel to Belfast's top attractions.
If available, the Presidential Suite has everything couples need for an intimate weekend.
There's a comfortable king bed, romantic mountain views, and a soaking tub big enough for two.
For date nights, the terrace at the Gasworks restaurant is the perfect spot.
They feature popular comfort food dishes and Belfast's only gin afternoon tea.
The adjacent Gasworks bar serves custom cocktails, beer, wine, and other spirits.
Guest Rating: 7.6

Star Rating: 4 stars

Best Rooms: Presidential suite

Address: 3 Cromac Place, Ormeau Road, Belfast, BT7 2JB, United Kingdom
---
Belfast Hotels Map
Find More Romantic Belfast Hotels
---
FAQs
Summary