With sun-drenched beaches, Phuket Island is one of Thailand's best destinations for wellness retreats. There are 5-star hotels, spa resorts, and luxury villas. From short stays to two-week breaks, you can customize programs to optimize your health. Enjoy traditional massages, detox diets, yoga classes, meditation, and fitness boot camps. Whether you're traveling solo, as a couple, or in a large group, there's something for everyone. Here are the best health and wellness retreats in Phuket.
---
1. The Slate 
The Slate is a 5-star Wellness Resort only 10 minutes from Phuket International Airport and 500 meters from Naiyang Beach. Inside the resort, is the Kru wellness, regeneration, and retreat center. Programs include wellness screening and a number of key therapies. These can be NAD+, heavy metal chelation therapy, signature vitamin drip infusions, liver detox, and more. Pool villas are the ideal complement to a wellness stay. Each has a jacuzzi, sauna, steam room, and a large swimming pool. For families, the two-bedroom pool villa has a garden separating the bedrooms for extra peace and quiet. The resort offers an impressive food and beverage experience. But Black Ginger restaurant is the best for a complete Thai culinary journey.
Guest Reviews: The pool villa was the best. Loved the steam shower and sauna. Great buffet and it's close to the beach.
Star Rating: 5 stars
Best Rooms: Two bedroom pool villa
Address: 116 Moo 1 Tambol Saku, Talang, Phuket, 83110 Nai Yang Beach, Thailand
---
2. Anantara Layan Phuket Resort 
Anantara Layan is a beautiful 5-star beachfront resort. At Layan, join a workout boot camp followed by spa treatments, lunch, and juice detoxing. There are also three and five-day wellness retreats if you need more. Signature spa treatments include seashell sound therapy, herbal compressions, and orchid baths. Also featured are intraceutical oxygen treatments and various detox rituals. The most luxurious rooms are set on the hills with sea views, but these are designed for larger groups. If you prefer to be closer to the resort center, there are interconnecting suites and pool suites. All their dining venues are amazing, but a must-try is Zuma Pop-Up for award-winning Japanese Izakaya cuisine.
Guest Reviews: The room was immaculate! The food and the spa were top-tier.
Star Rating: 5 stars
Best Rooms: Seven-bedroom sea view residence
Address: 168 Moo 6, Layan Beach Soi 4, Cherngtalay, Thalang, 83110 Layan Beach, Thailand
---
3. Anantara Mai Khao Phuket Villas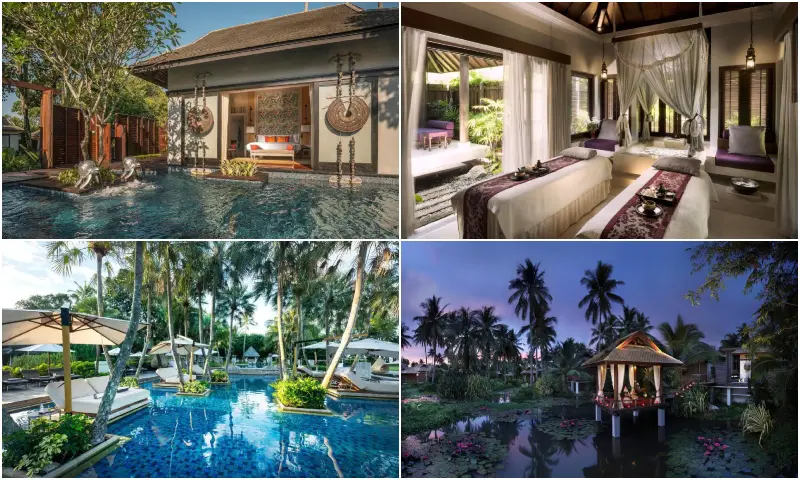 Anantara Mai Khao Phuket Villas is another wellness offering by Anantara and is a 15-minute drive north of the airport. They have an excellent one-day wellness program and raw juice cleansing. You can also choose 3, 5, and 7-day programs customized to your needs. For those who enjoy physical activity, there's Muay Thai boxing, yoga, and tennis coaching. The two-bedroom royal villa is the best option for small groups. For couples, the One-bedroom pool villas are more suitable for a romantic retreat. Sea, Fire, Salt is a great open-air seaside grill, but The Tree House has renowned Omakase Japanese dining with 360 lagoon views.
Guest Reviews: Spectacular villa with a private pool. It's close to the beach, plus the food and the service were outstanding.
Star Rating: 5 stars
Best Rooms: Two-bedroom royal villa
Address: 888 Moo 3, Tumbon Mai Khao, Amphur Thalang, 83110 Mai Khao Beach, Thailand
---
4. COMO Point Yamu, Phuket 
Como Point Yamu is situated on the tip of the Yamu peninsula with amazing views. You'll love the onsite Shambhala Retreat which has treatment rooms overlooking Phang Nga Bay. They have daily wellness activity schedules that you can join. Some highlights are deep cleansing body scrubs, Thai massage, and yoga. The best stay for large groups is the Como pool villa with 4 ensuite bedrooms and fantastic Andaman Sea views. There are also one-bedroom villas, cozy suites, and deluxe rooms. You can enjoy all southern Thai favorites at Namhyaa or light wood-fired Italian cuisine at La Sirena. However, a unique offering is an 8-course private dinner presented by Michelin star chef Steven Black.
Guest Reviews: Big villa with a kitchen and a private pool. Everything was amazing, the spa, the food, and the activities.
Star Rating: 5 stars
Best Rooms: COMO pool villa
Address: 225 Moo 7, Talang, Paklok, Phuket, 83110 Ban Pa Khlok, Thailand
---
5. InterContinental Phuket Resort 
The Intercontinental Resort is along the northern part of the beautiful Kamala beach. Their Sati Spa has a number of holistic spa journeys using personally curated massage oils. You can combine treatments with mindfulness practices, yoga, and healthy dining. Weekly scheduled resort activities include Pilates, boot camp fun, walking meditations, and water polo. For kids, there's Planet Trekkers jungle hideout club. If you book a 1-bedroom Club IC pool villa you can relax by your lavish pool or enjoy an outdoor shower. There are also 2 and 3-bedroom villas or try a premium room with exclusive lounge access. For dining, you don't want to miss the twice Michelin-starred Jaras Thai restaurant. 
Guest Reviews: Beautiful hotel. The food was amazing and the spa was a dream come true.
Star Rating: 5 stars
Best Rooms: 1-bedroom Club IC pool villa
Address: 333, 333/3 Moo 3, Kamala, Kathu, Phuket, 83150 Kamala Beach, Thailand
---
6. Keemala 
Keemala is a beautiful secluded spa and resort on the west side of the island. This tribal village-inspired concept is a wonderland built amid waterfalls, streams, and lush vegetation. Keemala Spa runs Ayurveda-based wellness retreats from 3 to 6 days. Components include meditation, yoga, infrared sauna, herbal compresses, healing baths, and organic spa foods. You can join personal and group fitness training or try some Muay Thai. Bird's Nest pool villas are the most luxurious stay, fitted with a spacious bath, and indoor and outdoor showers. Two-storey Tree pool villas, however, are the most charming with their cocoon-like natural line designs. At Kamala Restaurant you can enjoy Thai, Western,  and Indian menus or be thrilled with unique dining destinations.
Guest Reviews: Our pool villa was perfect. The food was so good and the spa was a 10/10.
Star Rating: 5 stars
Best Rooms: Bird's nest villa
Address: 10/88 Moo 6, Kamala, Kathu District, Phuket, 83150 Kamala Beach, Thailand
---
7. Trisara 
Trisara is an oceanfront resort nestled around a tropical peninsula hillside. Considered one of Phuket's top private pool villa retreats, they offer exclusive cruises and snorkeling tours to various islands. Closer to home, Jara Wellness Spa is built around a century-old Ficus spirit tree that inspires its traditional healing techniques. You can combine spa treatments with a range of private physical training programs. Private villas from 2 to 8 bedrooms offer perfect accommodation options for all types of groups and families. For dining, the Deck is the perfect place for oceanfront cocktails and the freshest seafood. Also highly recommended are their destination dining experiences and in-villa barbecues.
Guest Reviews: A luxurious, upscale resort with a private beach. The spa services were professional and relaxing.
Star Rating: 5 stars
Best Rooms: Seven-bedroom ocean front residence
Address: 60/1 Moo 6 Srisoonthorn Road, Cherngtalay, Thalang, Phuket, 83110 Nai Thon Beach, Thailand
---
8. Stay Wellbeing & Lifestyle Resort 
Stay Wellbeing & Lifestyle Resort is a 5-star property in the northern part of Rawai. What sets this resort apart is its sports and physical activity retreats. You can join Fitness, Muay Thai, and Yoga programs for four days up to two weeks. Le Spa is also unique for its zero-gravity floating therapy 'dream pod'. Apart from exclusive treatments, there are steam rooms, saunas, and a Japanese onsen. To make your stay extra special, try a pool villa with ensuite rooms and a fully-equipped kitchen. But if you don't like cooking, Fresca is their trendy Rawai dining spot, while Stay Green Café specializes in vegetarian fare.
Guest Reviews: Great room with direct pool access. The spa was perfect and so relaxing.
Star Rating: 5 stars
Best Rooms: Villa with private pool
Address: 56/80 Moo 4 Soi Suksan 2 Viset Road, Rawai, Muang, Phuket, 83130 Rawai Beach, Thailand
---
9. The Nai Harn 
The Nai Harn is an exclusive resort along the southern oceanfront of Phuket. Apart from regular spa treatments, there are one, three, and five-day retreat programs. Their Puriti Detox retreat incorporates a plant-based diet with exercise, yoga, and massage. For couples, the Royal Ocean View suite commands the best-terraced views of the bay. Their exclusive Family Wing has a shared private pool space which is a great choice for groups traveling together. Cosmo has all-day Thai and Mediterranean dining and Salt Rock char-grilled sensations.  However, not to be missed is Hansha for rooftop sushi and Japanese sashimi prepped right in front of you.
Guest Reviews: Beautiful hotel with excellent service. Loved the pool and the beach next door was incredible.
Star Rating: 5 stars
Best Rooms: Royal ocean view suite
Address: 23/3 Moo 1, Vised Road, Tambol Rawai, Amphur Muang, Phuket, 83130 Nai Harn Beach, Thailand
---
10. Banyan Tree Phuket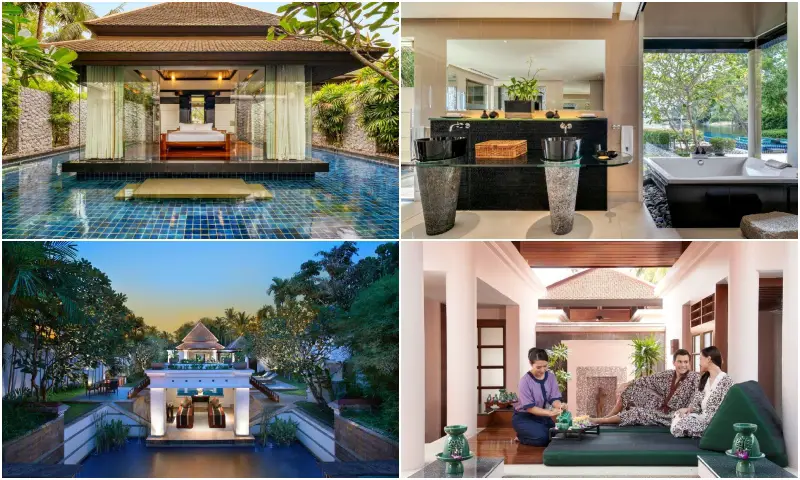 The Banyan Tree Phuket is an all-pool villa resort built around a lagoon. They are most well known for their luxury spa experiences. You can choose treatments drawing from Thai, Indonesian, Chinese, and Indian traditions. They also have a Wellness Centre – Thailand's first White Room. On arrival, you'll first have a private consultation so a health program can be customized for you. There are three smart causal dining venues and a café, but Saffron is the best place to experience Thai cuisine with a twist. All their luxury villas have private pools, ideal for couples. But if you're traveling with friends, check in to the 3-bedroom villa which has an infinity pool view over the lagoon.
Guest Reviews: Our pool villa was so luxurious. Great facilities, incredible food, and an outstanding spa.
Star Rating: 5 stars
Best Rooms: Three-bedroom villa with private double pool
Address: 33/27 Moo 4, Srisoonthorn Road, Cherngtalay, Amphur Talang, Phuket, 83110 Bang Tao Beach, Thailand
---
11. Amatara Welleisure Resort 
Wellness and leisure are at the core of the Amatara Welleisure Resort. The resort brings wellness into luxury and leisure activities for guests wanting the best of both worlds. Full or half-day Wellness Journeys include consultation, treatments, therapies, group activities, and tours. Retreats from 3 to 7 nights include a signature Thai Hamman experience. Integrated activities can be mandala art, physical movement sessions, and cuisine workshops. Similar Fitness retreats feature deep tissue massage, sauna, and healthy eating. Other programs are detox, stress recovery, weight control, and even Family programs if you're staying with kids. The stunning ocean-view pool villa with an oversized open-view bathroom will only add to the experience. They also have the most beautiful spaces for dining at their onsite restaurants Siri, Senses, and Scene.
Guest Reviews: Our pool villa made our honeymoon so memorable. Everything was amazing, great food, and the spa was so relaxing.
Star Rating: 5 stars
Best Rooms: Ocean pool villa 
Address: 84 Moo 8 Sakdidej Road, Vichit, Muang, Phuket, 83000 Panwa Beach, Thailand
---
Best Time to Visit Phuket for Health & Wellness Retreats
The best time to visit Phuket retreats is during the dry season, which runs from November to April. During this time, the weather is pleasant. Outdoor activities such as hiking, yoga, and swimming, will be much more enjoyable. However, it's worth noting that this is also peak tourist season, so prices for hotels and resorts will be higher. On top of that, popular attractions in Phuket may be more crowded. If you're looking for a more affordable time to visit, consider traveling during the rainy season. This runs from May to October. While the weather can be unpredictable, retreats might be cheaper and offer more packages. Just make sure to check the weather forecast before planning outdoor activities.
---
How to Choose the Right Phuket Retreat
Each health & wellness retreat in Phuket offers unique experiences and services. With so many options available, it can be overwhelming to choose the right one. Here are some tips to help you narrow down your search:
Determine your goals – Before you start your search, think about what you hope to achieve from your retreat. Are you looking to relax and de-stress, lose weight, detox, improve your fitness, or work on your mental health? Phuket retreats offer different programs, so it's important to find one that aligns with your goals.
Research the retreat – Look into the retreat's philosophy, reputation, and customer reviews. Check if they have a qualified team of professionals, such as nutritionists, trainers, and therapists. They're the ones who will guide you through your journey. Find out what kind of rooms, amenities, and services they offer to ensure that they meet your standards.
Location – Phuket offers a variety of scenic locations for your retreat, such as beachfront, jungle, or mountain views. Decide what kind of environment you prefer and choose a resort that matches your preferences.
Check the schedule – Review the retreat's schedule and make sure it aligns with your availability and preferences. Some retreats may offer intensive programs that require full-day participation, while others may allow more flexibility.
Budget – Health and wellness retreats can vary in cost, so determine your budget beforehand. Keep in mind that some retreats may offer additional services or excursions that come at an extra cost.
With these factors in mind, let's see if we can help you find the best health & wellness retreat in Phuket.
---
Most Affordable Health & Wellness Retreats in Phuket
Most luxurious Phuket resorts can be quite expensive, particularly if they offer health and wellness programs. However, despite being 5-star properties, the following resorts are very affordable.
The Nai Harn – This is a luxury wellness retreat that offers budget-friendly packages. They have a range of programs, including yoga, meditation, detox, and weight loss. The onsite spa opens daily from 10am to 6pm. Bookings range from $200 to $500 USD depending on the room type and season.
Stay Wellbeing & Lifestyle Resort – This resort is even cheaper compared to Nai Harn. Rooms start from $120 USD but there are also luxurious options like a 6-bedroom villa. Their programs include yoga, meditation, fitness, detox, and weight loss. They also offer a range of wellness activities, such as Pilates, Muay Thai, and aqua aerobics.
---
Best Luxury Health & Wellness Retreats In Phuket
If you want the ultimate pampering in Phuket, two wellness retreats stand out. Keep in mind, that staying at these resorts comes with a bigger price tag. But their wellness facilities and staff are world-class.
Trisara – This luxurious resort offers private pool villas with ocean views and access to a private beach. They have an award-winning spa onsite – Jara Spa. Their wellness programs include yoga and meditation. Suites and villas are well over $1,000 USD per night.
Banyan Tree Phuket – All the villas here have their own private pools. At the spa, they offer traditional Asian healing therapies, a fitness center, and various wellness programs such as yoga and Tai Chi. Rates start from $400 USD per night.
---
Best Health & Wellness Retreats In Phuket For Solos
All Phuket retreats accept solo travelers. However, since most of their villas and suites cater to couples, you're likely to pay this higher price. With that in mind, here are the retreats best suited to solo travelers.
COMO Point Yamu – This retreat offers a range of wellness programs and activities that cater to solo travelers. They have yoga, Pilates, meditation classes, and even cooking classes. Besides dining options, you may enjoy the Aqua bar. They have healthy drinks and cocktails to enjoy in a social setting. The Bay rooms and Phang Nga suites are suitable for solo travelers.
Amatara Welleisure Resort – Compared to other hotels, Amatara has more fun workshops suitable for solo travelers. These include soap-making, wax candles, and cooking classes. They also hold wellness events throughout the year so it's a great opportunity to meet like-minded people. More importantly, they create individual programs so that you can achieve your health goals.
---
Best Health & Wellness Retreats In Phuket For Couples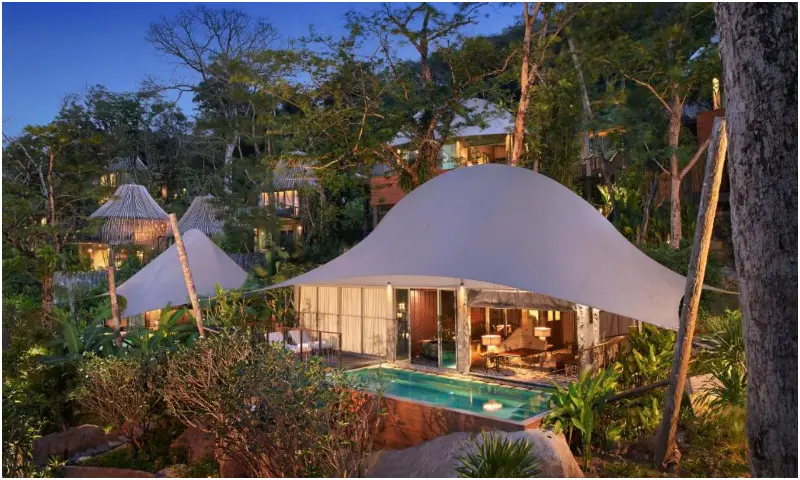 Phuket is an ideal destination for couples who want to unwind and indulge in wellness activities together. All the luxury Phuket resorts listed cater to couples. But we believe the following retreats offer the best romantic and rejuvenating experience.
Keemala – Keemala is a unique wellness resort that offers a range of holistic treatments and activities to help couples reconnect. All their villas and cottages are incredible. For the most unique stay, have a look at the Bird's Nest villa.
Banyan Tree Phuket – This resort goes over the top with luxury. All their villas have private pools, plus open-air baths or jetted spas in the most secluded setting. Besides healthy food, you'll enjoy the romantic views at the Watercourt. They also have the Banyan Tree Spa and Wellbeing Centre onsite.
---
Best Health & Wellness Retreat In Phuket For Detox
The Kru Wellness Center at The Slate Resort has a highly professional healthcare program. It has heavy metal detox, liver detox, hormonal health care, and vitamin infusion therapies. Besides extensive detox programs, they have luxurious villas that cater to couples and groups.
---
Best Health & Wellness Retreat In Phuket For Yoga And Meditation
Amatara Welleisure Resort has the best yoga retreats on offer. They have full yoga retreats lasting from 3 to 7 nights. Daily inclusions are Pranayama sessions, Ayurveda massage, Thai massage, private and group sessions, plus take-home practices.
---
Phuket Wellness Retreats Map
Find More Wellness Retreats in Phuket
---
Best Phuket Villas