Fiji is a country with beautiful islands, turquoise waters, and white sand beaches. Surrounded by lush vegetation, there are plenty of luxury resorts as well. Many of them have rooms fitted with the finest furnishings and epic views from the private pools. Besides high-end suites, there are overwater bungalows too. We'll show you beachfront properties and all-inclusive resorts, ideal for both couples and families. For easy travel planning, here are the best Fiji resorts with private pools.
---
1. Likuliku Lagoon Resort
Set on an island paradise, Likuliku Lagoon Resort is an adults-only property in Fiji. It prides itself as the first and only resort with overwater perched bures. The natural and pristine environment makes the property more inviting to guests. Onsite, there'll be plenty of land and sea activities to occupy you all day. Out of all the bures, the most intimate stay is the Deluxe Beachfront Bure. You'll have a private plunge pool, a cozy daybed, and an outdoor shower in a lush, private courtyard. With a split-level design, guests get to enjoy spectacular views of the ocean lagoon. Relax during the day at Tatadra Spa, then go for date nights at Fijiana Restaurant, Masima Bar, or Dua Tale Bar.
Guest Reviews: Our beachfront bure was exactly what we wanted, and the snorkeling was the best I've ever seen.
Star Rating: 5 stars
Best Room: Deluxe beachfront bure
Address: Malolo Island, Malolo, Fiji
---
2. Paradise Cove Resort
Staying true to its name, Paradise Cove Resort is a 5-star resort situated in a cove on Naukacuvu Island. With a beachfront location, it features a private beach area, 3 outdoor swimming pools, and a bar. Residential-style garden rooms, villas, and suites are available for couples and families. They are also spacious, fitted with traditional furnishings and amenities. But for couples who want more privacy, the Paradise Suite is the best room. It's an ideal honeymoon suite with an exclusive plunge pool and breathtaking ocean views. For families, you may prefer the garden villas that have access to 2 swimming pools. Head to Black Rock for daily meals or Donu-Omakase to experience a fusion of Fijian and Japanese cuisines. For rejuvenating body or massage treatments, the Nauka Spa has you covered.
Guest Reviews: This place was simply amazing! Nice room, good food, good drinks, and lots of activities. We were never bored.
Star Rating: 4 stars
Best Room: Paradise suite
Address: Naukacuvu Island, 35040 Naukacuvu Island, Fiji
---
3. Lomani Island Resort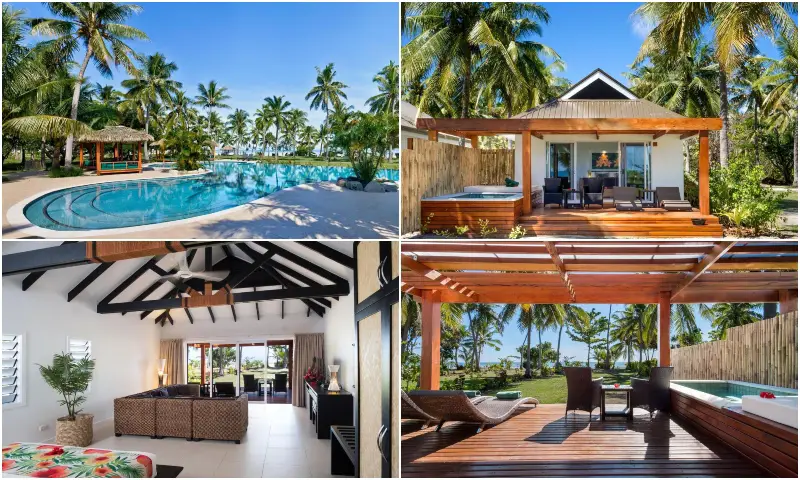 Lomani Island Resort is a tranquil retreat on Malolo Lailai Island in Fiji. It caters to adult guests, making it a suitable venue for honeymoons or romantic getaways. Different forms of flora add elegance to the property. Onsite, there are 30 air-conditioned rooms with beach access and incredible ocean views. Room rates also include continental and American breakfast, as well as a free tour or activity. If you stay in the Beachfront Bure, there'll be a private pool with daybeds on the sundeck. It even looks more classy with well-crafted mahogany furniture inside. Have a fancy date at Flame Tree Restaurant or enjoy a variety of cocktails at Lomani Bar. Experience various sea activities, too, or keep it lowkey with a massage at Lomani Spa.
Guest Reviews: Our room was fantastic with direct beachfront access. There were lots of water activities and a very nice pool.
Star Rating: 4 stars
Best Room: Beachfront bure with private pool
Address: Malolo Lailai Island, Fiji, 0000 Malolo Lailai, Fiji
---
4. Tokoriki Island Resort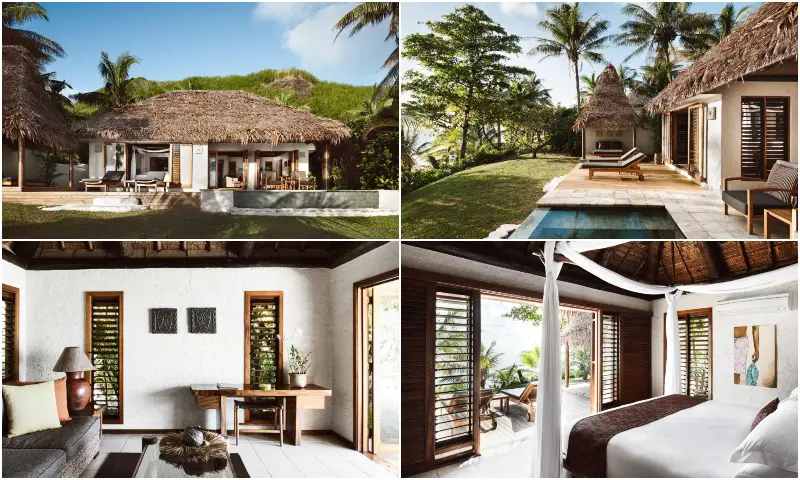 A multi-awarded adults-only property, Tokoriki Island Resort is on a secluded island in Fiji. Guests can get there by sea or air transport from Nadi International Airport. You can choose from 36 luxury bures and villas that exude Fijian and modern designs. Comfort amenities are available, but they don't have TVs, phones, or internet access. Ideally, you'll be spending more time relaxing on your daybed and enjoying the sunshine. For the most spacious room, try to book the Beachfront Pool Villa with a private infinity pool. Inside, you'll have a separate living space and a bedroom with folding doors opening to stunning beach views. At night, there are a number of private dining options, or you can enjoy a fun dinner date at Oishii Teppanyaki. For a pampering date, Tokoriki Spa has various spa services for couples to enjoy.
Guest Reviews: Our beachfront bure was amazing. We loved the sea views from the private pool.
Star Rating: 5 stars
Best Room: Beachfront pool villa
Address: Tokoriki Island, Fiji Islands, . Tokoriki, Fiji
---
5. Tropica Island Resort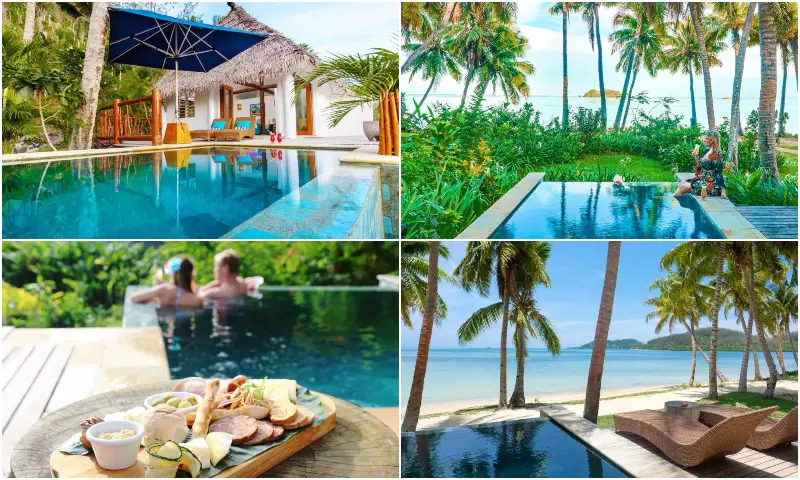 Opened in 2013, Tropica Island Resort is a boutique resort exclusive to adult guests. You'll love the private beach, well-landscaped gardens, and luxury spa. With 24 bures and suites, it's an idyllic venue for any romantic occasion. All stays include perks like free daily breakfast, a 10-minute foot soak, and a 30-minute guided snorkeling. There are private pools in the Sanctuary Pool Suites and Beachfront Pool Bures. But for honeymoons, we recommend the Deluxe Pool Bure with an infinity pool and ocean views. You'll also find staff extra attentive as they take you on resort tours and serve complimentary drinks. For romantic dinner dates, go to the open-air Lakalaka Restaurant & Bar or arrange a private dinner on the pier.
Guest Reviews: Our beachfront bure was perfect with a pool and an outdoor shower. The service, food, and drinks were exceptional.
Star Rating: 4 stars
Best Room: Deluxe pool bure
Address: Malolo Island, N/A Malolo, Fiji
---
6. Tadrai Island Resort
Tadrai Island Resort redefines luxury. Located on Mana Island, it's an all-inclusive, adults-only resort with 4 secluded beaches to explore. It also offers various land and water activities that are tailored to the guests' interests. This 5-star resort has five Deluxe Pool Villas, making it a perfect location for couples. These villas have exquisite interior designs and the most elegant furniture. You'll love the spacious ensuite, tropical outdoor shower, and private plunge pool with ocean views. For food and drinks, dine at Na Vatu Rock Pool Restaurant or enjoy fancy cocktails at Na Vatu Bar. In the afternoon, book a time at Wai Siliva Spa and try a selection of massage treatments.
Guest Reviews: Our villa was right on the beach and the views were amazing. We loved the island picnic and the sunset cruise.
Star Rating: 5 stars
Best Room: Deluxe pool villa
Address: Mana Island, 2544 Mana Island, Fiji
---
7. Six Senses Fiji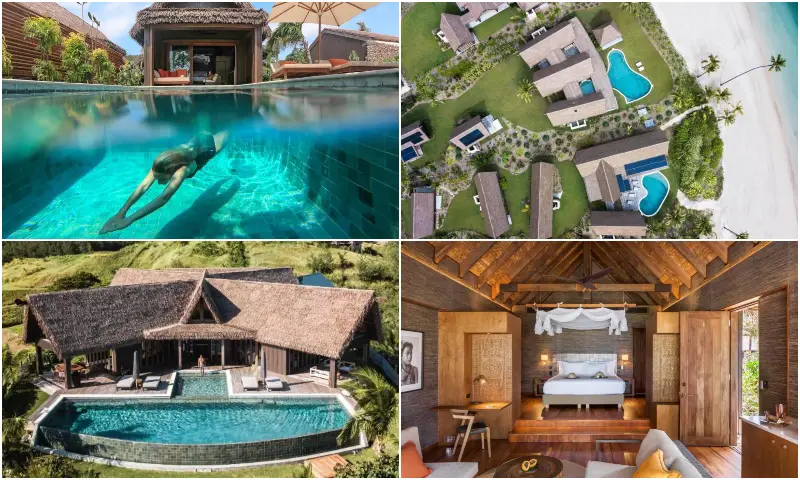 One of the most classy 5-star resorts, Six Senses Fiji is on the quaint Malolo Island. It's a tropical haven with plenty of outdoor activities during the day and night. For accommodation, you can pick from solar-powered suites, villas, and multi-bedroom residences. Couples will love the cozy Hideaway Pool Villa, Hideaway Pool Suite, and Beachfront Pool Villa. But for large groups, you may prefer the 4-5 bedroom houses with private infinity pools. Perfect for extended stays, each bedroom has an ensuite bathroom. If you have young kids, there's even a nanny service. For food, there's Tovolea, Rara Restaurant, Teitei Pizzeria, Gourmet Deli, and Ice Creamery.
Guest Reviews: Our villa and the views were unbelievable. We loved the food, the spa, and especially the watersports.
Star Rating: 5 stars
Best Room: Five-bedroom beachfront house
Address: Vunabaka, Malolo Island Nadi, Malolo, Fiji 
---
8. Yasawa Island Resort & Spa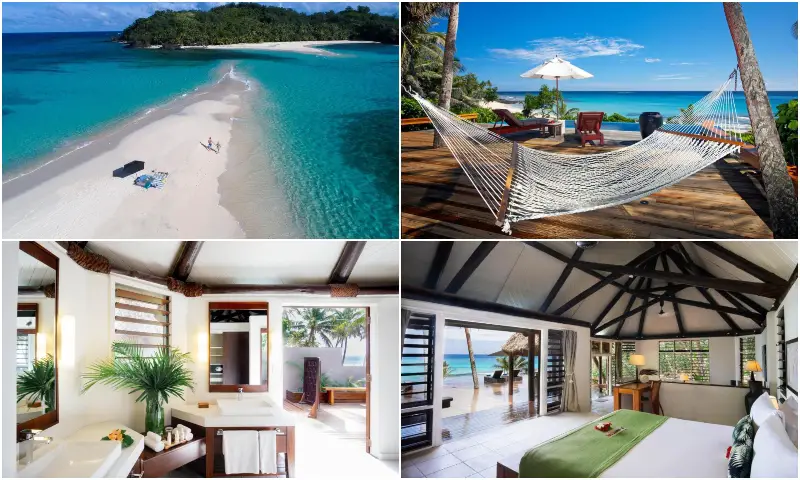 Yasawa Island Resort & Spa is a luxury hideaway nestled on one of the islands of Yasawa Group. It's an all-inclusive resort surrounded by white sand beaches and pristine ocean waters. It also features a day spa and an array of leisure activities for guests to experience. Showcasing Fijian interior designs, its 18 thatched bures are configured with modern furnishings. You'll love the beachfront and ocean views, as well as easy access to the beach. For couples on a romantic trip, the Honeymoon Suite is the most suitable choice. There's total privacy since it is located in a secluded part of the resort. Adding to its charm is a large terrace with beach views, an outdoor shower, and a private lap pool. Enjoy local and international tastes in the al fresco restaurant or grab a fancy drink at Manasa's Bar.
Guest Reviews: Our bure was lovely, very quiet, and private. The highlight was the beach picnic on the resort's private beach.
Star Rating: 5 stars
Best Room: Honeymoon suite
Address: Po Box 9779, Yasawa Island, 0000 Mbukama, Fiji 
---
9. Matamanoa Island Resort
Settled in the Mamanuca Islands, Matamanoa Island Resort is an adults-only retreat. It's surrounded by a lush and pristine natural environment. For your stay, you can choose from 47 furnished resort rooms nestled under tall palm trees. But make sure you book a villa or bure if you want a private plunge pool with beachfront views. The Beachfront Villa in particular is best for couples. With modern amenities, an exclusive pool, and two split-level rooms, this villa is great for a holiday retreat. For dining, head to Vale Ni Blau and enjoy Fijian and international cuisines. During the day, there's a variety of leisure and wellness activities, including an infinity pool if you want a proper swim. A full American breakfast is included in all bookings.
Guest Reviews: Our villa was quite spacious and the views were lovely. The beach was beautiful and the snorkeling was amazing.
Star Rating: 4 stars
Best Room: Beachfront villa
Address: Matamanoa Island, PO Box 9729 Matamanoa Island, Fiji
---
10. Sheraton Resort & Spa, Tokoriki Island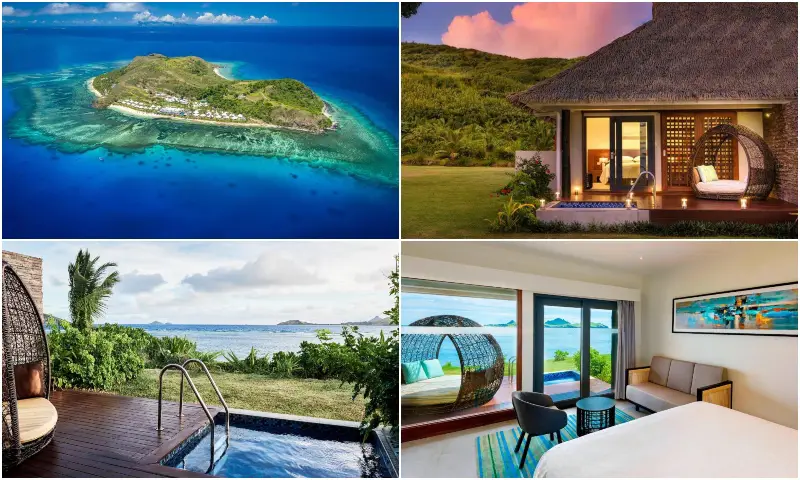 Sheraton Resort & Spa is a luxury retreat on the remote Tokoriki Island. You'll find plenty of facilities onsite including a pool, fitness center, tennis court, and spa. All their modern rooms have premium amenities inside and furnished outdoor patios. For couples on a weekend escape, get the Beachfront Plunge Pool Guest Room. While larger groups may prefer the family suite or even extra rooms. For dining options, go to Waitui House Restaurant, Curcuma, Tokoriki Coco Palms, or the Sala Lounge & Bar. If you're up for an adventure, experience a variety of activities like kayaking or scuba diving.
Guest Reviews: We had a wonderful stay in the oceanfront plunge pool room. The food, cocktails, and service were exceptional.
Star Rating: 5 stars
Best Room: Beachfront plunge pool
Address: Mamanuca Islands, 000 Tokoriki, Fiji 
---
11. Koro Sun Resort & Rainforest Spa
If there's a resort that has almost everything, that would be the Koro Sun Resort & Rainforest Spa. There's a huge list of activities onsite like snorkeling, kayaking, rainforest walks, and golf. For some pampering, make sure you try a body treatment at the Rainforest Spa. If you want to dip in the water from your room, check out the Two-Bedroom Pool Bure and Edgewater Pool Bure. Its villas, like the Treetop Villa, Lighthouse Villa, Vesi Villa, and Dalo Villa also have private pools. But for the most unforgettable family vacation, book the largest multi-bedroom Mountain Top Villa. It offers the best views of the resort, rainforest, and Kore Sea. This villa consists of two buildings with an infinity pool in the middle and 5 furnished bedrooms. It also has a full kitchen, a terrace in the master's bedroom, and well-furnished sitting areas.
Guest Reviews: Our 3-bedroom villa was fantastic. The area was perfect for snorkeling and diving. The seafood dinners were 10/10.
Star Rating: 4 stars
Best Room: Mountain top villa
Address: Hibiscus Highway, Savusavu, Fiji 
---
12. Royal Davui Island Resort, Fiji
Royal Davui Island Resort is a 5-star adults-only resort located on the tranquil Beqa Lagoon. A long stretch of white sand beaches and crystal blue waters make it a perfect escape from city life. There are just 4 dwellings on this intimate island. Inside their two luxury bungalows, you'll find a mix of contemporary and traditional Fijian decor. The villas are just as luxurious but have a bit more space. While they're all perfect for romantic getaways, the Sunset plunge pool villa has the best views. It has a private sun deck where you can watch the beautiful Fijian sunsets and lagoon views. Enjoy a lovely in-villa dinner on the private dining deck, then have a pampering date in the soaking spa bath. All bookings are inclusive of meals and resort activities like kayaking and cooking classes.
Guest Reviews: Our villa was large and comfortable. We loved the jet skis and the snorkeling. The best part of the trip was the spa. 
Star Rating: 5 stars
Best Room: Sunset plunge pool villa
Address: Royal Davui Island Resort, Beqa Island, Fiji 
---
Best Places To Stay In Fiji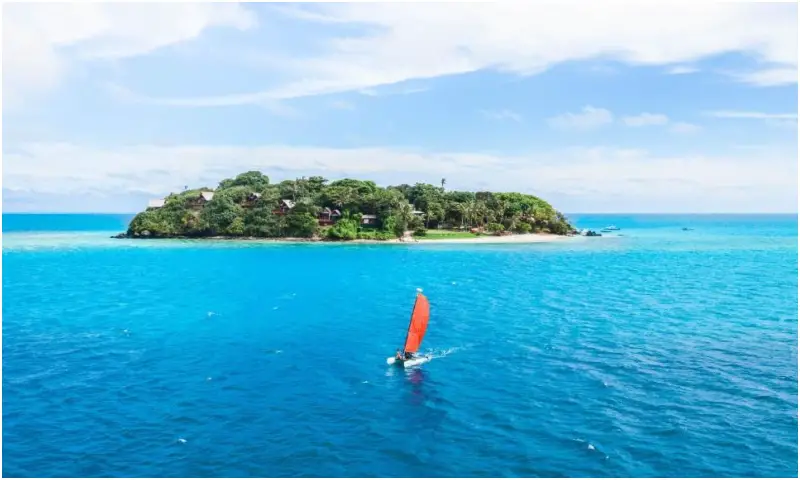 ---
Best Things To Do In Fiji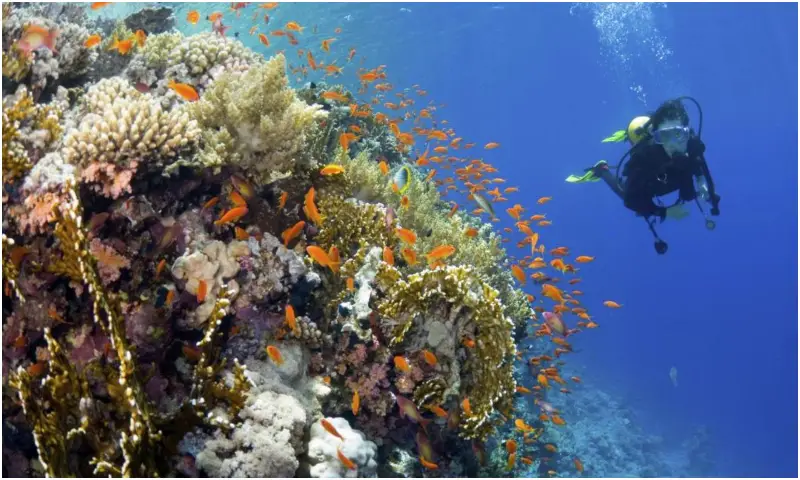 Explore the Beaches – Fiji is famous for its white sand beaches and crystal-clear waters. You'll want to spend time swimming at some of the most popular beaches. Particularly on Matamanoa Island and the Mamanuca Islands.
Snorkeling & Scuba Diving – Fiji is a paradise for diving and snorkeling. It's full of vibrant coral reefs, colorful marine life, and even wreck sites. Popular spots include the Great Astrolabe Reef, Rainbow Reef, and Beqa Lagoon.
Sailing & Boat Cruises – One of the best ways to experience Fiji is a scenic boat or sailboat cruise. Day cruises include swimming, snorkeling, and an onboard lunch. Or try sunset cruises to enjoy Fiji's scenic sunsets, cocktails, dinner, and onboard entertainment.
Surfing & Jet Skiing – Fiji offers lots of thrilling water sports including surfing and jet skiing. Some of the best surf spots are found off the beaches of the Mamanuca Islands. For jet ski enthusiasts, many of the island's popular resorts offer jet skiing to their guests.
River Tubing – Take a longboat ride up the Navua River with scenic views of waterfalls and a tropical rainforest. Once you're there, you'll float downstream on inner tubes and enjoy a riverside lunch.
---
Best Times To Visit Fiji
Fiji is a popular vacation destination, known for its pristine beaches, coral reefs, and luxury resorts. Its warm, tropical climate makes Fiji an inviting place to visit throughout the year. Certain periods are better times than others, so you'll want to consider that when planning a trip.
Dry Season (May to October) – These months offer the best weather, with plenty of sunshine, lower humidity, and less rainfall. It's the ideal time for outdoor activities and watersports. Keep in mind you may experience larger crowds and higher prices.
Shoulder seasons (April and November) – These months are the transitional period between the wet and dry seasons. The weather is pleasant with warm temperatures and less rain. It's a good time to enjoy Fiji's activities and attractions with fewer tourists.
Wet Season (December to March) – While the wet season experiences higher rainfall, it has its advantages. The landscape is lush and green and Fiji's waterfalls are at their peak. You'll also enjoy lower hotel rates and fewer crowds.
Weekdays vs Weekends – Visiting during the week has its advantages with fewer crowds and lower rates. But the weekends have their advantages too. Many resorts feature special events, live music, and a variety of family-friendly activities.
---
Best Ways To Get Around Fiji
Fiji consists of multiple islands, so getting around them is an exciting part of the travel experience. Whether you prefer convenience or flexibility there's a transportation option to suit your needs.
Domestic Flights – Fiji's network of domestic airports makes air travel an efficient and time-saving option. Domestic flights connect major cities like Nadi and Suva with other islands, providing access to Fiji's different regions.
Ferries, Speedboats & Water Taxis – If you want to explore different islands, ferries, and speedboats are popular modes of transportation. The Mamanuca Islands and Yasawa Islands have ferry services and water taxis operating between the islands. This allows you to island hop at your own pace while enjoying Fiji's coastal beauty.
Rental Cars – Renting a car in Fiji gives you the freedom to explore at your own pace. International and local car rental companies offer a range of vehicle options. Keep in mind, driving is on the left side of the road and some roads may be unpaved, or require 4-wheel drive vehicles.
Taxis – Taxis are widely available in Fiji, especially in urban areas and near resorts. They're a convenient way to get around cities or for shorter distances. Be sure to use licensed taxis and confirm the fare before starting your trip.
Buses – Buses are a budget-friendly option for traveling between cities and towns in Fiji. Buses are color-coded and each color represents a specific route. At times, they can be crowded, but they offer an opportunity to interact with the locals.
---
Best Fiji Resorts With Private Pools For Couples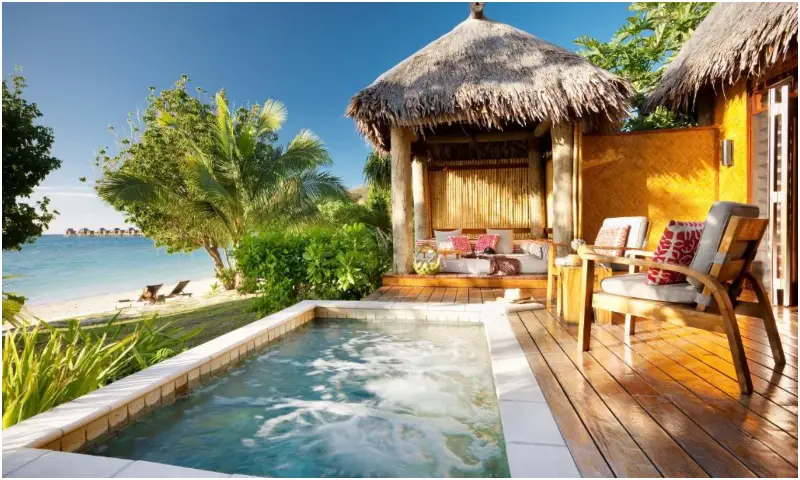 ---
Best Fiji Resorts With Private Pools For Families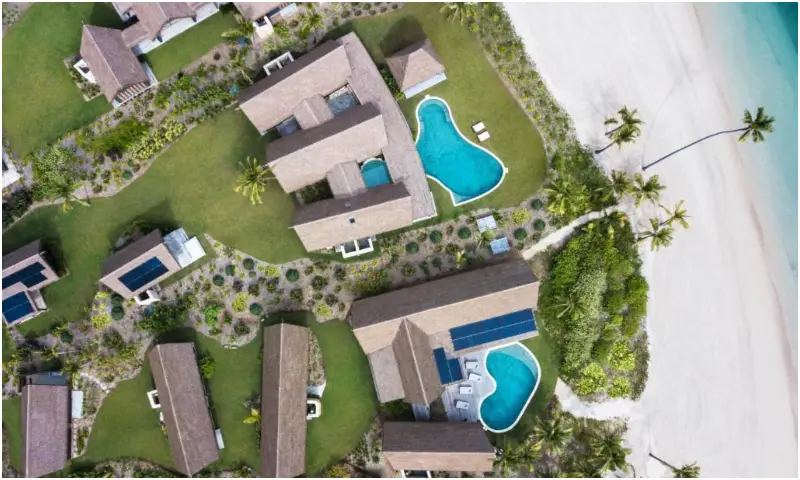 ---
Best All-Inclusive Fiji Resorts With Private Pools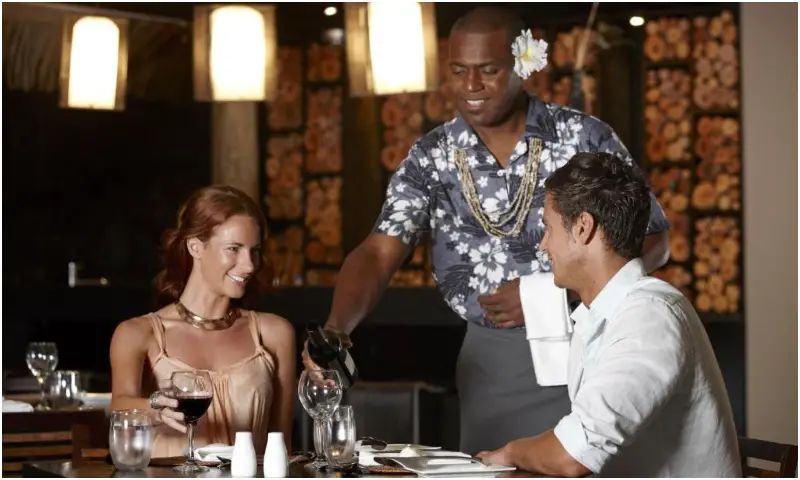 Yasawa Island Resort & Spa – This resort offers one of the best all-inclusive packages in Fiji. Besides all your meals and drinks, you'll enjoy a variety of complimentary activities. Included are kayaking and paddleboarding, plus cave tours and beach picnics.
Tadrai Island Resort (photo above) – This adults-only resort offers an all-inclusive package with all your meals and drinks included. At the private beach, cabanas, sun lounges, and umbrellas are all complimentary. You'll also enjoy free onsite activities like kayaking, snorkeling, and sailing. 
Royal Duvai Island Resort – At this exclusive adults-only resort all your meals are included, and the great thing is the menus change daily. So whether you choose dinner in the restaurant or a private beach picnic, everything is covered. Also included are a variety of activities including kayaking and cooking classes. 
---
Best Fiji Resorts With Private Pools In Overwater Bungalows
Koro Sun Resort & Rainforest Spa – There are only a few resorts in Fiji with overwater bungalows. Koro Sun is the only one that offers overwater bungalows with private pools. 
---
Fiji Resorts Map
Find More Fiji Resorts with Private Pools
---
Best Fiji Pool Villas & Bures