Fiji is an island country in the South Pacific, known for its beaches, clear lagoons, and coral reefs. To enjoy everything Fiji offers, try staying in an overwater bungalow or villa. With the ocean at your doorstep, you can jump straight into the water. We'll show you 5-star hotels and all-inclusive properties with these luxury huts. There are waterfront villas big enough for families as well as cozy bures designed for couples. So before you book your getaway, here are the best Fiji resorts with overwater bungalows & villas.
---
1. Likuliku Lagoon Resort
Likuliku Lagoon Resort is an adults-only island retreat set in a natural ocean lagoon. For the best stay, book an authentic overwater bure, one of the first to have these in Fiji. Perched over the reef and lagoon, each bure features traditional architecture and materials. You can reef watch all day from the terrace or the soaking tub in the separate pavilion. All your meals are included with the bure, but alcohol, soft drinks, and espresso drinks are extra. Cool off with a swim, or go snorkeling and windsurfing in the lagoon. Masima Bar is the best spot to watch the sunset, while you enjoy one of their Fiji-inspired cocktails. For relaxation, Tatadra Spa offers guests the ultimate tropical indulgence. They're famous for traditional Fijian-style massage plus a range of other body treatments.
Guest Reviews: The location was incredible with the most beautiful lagoon. Snorkeled right from our deck every morning.
Star Rating: 5 stars
Best Rooms: Overwater bure
Address: Malolo Island, Malolo, Fiji 
---
2. Fiji Marriott Resort Momi Bay
Fiji Marriott Resort is an international luxury hotel in Momi Bay, Fiji. For an adults-only holiday, we recommend the Royal over water bure. Couples love this open space with its king bed and the large soaking tub in the bath. A furnished terrace offers direct access to the lagoon so you can jump straight in on those hot days. And if you're looking for a place to watch the sunset, the Sunset Infinity Pool is perfect. It's an adults-only hideaway, with an infinity pool, a separate hot tub, and spectacular ocean views. For date nights, you have an array of 5-star restaurants to choose from. Fish Bar offers grilled meats and seafood, while Goji features a Fijian and Indian menu. No couple's getaway would be complete without a couples massage at Quan Spa.
Guest Reviews: Our overwater bure was perfect, we swam in the lagoon every day. The fire show at night was amazing.
Star Rating: 5 stars
Best Rooms: Royal overwater bure
Address: Savusavu Road, Momi, Fiji
---
3. Koro Sun Resort & Rainforest Spa
Koro Sun Resort & Rainforest Spa is a luxurious tropical resort on the island of Vanua Levu. If you're looking for something family-friendly, book the Waterfront Villa. You'll enter this two-story villa through a private garden with its own sundeck and plunge pool. The lower-level features lagoon access and a living area, plus a dining room and full kitchen. On the second floor, you'll find the master suite with a king bed and a rooftop deck overlooking the lagoon. The Full Board plan includes your meals, afternoon tea, and limited alcoholic beverages. For water activities, you can snorkel, kayak, or paddleboard in the resort's protected lagoon. Everything at Rainforest Spa is natural and homegrown, including the coconut massage oil. Three bures are reserved for a variety of private treatments, including massages, body scrubs, and facials.
Guest Reviews: The overwater bungalow was breathtaking, especially at sunset. The food and drinks at the Sand Bar were the best.
Star Rating: 4 stars
Best Rooms: Waterfront villa
Address: Hibiscus Highway, Savusavu, Fiji
---
4. Musket Cove Island Resort & Marina
Musket Cove Island Resort & Marina is a secluded hideaway in the Malolo Lailai islands. For the best accommodation, book one of the Water's Edge Island Villas. Set on a private island, each two-bedroom villa features a living area and kitchenette. A large covered terrace overlooks the water, plus there's a shared private pool and BBQ area. All your meals are included, with a different daily menu, plus BBQs and other specials. A popular hang-out spot is the Yacht Club Island Bar, so make sure you stop by for a drink. Musket Cove offers guests a variety of complimentary activities, with something for everyone. There's low tide snorkeling, kayaks, and paddleboards for guests.
Guest Reviews: We didn't want to leave. Loved the snorkeling and paddleboarding. The food was plentiful and delicious.
Star Rating: 4 stars
Best Rooms: Island villas
Address: Malolo Lailai Islands
---
5. Laucala Island Resort
Laucala Island Resort is an island resort reached only by private pre-arranged flights. If you're traveling with family or friends, we recommend the Wai Residence. This two-bedroom overwater villa features a terrace, outdoor dining huts, and a private pool carved from rock. You'll love soaking in the indoor and outdoor tubs while sipping a cocktail from your private bar. Every stay includes all meals and beverages, except for special vintage wines. With the inner reef outside your door, you can snorkel or swim right from your residence. There are also kayaks or paddleboards to use around the lagoon. Como Shambhala spa offers a wide range of treatments in a relaxing and quiet atmosphere. With four couples' suites, you can both enjoy a relaxing massage, hot stone treatment, or an outdoor bath.
Guest Reviews: Our overwater villa was incredible, especially the pool. We loved snorkeling the reef and relaxing at the spa.
Star Rating: 5 stars
Best Rooms: Wai residence
Address: Laucala Island, Fiji
---
Best Places To Stay In Fiji For Overwater Bungalows
Mamanuca Islands – The Mamanuca Islands consist of about 20 islands known for their sandy white beaches, turquoise waters, and natural reefs. For the most romantic overwater bungalows, check Likuliku Lagoon. It is an adult-only resort with traditional water bures surrounded by a marine sanctuary.
Momi Bay – Moni Bay is on the west side of Fiji's largest island, Viti Levu. Its pristine beaches and natural beauty are home to a number of luxury resorts. Have a look at Fiji Marriot Resort. They have both beach and lagoon front suites as well as over-water bungalows.
Vanua Levu (photo above) – Vanau Levu is the second largest island of Fiji. It's more laid back with prime diving spots, lush rainforests, waterfalls, and hot springs. Koro Sun Resort & Rainforest Spa is the best place for relaxing holidays. They have bures in their gardens, by the lagoon, and overwater.
---
Best Things To Do In Fiji
Explore the Beaches – With over 300 islands, there is no shortage of pristine beaches to explore in Fiji. Natadola is the best-located beach on the main island of Viti Levu. The Yasawa Islands are a unique volcanic archipelago while the Mamanuca Islands have some of the best beaches in Fiji.
Snorkeling & Scuba Diving – There are many reefs, both small and large, around the Fijian islands. The Great Astrolabe Reed is the largest barrier reef in the world with beginner to advanced snorkeling. Rainbow Reef is famous for its soft coral and Beqa Lagoon for sharks. Check if beaches near your hotel have off-beach snorkeling, but tours with expert guides are often the best option.
Sailing & Boat Cruises – Sailing around the many islands of Fiji and discovering tranquil secluded beaches is a great attraction. There are boats and sailing experiences for all skill levels, or you can choose a sailing charter. Cruises can range from small charters to luxury liners with private cabins, fine dining, and onboard spas. You can book multi-day cruises, scuba diving tours, fishing trips, and more.
Surfing & Jet Skiing – Surf spots of Fiji known around the surfing world include Cloud Breaks, Restaurants, and Namotu Lefts. You will find surf schools and board rentals at major surfing locales. Some offer the option to visit more remote locations. Likewise, jet skis are readily available, especially in resort locations like Denarua, Yasawa, and Mamanuca Islands. Jet ski tours can safely take you around more hidden locations.
---
Best Times To Visit Fiji
Fiji's warm tropical climate makes it a popular year-round vacation destination. Tourists come from around the world for its white sand beaches, coral reefs, and luxury resorts. Based on weather, crowds, and other factors, here are the best times to visit Fiji.
Dry Season (May to October) – This period has the best weather, with sunny days, low humidity, and less rainfall. It's perfect for outdoor activities, watersports, or relaxing at the beach. But there are larger crowds, and you may pay higher resort prices.
Shoulder Seasons (April & November) – These are the months between the wet and dry seasons. The weather is warm and less humid with lower rainfall. It's a great time to enjoy Fiji's activities and attractions with fewer tourists.
Wet Season (December to March) – While the wet season experiences higher rainfall, it can be a good time to visit. The islands are lush and green, and the waterfalls are at their peak. You'll also experience smaller crowds and lower room rates.
Weekdays vs Weekends – Visiting Fiji on weekdays has its advantages, namely fewer crowds and cheaper rooms. But if you're looking for a livelier vibrant atmosphere, weekends are ideal. Many offer family activities, special events, and live music.
---
Best Ways To Get Around Fiji
Domestic Flights – Fiji's two international airports, Nadi and Suva Nausori have domestic links to various islands. Official websites for online bookings are Fiji Airways, and also Northern Air. For helicopter transfers, usually to more remote locations, you should try Island Hoppers. For seaplane transfers, there's Turtle Airways.
Ferries, Speedboats & Water Taxis – Ferries for passengers and vehicles, usually operate on fixed schedules. South Sea Cruises run regular links between the major islands and archipelagos. Water taxi services are more flexible, faster, and can include custom itineraries. Sea Fiji Reefs is one such popular service.
Rental Cars – You can find car rentals on the main islands with pre-bookings available online. The most convenient rental is often a pick-up and drop-off at the airport. If you plan to use a car ferry service, always check with your rental agency if they allow their cars on ferries.
Taxis – There are various large and small taxi companies across the Fiji islands. It's best to choose a licensed taxi with a visible identification sticker from the Fiji Taxi Association. Always check if a meter is available, otherwise, you will have to negotiate the fare. Not all taxis accept credit cards, so make sure to have some small notes on hand. FijiTaxi and FijiCab are two useful apps.
Buses – There are public bus services in major towns and between towns and villages. However, unless you are a budget traveler, it's better to stick to express buses or private bus companies. There are also tour bus services that will take you to select locations with included experiences and activities.
---
Best All-Inclusive Fiji Resorts With Overwater Bungalows
Laucala Island Resort – Laucala is an exclusive private island resort with 25 luxury villas. If you stay here, there's transportation via a private plane. You can choose from overwater bungalows, beach villas, peninsula, and plateau residences. Experiences can include deep sea game fishing, sailing, hiking, golfing, mountain biking, and horseback riding.
Koro Sun Resort & Rainforest Spa (photo above) – Koro Sun has both waterfront villas as well as floating bures. Floating bures are adult-only, but water edge bures can include a plunge pool. The resort has up to 3-bedroom villas and numerous complimentary activities, tours, and events to suit all ages and interests.
---
Best 5-Star Fiji Resorts With Overwater Bungalows
Fiji Marriott Resort Momi Bay (photo above) – Momi Bay is one of Fiji's most exclusive beachfront areas. The Fiji Marriot Resort has lagoon rooms, suites, and adults-only overwater bures. Turtles Kids' Club has plenty of activities, plus there's a kid's water jet pool. The grownups will have a more relaxing time at the adult-only infinity pool.
Likuliku Lagoon Resort – Likuliku is an adult-only island resort with idyllic overwater bures. Perched on the edge of a reef, each bure has a separate bathing pavilion. Other options include deluxe beachfront bures with a plunge pool. Activities include non-motorized water sports, fishing, surfing, nature trailing, island hopping, and sunset cruises.
---
Best Fiji Resorts With Overwater Bungalows For Honeymoons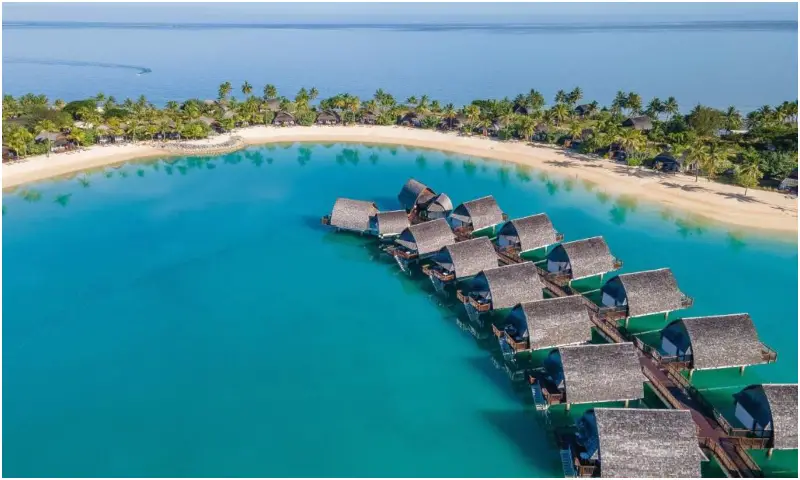 Fiji Marriot Resort Momi Bay (photo above) – Fiji Marriot in Momi Bay is a luxury 5-star resort with something for all couples. You can take advantage of special honeymoon packages, enjoy exclusive dining, spa treatments, and relax in adult-only pool areas. The overwater luxury bures are for adults-only to ensure the most privacy.
Laucala Island Resort – Laucala is a private luxury resort island for the ultimate getaway. Overwater bungalows provide the most romantic setting, but you can choose from beachfront, peninsula, or plateau villas. The resort is exceptional for its range of on-land experiences in addition to snorkeling, scuba diving, and non-motorized water sports.
---
Best Fiji Resorts With Overwater Bungalows For Families
Koro Sun Resort & Rainforest Spa (photo above) – Although typical overwater bungalows or bures are adult-only, Koro Sun has various rooms suited to families. Two and three-bedroom villas are all great choices, especially the pool villas. The resort has numerous complementary activities and experiences for all ages.
Musket Cove Island Resort & Marina – Musket Cove is a secluded sea lagoon hideaway in the Malolo Lailai Islands. Villas are ideal for families while spacious Garden and Lagoon bures generally have a king and two single beds. There are 400 acres of tropical gardens, secluded walking trails, and pristine beaches. More importantly, they have organized kid's activities.
---
Fiji Overwater Bungalows Map
Find More Fiji Resorts on Water
---
Best Fiji Overwater Bungalows