Fiji is the perfect place to spend your honeymoon with its white sand beaches and crystal waters.
For couples, you'll find some of the most romantic sceneries, particularly at resorts. 
We'll show you all-inclusive hotels, secluded island properties, and luxurious suites.
There are overwater bungalows and rooms with private pools.
Some hotels even have swim-up bars where you can enjoy the ocean views.
To make planning easier, here are the best honeymoon resorts in Fiji.
1. Likuliku Lagoon Resort
Likuliku Lagoon Resort is an exclusive, adults-only haven of luxury.
It's one of the first resorts in Fiji to have over water-bures perched over a crystal clear lagoon.
They also have beachfront bures, some with private pools overlooking the beach.
The traditional style embodies the warm, Fijian culture, mixed with modern-day amenities.
At their onsite Fijiana restaurant, you'll get the best local seafood and dishes from their local chef.
Breakfast, lunch, and dinner are all included in your stay.
There's also the Masima Bar and Dua Tale Bar where you can order special cocktails.
Guest Rating: 9.7
Star Rating: 5 stars
Best Rooms: Deluxe beachfront bure
Address: Malolo Island, Malolo, Fiji 
---
2. Tokoriki Island Resort
Tokoriki Island Resort is an adults-only property with luxurious beachfront bures.
They're all surrounded by landscaped gardens to ensure complete privacy.
If you want the most memorable honeymoon, check out the Beachfront Pool Villa – its huge!
From the bedroom and lounge area, it opens up onto a terrace with an infinity pool and daybed.
In the morning, enjoy champagne floating breakfast in your private pool.
And at night, book an oceanfront 3-course dinner with butler service and entertainment.
Tokoriki allows you to completely disconnect from the world at their luxury spa.
Or, you can arrange a couple's massage in your own bure.
Guest Rating: 9.4
Star Rating: 5 stars
Best Rooms: Beachfront pool villa
Address: Tokoriki Island, Fiji Islands, Tokoriki, Fiji
---
3. Fiji Marriott Resort Momi Bay
This 5-star adults-only resort is another property known for its overwater bungalows.
They have lagoon rooms, traditional bures, and overwater bungalows in the most beautiful tropical landscape.
Perfect for couples, you'll have a private soaking tub no matter where you stay.
If you book the overwater bures, you can jump straight into the water from your terrace.
Spend your days lounging on their lagoon beaches, or swimming in one of the three pools.
There are 6 onsite bars and restaurants to choose from, serving a variety of cuisines.
For the best sunset and ocean views, dine at the Fish Bar and try their fresh seafood.
Entertainment is also provided, with Polynesian Fire Performances, the Village Choir, and a Fijian Meke.
Guest Rating: 8.9
Star Rating: 5 stars
Best Rooms: Royal overwater bure
Address: Savusavu Road, Momi, Fiji
---
4. Tadrai Island Resort
Tadrai is exclusively for adults, making it the perfect location for a romantic getaway.
There are only five deluxe beachfront villas, so you can expect peace and privacy.
The villas have ultra-luxurious interiors, the product of international award-winning designers.
Inside, you'll find original artworks and décor reflecting Fiji's historic past.
Private plunge pools open onto elevated decks with panoramic ocean views.
For dining, you'll love Na Vatu Rock Pool Restaurant which serves premium local cuisine.
Private in-room dining and gourmet picnic baskets are also available.
Each day at sunset, enjoy cocktails in the relaxing Na Vatu Bar – one of the most romantic spots on the island.
Guest Rating: 8.9
Star Rating: 5 stars
Best Rooms: Deluxe villa with private pool
Address: Mana Island, 2544 Mana Island, Fiji
---
5. The Fiji Orchid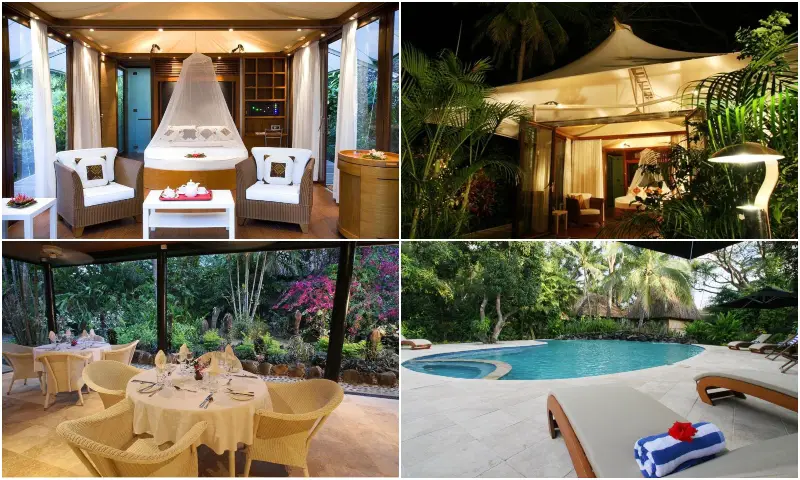 The Fiji Orchid is a private five-acre sanctuary near Nadi with six tented bures.
They all have a romantic canopy netted bed, sitting area, and large private verandah.
You'll be surrounded by tropical gardens, a variety of orchids, and wild birds.
For dining, you'll love the ambiance at Raymond's Restaurant.
They combine locally grown produce with the freshest seafood from Macuata Province. 
Later on, head to Burr's Cocktail Bar and enjoy their signature drinks. 
There's also a large pool onsite for those hot summer days.
Guest Rating: 8.9
Star Rating: 5 stars
Best Rooms: Bungalow
Address: Saweni Beach Road, 000 Lautoka, Fiji 
---
6. Yasawa Island Resort & Spa
This is the perfect destination for your honeymoon getaway.
Located on a secluded island in Fiji, Yasawa Island Resort & Spa offers couples a very private experience.
The all-inclusive plan includes all gourmet meals and non-alcoholic beverages.
There are plenty of activities and tours, like Blue Lagoon Cave trips and catamaran rides.
If you want the most romantic stay, check out the Honeymoon suite. 
From the king bed, it opens up onto a huge terrace with a private infinity pool.
With views overlooking the ocean, you'll also be just steps away from the beach.
Imagine waking up in this paradise every morning of your honeymoon.
Guest Rating: 8.8
Star Rating: 5 stars
Best Rooms: Honeymoon suite
Address: Po Box 9779, Yasawa Island, 0000 Mbukama, Fiji 
---
7. InterContinental Fiji Golf Resort & Spa
InterContinental Fiji Golf Resort & Spa is located in a beautiful 35-acre tropical setting on Natadola Beach.
You'll find everything you need at this 5-star resort for a luxurious and relaxing getaway. 
This resort boasts incredible ocean views and vast gardens.
You can enjoy a relaxing day at the spa, play a round of golf, or take a dip in one of the swimming pools.
For your honeymoon, make sure you book the one-bedroom club suite. 
This suite offers perfect luxury and comfort with its balcony and private pool.
Soak up the sun on your balcony while enjoying a cup of coffee prepared by your dedicated butler. 
The one-bedroom club suite is ideal for couples looking for an intimate experience.
Guest Rating: 8.7
Star Rating: 5 stars
Best Rooms: One-bedroom club suite
Address: Maro Road, Natadola, Fiji
---
8. Six Senses Fiji
Crystal-clear waters and white sand beaches surround Six Senses Fiji.
The resort is in the perfect setting to reinvigorate your mind, body, and spirit. 
On arrival, you'll find spacious accommodation with a private pool and bay views.
Choose from Beachfront pool villas and Hideaway pool suites, all designed for romantic honeymoons.
But what sets Six Senses Fiji apart is its commitment to sustainability.
This resort exemplifies eco-friendliness at its best. 
They use fresh, organic ingredients and provide a safe habitat for endangered iguanas. 
Whether you want to relax or have an exciting time, this is the perfect place.
Reconnect, breathe deep, and rejuvenate at Six Senses Fiji.
Guest Rating: 8.7
Star Rating: 5 stars
Best Rooms: Hideaway pool suite
Address: Vunabaka, Malolo Island Nadi, Malolo, Fiji
---
9. Sheraton Resort & Spa, Tokoriki Island
Situated on the island of Tokoriki, this resort is perfect for couples. 
Its beautiful beaches, world-class dining, and amenities offer visitors memorable experiences. 
Spacious rooms feature plush bedding, walk-in rainforest showers, and stunning ocean views.
There are even adults-only rooms to ensure more privacy.
Cocktails by the bar and fresh seafood paired with fine wines will please every palate. 
Activities keep you entertained at the pool, or you can indulge at the day spa.
Take part in Mini golf or go scuba diving among vibrant coral reefs.
The Sheraton Tokoriki Resort & Spa has everything you need for an unforgettable honeymoon.
Guest Rating: 8.6
Star Rating: 5 stars
Best Rooms: Beachfront plunge pool room
Address: Mamanuca Islands, 000 Tokoriki, Fiji 
---
10. Sheraton Fiji Golf & Beach Resort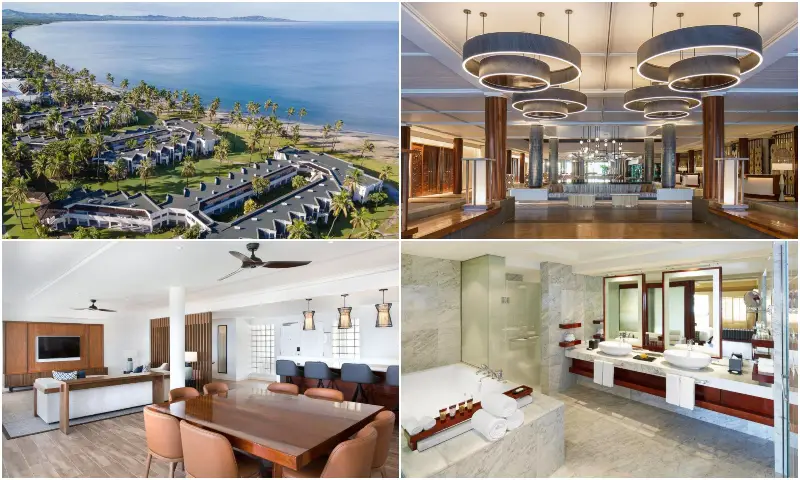 Sheraton Fiji Golf & Beach Resort is right on the waterfront. 
Inside the guest rooms, thre's a real sense of peace with all the white furnishings and modern touches.
If you have the budget, check out the Presidential suite.
It has huge living space and the most luxurious spa bath in the ensuite.
Besides direct access to the beach, you'll love the outdoor swimming pool and swim up bar.
For active guests, a tennis court and water sports facilities are also available. 
But if you just want to relax, head to Tokoriki Retreat Spa for the best massages.
At night, you can enjoy the views from Feast Restaurant or have a drink at Chime Lounge.
Guest Rating: 8.4
Star Rating: 5 stars
Best Rooms: Presidential suite
Address: Denarau Island South, 0000 Denarau, Fiji 
---
11. Shangri-La Yanuca Island, Fiji
With just one road connected to this peninsula, Shangri-La Yanuca Island is a couple's dream. 
This resort offers an authentic Fijian island experience. 
Around the property, there are stunning lagoons, tropical gardens, pristine beaches, and panoramic ocean views.
All rooms will have views of this natural surrounding.
But if you want the most private stay, check out the Reef bures.
Inside, you'll have a private spa bath and you'll be steps away from the sandy beach.
Enjoy water sports like jet skiing and banana boat rides, or take in scenic surroundings.
To relax, you'll love the onsite day spa with luxurious spa suites. 
Guest Rating: 8.0
Star Rating: 5 stars
Best Rooms: Reef bure
Address: Yanuca Island, Voua, Fiji
---
Fiji Honeymoon Resorts Map
Find More Honeymoon Resorts in Fiji
---
FAQs
Summary