Dubrovnik is a lovely historic city in Croatia facing the Adriatic Sea. If you're planning a trip here, you'll have the most relaxing time at a hotel with hot tubs in rooms. For those looking for beachfront properties, there are suites with hot tubs on the balcony. In this article, we'll also highlight hotels with cave bars, seafood restaurants, and even an onsite casino. Here are the best Dubrovnik hotels with private hot tubs.
---
1. Villa Orabelle 
Savor the breathtaking views of the Adriatic Sea as you sip on cocktails. With terraces and lounging on multiple levels, Villa Orabelle has many areas to visit for the scenery. Guests can even head to one of the two infinity pools onsite and enjoy a drink with a view. Privacy and relaxation are guaranteed here, as this hotel only has sixteen rooms and two suites. For ultimate seclusion, couples prefer the Penthouse Suite. This suite is stylishly designed, with a luxury bathroom, outdoor terrace, and private rooftop hot tub. Stop by the onsite Nebula Restaurant to eat Mediterranean breakfasts and dinners.
Guest Reviews: Our room was incredible with its own jacuzzi. The food was delicious and the cocktails were amazing.
Star Rating: 4 stars
Best Rooms: Penthouse suite
Address: 5 Kotorska ulica, 20000 Dubrovnik, Croatia
---
2. Villa Dubrovnik 
Have a vacation filled with romance and luxury at Villa Dubrovnik. This hotel has excellent amenities for couples, including private airport transport and a state-of-the-art indoor pool. The Villa Spa offers full-body massages and treatments that will make you feel rejuvenated. All three dining venues onsite take guests on epic culinary journeys. Restaurant Pjerin is an excellent dinner date spot, while the Prosciutto & Wine Bar offers stunning sunsets. The Suites are most popular since they have the best balcony views. They also feature king beds, private hot tubs, and spa-inspired bathrooms.
Guest Reviews: Our room was lovely with beautiful sea views. Great location, within walking distance of Old Town.
Star Rating: 5 stars
Best Rooms: Suites
Address: Vlaha Bukovca 6, 20000 Dubrovnik, Croatia
---
3. Rixos Premium Dubrovnik 
Guests savor the most exquisite flavors of the Mediterranean in this hotel. The Umi Teppanyaki Restaurant combines live cooking and Asian delicacies to create an unforgettable dining experience. Sample fresh seafood on the seaside terrace of Libertas Fish Restaurant too. To unwind after a day of sightseeing, Rixos Premium Dubrovnik has three onsite bars you can stop by. Book the Spa Suite, which has elegant furnishing, a spacious bathroom with a jacuzzi tub, and a private terrace. Visit the Anjana Spa to enjoy the comforts of a tea lounge and an actual ice room. Other onsite amenities include a tennis court, an art gallery, and the city's only casino, Merit Libertas.
Guest Reviews: Our room was perfect with a beautiful large balcony. The pools, bars, and spa were all top-notch.
Star Rating: 5 stars
Best Rooms: Spa suite
Address: Liechtensteinov Put 3, 20000 Dubrovnik, Croatia
---
4. Hotel More 
In terms of unique bars, Hotel More comes in first. The Cave Bar More is inside an actual natural cave at the foot of the hotel. Guests can come here to enjoy the mild temperatures, sip on cocktails, or have a quick bite. Hotel More is also in the heart of a forest, which makes going on hikes a favored activity among guests. After an exhilarating workout, wind down in your private hot tub. The Executive Suite has the best views from its balcony hot tub, with two bedrooms and vast living spaces. Numerous onsite restaurants and bars make sure you never go hungry.
Guest Reviews: We loved our suite with the private hot tub. The sea views were awesome and the Cave Bar was really cool. 
Star Rating: 5 stars
Best Rooms: Executive suite
Address: UI, Kardinala Stepinca 33, Lapad, 20000 Dubrovnik, Croatia
---
5. BoGo-Galijun 
This hotel is the most family-friendly option when traveling with little children. BoGo-Galijun is near the marina, where kids love looking at the ships. Families can even board a Pirate ship and have a sailing adventure to Dubrovnik. The Superior Apartment is the best option if you want family-friendly amenities. It offers multiple bedrooms, a full kitchen, and a private jacuzzi with sea views. We also recommend heading to the outdoor pool area and having a fun pool day. Daily breakfasts at Bogo Restaurant are a treat, and guests must also try the tasty seafood here.
Guest Reviews: The view from the balcony was beautiful and the jacuzzi was a lovely feature.
Star Rating: 4 stars
Best Rooms: Superior apartment
Address: Gorava 41, 20000 Dubrovnik, Croatia
---
6. Dubrovnik Icy Guest House 
Check into the most affordable accommodation in historic Dubrovnik. However, there's only one room with a private hot tub so you'll have to book early. Reserve the Apartment with sea views, then laze in the awesome balcony hot tub. It's designed for couples, but there is a sofa bed in case you're bringing kids. Guests have access to the shared kitchen and terrace, where they can meet like-minded travelers. Since the property is located at the foot of a hill, bringing comfortable walking shoes is advised. Airport transfers are available for an additional cost but it may be worth it to get you settled in.
Guest Reviews: Our apartment had a beautiful view and the hot tub on the balcony was lovely.
Star Rating: 3 stars
Best Rooms: Apartment with sea view
Address: Gornji Kono 53, 20000 Dubrovnik, Croatia
---
7. The Pucic Palace
Vacation at an actual baroque palace in the heart of Dubrovnik Old Town. Cleverly nicknamed a living museum, the Pucic Palace has been utilized as a hotel since the 17th century. Despite retaining its historic charm, this hotel has every modern convenience you could ask for. Guests are well taken care of by the onsite hotel chaffers and attentive porters. A portion of Banje Beach is reserved only for Pucic Palace patrons, offering you a private beach experience. Couples praise the Deluxe Suite for its top-floor setting, iconic ceiling beams, and hydro-massage bathtub. Of the two onsite restaurants, Restaurant Magdalena has the better setting on the rooftop.
Guest Reviews: Our room had everything we needed. Breakfast was amazing and freshly prepared.
Star Rating: 5 stars
Best Rooms: Deluxe suite
Address: Ulica od Puca 1, Old Town, 20000 Dubrovnik, Croatia
---
8. Hotel Dubrovnik 
Hotel Dubrovnik is in the perfect location with plenty of restaurants on its doorsteps. The hotel is also just a 4-minute walk to Sunset Beach. Plenty of sun loungers and beach cabanas are available if you want to relax on the beach. The Deluxe Two-Bedroom Apartment is ideal for families and larger groups. This apartment sleeps up to six people and has a fully equipped kitchen, balcony, and spa bath. You must also try the excellent wine selection at Restaurant Nono. Bring your pets along with you as Hotel Dubrovnik is a pet-friendly accommodation.
Guest Reviews: Our apartment was big enough for the whole family. We were right on the beach and the food was amazing.
Star Rating: 3 stars
Best Rooms: Deluxe two-bedroom apartment
Address: Setaliste Kralja Zvonimira 16, Lapad, 20000 Dubrovnik, Croatia
---
Best Areas To Stay In Dubrovnik
Ploce – This area is located on a hill just outside the Old Town. If you stay around here, you'll have stunning views of the Adriatic Sea. It's a quieter area compared to the bustling Old Town, but still within walking distance of its attractions. Most accommodations are apartments, so there are no hotels with private hot tubs.
Old Town – The Old Town is the heart of Dubrovnik and offers a charming blend of history, culture, and entertainment. If you want to stay within the walls of Old Town, Pucic Palace is the best hotel.
Lapad – This area is located on the other side of Dubrovnik's peninsula. It is known for its beautiful beaches, restaurants, and parks. If you want to enjoy a more relaxed atmosphere, check out Hotel More or Hotel Dubrovnik. Both are great choices and ideal for visiting Lapad Beach.
Bellevue Beach – This is a popular beach at the bottom of rocky cliffs. Villa Orabelle and Rixos Premium Dubrovnik are both within walking distance. Enjoy a swim in the sea and then relax in the hot tub when you're back in your room.
---
Best Things To Do In Dubrovnik
City Wall Walk – Take a walk around the city walls early in the morning or late in the evening. During this time, you'll be avoiding crowds and the heat of the day. The views are stunning and it's a great way to see the city from a different perspective. (Official site)
Explore Old Town – The old town of Dubrovnik is a UNESCO World Heritage site. It is home to many historic buildings, including the Rector's Palace, the Cathedral, and the Franciscan Monastery. Take a stroll through the narrow streets to discover the city's rich history and culture.
Game of Thrones – If you're a fan, take a guided tour of the filming locations in Dubrovnik. It's a fun way to explore the city and see some of the iconic spots from the show.
Eat Seafood – Try some local seafood dishes, such as grilled octopus or black risotto made with cuttlefish ink. Dubrovnik has a rich culinary tradition, and seafood is a big part of it.
Lokrum Island – Visit the nearby island of Lokrum, which is just a short ferry ride from Dubrovnik. It's a beautiful nature reserve with peacocks, botanical gardens, and a fortress to explore. (Official site)
Cable Car Ride – Take a cable car up to Mount Srđ for panoramic views of Dubrovnik and the surrounding area. It's a great way to see the city from above and get some fresh air. (Official site)
---
Getting Around Dubrovnik
Dubrovnik is a compact city that is easy to navigate on foot. But there are also several other transportation options available to help you get around the city.
Walking – This is one of the easiest and most popular ways to get around Dubrovnik. The city's historic Old Town is pedestrian-only, so it's the perfect place to explore on foot. You can stroll through the narrow streets and alleyways to enjoy the city's historic landmarks.
Bus – Dubrovnik has a reliable bus system connecting the city center with the surrounding areas. It is run by Libertas and you can purchase bus tickets from kiosks, newsstands, or the driver. Fares are typically affordable and bus schedules are available at bus stops.
Taxi – Taxis are readily available throughout Dubrovnik, but they can be expensive compared to other options. Taxi fares are regulated by the city, but it's still a good idea to confirm the fare with the driver before getting in the car.
Uber – Uber is available in Dubrovnik, and it's a much better option than taxis. You can download the Uber app to your smartphone, and request a ride from wherever you are in the city.
Bike Rental – If you prefer a more eco-friendly way to get around Dubrovnik, there are shops that rent bikes. Dubrovnik has several bike-friendly routes. It's one of the best ways to see the city for first-time visitors.
---
Best Time To Visit Dubrovnik
To enjoy the luxuries of a private hot tub in Dubrovnik, there are a few things to consider. Here are some factors to keep in mind when deciding on the best month to visit.
Weather – The weather in Dubrovnik is generally warm and sunny from June to September. This is a great time to enjoy the beaches and the private hot tub at your hotel. However, it's also the busiest time of the year. Be prepared for crowds and higher hotel prices.
Off-season – For better deals on hotel rooms with private hot tubs, consider visiting Dubrovnik in the off-season. The months of April to May and September to October have fewer tourists. Plus, the weather is still pleasant.
Special events – Dubrovnik hosts many festivals and events throughout the year. For instance, there's the Dubrovnik Summer Festival in July and August, and the Dubrovnik Winter Festival in December. For these events, you'll need to book hot tub suites in advance to avoid missing out.
---
Best Dubrovnik Hotels With Hot Tubs On The Balcony
---
Best Dubrovnik Hotels With Hot Tubs For Families
Hotel More (photo above) – Ideal for a family of four, book the Executive suite which has two separate bedrooms and a large lounge area. More importantly, there's a hot tub on the balcony and enough recliners for everyone.
BoGo-Galijun – Similar to Hotel More, BoGo-Galijun has Superior apartments with separate bedrooms. There's a hot tub on the balcony as well as outdoor furnishings. If you have kids, they'll love the free pirate ship ride into Old Town. 
---
Best Dubrovnik Hotels With Hot Tubs For Couples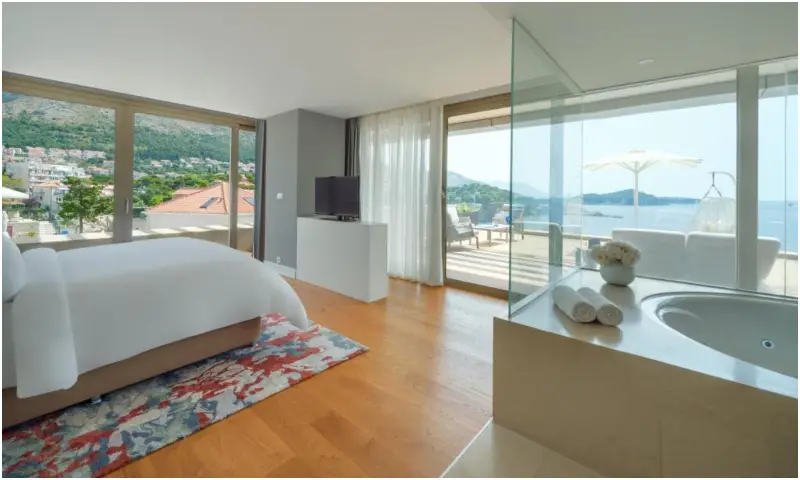 Villa Orabelle – If you want peace and quiet, this is the perfect villa. With private hot tubs in the Penthouse and Executive room, it'll feel like a spa sanctuary on the terrace.
Villa Dubrovnik – There are a few options for private hot tubs here. The suites have indoor circular hot tubs and private balconies with sea views. Or you can opt for a Premium room with a spacious hot tub on the enclosed outdoor terrace. 
Rixos Premium Dubrovnik

(photo above)

–

This is a much bigger resort compared to other hotels so you'll have the best facilities onsite. The have romantic dining options, activities, and Anjana Spa. Check their Spa and Executive suites for jetted baths.
---
Dubrovnik Hotels Map
You might also be interested in these hotels:
Find More Dubrovnik Hotels with Hot Tubs
---
Best Dubrovnik Hot Tub Rooms