If you're visiting London, Covent Garden offers an excellent base.
Its one of the best shopping and entertainment hubs in the city.
You'll find fashion stores, award-winning dining, bars, theatres, and even street performers by St Paul's Church.
To go with all the attractions, there are some amazing luxury hotels in the area.
We'll show you the best 5-star and 4-star accommodation.
If you love your food, we'll also reveal the hotels with the best breakfast and afternoon tea.
Here are the best luxury hotels in Covent Garden.
1. Covent Garden Hotel, Firmdale Hotels
Just a 5-minute walk from Leicester Square and Covent Garden, this hotel is surrounded by some of London's best nightlife and shopping.
There are 58 rooms and suites available to choose from, all designed by Kit Kemp in fresh modern English style.
Each includes flat screen TVs, Bluetooth Bose units, full-stocked minibars and luxury private bathrooms.
Rooms vary from doubles to larger configurations and interconnecting options, perfect for groups and families.
The heart of the hotel is the onsite restaurant, Brasserie Max.
It's a great spot for pre and post theatre dining with dishes made from fresh, seasonal produce.
Take a moment to relax or meet friends in either The Drawing Room or Library.
Guest Rating: 9.5
Star Rating: 5 stars
Best Rooms: Covent Garden Suite – Attic
Address: 10 Monmouth Street, Camden, London, WC2H 9HB, United Kingdom
---
2. The Savoy
One of London's most iconic hotels, The Savoy needs little introduction.
Having originally opened in 1889, it's been at the forefront of the luxury hotel scene for around 130 years.
Guest rooms and suites are decorated in Edwardian or art deco style and provide a luxurious place to relax.
Categories range from standard doubles to larger suites.
Some rooms even have beautiful views of the River Thames.
For dining, you'll find of London's best-known restaurants and bars set within the hotel walls.
These include Gordon Ramsay's Savoy Grill, and the dramatic Beaufort Bar to name a few.
When you're ready to explore, the hotel concierge are able to arrange exciting experiences.
For a special occasion ask about a private river cruise on one of the most exclusive vessels in London.
Guest Rating: 9.4
Star Rating: 5 stars
Best Rooms: Personality king suite
Address: Strand, Westminster Borough, London, WC2R 0EU, United Kingdom
---
3. The Resident Covent Garden
The Resident is luxury without the stuffiness.
It perfectly combines comfort and style with a good dose of heartfelt hospitality.
Well-appointed rooms come with private bathrooms, TVs, desks and USB charging points.
They also have mini kitchenettes equipped with microwaves, fridges, kettles and a Nespresso coffee machine.
Whilst there's no restaurant or spa onsite, the hotel boasts an excellent location with everything nearby.
It's a few minutes' walk to Covent Garden and Charing Cross Station, with Trafalgar Square close too.
The front desk team, or 'Resident Insiders' to which they are known, all know the local area inside out.
So whether you want to know where the best place to eat is, or what you can do nearby, they'll be more than happy to help.
Guest Rating: 9.4
Star Rating: 4 stars
Best Rooms: Junior suite
Address: 51 Bedford Street, Westminster Borough, London, WC2R 0PZ, United Kingdom 
---
4. NoMad London
Nomad London is located in the historic Bow Street Magistrates' Court and Police Station building.
Its the sister hotel to the New York favorite.
The brand itself is the definition of modest glamour.
Everything has a mysterious yet regal feel.
From the heavy wooden doors at the entrance, to the plush velvet armchairs and dimly lit, cozy lobby.
Rooms and suites are decorated in classic style with an extensive custom art program.
We highly recommend the Royal Opera Suite.
It has separate living and entertaining spaces, a super king bed and freestanding clawfoot bathtub.
For food, there's a choice of F&B options including Side Hustle and the stunning NoMad Restaurant.
Guest Rating: 9.3
Star Rating: 5 stars
Best Rooms: Royal Opera Suite
Address: 28 Bow Street, Westminster Borough, London, WC2E 7AW, United Kingdom
---
5. Page8
The hotel is suitably coined 'The Home of Urban Explorers'.
Situated in a prime spot between Covent Garden and Trafalgar Square, the location is hard to beat.
Though having a somewhat cozy feel, rooms are a decent size for central London.
They also have everything you need for a comfortable stay.
Inside, you'll find working spaces, flat screen TVs, Marshall speakers and private bathrooms.
The hotel is especially proud of Page Common.
Its a hybrid coffee shop, lobby concept designed to connect people.
If you love socializing, this is a great spot to chat over coffee and delicious cakes.
Guest Rating: 9.3
Star Rating: 4 stars
Best Rooms: Standard suite
Address: 7 – 8 Saint Martin's Place, Westminster Borough, London, WC2N 4JH, United Kingdom
---
6. Middle Eight – Preferred Hotels and Resorts
Middle Eight's musical namesake derives from the building, which was once a place where classical orchestras recorded.
The hotel still continues the theme and enjoys live music performances to this day.
Rooms have a warm feel with bespoke furniture and marble bathrooms.
You can expect standard luxury amenities such as quality linens, Nespresso coffee machines, and TVs with Chromecast.
For meals, there are three dining venues onsite.
QT is a basement bar which delivers cocktails and grazing snacks, and The Balcony offers something more subdued.
The flagship restaurant is Sycamore which serves up authentic Italian dining and a sociable spot to drink
Guest Rating: 9.2
Star Rating: 5 stars
Best Rooms: Luxury suite
Address: 66-69 Great Queen Street, Covent Garden, Camden, London, WC2B 5BX, United Kingdom
---
7. The Henrietta Hotel
This boutique hideaway is the first London-based hotel from the Experimental Group.
With only 40 keys you can expect an intimate, homely experience.
Designed by French Interior Designer Dorothee Meilichzon, rooms are stylish and playful, with retro touches.
The ground floor is the hub of the entertainment, where you'll find the drinking and dining venue.
Da Henrietta by Italian Supper Club pays tribute to the Tyrrhenian sea and the changing landscape.
Besides the restaurant, there aren't too many facilities.
However, given it's within walking distance of Soho, The Strand and Leicester Square, everything you might need is close by.
Guest Rating: 9.2
Star Rating: 4 stars
Best Rooms: Junior suite with city view
Address: 14 Henrietta Street, Westminster Borough, London, WC2E 8QH, United Kingdom
---
8. Radisson Blu Edwardian Mercer Street Hotel, London
This boutique abode is set in the Seven Dials neighborhood of Covent Garden.
Inviting chic rooms are filled with sumptuous beds, Italian marble bathrooms, and luxury amenities.
If you love
For classy food, try Peruvian and Italian small plates at the popular onsite Monmouth Kitchen restaurant.
One of the favorist is the signature smoked lamb cutlets which are served on a hot lava stone.
They also serve a selection of wine and cocktails.
On the ground floor, there's an urban living room to sit and relax.
If you're visiting for work purposes, you'll have access to creative co-working spaces and advanced meeting rooms.
Guest Rating: 9.1
Star Rating: 4 stars
Best Rooms: Corner suite
Address: 20 Mercer Street, Covent Garden, Camden, London, WC2H 9HD, United Kingdom 
---
9. St Martins Lane London
The St Martins Lane London fully embodies British eccentricity.
Rooms are striking and bright thanks to the floor-to-ceiling windows and light installations.
There's a total of four eating and drinking venues to choose from.
The Restaurant is great for all-day dining, but its the casual social spots that get guests attention.
Try afternoon tea at The Den, slice of Los Angeles' craft coffee at EllaMia, or cocktails at Blind Spot London.
To work off the food, fitness fans will love the hotel's partnership with Gymbox – the largest hotel gym in Europe.
There's laser-lit dance studios, the latest in strength and cardio equipment, and an Olympic-sized boxing ring.
If you want to get out and explore, take advantage of the free bicycle rental on offer.
Guest Rating: 9.0
Star Rating: 5 stars
Best Rooms: Penthouse suite
Address: 45 St Martin's Lane, Westminster Borough, London, WC2N 4HX, United Kingdom
---
10. The Clermont London, Charing Cross
The Clermont is lucky enough to be situated in a stunning Grade II-listed building right next to Charing Cross Station.
It effortlessly combines ornate period charm with all the modern comforts you'd expect from a 4-star hotel.
Rooms and suites are elegantly and smartly designed, but go for a Studio if available.
There's just much more space for you to relax.
For dining, the Clermont Restaurant and Bar has a menu inspired by the classics, but with a modern twist.
From breakfast through to dinner, dishes are created using fresh, locally sourced produce.
There's also an impressive cocktail menu including the signature serve, The Clermont Cocktail.
An onsite gym is available for guests too.
Guest Rating: 9.0
Star Rating: 4 stars
Best Rooms: Studio
Address: The Strand, Westminster Borough, London, WC2N 5HX, United Kingdom
---
11. ME London by Melia
On arrival, ME London is uber impressive and sets the scene for your stay ahead.
Guests receive a glass of prosecco and check-in is done in the Atrium, a reception area like no other.
There are 157 rooms and suites, all have floor-to-ceiling windows with rather impressive views.
They include state-of-the-art technology such as media hubs, LCD TVs, Bali showers, and sound proofing.
The ME by Melia chain hotels are known to have a somewhat party feel.
And this property is no exception – it definitely comes alive at night.
You won't even need to leave the hotel to enjoy some of the best food and drink venues around.
On the 10th floor is Radio Rooftop.
This is a cool restaurant and lounge bar offerring panoramic views of London.
It's also home to STK, London's only outpost of the famous steakhouse brand which serves some of the finest USDA prime beef.
Guest Rating: 8.9
Star Rating: 5 stars
Best Rooms: Presidential suite
Address: 336-337 Strand, London, Westminster Borough, London, WC2R 1HA, United Kingdom
---
12. Strand Palace Hotel
The Strand Palace is a newly refurbished hotel that has been welcoming guests since 1909.
It's one of the larger hotels with 785 rooms.
Inside, you'll find simple and modern styling with everything you need to help you relax after a day in the city.
Think Hypnos beds, solid wood shutters, LCD TVs and The White Company toiletries.
Onsite, there are two bars for guests to grab a cocktail or afternoon tea.
If you want to grab a bite to eat, then Haxells Restaurant serves modern British dishes throughout the day.
When you're ready to explore the area, Guest Services can also assist with attractions nearby.
Guest Rating: 8.5
Star Rating: 4 stars
Best Rooms: Deluxe studios
Address: 372 Strand, Westminster Borough, London, WC2R 0JJ, United Kingdom
---
13. The Waldorf Hilton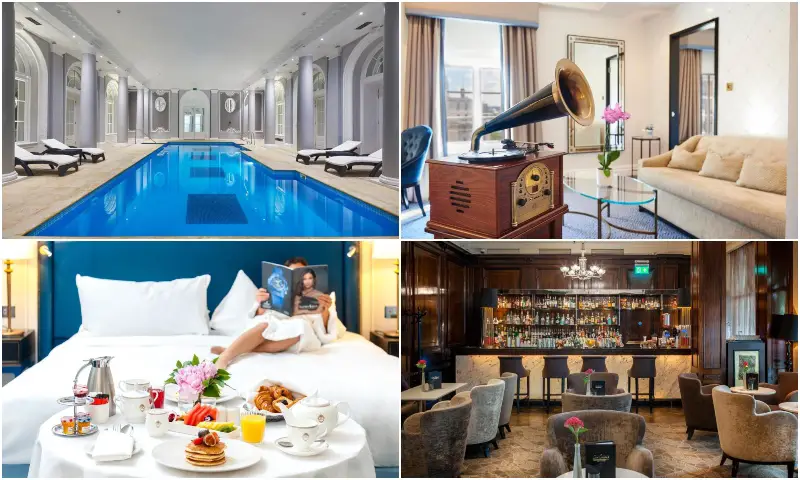 Despite being built in the 1900s, Waldorf Hilton blends Edwardian grandeur with modern comforts.
The property is set in the heart of London's theatre district.
Luxurious rooms have plasma TVs, private bathrooms with rain showers, and complimentary toiletries.
Highlighted by sparkling chandeliers, the sophisticated Homage Restaurant pays tribute to the grand cafes of Europe.
But if you just want drinks, head to the Good Godfrey's Bar and Lounge.
Its the ideal space for a spot of people watching as you make your way through the impressive cocktail menu.
Other facilities include a sauna, steam room, swimming pool and fitness center.
Guest Rating: 8.2
Star Rating: 5 stars
Best Rooms: Hilton executive suite
Address: Aldwych, Westminster Borough, London, WC2B 4DD, United Kingdom 
---
Covent Garden Hotels Map
Find More Hotels in Covent Garden
---
FAQs
Summary