Aptly nicknamed "The Rose of the North", Chiang Mai is a mountainous city known for its beauty and serenity. There's history, culture, divine food, and incredible spas. While there's plenty to see and do, like most of Thailand, the weather does get a bit humid. Staying at a luxury hotel with a private pool will certainly make your trip more relaxing. Check out these amazing options we've found for your escapade to Chiang Mai.
---
Chiang Mai Pool Suites for Couples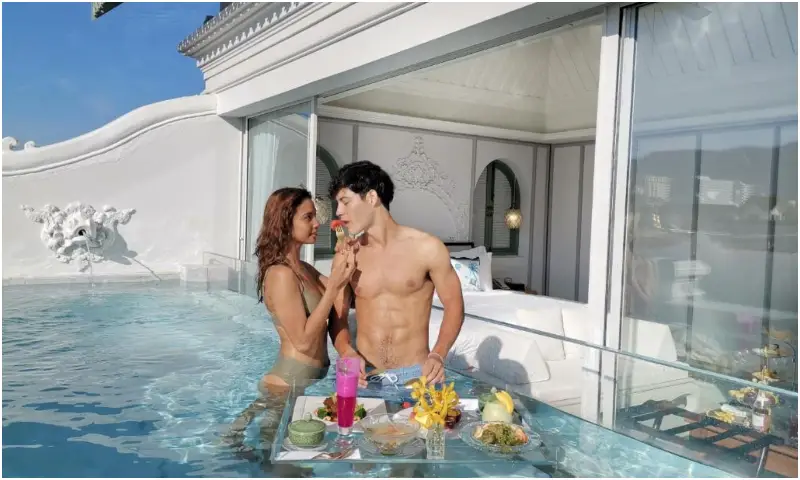 The Inside House – If you want the most romantic escape, the Doi Suthep pool suite is the perfect choice. The glass-enclosed private pool is so inviting! You'll also enjoy the outdoor tub and shower. With lush tropical surroundings and top-floor views, this suite is a top pick for couples.
Panviman Chiang Mai Spa Resort – Spacious and secluded, the private Viman pool villa is another great option for honeymoons. From the pool, you'll have incredible mountain views.
Thantara Resort Chiang Mai – The Deluxe Double Rooms have a spacious terrace leading to your private pool. You'll have beautiful views of the lake from here. Romantic private dining can also be arranged on the terrace by the pool.
---
Chiang Mai Pool Villas for Families
Four Seasons Resort Chiang Mai – The Four Seasons Residence pool villas are perfect for families of all sizes. Available in two, three, or four bedrooms, they can accommodate up to 12 guests. You'll love the large living areas, but the best part is the private infinity pool and lush outdoor space.
Villa Mahabhirom – With plenty of space and traditional charm, the 2 and 3-bedroom pool villas are the top choice for families. Each Thai-style villa has large indoor and outdoor living spaces. It's one of few places that have private saltwater pools.
---
Most Affordable Pool Suites & Villas
Arun Dara Villa – This is great value if you want to save on pool villas in Chiang Mai. Besides your private pool, there's a large living and dining area, plus a hot tub. If you visit from March to May, it's as low as $118 USD per night.
Pool Suite Chiang Mai – This cozy private pool suite offers a relaxing escape without straining your budget. You'll enjoy a private pool, a comfortable living space, plus a spa bath and walk-in shower. Plan your trip from November to February and enjoy rates as low as $189 USD.
Baan Suan Residence – Baan Suan Residence stands out as Chiang Mai's most affordable pool villa property for families. The Family Villa has everything including a spacious living area, a kitchenette, and of course, a private pool. Book your stay in May or June and this family-friendly villa is only $525 USD.
---
1. The Inside House
Spectacular doesn't begin to describe the rooms at The Inside House. Built in the 1920s, its Lanna Colonial style will blow you away with its old-world charm. The Pool Suites here are amazing! For a large 7-meter private pool, check the Waterfall and Chedi Pool Suites. In the Corner, Bodhi, and Junior Pool Suites, you'll get slightly smaller pools. The most unique room is the Glass Pool Suite on the top floor. It has a glass-walled pool and outdoor bathtub. This is the only property in Chiang Mai that has a whopping 14 swimming pools and all the private ones are temperature-controlled!
Guest Reviews: The Glass Pool suite was even more beautiful than expected. The breakfasts and afternoon tea were the best.
Star Rating: 5 stars
Best Rooms: Doi Suthep Pool Suite
Address: 56 Samlarn Road, Tambon Phra Sing Amphoe Muang, Phra Sing, 50200 Chiang Mai, Thailand
---
2. 137 Pillars House
Take a journey back in time by staying at the 137 Pillars House in Chiang Mai. Established in the late 1800s, this beautiful teak wood building was restored to its original glory and is now a fabulous hotel. All the Suites are absolutely heavenly with their tranquil decor, high ceilings, large terraces, and stunning views of the gardens. But the Louis Leonowens Pool Suite is the one most couples want. For dining, try gourmet cuisines at Palette and the Dining Room. Afternoon tea is also a lovely treat at this hotel.
Guest Reviews: The room was large and very comfortable. The cocktail bar with the live music was fantastic.
Star Rating: 5 stars
Best Rooms: Louis Leonowens Pool Suite
Address: 2 soi 1, Nawatgate Road, Tambon Watgate, Muang, Chang Moi, 50000 Chiang Mai, Thailand
---
3. Raya Heritage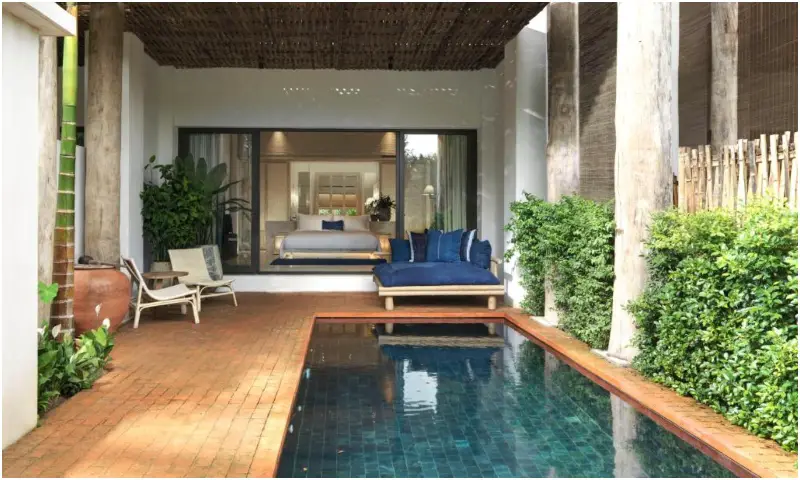 Located on the banks of the Ping River, Raya Heritage will transport you into another world instantly. Their rooms are decorated with lovely Thai designs and modern elements. The Kramm Pool Suite in particular is ideal for couples on a romantic getaway. You'll love the furnished terrace and the private pool. For dinner, try delicious local cuisine at their rustically elegant restaurant Khu Khao. The herbal teas and fresh juices at Laan Cha Tea Terrace are great for those hot days. But the cocktails at Baan Ta is what everyone raves about! Staying at Raya Heritage is a once-in-a-lifetime kind of experience that you will not regret!
Guest Reviews: We had a fabulous view of the river from our balcony. The breakfast was delicious and the spa was lovely.
Star Rating: 5 stars
Best Rooms: Kraam Pool Suites
Address: 157 Moo 6, Tambol Donkaew, 50180 Chiang Mai, Thailand
---
4. Cross Chiang Mai Riverside
With a blend of modern and traditional Lanna design elements, Cross Chiang Mai Riverside is a beautiful hotel. The Pool Suite is the very definition of luxury. From the bed, you can see the huge outdoor yard with a private lap pool and sunbed. Surrounded by high hedges, there's some privacy, although guests on higher floors still have clear views of your space. Onsite, they have plenty of relaxing spots for drinks and food. This includes the Ozone Roof Bar by the infinity pool, the Oxygen Dining Room, and the Library Bar & Cafe. More importantly, the staff provide excellent service here.
Guest Reviews: This was a lovely boutique hotel with large comfortable rooms. The restaurants and rooftop pool were fantastic.
Star Rating: 5 stars
Best Rooms: Pools Suites
Address: 369/1 Charoenraj Road, Watket, Muang, 50000, Wat Ket, 50000 Chiang Mai, Thailand
---
5. Villa Mahabhirom
Literally translating to "A villa of great pleasure", Villa Mahabhirom is a charming resort. History, culture, art, and craft come together to create a mesmerizing experience. For couples, the 1-bedroom Pool Villa will be more than enough because it's huge! Families can choose from the 2 and 3-bedroom Pool Villas. The food is also a treat here, as they serve authentic Thai cuisine as well as afternoon tea. While the location is further out from Old City, it's quite close to Chiang Mai Airport.
Guest Reviews: This was a quiet little boutique hotel with Thai-style villas. We loved our private pool.
Star Rating: 5 stars
Best Rooms: 3-bedroom Villa
Address: 62 Moo. 10, Suthep, Muang, Chiang Mai, 50200 Chiang Mai, Thailand
---
6. Four Seasons Resort Chiang Mai
Unwind and recharge with your loved one at the Four Seasons Resort in Chiang Mai. Located among emerald rice fields with lavish interiors and stunning views, this resort is truly heaven on earth. With private pools, buffet breakfast, and personal assistants, the exclusive private residences are beyond luxury. For food, there are five on-site dining options that offer a variety of Asian cuisines. On top of that, they have extra offerings like private dining and cooking classes. They have plenty of Pool Villas to choose from that suit romantic couples as well as large groups.
Guest Rating: We stayed at the Pool Villa for our honeymoon and didn't want to leave. The breakfast was amazing.
Star Rating: 5 stars
Best Rooms: Four Bedroom Grand Residence Villa
Address: 502 Moo 1, Mae Rim-Samoeng Old Road, 50180 Mae Rim, Thailand
---
7. Panviman Chiang Mai Spa Resort
Located high up in the hills, surrounded by tropical forests and flower gardens, this resort offers a dreamy stay like no other. There's no better way to experience this place than by staying at the Viman Pool Villas. It has a beautiful infinity pool with stellar mountain views. Try the exotic cocktails and food at Panorama. But if you want to dine in the villa, there's always room service. They also have an onsite spa, yoga, and meditation classes. But it's the serene location that makes this resort a magical experience.
Guest Rating: The pool villa was the best with a great view from the balcony and pool. All the food was first class.
Star Rating: 5 stars
Best Rooms: Viman Pool Villa
Address: 197/2 Moo 1, Tambol Pongyang, Amphur Mae Rim, 50180 Mae Rim, Thailand
---
8. Thantara Resort Chiang Mai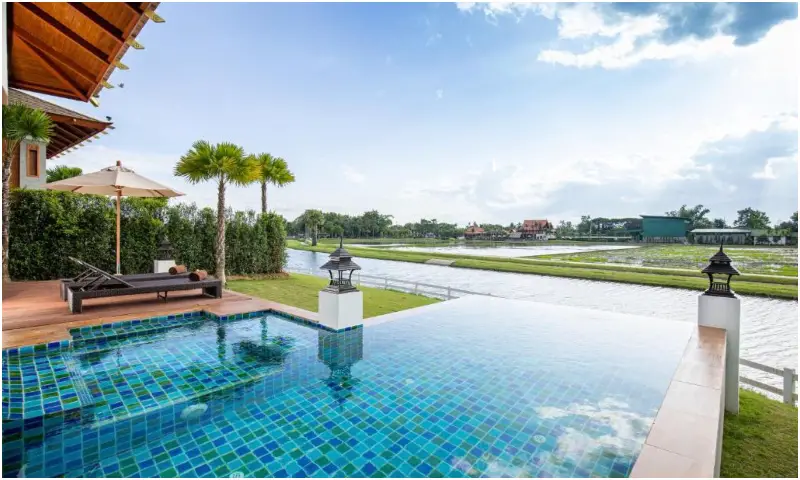 Based on guest reviews, Thantara Resort's Sanctuary Villas stand out as some of Chiang Mai's best pool villas. Guests raved about the outdoor space, with its spacious terrace, private pool, and outdoor shower. Inside you'll find floor-to-ceiling lakefront views and a soaking tub in the ensuite bath. For something special, guests can enjoy breakfast in bed or a floating breakfast in your private pool. Also, make sure you try Thann Restaurant, featuring a European menu, fine wines, and 360-degree views.
Guest Reviews: We loved the room with the pool. It was perfect for our honeymoon.
Star Rating: 5 stars
Best Rooms: Deluxe Double Rooms
Address: 123/4 Moo 1 San Klang, Nong Pa Khrang, 50130 Chiang Mai, Thailand
---
9. Veranda High Resort Chiang Mai – MGallery
Imagine contemporary design and Lanna culture coming together in this scenic property. All rooms are very luxurious with large private balconies so you can take in the views. If you're staying as a couple, the Plunge Pool Pavillion will be more than enough. But if you're traveling as a family, the Presidential and Luxury Pool Villas are the best options. For dining, there are two restaurants – the Higher Room serving European favorites, and Rabiang Cha serving local cuisines. With its incredible scenery and friendly staff, this resort is pretty close to perfection. 
Guest Reviews: The suite was out of this world. The view facing the White Temple was splendid.
Star Rating: 5 stars
Best Rooms: Presidential Pool Villa
Address: 192 moo2, Banpong, Chiang Mai, 50230 Hang Dong, Thailand
---
10. Flora Creek Chiang Mai
True to its name, Flora Creek is surrounded by 10 acres of landscaped gardens with lush forest and mountains in the backdrop. Their Pool Villa Suites are stunning! Inside, the furnishing is very modern with touches of Thai decor. The private bathtub is another lovely feature sitting by floor-to-ceiling windows. Set beside a natural waterfall, the Fueng Fah Bistro is the best spot for a romantic dinner. While the Creek Cafe is open all day for international dishes.
Guest Reviews: We stayed in the pool villa and loved the quiet and privacy. The food and the restaurants were perfect.
Star Rating: 5 stars
Best Rooms: Pool Villa Suite
Address: 90 Moo 4, T.Baan Pong, Hangdong, 50230 Hang Dong, Thailand
---
11. THEE Vijit Lanna by TH District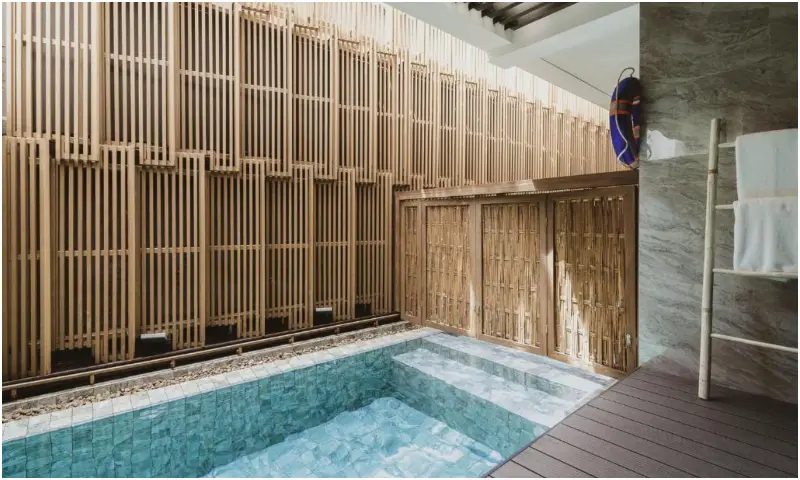 THEE Vijit is one of Chiang Mai's top picks for romantic couples. Guests love this ground-floor retreat, especially the private terrace and heated plunge pool. Inside, you'll find a comfortable king bed plus a modern bath with a separate soaking tub and rain shower. At night, enjoy a locally inspired cocktail at Thuub bar, or Northern Thai cuisine at Longkao restaurant. A few reviews mention minor maintenance issues, but most guests were pleased with their private pool experience.
Guest Reviews: Our suite was so luxurious! The tub and the private pool were great. The breakfast was excellent.
Star Rating: 4 stars
Best Rooms: Plunge Pool Suite
Address: 82/1 Chaiyapoom 2 Road, Chang Moi, Chiang Mai, Si Phum, 50300 Chiang Mai, Thailand
---
12. Aleenta Retreat Chiang Mai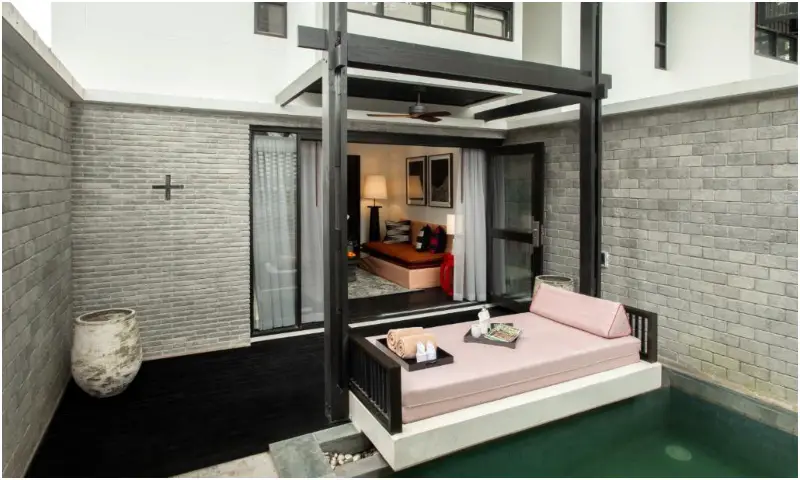 The 1, 2, and 4-bedroom villas at Aleenta Retreat all have private pools. The 4-bedroom Golden Teak villa has the largest pool, along with a spacious living area, plus a full kitchen. Guest reviews agree it's a top choice compared to neighboring options. At the Garden restaurant, you'll enjoy healthy Thai dishes, while the 1892 bar is known for its signature cocktails and wild boar teriyaki. When you want to wind down, Ayurah Spa offers a variety of rejuvenating spa treatments.
Guest Reviews: It was a beautiful place to stay with a very comfortable room. The spa was exceptional.
Star Rating: 5 stars
Best Rooms: Golden Teak Villa (4-bedrooms)
Address: Soi Ban Mai Lang Mo 18 Suthep, Muang Chiang Mai District, 50200 Chiang Mai, Thailand
---
Chiang Mai Hotels Map
Other guides:
Find More Romantic Chiang Mai Hotels
---
Best Chiang Mai Pool Suites