Chester is an ancient city with remnants of the Roman era and age-old cathedrals. It's the best setting for a relaxing holiday at a luxurious spa hotel. Whether you're traveling with friends or planning a romantic honeymoon, we'll highlight the best places for you. There are hotels that offer holistic treatments, couples massages, and heated pools onsite. Some properties even have hot tubs, ideal for cold nights in the city. So if you want the most relaxing getaway, here are the best luxury spa hotels in Chester, UK.
---
1. Chester Apartments
As simple as the name may sound, this hotel in Chester is a place of ultimate comfort. In terms of accommodation, there's a selection of three-bedroom apartments. These rooms feature a full-sized kitchen, a washing machine, a separate living room, plus two bathrooms. The most eye-catching amenity at Chester Apartments is the wellness menu. You can benefit from massages, beauty treatments, or any tailor-made spa program. Apart from that, the hotel provides guests with an open-air hot tub. From Chester Apartments, the ancient Chester City Walls are just a minute's walk away.
Guest Rating: 9.5
Star Rating: 4 stars
Best Rooms: Executive apartment
Address: 31 Bold Square, Chester, CH1 3LZ, United Kingdom
---
2. The Chester Grosvenor
The Chester Grosvenor is one of the best luxury 5-star hotels in the city center. Within this hotel, you'll find grand halls with staircases and chandeliers. These are characterized by their traditional British design. As you enter your rooms, you'll instantly notice the classy decor and expensive furnishings. A couple of suites, including the majestic Presidential Suite, have private bathtubs too. Get a royal treatment at their spa with facial, holistic massages, and body scrubs. You can also delve into a sumptuous afternoon tea with an impressive collection of sweet and savory treats.
Guest Rating: 9.1
Star Rating: 5 stars
Best Rooms: Suite
Address: Eastgate Street, Eastgate, Chester, CH1 1LT, United Kingdom
---
3. Grosvenor Pulford Hotel & Spa
The Grosvenor Pulford Hotel & Spa is yet another oasis of bliss, located between Chester and nearby Wrexham. For exquisite dining and spa experiences, this 4-star hotel is one of the most highly-rated in the Chester area. Pick from 75 guest residences, and be prepared for an ecstatic vacation in West England. While most rooms are designed for couples, there are some family rooms with sofabeds. At their onsite restaurants, you can dine at any time – but make sure you try their classy afternoon tea! Spa by Kasia is the spot for beauty treatment packages that can include massages and skin therapy. For other activities, take advantage of the large indoor pool, or follow your workout routine in the gym.
Guest Rating: 8.8
Star Rating: 4 stars
Best Rooms: Superior rooms
Address: Wrexham Road, Pulford, Pulford, CH4 9DG, United Kingdom 
---
4. Crowne Plaza Chester, an IHG Hotel
Located right in the heart of the city is Crowne Plaza Chester, an IHG Hotel. This classy and modern establishment boasts high-end features, such as a heated indoor pool, a gym, plus a spa center. The spa facility here is a crowd-pleaser in particular. Indulge in facial treatments, massages, footbaths, manicures, or pedicures. Or, visit the sauna for a sense of ultimate rejuvenation. They're open daily from 9:30am-6pm. To make the most of your spa experience, make sure you book a one-bedroom suite with long access. For dining, you can have your meals delivered to your room, or eat out in the intimate Stables Bar & Grill Restaurant.
Guest Rating: 8.6
Star Rating: 4 stars
Best Rooms: One bedroom suite
Address: Trinity Street, Chester, CH1 2BD, United Kingdom
---
5. DoubleTree by Hilton Chester
Based in a gorgeous location outside the downtown area is DoubleTree by Hilton Chester. The 18th-century country house was built on a 12-acre property. Once you step inside, a world full of spacious restaurants, comfy rooms, and spa goodness reveals itself. The spa section hosts 14 treatment rooms, where you can lie down for full-body massages, holistic sessions, or facials. There's also a whirlpool and a private sauna for guests. For the best experience, book a family or junior suite. These rooms have the largest lounge areas and ensuite bathrooms. For dining, grab a meal at the Garden Room and Terrace, where you can enjoy the lovely views.
Guest Rating: 8.6
Star Rating: 4 stars
Best Rooms: Family & junior suites
Address: Warrington Road, Hoole, Chester, CH2 3PD, United Kingdom 
---
6. MILL Hotel & Spa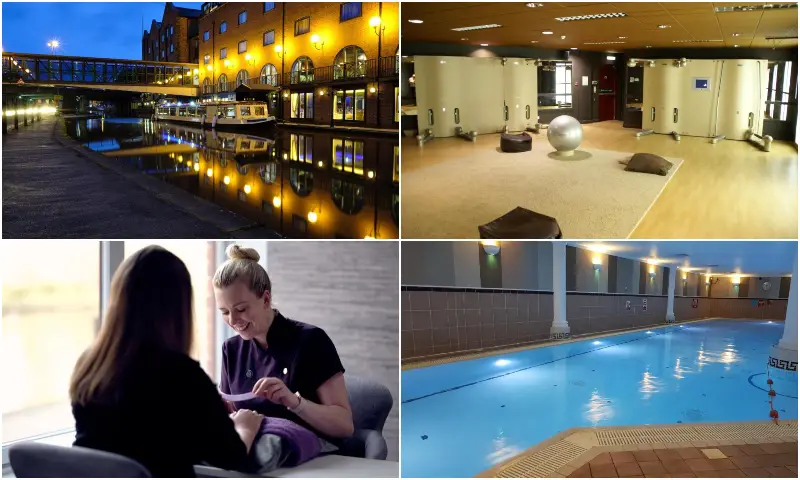 The MILL Hotel & Spa is erected on the shore of the Shropshire Union Canal. Chic spa services and attractive food options await behind the brick walls of this hotel. In this central neighborhood, you'll find guest rooms equipped with all the conveniences you need. For couples, book the Canal side deluxe room, while groups can book family rooms with sofabeds. The spa menu ranges from short massages and foot treatments to 100-minute programs with some relaxing services. You can also opt for an overnight spa package that includes lunch, dinner, spa treatments, and access to the health club.
Guest Rating: 8.3
Star Rating: 3 stars
Best Rooms: Canal Side rooms
Address: Milton Street, Chester, CH1 3NF, United Kingdom 
---
7. Crabwall Manor Hotel & Spa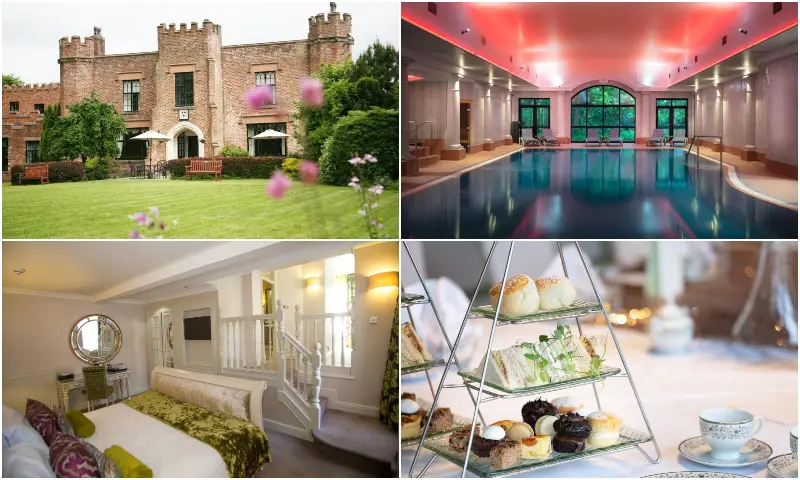 Aesthetically, Crabwall Manor Hotel & Inn is one of the top luxury estates in the Chester area. The castle-like inn is encircled by carefully curated gardens and lawns, perfect for romantic getaways. For dining, the hotel has Jacob's Brasserie for a quick meal and the Terrace Bar & Lounge for epic vistas. Accommodation-wise, Crabwall Manor Hotel & Inn has double rooms, junior suites, and master suites. But the elegant master suites are by far the most spacious and luxurious. Besides a comfy queen bed, you'll have a large private bath and seating area. On the spa menu, you'll find a list of massages, facial treatments, body polishing, manicures, and pedicure services.
Guest Rating: 8.3
Star Rating: 4 stars
Best Rooms: Suites
Address: Parkgate Road, Mollington, Chester, CH1 6NE, United Kingdom 
---
8. Rowton Hall Hotel and Spa 
Four miles southeast of downtown Chester lies Rowton Hall Hotel & Spa. The 18th-century manor provides an excellent background for family trips, romantic getaways, or even weddings. All the rooms, suites, and apartments have a vintage feel, paired with all the modernities guests can wish for. If you're after the most romantic room, check out their Superior double rooms. The Spa & Club is the most exciting venue here, with facial cures and caressing massages as some of the options. At night, dine at Langdale Restaurant where you'll find a sophisticated food and drinks menu. If you're down for a proper English experience, book the afternoon tea.
Guest Rating: 8.3
Star Rating: 4 stars
Best Rooms: Superior double rooms
Address: Whitchurch Road, Chester, CH3 6AD, United Kingdom
---
9. Mercure Chester Abbots Well Hotel
Unlike numerous properties on this list, the Mercure Chester Abbots Well Hotel is very modern. This 4-star estate sits on 2 acres of land and is surrounded by landscaped gardens. A restaurant, a bar, a swimming pool, and a health club are just some of the highlights. For the best room, book a superior suite. Inside, you'll have a comfy double bed, ensuite bathroom, and a spacious lounge area. Onsite, there's also an enormous indoor pool, a kid's pool area, and a hot tub. For more relaxation, head to the spa center with its saunas, steam rooms, and revitalizing services.
Guest Rating: 7.4
Star Rating: 4 stars
Best Rooms: Superior suites
Address: Whitchurch Rd, Christleton, Chester, CH3 5QL, United Kingdom
---
Chester Hotels Map
Also read our article Fun Things to do in Chester, UK.
FAQs
What's the best spa hotel in Chester city center?

For a more private experience, Chester Apartments is the highest-rated hotel with a spa based in the downtown district.

This place pampers guests with numerous spa treatments and a huge outdoor hot tub.
What's the most luxurious spa hotel in Chester?

The Chester Grosvenor is the most luxurious hotel with spa services in Chester.

It is a 5-star hotel and has many high-end facilities.

Also, a fabulous interior design and fine dining options contribute to the exclusive feeling.
Which Chester spa hotel has the best pool on-site?

Most of the hotels in Chester actually offer an on-site pool.

However, Grosvenor Pulford Hotel & Spa has one of the most spectacular indoor pools.

This Roman-style bath has a huge Jacuzzi and you can relax on the recliners for a short nap.
What's the best Chester spa hotel with a luxury bathtub in the room?

One of the most luxurious hotels with in-room bathtubs is The Chester Grosvenor.

In this property, you can find generous tubs in the Junior Suites, the Deluxe Suite, the Master Suites, and the Presidential Suite.
Summary