Cape Town needs little introduction to the natural wonders and historicity that define it. Known for wine farms, penguin beaches, and Cape Dutch architecture, Cape Town is an ideal destination. To make your stay all the more special, why not try a luxury hotel suite or villa with a private pool? We'll show you boutique spa hotels, cozy wine estates, and luxury villas overlooking the Atlantic seaboard. For more, here are the best Cape Town hotels with private pools.
---
1. Labotessa Boutique Hotel 
Labotessa is a small boutique establishment in Cape Town's historic Church Square. It's within minutes of places like the Slave Lodge, Houses of Parliament, St. Georges Cathedral, and City Hall. There are six Signature suites in sophisticated European design with lovely views of Lion's Head Peak. If it's a private pool you're after, then you should book the Presidential Suite. This penthouse has a splash pool on one terrace, three ensuite bedrooms, and a fully equipped kitchen. It's one of the largest suites you can find in the Cape Town city area. At Café and Terrace, you can enjoy an all-day breakfast menu, lunch, or high tea with a curated wine selection. On the ground floor, you can visit their Fragrance Boutique featuring products by Diptyque Paris.
Guest Reviews: Excellent oasis in the centre of Cape Town. Will DEFINITELY come back again and again.
Star Rating: 5 stars
Best Rooms: Presidential suite
Address: 5 Church Square Cape Town City Center, Cape Town CBD, 8001 Cape Town, South Africa
---
2. Ellerman House 
Ellerman House is on the western seaboard just before you round the bend from the popular Clifton beaches. It's a manor-style hotel with a superb display of contemporary South African art. If you want your own private pool, there are two villas to choose from. These three-bedroom villas have their own ensuite and ocean-view terrace with loungers. You'll also have your own chef for in-villa cooking and dining. During downtime, you'll love the comprehensive spa with sauna, steam room, and sensation shower. For a quick bite, there's a guest pantry with snacks and fresh bakes always available. But if you want a unique fine dining experience, the Ellerman Restaurant will be a treat.
Guest Reviews: Beyond amazing! Beautiful from start to finish. Amazing service and staff.
Star Rating: 5 stars
Best Rooms: Three-bedroom villas
Address: 180 Kloof Road, Bantry Bay, Bantry Bay, 8005 Cape Town, South Africa
---
3. POD Camps Bay 
POD Camps Bay is a modern boutique villa just 50 meters from the beach. Beds rest on raised platforms with wooden overhangs which creates a cocoon-like ambiance. The Luxury double room comes with its own heated plunge pool and comfy outdoor terrace. For all guests, there's the shared lap-pool area with plenty of space for taking in the brisk Atlantic air. The hotel has no dine-in restaurant, but you can arrange takeaway with local restaurants. Alternatively, there are various dining choices along the main Camps Bay strip just a few meters down the road. For a cozy stay-in or to unwind at the end of the day, the spa has a good range of treatments and packages. If you arrive early, the lounge has its own freshen-up facilities.
Guest Reviews: The best hotel in Camps Bay. The staff was extremely helpful. Facilities have everything we could wish for.
Star Rating: 5 stars
Best Rooms: Luxury double room with plunge pool
Address: 3 Argyle Street, Camps Bay, 8005 Cape Town, South Africa
---
4. Last Word Constantia 
Last World Constantia is located in the historic Constantia wine valley. It's a refined and intimate experience of only nine ensuite guest rooms. The two pool suites both have a semi-private splash pool and an outside terrace. They also have a shared entrance so are perfect for friends or couples traveling together. Breakfast is included in the morning and you can request a picnic basket for the day too. Some guests dine next door at Peddlars, a popular pub and restaurant. The hotel has a concierge service that can assist with luxury vineyard tours and excursions into the city.
Guest Reviews: Tranquil gardens, scrumptious breakfast, wonderful people, and a fabulous stay.
Star Rating: 5 stars
Best Rooms: Suite with private pool
Address: Spaanschemat River Road, Constantia, 7806 Cape Town, South Africa
---
5. Compass House Boutique Hotel 
Compass House is Bantry Bay boutique establishment just up the road from the more famous Ellerman House. Situated high up on the Kloof Road ridge, they have a lap pool on the terrace with fantastic views over the bay. If you want your own private dipping pool, you will need to book the Seaview suite. Other nice options are the Junior or Poolside suites. For a deep soaking bathtub, check your room details because not all rooms have one. There is no in-house restaurant for lunch or dinner, but a close-by option is the Ellerman House restaurant. With some of the best views in Cape Town, it's hard to beat this location.
Guest Reviews: The infinity pool and sea view is amazing. Great spot, great service, discreet, and quiet.
Star Rating: 5 stars
Best Rooms: Suite with sea view
Address: 154 Kloof Road, Bantry Bay, 8005 Cape Town, South Africa
---
6. South Beach Camps Bay Boutique Hotel 
As the name suggests, the South Beach Boutique Hotel is towards the lower end of Camps Bay. All Suites have an ocean view and exclusive use of two shared pools, one of them heated. The Pool Suite Plus has the additional luxury of a spa bath. However, for the best stay, the Grand suite comes with its own heated plunge pool and a spa bath in the ensuite. Each suite has a fully equipped kitchen and stocked refrigerator with fresh bakes delivered every morning. Breakfast, and other meals, are self-catering but there are a number of restaurants within a five-minute walk. The hotel also has a small gym and complimentary bicycles for guests. Just down the road is the popular Theatre on the Bay which is well worth a visit if performance times suit your schedule.
Guest Reviews: Every member of staff was utterly charming. Magical place!
Star Rating: 5 stars
Best Rooms: Grand suite
Address: 6 Link Road, Camps Bay, 8005 Cape Town, South Africa
---
7. Azamare Guest House 
Azamare Guest House is in south Camps Bay away from the main beach area. The Luxury pool suite (Nautilus suite) is their best room and the pool is partly covered by the patio. Whether you're relaxing by the pool or soaking tub, you can enjoy full views of Lion's Head Peak. The luxury Seahorse suite also has amazing views from the terrace and view bath. For other guests, the patio hot tub is the perfect place for sunsets. There's no in-house restaurant, but wine and snacks are served in the early evening between 6 to 8 pm. Camps Bay restaurants are about 10 minutes away on foot, but it's better to have your own car.
Guest Reviews: Excellent stay. Lovely staff and a nice breakfast. Beautiful views
Star Rating: 5 stars
Best Rooms: Luxury pool suite
Address: 133 Victoria Road, Camps Bay, Camps Bay, 8005 Cape Town, South Africa
---
8. Sea Star Rocks Boutique Hotel 
Sea Star Rocks is perched on the upper ridge overlooking Bakoven Bay. There are three suites to choose from and a large 2-bedroom apartment. The boutique villa has an 18-meter lap pool and side jacuzzi with infinity views over the entire bay. For a memorable stay, book the Private pool suite with a sunken splash pool on the wooden deck. This is the best room for views of Lion's Head Peak and the stunning west coast sunsets. Since the location is somewhat out of the way, you will require your own car. Breakfast is provided on-site and the suites do not come with a kitchenette or any self-catering options.
Guest Reviews: I requested an early check-in which was granted without hassle. Great stay, definitely going back.
Star Rating: 5 stars
Best Rooms: Suite
Address: 26 Theresa Avenue, Camps Bay, Camps Bay, 8005 Cape Town, South Africa
---
9. Pepperclub Hotel 
Pepperclub is a 5-star hotel in the upper city bowl area of Cape Town. It's on the corner of Loop and Pepper Streets, just around the busy entertainment strip of Long Street. There are numerous rooms to choose from including two and three-bedroom suites. The Presidential suite, however, is the one with a private pool. It's a 3-bedroom suite with a plunge pool and spacious terrace with full panoramic views of Table Mountain. If you can't book the pool suite, there is the hotel pool on the 8th floor next to the gym and spa. Ruby's Café is the place to go for open-air seating, while Copa Restaurant opens for breakfast, lunch, and dinner. The hotel also runs a shuttle bus to the V&A Waterfront and Camps Bay. 
Guest Reviews: Good services, very good breakfast, team was kind and always ready to help.
Star Rating: 5 stars
Best Rooms: Presidential suite
Address: Corner of Loop and Pepper Streets, Cape Town CBD, 8000 Cape Town, South Africa
---
10. Lawhill Luxury Apartments – V & A Waterfront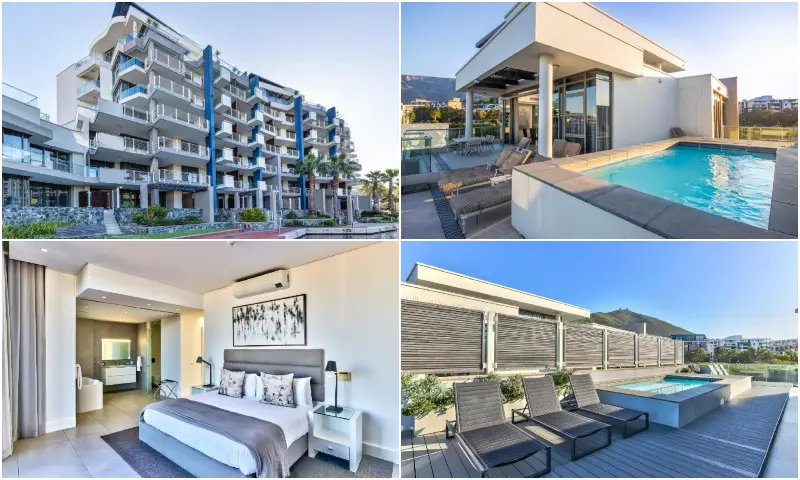 If you'd prefer to be near the V&A Waterfront, Lawhill Luxury Apartments are the place to be. There are one-bedroom apartments, but the two and three-bedroom ones are a lot more spacious. For private pools, there are two Penthouse suites to choose from accommodating 4 to 6 guests. Apartments are all self-catering but it's only 5 minutes to the nearest supermarket. If you prefer to cook, the kitchens have all the best mod cons including fancy wall ovens. The V&A Waterfront is also abuzz with numerous shopping boutiques and restaurants open late into the night. Lawhill estate is quite large with outdoor pools and grassy vergers right to the dockside. Apart from two outdoor pools, there's a lap pool above the gym with views over the marina.
Guest Reviews: Good location within walking distance of Waterfront restaurants and shops. Good size rooms.
Star Rating: 5 stars
Best Rooms: Penthouse apartment
Address: V & A Marina Residential, V & A Waterfront, Port Road, Waterfront, 8000 Cape Town South Africa
---
11. Sugar Hotel 
Sugar is a luxury boutique hotel in the Green Point area along Main Road. The V&A Waterfront is not far, but the hotel location is not the most convenient without a car to get around. You can easily organize car hire at the front desk if needed. Both Superior king and Deluxe double rooms have a small splash pool on the terrace. Sugar also has self-catering apartments including a studio and three-bedroom apartment. Their onsite restaurant, Spice on Main, even serves a seasonal three-course menu. For relaxation, the spa has a wide range of treatments including packages for couples, men, seniors, and moms-to-be. A nice feature is their wine tours and in-house wine tasting, including purchases with international shipping.
Guest Reviews: Centrally located, clean, ultra modern and very accommodating staff!! Needs more diversity in its breakfast menu.
Star Rating: 5 stars
Best Rooms: King room with balcony
Address: Corner of Main Road and Boundary Road, Green Point, 8005 Cape Town, South Africa
---
Best Areas To Stay in Cape Town
Lawhill Luxury Apartments at V&A Waterfront
Camps Bay Beach – Camps Bay is a kind of upmarket enclave on the western Atlantic seaboard. The beach is quite broad and often windy, unlike the protected coves of nearby Clifton. Camps Bay has many restaurants and exclusive guest houses – many with private pools like POD Camps Bay, South Beach Camps Bay Boutique Hotel, and Sea Star Rocks Boutique Hotel.
Victoria & Alfred Waterfront – The V&A is a commercial and residential development comprising part of the original Table Bay Harbor. There are over 400 shops and restaurants, cinemas, the nearby Two Oceans Aquarium, and boat rides to Robin Island. The Lawhill Estate has vacation rental apartments, some of them with private pools. Sugar Hotel is also a good option.
City Bowl – The City Bowl is the geographic area from Table Bay along the boundaries of Signal Hill, Lion's Head, Table Mountain, and Devil's Peak. This is a historic city with the Parliament Houses, and various world-class hotels, some of them 5-stars with private pools like Pepperclub and Labotessa.
---
Best Time To Visit Cape Town
The peak summer months from December through February are the most popular with clear skies and nice sunny weather. Cape Town gets very crowded in these months with both local and international visitors. So expect hotel prices to be at a premium if you want a private pool suite. From the end of April into early June, it's cooler and perfect for outdoor adventures. The rainiest and coldest months are from June to the end of August, but these are good for food and wine tours. Between July and September, whale watching will be at its peak. The shoulder months of March to May and September to November are also good times due to the pleasant weather.
---
Best Cape Town Hotels With Private Pools For Families
Three-Bedroom Villa at Ellerman House
Ellerman House – Ellerman House is a luxury boutique establishment on Kloof Road ridge overlooking the Atlantic seaboard. Their Luxury Family Villa with a pool can accommodate up to 10 people. There's a smaller 3-bedroom pool villa and both come with a private chef. The hotel has a spacious lawn and pool, a luxury spa, as well as fine dining.
Pepperclub Hotel – Pepperclub is a world-class 5-star hotel in the City Bowl area. The 3-bedroom Presidential Suite has its own plunge pool. There are also 2-bedroom suites and a single-room family suite, but they don't have pools. Typical 5-star luxuries include a gym, spa, pool, fine dining, and also a cinema.
---
Best Cape Town Hotels With Private Pools For Couples
Luxury Double Room at POD Camps Bay
POD Camps Bay – POD is a modern boutique concept hotel ideally suited for young couples. It's private, yet intimate enough for meeting and socializing, plus it's minutes to the beach and top entertainment spots. For some extra romance, the Deluxe double room has a heated splash pool on a private terrace.
Compass House Boutique Hotel – Compass Hotel is in Bantry Bay overlooking the Atlantic seaboard. It has a number of pool suites and a 22-meter infinity pool to enjoy romantic sunsets. It's best to organize a car hire to go places, but Ellerman Restaurant down the road will be great for date nights.
---
Cape Town Hotels Map
Also read:
Find More Cape Town Hotels with Pools
---
Best Cape Town Pool Suites