Bora Bora is an island in Tahiti known for its beautiful lagoons and coral reefs. It's one of the most popular resort areas in the world where you'll find overwater bungalows. We'll show you 5-star properties, inclusive offers, and full-service spas. Ideal for honeymoons and family vacations, there are stunning bungalows to suit all guests. Some have private pools, glass floors, and even water views from the bathtub. Here are the best Bora Bora resorts with overwater bungalows.
---
1. Four Seasons Resort Bora Bora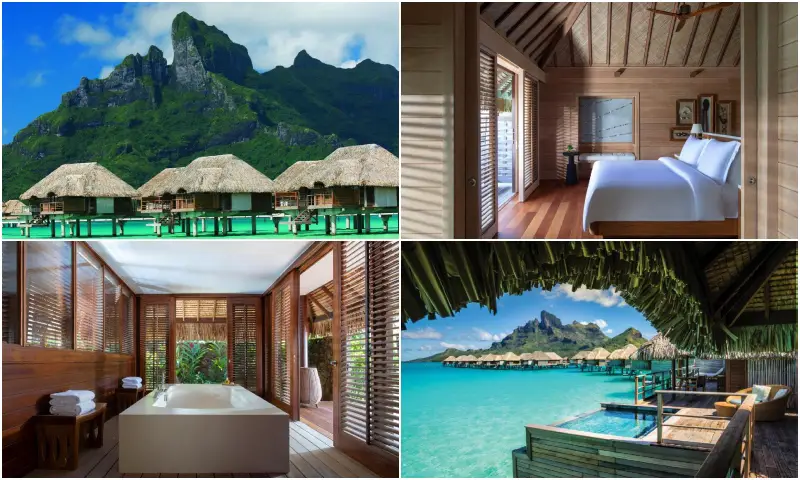 Four Seasons Bora Bora is a 5-star beachfront resort in the shadow of Mount Otemanu. Set on a private beach and lagoon, it's ideal for snorkeling, kayaking, and sailing. For a luxurious overwater bungalow, we recommend the two-bedroom Poereva suite. It has two one-bedroom suites connected by an outdoor deck. Each suite comes with a king bed and oversized soaking tubs that open to the outdoors. Outside is a furnished deck with a plunge pool, two outdoor showers, and access to the lagoon. With four onsite restaurants, guests can choose from Polynesian, French, and Asian specialties. Couples can unwind in the spa's overwater suite, where glass panels offer underwater views. Enjoy a relaxing massage or the outdoor hot tub overlooking Mount Otemanu.
Guest Reviews: Our villa was the perfect place for our honeymoon. Especially the pool and the tub with the ocean view.
Star Rating: 5 stars
Best Rooms: Two bedroom Poereva suite
Address: BP 547, Moto Tehotu, 98730 Bora Bora, French Polynesia
---
2. The St Regis Bora Bora Resort
The St. Regis Bora Bora is a 5-star resort with plenty of bungalows stretching out onto the water. For the best stay, book the Overwater royal villa with two bedrooms. This villa has a separate lounge, plus two ensuite baths with spa tubs and large showers. Glass panels throughout offer spectacular underwater lagoon views. On the outside terrace, there's a private pool, two dining pavilions, and access to the lagoon. If you like watersports, there's snorkeling at Lagoonarium, plus kayaking and paddle boarding. At night, St. Regis features sunset cocktails by the beach and four world-class restaurants. You'll enjoy a variety of dishes, including seafood, French Polynesian, Italian, and Asian. For relaxation, Iridium Spa offers a range of services, including massage, therapy baths, and a steam room.
Guest Reviews: The overwater bungalows, the beach, and the pool were beautiful. The service, the spa, and the food were all 5-star.
Star Rating: 5 stars
Best Rooms: Overwater royal villa 2-bedrooms
Address: Motu Ome'e BP 506, 98730 Bora Bora, French Polynesia
---
3. InterContinental Bora Bora & Thalasso Spa
InterContinental Bora Bora is a luxury resort and spa on the islet of Motu Piti Aau. Accessible by boat, there's an exclusive private beach with incredible views of Bora Bora. Plus, they offer a variety of watersports, including snorkeling, kayaking, and paddle boarding. If you're traveling with family, the Teremoana villa is ideal, with room for up to eight guests. This two-bedroom overwater bungalow offers spacious living and dining areas, plus incredible views. You'll love the outdoor terrace, its private pool, and direct stairs access to the lagoon. During the day, Deep Ocean Spa's glass-floored bungalows offer relaxing views of the lagoon below. Choose one of several treatments, including couples massage, beauty care, and hydrotherapy. At night, there's a traditional island show featuring music, dancing, and a Polynesian buffet.
Guest Reviews: Our overwater villa was amazing. The pool, the views, and snorkeling right off our deck were one-of-a-kind.
Star Rating: 5 stars
Best Rooms: 2-Bedroom Teremoana suite with pool
Address: Motu Piti Aau, 98730 Bora Bora, French Polynesia
---
4. Le Bora Bora by Pearl Resorts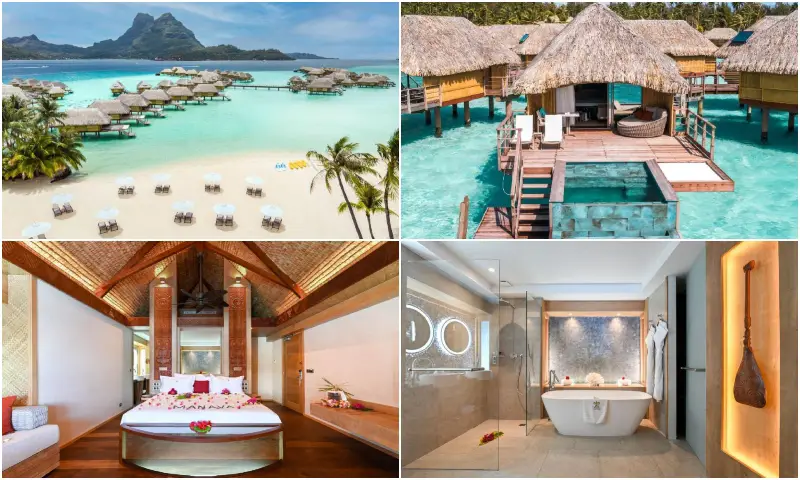 Le Bora Bora is an authentic Polynesian resort set on Motu Tevairoa. Located right on the beach, they offer a variety of water sports, including paddle boards and outrigger canoes. After the beach, you can cool off at the pool or relax in the hot tub. But if you prefer more privacy, check out the Villas with private pools. Inside, there's a unique glass bottom by the bed so you can see the marine life below. From your outdoor terrace, you can dive right into the lagoon or the private plunge pool. And if you like, breakfast and dinner for two can be delivered to your terrace by outrigger canoe. At Otemanu, you'll dine under the stars on French Polynesian or enjoy fine dining at Poerava. For relaxing massages or body treatments, you'll find Tavai Spa in the resort's tropical garden.
Guest Reviews: We had a gorgeous bungalow on the water. All of the food was so delicious.
Star Rating: 4 stars
Best Rooms: Villa with private pool
Address: BP 169 Vaitape, 98730 Bora Bora, French Polynesia
---
5. Conrad Bora Bora Nui
Conrad Bora Bora Nui is a 5-star resort set in a private cove on Motu To'opua. They have a huge range of overwater villas ideal for couples and families. But the most impressive is the two-story Presidential overwater villa. Inside you'll find two bedrooms, marble baths, a spacious living area, and a private sauna. Spread across the three outdoor terraces is an infinity pool, hot tub, lounge, and bar areas. For something more, take a 5-minute boat ride to Motu Tapu, the resort's exclusive islet. Then, cool off by the infinity pool or enjoy watersports like snorkeling or kayaking. After a day in the sun, sit back with a cocktail at Upa Upa Lounge or Tarava pool bar. Then dine on classic French cuisine at Iriatai, Chinese at Banyan, or Polynesian at Tamure Beach Grill. For a relaxing break, Hina Spa offers couples massage, body treatments, and a soothing whirlpool bath.
Guest Reviews: We loved our overwater villa. Breakfast was delivered by canoe every morning. The spa was excellent.
Star Rating: 5 stars
Best Rooms: Presidential overwater villa
Address: BP 502, Vaitape, 98730 Bora Bora, French Polynesia
---
6. InterContinental Bora Bora Le Moana Resort 
InterContinental Le Moana is a luxury resort close to Bora Bora's famous Matira Beach. A number of King overwater bungalows are available, each with different views. Inside is a king bedroom overlooking the water, a separate living room, and an ensuite bath. You can jump straight into the turquoise lagoon from the deck, or soak up some sun on a comfy lounge. For meals, packages are available that include breakfast and a three-course dinner for couples. On some nights, there are themed dinners with live Polynesian dance shows. During the day, enjoy watersports like snorkeling, kayaking, paddle boarding, or outrigger canoeing
Guest Reviews: The water bungalow was fantastic. Nice pool, a beautiful beach, and the snorkeling was perfect.
Star Rating: 4 stars
Best Rooms: King overwater bungalow
Address: Matira Point, BP 156 Vaitape, 98730 Bora Bora, French Polynesia
---
7. Maitai Bora Bora 
Maitai Bora Bora is a beachfront resort at Matira Point on the south coast of Bora Bora. Their overwater bungalows are designed for couples, but you can sleep up to 3 guests. They even have bungalows for adults only to ensure more privacy. From the private balconies, you'll have direct access to the water. During the day, explore the lagoon in a kayak, a canoe, or a small sailboat. Or take a snorkeling tour of the underwater Lagoonarium. There are also other activities, including scuba diving, boat tours, and deep-sea fishing. After a day in the sun, enjoy live music and your favorite cocktail at Manuia Bar. Then try the French Polynesian menu at Haere Mai or pizza, burgers, and seafood at Tama'a Maitai.
Guest Reviews: The views from our bungalow were awesome. We loved kayaking and snorkeling in the lagoon. 
Star Rating: 3 stars
Best Rooms: Premium overwater bungalow
Address: BP 505, 98730 Bora Bora, French Polynesia
---
8. Oa Oa Lodge 
Oa Oa Lodge is a waterfront resort on the west coast of Bora Bora near Viatape. For panoramic sea views, we recommend the Superior bungalow. Designed in traditional Polynesian style, this bungalow features a double bed, sofa bed, and ensuite bath. Set on stilts over the water, the furnished balcony offers panoramic sea views. It's the ideal spot to enjoy morning coffee, evening cocktails, or al fresco dining for two. You'll have access to all the water sports like snorkeling, kayaking, and sailing. While there are not many facilities onsite, they do have a lovely outdoor pool. For food, there's a supermarket and restaurants nearby. If you're looking for something more affordable on the water, Oa Oa Lodge is a great option.
Guest Reviews: We loved the views from the overwater bungalow. The pool was nice and the snorkeling was superb.
Star Rating: 3 stars
Best Rooms: Superior bungalow
Address: Vaitape, 98730 Bora Bora, French Polynesia
---
Best Areas To Stay In Bora Bora
---
Best Things To Do In Bora Bora
Cruises & Sailing – A popular activity for visitors to Bora Bora is a boat or catamaran cruise on the island's lagoon. There are plenty of cruises to choose from, including island-hopping adventures and sunset cruises. Guests can relax and take in the views while enjoying cocktails and delicious meals prepared onboard.
Jet Ski Tours – Zip around Bora Bora's lagoon with a morning or afternoon jet ski tour. Choose a single or double jet ski, while an experienced guide shows you the island's hidden coves and islets. Most jet ski tours include a stop for a swim, while others offer lunch or snorkeling.
Snorkeling & Scuba Diving – Bora Bora's lagoon is a snorkeling and scuba diving paradise. You'll love the clear, calm waters and a multitude of marine life. There are a variety of tours catering to both experienced divers and families. Whatever you choose, scuba diving or snorkeling, Bora Bora's beautiful lagoon and marine life will leave you amazed.
4WD & ATV Tours – Bora Bora may be a small island, but there's a lot to see and do. On 4WD and ATV tours, you'll see a side of Bora Bora that can't be accessed any other way. You'll go off-road, visit lookout points, and access the best photo ops. An experienced guide will show you all the top spots on a personalized tour.
---
Best Time to Visit Bora Bora
Bora Bora is a French Polynesian island, known for turquoise lagoons, white sand beaches, and overwater bungalows. It's no wonder so many travelers flock to this tropical island paradise. But to make the most of your visit, it's important to consider the following:
Dry Season (May to October) – This is the best time to visit Bora Bora. It has the best weather with plenty of sunshine, less humidity, and minimal rainfall. It's the ideal time for outdoor activities, water sports, and exploring the island.
Shoulder Seasons (April & November) – During these months, the weather is still pleasant, with less humidity and rainfall. You'll also find discounted rates on flights and resorts. It's a good option if you want to avoid the crowds and enjoy a peaceful holiday.
Off-Peak Season (December to March) – This is Bora Bora's wet season, with tropical showers and higher humidity. If you don't mind the rain, the upside is lush green landscapes and lower prices. With fewer tourists, the off-peak season can be a pleasant experience.
Weather – Keep in mind that Bora Bora's tropical climate means that even in the dry season, there may be occasional rain. It's always a good idea to check the weather forecast if you're planning any outdoor activities. Be sure to pack insect repellant, sunscreen, and lightweight clothing that's suitable for warm weather.
---
Best Ways To Get Around Bora Bora
Getting around Bora Bora can be convenient and enjoyable. With its unique geography and plenty of waterways, there are several ways to navigate the island. Consider where you're staying and what activities you want to take part in, then select the most suitable option.
Rental Car – Renting a car is a convenient and flexible way to explore Bora Bora. You'll find a few rental agencies on the island. Once you have a car, you can access remote areas, like viewpoints and lesser-known beaches. Keep in mind that roads are limited and some areas may require off-road vehicles.
Water Taxis – Bora Bora is made up of many small islands and one of the best ways to get around is by boat and water taxi. These services offer easy transport between resorts, villages, and popular attractions. They offer scenic views of the beautiful lagoons and access to secluded beaches.
Resort Shuttles – Some Bora Bora resorts off complimentary shuttle service to and from Vaitape. This makes it easy for guests to access shops, restaurants, and other amenities outside the resort. Some also offer shuttles for excursions and island tours, so it's something to check when planning your trip.
Bicycles – Bora Bora is relatively small and renting a bicycle is a popular way to explore the island. Many resorts offer bicycle rentals and there are rental shops in Vaitape. Biking lets you explore at your own pace, take in the scenery, and visit local markets and attractions.
Boat Tours & Excursions – Joining guided tours and excursions is a fantastic way to get around Bora Bora. Whether it's a boat tour, snorkeling excursion, or island-hopping cruise, you'll experience the best of Bora Bora. These outings offer transportation, expert guides, and a chance to visit a variety of attractions hassle-free. 
---
Best Bora Bora Resorts With Overwater Bungalows for Families
Conrad Bora Bora Nui (photo above) – The Presidential and Royal overwater villas at Conrad Bora Bora Nui was designed just for families. With extra-large double beds, bunk beds, and sofa beds, they're ideal for 4 to 6 guests. With indoor and outdoor living spaces, infinity pools, and even hot tubs, they're a private island paradise.
The St. Regis Bora Bora – The overwater two-bedroom Royal Villa at St. Regis Bora Bora is ideal for a family of four. Each bedroom has a separate lounge. Outside, the large terrace has two dining areas so its great for gatherings. With the overwater pool and direct lagoon access, there's everything you need for a fun-filled family holiday.
InterContinental Bora Bora & Thalasso Spa – With extra-large double beds and two sofa beds, InterContinental Bora Bora's Teremoana suite is perfect for families. Each bungalow features an expansive living room and a dining table big enough for six. Outside is a large terrace, a private pool, outdoor dining, and stairs leading right into the lagoon.
---
Best Bora Bora Resorts With Overwater Bungalows For Couples
Four Seasons Resort Bora Bora (photo above) – Four Seasons Bora Bora's Otemanu Overwater Bungalow is perfect for couples wanting a romantic getaway. It's made for romance, with its private pool, lagoon view tub, and a romantic view of Mt. Otemanu. Find some time to unwind in the spa's couple's suite. You'll love the overwater massage or a soak in the hot tub overlooking the lagoon.
Le Bora Bora by Pearl Resorts – Set on a beautiful lagoon, Le Bora Bora's overwater pool villa is perfect for couples or honeymooners. There's a glass bottom bed, a private pool, plus an outdoor terrace with direct access to the lagoon. Breakfast is delivered by outrigger canoe and at night a candlelit dinner is served on the deck.
Maitai Bora Bora – For a romantic stay in Bora Bora, book Maitai Bora Bora's adults-only Overwater Bungalow. On arrival, the bed will be decorated with local flowers. The glass coffee table is a cool feature that has perfect views of the underwater world below. And from your private balcony, you have direct access to the lagoon's turquoise waters.
---
Most Affordable Bora Bora Resort With Overwater Bungalows
Oa Oa Lodge – For affordable overwater accommodation in Bora Bora, choose a Superior bungalow at Oa Oa Lodge. Set on stilts over the water, the furnished balcony offers a panoramic ocean view. There's also a double bed, sofa bed, kitchenette, and the resort's outdoor pool.
---
Bora Bora Resorts Map
---
Best Bora Bora Overwater Bungalows