Strangely enough, there are very few hotels or resorts on the beaches near St Augustine.
We looked long and hard at the beaches in the area.
This included Vilano Beach, St Augustine Beach, Butler Beach, and even further down near Crescent Beach.
Most properties along the beach are vacation rentals, like houses and apartments that belong to private owners.
And there are some very nice properties!
But if you really want to stay at a St Augustine hotel right on the beach, there are a few gems.
Have a look at these hotels and resorts, and enjoy the short walk to the beach.
---
1. The Saint Augustine Beach House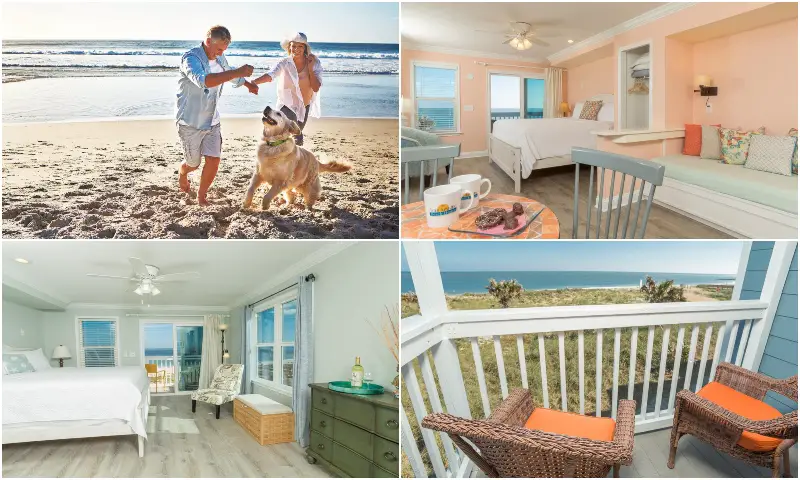 The Saint Augustine Beach House overlooks the Atlantic Ocean and the Vilano Beach community beautifully.
From each of the 16 guest rooms, there are views of the dunes, beach, the ocean, or all of these at once.
Apart from the magnificent vistas of the coastline, the charming residences come with a long list of amenities.
Enjoy complimentary WiFi, a flat-screen TV, a kitchenette with a microwave, mini-refrigerator, plus an astonishing ocean-facing balcony for an unwinding time.
The Corner Studio is the most spacious room of the bunch, with a separate seating area, a dining table, and a fully-furnished balcony.
Since this resort is so close to the beach and has a welcoming attitude towards dogs, it's tempting to bring your canine friend along on vacation here.
Nearby attractions include the Castle Otttis, Vilano Beach Fishing Pier, and the St Augustine Lighthouse & Maritime Museum.
Guest Rating: 9.2
Star Rating: 9.2
Address: 10 Vilano Road, St. Augustine, FL 32084, United States
---
2. Coquina Condos
Coquina Condos is a holiday apartment complex in the southern part of St Augustine, sandwiched between the Matanzas River and the Atlantic Ocean.
Within walking distance from the beach, you'll find two-bedroom condominiums with a personal patio and a range of facilities on the inside. 
After a day on the beach, you can wash up in your own private bathroom.
In the kitchen, you'll have a microwave, stovetop, oven, and a full-sized fridge, allowing guests to do some proper cooking.
For relaxation, Coquina Condos has a massive outdoor pool with adjoining reclining chairs.
On gloomy days, the apartment's lounge offers a TV with streaming services and a DVD player for some in-room entertainment.
Additionally, the bedrooms have their own TVs, so you can watch your favorite shows before sleeping.
Guest Rating: 9.1
Star Rating: 3 stars
Address: 7900 A1A S, St. Augustine, FL 32080, United States
---
3. Hibiscus Oceanfront Resort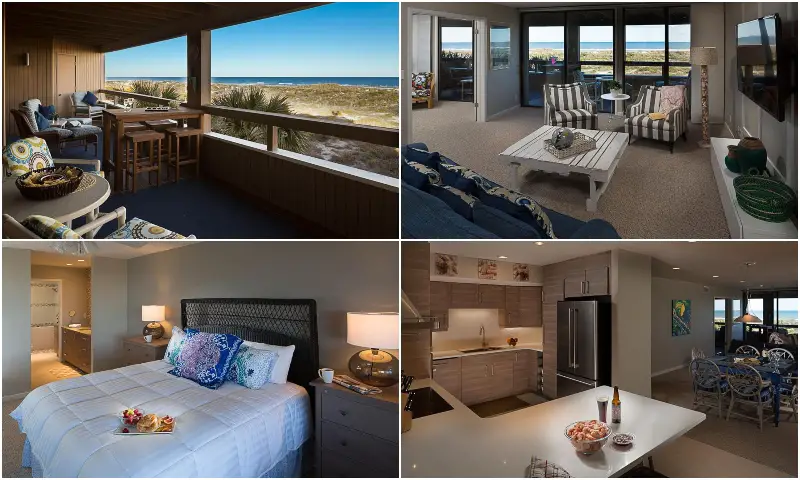 Hibiscus Oceanfront Resort faces the Atlantic Ocean, and it boasts two-bedroom apartments that offer guests a great deal of comfort.
The apartments have a homely atmosphere, with vivid paintings on the walls, carpeted floors, and even a fireplace in some of the dwellings.
For your comfort, the ample condos at Hibiscus Oceanfront Resort have a kitchen, complete with all essentials for family cooking, bar seating, and a separate dining table.
Enjoy the plush armchairs and sofas that face the TV, and enjoy a good read or chat in the comfort of your holiday home.
It's also equipped with a washing machine for a more extended vacation.
Within the property, you can use the shared pavilion and barbecue facilities for an alfresco feast.
Also, a tennis court and a gym are available to guests.
Guest Rating: 8.9
Star Rating: 2 stars
Address: 125 Ocean Hibiscus Drive, Saint Augustine Beach, FL 32080, United States
---
4. Embassy Suites St Augustine Beach Oceanfront Resort
Celebrate your holiday in Florida in style by staying in one of the luxurious suites at 4-star Embassy Suites St Augustine Beach Oceanfront Resort.
This hotel is located in the central part of St Augustine and is encircled by food outlets and the ocean's shoreline.
While you can choose from several types of suites, the balcony suites are particularly attractive.
All lodgings come with a flat-screen TV with premium sports and movie channels, a hangout area with a sofa sleeper, and a modest kitchenette with a fridge.
You can have breakfast, lunch, and dinner at Harvest & Reel, as they rotate menus for each meal.
Dive into the resort's pool to escape Florida's sun, or continue with your workout routine in the resort's fitness center.
For some ocean fun, rent out some kayaks or book a tour at the reception desk.
Guest Rating: 8.7
Star Rating: 4 stars
Address: 300 A1A Beach Boulevard, Saint Augustine Beach, FL 32080, United States
---
5. La Fiesta Ocean Inn & Suites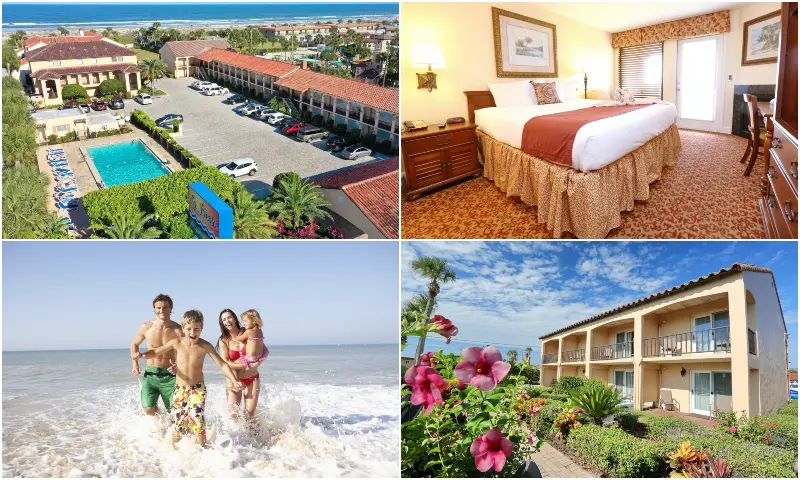 Footsteps away from the downtown St Augustine area, La Fiesta Ocean Inn & Suites combines the peace and quiet of the beach with a town's action.
With a choice between rooms and suites, you can make your stay as simple or fancy as you like.
The two-level suite with garden views and a whirlpool bath is an excellent residence.
It's the most luxurious and spacious room available.
Besides a bubbling bath and unforgettable views, this suite has a kitchenette, a fireplace, a TV with a DVD player, and a breakfast that's delivered to your doorstep.
This English-style morning meal contains scones, sausages, and eggs, plus croissants, bagels, and fresh fruits.
There's also plenty to do around the property.
Walkthrough the landscaped gardens, or take the private boardwalk for a stroll to the beachfront.
Furthermore, the resort is home to a minigolf course and a large heated outdoor pool.
Guest Rating: 8.6
Star Rating: 3 stars
Address: 810 A1A Beach Boulevard, Saint Augustine Beach, FL 32080, United States
---
6. Beacher's Lodge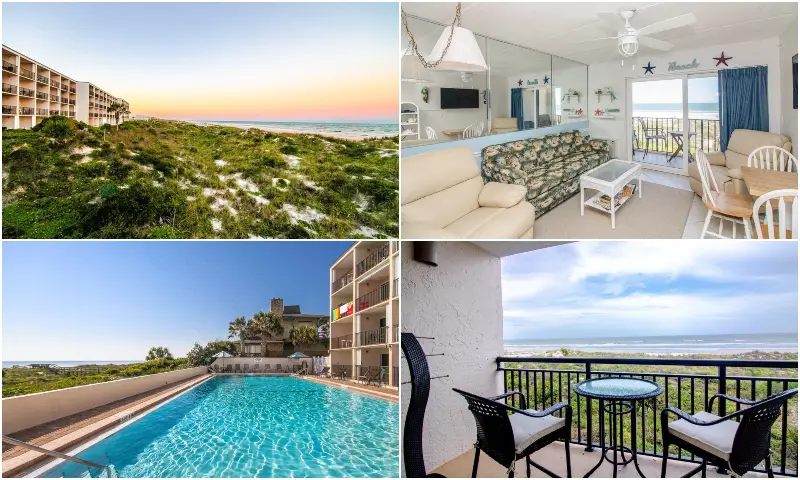 Since 1986, Beacher's Lodge has been popular with holiday goers.
They offer attractive suites and plenty of amenities.
To start with, you can pick from several types of suites, including balcony suites, patio suites, studio suites, or pet-friendly suites if you want to bring your entire family.
We recommend staying at the balcony suite which overlooks the beach and dunes.
It has a fully furnished kitchen with a stove and oven, a TV with a DVD player, and a living room for some much-needed downtime.
Each of the suites at the Beacher's Lodge has airconditioning and ceiling fans to keep you chill during the balmy days Florida is known for.
Cooldown even more in the property's pool, which is accompanied by lounge chairs and umbrellas.
You're at the oceanfront in a breeze, as the hotel has its own pathway leading down to the beach.
St Augustine's lighthouse and Fort Matanzas National Monument are both within close proximity to the Beacher's Lodge.
Guest Rating: 8.6
Star Rating: 2 stars
Address: 6970 A1A South, Crescent Beach, FL 32080, United States 
---
7. Guy Harvey Resort on Saint Augustine Beach
It's hard to find accommodation closer to the beach than Guy Harvey Resort on Saint Augustine Beach.
From beachfront dining to lounging around the shared pool, you can entertain yourself for days.
All of the rooms have a certain class and a homely vibe.
But the oceanfront rooms on the 3rd, 4th, and 5th floors are extra attractive due to the views they provide.
You'll have access to free WiFi, an LCD TV, along with a handy microwave for snacks in the middle of the night.
What truly makes this resort stand out is its fantastic bar/restaurant, where you can order American classics paired with regional craft beers.
To get into a holiday mood, check out the outdoor pool and the adjacent bar. 
If you're the active type, take advantage of their 24-hour gym or rent gear for ocean activities like stand-up paddleboarding and surfing.
Guest Rating: 7.8
Star Rating: 3 stars
Address: 860 A1A Beach Boulevard, Saint Augustine Beach, FL 32080, United States 
---
St Augustine Beach Hotels Map
Also read:
Find More St Augustine Properties on the Beach
FAQs
Summary