If you're looking to visit Singapore for the first time, you could be overwhelmed by the number of areas and places in Singapore. While Singapore isn't a big country, it's peppered with plenty of touristic hubs filled with amazing attractions and hotels. To help you with your decision, we've highlighted the six best places in Singapore for first-timers. Within these areas, we'll uncover the best attractions and hotels.  Then, you can figure out where to stay in Singapore for your next trip.
---
1. Sentosa
Sentosa is definitely top on the list of places to stay in Singapore for all visitors. Filled with attractions to satisfy every interest, Sentosa is also known as "The State of Fun". Thrill-seekers will love the Universal Studios theme park and zipping down the Mega Adventure Park Zip Line. If you're not a fan of rides, don't worry. Sentosa also houses the incredible S.E.A Aquarium and Dolphin Lagoon. Alternatively, soak in panoramic views of Sentosa on cable cars or relax on the beaches for a lazy day out. There's plenty to do at Sentosa, and it's sure to be a fun-filled time for the family. Stay at a luxury 5-star hotel on the island to get the most out of your experience. Sentosa is also a short distance away from the city so you can easily grab a taxi or public transportation to check out the rest of Singapore.
Best Things to Do in Sentosa
If you decide to stay here, check out our guide on 17 Fun Things to do in Sentosa Island, Singapore.
Find Tour Deals & Packages in Sentosa
Where to Stay in Sentosa
Sentosa Hotels Map
---
2. Marina Bay
Lots of tourists flock to Singapore every year to see the iconic Marina Bay Sands structure. While the world's most expensive casino and integrated resort is certainly an astounding structure, Marina Bay is more than just Marina Bay Sands. This area has a variety of shopping malls including Suntec City and Marina Square. But The Shoppes at Marina Bay Sands is definitely the most popular. You can take a stroll or ride a bike around the Marina Bay area for some beautiful views of the city skyline. Don't forget to pop by the ArtScience Museum to take a look a some of the amazing exhibitions that fuse both art and science. Gardens by the Bay and the Singapore Flyer are also a stone's throw away, and these are both attractions that you wouldn't want to miss. The most obvious place to stay is at Marina Bay Sands, but we'll highlight a few other gems to cater to everyone.
Best Things to Do in Marina Bay
Find Things to do in Marina Bay Sands
Where to Stay in Marina Bay Sands
Find More Hotels in Marina Bay
Marina Bay Hotels Map
---
3. Orchard Road
Orchard Road is essentially the heart of Singapore and is dotted with shopping malls. There's everything under the sun that you could possibly need from clothes to electronics and more. Singapore's first flagship Apple Store is also located on Orchard Road and is worth a look for its bright interiors and lush green exterior. While there's plenty to look at inside the shopping malls, the exterior of each mall is also different and gives off a futuristic vibe. There's plenty to do for the visitor besides shopping at Orchard Road. You can go to the cinemas, and explore one of the many basement food halls, and the historic Fort Canning Park is nearby. Dotted along the street are some luxury hotels to make shopping even more convenient. Being centrally located, you also have access to Orchard MRT or Somerset MRT which will easily take you to different parts of Singapore.
Best Things to Do in Orchard Road
Find Things to do on Orchard Road
Where to Stay on Orchard Road
Shangri-La Hotel Singapore

[Family-friendly]

– This 5-star hotel is one of the best family hotels near Orchard Road. They have fun family rooms with specially designed bunk beds for kids. There are also 7 restaurants on-site.
Jen Singapore Orchardgateway by Shangri-La

[Couples]

– This hotel is in the heart of Orchard Road. There are several in-room dining and drinking options. You'll also have incredible views from the rooftop infinity pool.
Lloyd's Inn [Value]

–

L

loyd's Inn is one of the cheaper 3-star hotels near Orchard Road. However, this boutique hotel has the amenities of a 5-star hotel, and is only a 5-minute walk to Somerset MRT.
Singapore Marriott Tang Plaza Hotel 

[Luxury]

– Located across the road from ION Orchard, this is one of the most expensive hotels. You'll have direct access to Orchard MRT. We recommend booking rooms with direct pool access.
Also checkout our recommended list of 4-star and 5-star hotels near Orchard Road.
Find More Hotels near Orchard Road
Orchard Road Hotels Map
---
4. Singapore Chinatown
Anyone coming to Singapore should visit Chinatown at least once. Chinatown is brimming with culture and is home to traditional shophouses, temples, and more. There's plenty to see from the rooftop dragons at Thian Hock Keng Temple to the intricately designed Sri Mariamman Temple. Don't forget to wander through the Chinatown markets during the day as they sell a variety of souvenirs and Asian Street food under shaded canopies. If you're hungry, there's plenty to eat in Chinatown as it houses quite a few food gems. With popular hawker centers like Maxwell Food Centre and Chinatown Complex Food Centre, you'll be completely spoiled for choice. The Chinatown Heritage Museum is also nearby. It is a three-story old-fashioned mansion that has been completely renovated to showcase the footsteps of Singapore's early pioneers. Enjoy the blend of the old and new as you take a look at this diverse neighborhood.
Best Things to Do in Singapore Chinatown
Buddha Tooth Relic Temple – Perhaps the most popular landmark in Chinatown, the Buddha Tooth Relic Temple is a must-see for or visitors to Chinatown. Allow about an hour to explore this 5-story temple. Besides the unique Buddha decor on its walls, you may encounter traditional ceremonies.
Sri Mariamman Temple – This is the oldest temple in Singapore and the primary place of worship for Tamil Hindus. The temple is now a national monument and is a proud reminder of Singapore's Hindu culture.
Singapore Chinatown Street Market – The Chinatown Street Market sells everything from handicrafts to technology. There are hundreds of stalls with everything from silk robes to handmade lacquerware. Haggling is encouraged, but be sure to smile if you want the best price.
Thian Hock Keng Temple – The Temple of Heavenly Happiness is the oldest and most interesting Chinese temple in Singapore. The temple is known for its rooftop dragons, colorfully painted doors, and gold-leaf panels.
Maxwell Hawker Center – This is the best place to try cheap and tasty Singaporean dishes. The most popular food stall is Tian Tian Hainanese chicken and rice. They are the first street food stall to receive a Michelin star.
Chinatown Heritage Center – The Chinese Heritage Center recreates the living spaces of Chinatown's first settlers. The exhibits feature artifacts and furnishings used by Chinatown's earliest residents.
Find Things to do in Chinatown
Where to Stay in Singapore Chinatown
Also, have a look at our recommendations for 9 Best Luxury Boutique Hotels in Chinatown Singapore.
Chinatown Hotels Map
---
5. Bugis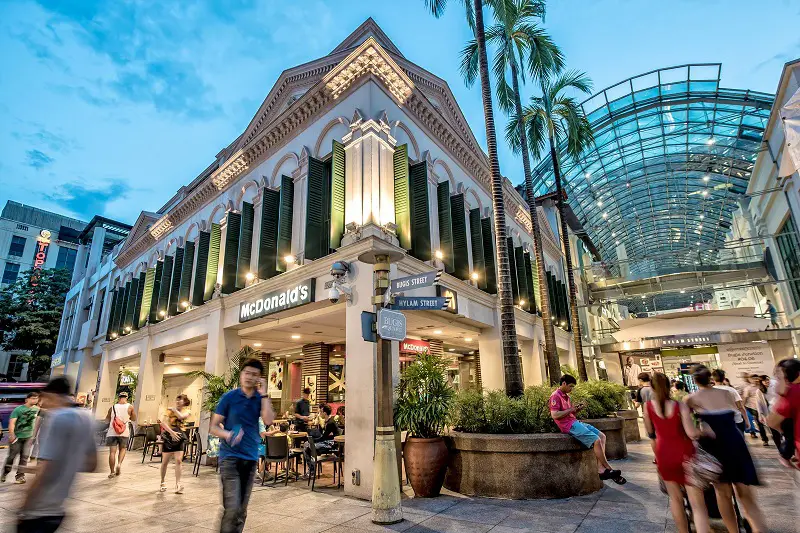 Bugis is another famous shopping area in Singapore. If you're thinking that it's another Orchard Road, however, you're wrong. Instead, Bugis houses Bugis Street which is home to 800 small but busy shops. There's also plenty of history behind this area and used to be a place where transgendered locals would hang out in the 1950s. Now, besides the bustling retail scene, there's plenty of local food to indulge in and lots of fashionable clothing to buy. A lot of the younger generation in Singapore prefer to hang out at Bugis as there are shopping malls that cater to the crowd. At Bugis Junction and Bugis+ for example, besides the shops, there are also plenty of inexpensive eats, karaoke, arcade, cinema, and more. Don't forget to pop by Haji Lane to check out the street art and little lanes of shophouses.
Best Things to Do in Bugis
Haji Lane – This little walking street is one of the narrowest and prettiest streets in Singapore. The boutique shops, market stalls, and hip cafes make it a must-see attraction.
Bugis Street Market – Bugis Street Market is a popular shopping area for souvenirs and knick-knacks. The market stalls sell a selection of t-shirts, knockoff watches, and affordable electronics.
Malay Heritage Center – The Malay Heritage Center is located inside the palace of a former sultan. Malays are Singapore's second-largest ethnic community. The center explains the role that Malays played in building Singapore.
Arab Street – Arab Street is a colorful street packed with boutiques, small restaurants, and street vendors. It's the heart of Singapore's Islamic community. Whether you're looking for the best halal food or something exotic, Arab Street is the place to go.
Bugis Junction – Bugis Junction is part indoor department store and part outdoor shopping street. The main shopping street is lined with colonial-era shops and hawker vendor carts.
Find Things to do on Bugis Street
Where to Stay in Bugis
Bugis Hotels Map
---
6. Clarke Quay
If you're looking for some respite from the busy central areas of Singapore, Clarke Quay is a great area to stay at. While it can get busy during the night due to the number of bars and clubs around the area, it's beautiful during the day. As you wander around Clarke Quay, check out one of the restaurants that line the Singapore River. You'll also see plenty of floating cafes and river cruise bumboats. If you're feeling adventurous and fancy a walk, you can even take a leisurely stroll to both Robertson Quay and Boat Quay. The pace moves a little slower in the Clarke Quay area during the day and is a great place to sit outdoors and relax. Clarke Quay does have a thrilling ride however that's not for the faint-hearted. If you're keen, try out the G-Max Reverse Bungy – you'll be screaming for more.
Best Things to Do in Clarke Quay
Singapore River – The Singapore River is the heart of Clarke Quay and provides a great backdrop at night. You can go on a boat tour to see some of Singapore's best landmarks and skyscrapers.
Asian Civilizations Museum – This colonial building features collections and exhibitions that showcase Singapore's history. The museum offers thousands of relics from Southeast Asia, South Asia, and China. Many are over 5,000 years old.
Boat Quay – Boat Quay is one of Singapore's most popular places to eat and drink. Its waterfront streets are packed with colorful bars and restaurants. Start your night here before heading to the nightclubs at Clarke Quay.
Clarke Quay Central – Another one of Singapore's big shopping malls. Grab a bite from the various cafes and restaurants. Get a beauty treatment or buy a slick new outfit before you party in Clarke Quay at night.
Raffles Place – Established in the 1820s, Raffle's Place is the heart of business in Singapore. The Fullerton Hotel and Change Alley are landmarks from the colonial past.
Find Things to do at Clarke Quay
Where to Stay in Clarke Quay
Village Residence Clark Quay

[Family-friendly]

– Their spacious suites feature separate living and dining areas, perfect for families. There's also an outdoor pool, BBQ area, and self-service laundry facilities.
Park Hotel Clarke Quay

[Couples]

– This hotel has some of the best window views of the city at night. One of the more popular hangout spots is the Cocobolo Poolside Bar + Grill, where you can grab a few drinks with your partner by the pool.
Holiday Inn Express Singapore

[Value]

– This highly rated 4-star hotel offers rooms at an affordable price. You'll love the glass pool overlooking Clarke Quay. But the best part is breakfast which is included for all guests staying here.
Swissotel Merchant Court Singapore

[Luxury]

– This 5-star hotel in Clarke Quay offers luxury rooms overlooking the Singapore River. The hotel features an outdoor pool, fitness center, spa treatments, and international restaurants.
Find More Hotels in Clarke Quay
Clarke Quay Hotels Map
Best Place to Stay in Singapore for Families
The best place to stay for families is Sentosa Island. This area is home to most of the family theme parks and attractions. This includes Universal Studios, Adventure Water Park, SEA Aquarium, Madame Tussauds, and Trick Eye Museum. It's also the only place where you'll find easily accessible beaches in Singapore for families to enjoy.
---
Best Place to Stay in Singapore for Couples
The best place to stay for couples is Marina Bay. This is where you'll find the iconic hotel, Marina Bay Sands. From the rooftop infinity pool, you'll be able to see Gardens By the Bay and the Singapore skyline. At night, you'll be treated to amazing light shows. Many rooms also have private bathtubs and balconies. You can get special Honeymoon packages that include complimentary champagne, chocolates in the room, breakfast for two at Adrift, and spa treatments.
---
Best Place to Stay in Singapore on a Budget
The best place to stay for travelers on a budget in Singapore is Bugis. This area has plenty of highly rated 3 and 4-star hotels that offer affordable rooms. On Haji Lane, Bugis Street, and Arab Street you'll find bargains on clothing and electronics. The cafes and hawker carts offer delicious food at reasonable prices.
---
Best Place to Stay in Singapore for Shopping
The best place to stay for shopping is on Orchard Road. This is Singapore's premier shopping destination. It is home to popular malls such as ION Orchard, Wisma Atria, 313@Somerset, and Lucky Plaza. There's everything from high-end fashion and electronics to knock-off watches. For a cheaper and more unique shopping experience, Bugis Street and Chinatown are both worth a visit.
---
Best Place to Stay in Singapore for Indian Tourists
The best place for Indian tourists to stay is Bugis. Bugis is close to Little India, but the hotels in Bugis are nicer. In Bugis, there is halal food and Indian food close by. Bugis also has the market streets, Haji Lane, Arab Street, and Bugis Market. The market streets are full of street vendors, as well as colorful cafes and restaurants. For more shopping locations, read our article 17 Best Shopping Malls & Streets in Singapore.
---
Best Place to Stay in Singapore for New Year's Eve
The best place to stay in Singapore on New Year's Eve is Marina Bay. You'll see a huge New Year's Eve Party complete with fireworks. The Sky Park Observation Deck at Marina Bay Sands is the best spot to watch the fireworks, but of course, it comes with a price. Or you can enjoy a 4-course New Year's Eve dinner atop the Singapore Flyer. After dinner, the Flyer is a front-row seat for the fireworks show.
---
While there are plenty of other areas to stay at in Singapore, these are six areas that showcase the best of the country. Before you decide where to stay, you may also want to read these articles: