Heading to Marrakech?
When choosing accommodation, for a truly authentic Moroccan experience, you'll want to consider a Riad.
A Riad is a Moroccan guesthouse, typically with an interior garden or courthouse.
They are more intimate and boutique in style when compared to a typical hotel, and are considered an oasis from the bustling city.
There are many variations but we'd recommend picking one with a swimming pool to offer welcome relief in the warmer climate.
There are so many to choose from but luckily, we've done some research and uncovered the 15 best Marrakech Riads with swimming pools.
---
1. Riad Antara
Riad Antara is a beautiful, environmentally friendly Riad set in the popular Medina district of Marrakech.
Authentic and stylish décor has been carefully selected by owner Laurent, to embody the soul of Morocco.
Attention to detail, impressive service, and facilities are a given at this immaculate property.
Rooms overlook the patios and are equipped with seating areas, flatscreen TVs and rainfall showers.
Start your day with a cooked breakfast served daily.
With two patios on offer, one with a pretty fountain and garden, and the other a swimming pool, you'll be spoilt for choice.
There's also a comforting living room-library with a cosy fireplace where you can sit overlooking the pool.
Breathtaking views of the Atlas Mountains and Koutoubia Mosque can be enjoyed from the 360° panoramic rooftop.
Guest Reviews: Our suite was stylish and perfect. The Irish breakfast with a choice of bread was excellent.
Best Rooms: Deluxe suites
Address: 30 Rue Bouderda Riad Zitoune Jdid, Medina, 40000 Marrakech, Morocco
---
2. Riad Alili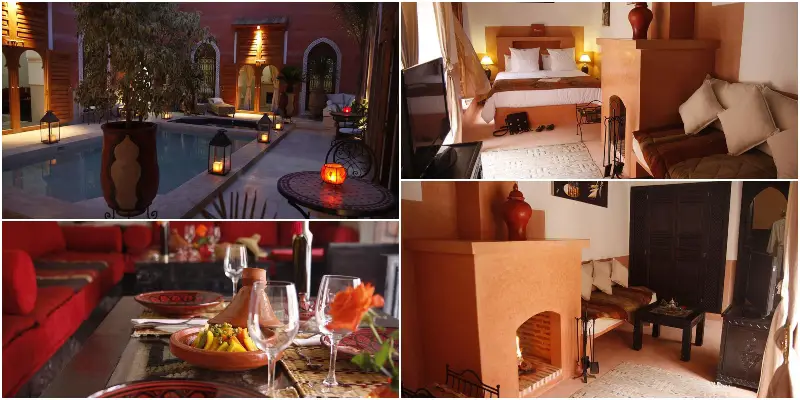 This traditional yet luxurious Riad has been designed to enhance your well-being.
There are five suites and two rooms to choose from; all are tastefully decorated in a warm and welcoming Moroccan style.
Choose a suite to benefit from a sitting area and fireplace, as well as luxurious bathrooms with premium bathrobes, and toiletries.
Encouraging you to relax and unwind, facilities include a spa, Hammam, massage room, and solarium.
There is also a swimming pool which occupies most of the grand patio.
There are two large terrace gardens where you can sit among the beautiful flowers soaking up the sun and taking in the views.
Guests also have use of a comfortable Moroccan sitting room with books, board games, and DVDs at your disposal.
Traditional and delicious Moroccan food is made on-site from fresh ingredients that are purchased from the local market.
Guest Reviews: Our room was comfortable and immaculate. The Morrocan Breakfast was delicious. The pool was a highlight.
Best Rooms: Deluxe family suite
Address: 8 Derb Sidi Ahmed ou Moussa, Medina, 40000 Marrakech, Morocco
---
3. Riad le Clos des Arts
Legend says this traditional Riad belonged to an art trader and each room is decorated in typical Moroccan art form.
Although set in a quiet area, it's conveniently located in the heart of the Medina, just 5-minutes' walk from the Jemaa el-Fna Square.
There are a few different room types to choose from, all of which are furnished in traditional, yet modern, Moroccan style.
Rooms have en-suite bathrooms, soft bathrobes and towels, comfortable bed linen, and natural cosmetic products.
The roof is home to a small refreshing plunge pool with comfortable sun loungers, shaded sofas, and a terrace.
Several relaxing corners are dotted around the ground-floor where you can relax under old palms, cosy alcoves, or in the living room in front of the finely decorated fireplace.
Don't miss a traditional Hammam experience at the little in-house spa which is powered by solar thermodynamic energy.
Guest Reviews: The rooms were amazing. The rooftop area with the pool was the ideal spot to cool off on a hot afternoon.
Star Rating: 4 stars
Best Rooms: Deluxe suite
Address: Riad Zitoune Jdid, Derb Tbib 50, Medina, 40000 Marrakech, Morocco
---
4. Riad la Parenthèse
You can expect comfort, convenience, and great value from this hidden gem, but what makes it stand out is the friendly service from the owners and staff.
It's a chic small property with just six rooms.
Rooms are spacious and comfortable, have their own bathrooms, and are decorated in a contemporary oriental style.
The food here is a highlight.
A delicious and varied breakfast is served to your table on the rooftop terrace each morning, and you can opt to have the home-cooked three-course Moroccan menu for dinner at a cost of just €20 per person.
Taking some time to relax around the pool with a traditional mint tea is encouraged.
if you feel like stepping out to explore, the staff can arrange a tailor-made tour of Morocco in a 4×4 vehicle.
Guest Reviews: We stayed in the top room with two private terraces. It was wonderful. The breakfast was awesome.
Star Rating: 4 stars
Best Rooms: Double room with terrace
Address: 193, Derb Arset Aouzal, Bab Doukkala, Medina, 40000 Marrakech, Morocco
---
5. Dar Kandi
For a little slice of luxury and romance, look no further than Dar Kandi.
In keeping with respecting local traditions and using local products, this property was lovingly renovated in 2018.
While all rooms are stunning, for the ultimate opulence, choose one of the suites.
As with any luxury property you can expect a good daily breakfast, free Wi-Fi, concierge service, and plenty of facilities.
The staff here are like one big family; service with a smile is available 24-hours a day and guests are welcomed warmly.
The rooftop, with views out to the Atlas Mountains, is a wonderful place to catch the sun, or to cool off in the private swimming pool.
If you need some rejuvenation, opt for a traditional massage or Hammam, where only natural products are used.
To top it off, the Riad is located within walking distance to the Medina, and popular Le Jardin Secret.
Guest Reviews: Our room was spacious and comfortable. We loved the rooftop pool and Hammam spa.
Star Rating: 4 stars
Best Rooms: Deluxe suite
Address: 215 Arset Aouzal Road, Medina, 40000 Marrakech, Morocco
---
6. Riad Jnane d'Ô
Guests think of this relaxing Riad as an enjoyable home from home.
Beautifully appointed rooms have a balcony or patio, seating areas, and private safes; some even have terrace views.
Whilst not huge in size, there's a refreshing plunge pool to cool off in, situated right next to fragrant orange trees.
There's an on-site restaurant serving up tasty meals, or you can eat out at one of many local restaurants including some excellent seafood establishments just a short distance away.
You're in good proximity to many popular attractions such as the Marrakech Museum and Palacio da Bahia.
If you can't decide what to do with your time in the city or want to ensure you've seen the best, seek advice from the owner.
She is extremely well-connected and can help with everything from dinner reservations to guided tours and transport.
Guest Reviews: Our room was clean and comfortable. We enjoyed the delicious breakfasts and relaxing on the rooftop terrace.
Best Rooms: Superior suite
Address: 28 Derb Arset Aouzal Medina, Medina, 40000 Marrakech, Morocco
---
7. Riad Jardin Des Sens
Located in a quiet alley just steps away from the famous Jemaa el-Fna Square, this bolthole is a retreat from the bustling city.
Rooms are cosy and comfortable with free toiletries, a hairdryer, and Wi-Fi.
Complimentary breakfasts are served either on the terrace or in the living room.
There are a few places to sit and relax but the patio surrounded by banana bougainvillea, orange, and papyrus trees is a firm favourite.
A year-round outdoor pool is found on the sun terrace with striking panoramic views.
You can add a variety of packages on to your booking to take advantage of all the Riad offers such as dinners, spa treatments, or romantic carriage rides.
To take a bit of Morocco home, join a cooking class with the cook Nazira who will first take you to visit the local market and then guide you through various recipes.
Guest Reviews: The room was very clean with a lovely bathroom. The massage and hammam package was incredible.
Star Rating: 3 stars
Best Rooms: Deluxe king suite
Address: 151 et 151 bis derb Jdid, Dabachi Médina, Medina, 40000 Marrakech, Morocco
---
8. Riad NayaNour
The owners of this quaint guesthouse aim to provide all the comforts expected of a high-end hotel, but with the tradition of Moroccan culture.
Positioned in the famous Bab Doukkala district and close to several attractions, you'll find this location extremely walkable.
All seven bedrooms including two suites are adorned in a stylish neutral color palette and complemented by attractive furnishings and all the required amenities.
The biggest suite is the Presidential Suite Naya, offering an uber private experience due to its isolated position away from the rest of the Riad.
The swimming pool in the center of the beautiful, large patio is heated so it can be enjoyed year-round.
For more relaxation, their living room is open to all guests where you can choose to watch a movie, savor a meal, or play board games.
You'll find another multi-purpose space on the spacious terrace where you can sunbathe on the deck chairs or sip a homemade smoothie in the cool evening air.
Guest Reviews: The rooftop and pool was an amazing place to cool off. Breakfast on the roof was tasty and well-presented.
Best Rooms: Presidential suite
Address: 40 Derb El Halfaoui, Bad Doukala, Medina, 40000 Marrakech, Morocco
---
9. Riad Kniza
This small, luxury oasis dates back from the 18th century and has been completely restored by Haj Mohamed, one of the most renowned antique dealers in Marrakech.
With a view of recreating an authentic Moroccan experience, the eleven rooms and suites are all tastefully decorated in Moorish architecture.
All rooms feature delicately carved wooden furniture and a fireplace, along with private bathrooms.
Facilities include an outdoor swimming pool, a sauna, and a steam bath.
Fastidious foodies will love the on-site restaurant, which is reputed as having one of the best Moroccan tables in town.
To help you get the best out of your trip, seek the help of Haj Mohamed.
He is a professional guide who has shown the best of Marrakech to many celebrities, and he will happily share his knowledge with you too.
Being committed to giving a little back, this hotel also donates to your choice of three aid organizations for each new booking.
Guest Reviews: Our room was perfect. Dinner on the roof was delicious. I enjoyed the spa, especially having a hammam.
Star Rating: 5 stars
Best Rooms: Royal suite
Address: 34 Derb L'Hotel Bab Doukkala, Medina, 40000 Marrakech, Morocco
---
10. Riad Melhoun & Spa
This centrally located property is just a 3-minute walk from the El Badi and the El Bahia Palaces.
Rooms are traditionally decorated and have private bathrooms with walk-in showers and views of the pretty patio.
Inspired by Medersa Ben Youssef, a magnificent 4 metre pool takes center stage on the patio area.
There's a handful of calming areas dotted around the hotel to sit; a favorite nook is the library with armchairs and reading spaces.
Freshly prepared Moroccan cuisine is served at dinner times to a backdrop of soothing traditional music.
A worthy spot to savor a glass of mint tea on, the private terrace gives way to superb views of the Medina of Marrakech and the Atlas Mountains.
There's also a solarium which is fitting considering Marrakech benefits from around 300 days of sunshine each year.
Guest Reviews: The food and the spa were lovely. The room was comfortable and clean and we loved relaxing on the rooftop.
Star Rating: 4 stars
Best Rooms: Gaya suite
Address: 99 Derb Sidi moussa Quartier La Bahia, Medina, 40007 Marrakech, Morocco
---
11. Riad Lyla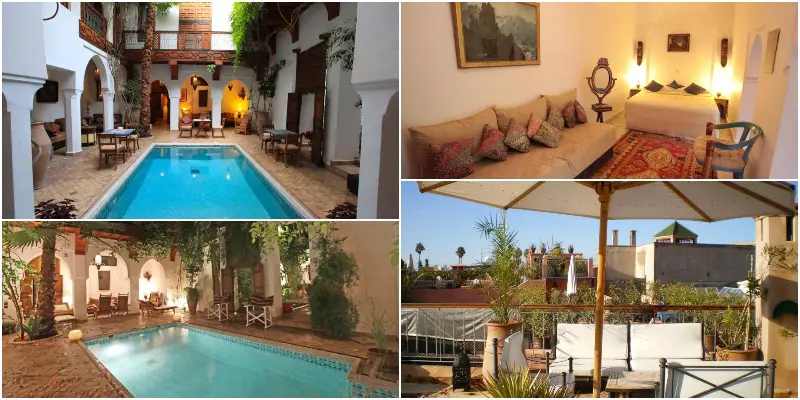 This boutique hotel is set on the outskirts of the Medina but still within easy reach.
Tucked away off the main street, doors open to an exquisite courtyard packed with greenery and flowers, and of course the pool.
Spacious, elegant rooms are bursting with character and are made up of traditional décor, wooden furnishings, and ample amenities.
You can prepare for the day ahead with made to order breakfasts including Moroccan pancakes, homemade yogurt, and freshly squeezed orange juice.
Knowledgeable and friendly management and staff are happy to share insights into the culture, history, and language with guests.
They can even offer a lesson in how to make traditional Moroccan tea.
On foot, you can reach the square in a few minutes, while the Koutoubia Mosque and other attractions are just steps away.
Guest Reviews: The room was spacious and comfortable. The breakfast was fantastic, and the pool was refreshing after a hot day.
Star Rating: 3 stars
Best Rooms: Executive suite
Address: 4 et 5 Derb Ouartani Mouassine , Medina, 40000 Marrakech, Morocco
---
12. Riad Dar Yema
A haven in the heart of the Old City, this guesthouse dates back to the 17th century.
Completely renovated in 2016, it comprises of six rooms.
Each is uniquely decorated but all are characterized by bright colors with Moroccan touches.
Staff are polite and welcoming and reception is 24-hours for ease.
The outdoor pool, surrounded by comfy cushions and calming alcoves, is the best spot to take some time out.
Simple, colorful and tasty cuisine is served up by chef Amina allowing you the opportunity to try some authentic Moroccan dishes like tagines, soups, and couscous.
The Hammam of the Riad has also been restored so be sure to try the traditional deep cleansing, exfoliation, and massage ritual.
Guest Reviews: The room was lovely, decorated in traditional Moroccan style. The three-course homemade dinner was perfect. 
Star Rating: 3 stars
Best Rooms: Double room
Address: 188 bis derb jdid quartier dabachi medina, Medina, 40000 Marrakech, Morocco
---
13. Riad Itrane
'Itrane' means 'star' in the Berber language, and its namesake 'star garden' is certainly true of this fine property.
It boasts no less than four courtyards, with flowers, fountains, and a superb swimming pool.
The terrace with sun deck has panoramic views of the Medina and beyond.
The location is a real plus point here.
It's just two minutes from the lively souks and the main historic monuments and is close to the center of Gueliz, known as the modern city.
Air-conditioned rooms and suites have private bathrooms with free toiletries, safes, and LCD TVs.
Staff can arrange guided tours and excursions by private car and with approved travel guides if required.
Guest Reviews: The welcome dinner was my favorite meal of the trip. The sunsets from the rooftop terrace were a treat.
Best Rooms: Cassiopee Electra Royal suite
Address: 105, Derb Jamaâ Derb Dabachi, Medina, 40000 Marrakech, Morocco
---
14. Dar Akal
One of the smaller properties on the list, this pick contains just four bedrooms and one suite.
It's an old 18th century Riad that's been amorously restored by renowned architect Christophe Simeon and his team of skilled Moroccan craftsmen.
It's located in the district of Benahid Kaat which is one of the oldest parts of the Medina.
The serene atmosphere of this charming property is a stark contrast to the busy streets of the Medina, just a few minutes' walk away.
Each room is unique, yet authentic and decorated in tadelakt.
They are all air-conditioned, have either a bath or shower, plenty of storage, and Wi-Fi.
There are a few places to unwind including the cooling patio, the first-floor menzeh, and the steam room.
The pool is on the terrace where you can also be enchanted by the calls of prayer from the nearby mosque.
Guest Reviews: The two-bedroom suite was perfect for our family. The food was amazing. Great pool facilities and hammam.
Best Rooms: Two-bedroom suite
Address: 32 Derb Lalla Azzouna, Medina, 40000 Marrakech, Morocco
---
Marrakech Riads Map
For a more immersive experience, we strongly recommend choosing a Riad over a regular hotel to get the best Moroccan experience.
To experience the best of both worlds, you can't go wrong with Riad Kniza.
Intimate but luxurious, and tucked away, yet close enough to the action.
The charitable donation they make per booking also adds to the appeal.
Many are similar in style, with impeccable service and a homely feel, so no matter what you choose you're unlikely to be disappointed.
Which Marrakech Riad will tempt you?
Also read:
Find More Marrakech Riads with Pools
Summary