Do you have plans to pack your bags and hop on a flight to Marrakech in Morocco?
Marrakech is a vibrant city and a must-visit to be submerged into the country's culture.
If you're travelling between June and September, it can get quite warm.
Ideally, you want to return to a luxury hotel where you can cool down in privacy.
So we've done some research and found the best Marrakech 5-star hotels with private pools so you can relax with your partner or family.
1. Dar Ayniwen Garden Hotel & Bird Zoo
Luxury is redefined at Dar Ayniwen Garden Hotel & Bird Zoo, a 5-star property in the north of the city.
The hotel is spread over 2 hectares, has a range of exotic birds, and a variety of lush gardens around the dwellings.
If you're aiming to find relaxation, you'll be served with a hammam, massages, and other body treatments. 
Both the Rotonde and Palmeira suites come with a private pool, deckchairs and an outdoor seating area.
Some other rooms have a private hot tub in the yard for you to bubble away.
The Family Suite can host up to 4 people, so you can bring some friends on your trip.
You don't have to worry about transportation, as the hotel offers free airport pick-up.
Guest Rating: 9.7
Address: Palmeraie Marrakech, 40000 Marrakech, Morocco
---
2. Atlas Widan
In the eastern part of Marrakech, far away from the hectic centre, lies Atlas Widan.
Several suites at Atlas Widan come with a private terrace and garden, where you can ultimately recline.
The on-site restaurant plates up traditional Moroccan cuisine, composed of locally sourced produce.
The spa at Atlas Widan is the perfect place to recharge your batteries and enjoy beauty treatments, massages, or a steam bath.
For private pools with parasols and comfy deckchairs, opt for the villa where there's plenty of space for large groups or families.
They're spacious enough to comfortably host 4 people, or squeeze up to 8 people as they also have comfy sofa beds.
Guest Rating: 9.6
Address: Douar Mhamdia 7, Commune Al Ouidane, Route de Ouarzazate, 40000 Marrakech, Morocco
---
3. Palais Ronsard Relais & Chateaux
When talking about luxurious 5-star hotels in Marrakech, Palais Ronsard Relais & Châteaux can't be lacking on the list.
This extravagant property in the northeast of the city has an 18-hole golf course, a fitness centre, a hammam, and an outdoor pool.
The hotel's restaurant's extravagant interior is the perfect setting for sumptuous multi-course meals.
Rooms start at a size of 70 square metres and all come with a spacious bathroom with tub, a sitting area, and fireplace.
The majestic Pavillion bungalows have their own private pools and are ideal for a couples honeymoon or special occasion.
On-site, you'll also find a comprehensive garden complex that includes waterfalls, fountains and a fish pond.
But the tastefully designed rooms are reason enough to spend some time in Palais Ronsard Relais & Châteaux.
Guest Rating: 9.4
Address: Marrakech-Palmeraie Propriété Salah 7 Lieu dit Abyad Municipalité Ennakhil, 40000 Marrakech, Morocco
---
4. Green Resort Palmeraie Apartment & Villa
If you're looking for the ultimate relaxing trip without leaving your accommodation, this resort might be the one for you.
Green Resort Palmeraie Apartment & Villa is a family favourite, as it has duplex rooms and villas sleeping up to 12 people in absolute comfort.
The largest villas have a whopping 500 square metre of living space, a private pool, a fully equipped kitchen, and several lounge areas.
You literally won't have to leave the property, as the hotel has a convenience store, spa facilities, a lounge bar, and a night club.
If you wish to explore more of Marrakech and Morocco, you can arrange tailor-made tours and car rental at the front desk.
All rooms are furnished with a kitchenette or full kitchen, where you can conveniently prepare food from the convenient store.
Guest Rating: 9.4
Address: circuit palmeraie porte 11, 40000 Marrakech, Morocco
---
5. Four Seasons Resort Marrakech
Four Seasons Resort Marrakech is located near the historical Medina in the heart of the city.
All rooms are designed in a modern manner.
The resort has a 35-metre outdoor pool, provides yoga classes, and has a Kids Club program to entertain the youngest travellers.
Visit the Quattro restaurant for Italian fare, get freshly prepared lunch items at Azzera, or dig into Mediterranean cuisine at the Inara restaurant.
To reach the pinnacle of comfort, book the Premier Patio Suite with a private plunge pool, terrace, and entertainment amenities.
Four Seasons Resort Marrakech can present couples with packages, including spa sessions for 2 or private yoga lessons.
Guest Rating: 9.2
Address: 1 Boulevard de la Menara, Hivernage, 40000 Marrakech, Morocco
---
6. Les Deux Tours
Les Deux Tours is a calm getaway hidden in an oasis of greenery.
If you're looking for a resort in a green setting, look no further!
Two on-site restaurants offer an exquisite seasonal menu, composed around organic products from the region.
The pool suites are an excellent option, as you'll have a private pool accompanied by a lounge with a fireplace.
If you don't book a pool suite, there's always the common outdoor pool, a hammam, and spa services to enjoy.
Les Deux Tours can arrange special offers, that include packages with golf sessions, spa treatment or tours of Morocco.
Guest Rating: 9.2
Address: Douar Abiad, Circuit De La Palmeraie, Bp 513, 40000 Marrakech, Morocco
---
7. Tigmiza Boutique Hotel & Spa
This lavish hotel in Marrakech's east has an authentic and vintage vibe to it.
The 5-star property breathes relaxation, with outdoor lounge spaces, a movie theatre, and a massive pool.
A continental breakfast is served on the comfortable terrace or in your own room.
Tigmiza Boutique Hotel & Spa has 4 bars and a restaurant, which serves classic French and Moroccan dishes.
Part of the luxurious experience here is the warm welcome with tea and Moroccan pastries.
Accommodation ranges from 40 square metre suites to the mammoth 400 square metre Royal Villa.
You'll find private pools in the 1 and 2-bedroom villas, but for the ultimate stay, The Royal Villa pampers guests with an additional private spa, outdoor hot tub, and a butler at disposal.
Guest Rating: 9.1
Address: Km 3, Bab Atlas, Palmeraie, 40000 Marrakech, Morocco
---
8. Sirayane Boutique Hotel & Spa Marrakech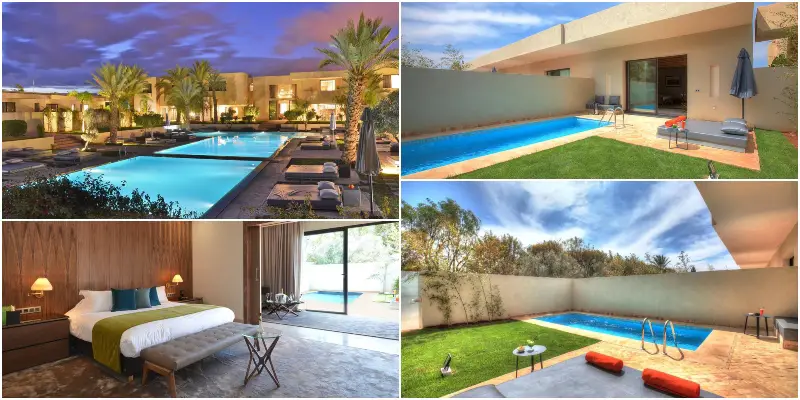 Overlooking the Atlas Mountains in the distance, Sirayane Boutique Hotel & Spa Marrakech is one of the fanciest hotels in south Marrakech.
Travel here for unique features, such as a library with books and DVDs, cooking classes, and a tennis court.
Furthermore, the hotel has a spa with a long list of wellness treatments.
Each of the splendid rooms have a TV with DVD-player and a private terrace outside.
For rooms with a private pool and garden, go for the Junior, Deluxe or Premium Suites. 
If you're interested in a bit of local shopping, Sirayane Boutique Hotel & Spa Marrakech offers free shuttle services to the famous Jemaâ El Fna Square. 
Besides a restaurant and lounge bar, the resort has a sports bar with live games on TV and a pool table. 
Guest Rating: 9.1
Address: Kilomètre 8 route d'Amezmiz, 40000 Marrakech, Morocco
---
9. Selman Marrakech
Selman Marrakech is a typical Moroccan luxury resort, with classic architecture and colourful interiors.
You're spoiled for choice, with 60 rooms to choose from and a pool, fitness centre, spa, and heaps of activities to do.
If you're bringing children, you'll be pleased with the presence of the Selman Kids Club that provides entertainment for the tiny travellers.
Accommodation includes rooms, suites and villas, all finely decorated with luxurious amenities.
The villas are something else, and the private entrance, private pool, personal butler, and VIP welcome make you feel like kings and queens.
Selman Marrakech is known for unique food experiences, such as dining in the horse stables or dining in a romantic setting.
Guest Rating: 9.1
Address: BP 24 530 Marrakech Atlas, KM 5, route d'Amizmiz, 40000 Marrakech, Morocco
---
10. Mandarin Oriental, Marrakech
Mandarin Oriental Marrakech has luxury written all over it. 
Being an extraordinarily upper-class 5-star resort, Mandarin Oriental has 54 villas and 9 suites surrounded by olive groves.
Satisfy your appetite at one of the restaurants or feast on the house's specialities in the pool garden.
The good news is that all suites have a private pool or dip bath, roomy lounges, and an outdoor terrace with stellar views.
Are you thinking about a family trip?
The Penthouse combines three suites into one 1123 square metre paradise with 8 bedrooms. 
Just like the other hotels on this list, Mandarin Oriental Marrakech has an endless wellness menu for guests to enjoy.
Guest Rating: 9.0
Address: Route Du Golf Royal, 40000 Marrakech, Morocco 
---
11. The Oberoi Marrakech
With its Arab-Moorish architecture, The Oberoi Marrakech truly is an eye-catcher and a place to indulge in luxury.
The Instagram-worthy rooms all feature a private terrace, a fully stocked bar, and fresh fruit is delivered to the room each day.
You want the best of the best?
The Royal Suite acquires a private rooftop pool, a living room, lounge room, dining room, and a butler to take care of all needs.
Dine in 3 different restaurants and have a sip from your beverage in the Vue bar.
Discover the secrets of the Moroccan kitchen during a 3-hour cooking class by the chef himself.
But The Oberoi Marrakech experience doesn't end within its property.
Outside, the hotel organises unique excursions, like private dining in the desert or breakfast from a hot air balloon. 
Guest Rating: 9.2
Address: BP 22788 – Route de Ouarzazate 40000 Marrakech, 40000 Marrakech, Morocco
---
12. Hôtel & Ryads Barrière Le Naoura
With the old Medina within walking distance, this 5-star establishment is a perfect fit for active explorers.
It's actually quite tempting to not leave the hotel at all, as you can hit the gym, dip in the heated pool, unwind in the spa centre, or even visit the hair salon.
Hôtel & Ryads Barrière Le Naoura packs no less than 145 rooms, ryads and suites.
You'll have access to 2 swimming pools, which makes it effortless to plunge in at any time.
But if you want a pool all to yourself, go for the ryads, which are ideal for large groups and families.
This surely is a family-friendly hotel, as pets are welcome to stay and a nursery is available for small guests. 
With two stylish restaurants and a bar, you'll have your culinary thrills all plated up.
Guest Rating: 8.9
Address: Djebel Alakhdar – Bab Doukkala, Medina, 40 000 Marrakech, Morocco 
---
13. Fairmont Royal Palm Marrakech
Fairmont Royal Palm Marrakech is a lush resort with Arab inspired designs and timber tones in the rooms.
The hotel in Marrakech's south almost looks like a theme park and has long-stretched outdoor pools, palm trees, and scenic gardens.
For active travellers, there's a golf course and a tennis court on site. 
Whether you're in for Moroccan fare or fancy gourmet dishes, one of the four restaurants will cook what you're after.
Dream away in a world of luxury in the Prince Villa, an elegant residence that comes with a private hammam and butler.
A bottle of wine, fresh fruit, and Moroccan pastries are included when you book this gem.
Even the lower-priced deluxe rooms are fitted with classy rugs and a grand balcony that's overlooking jaw-dropping scenery.
If you want to cool down in privacy after a long day of exploring, go for the luxurious Prince Villa where you have your own outdoor pool set on 741 sqm of land.
Guest Rating: 8.9
Address: Domaine Royal Palm Km 12 Route d'Amizmiz, 24700 Marrakech, Morocco
---
14. Palais Namaskar
Palais Namaskar is located in the outskirts of Marrakech, roughly 15 kilometres east of the Medina.
Are you craving for fine dining or quick bites?
The restaurants, bar and stunning buffet brunches in the garden will blow your mind.
To stay fit and balanced, head for the gym with your personal coach, or follow a yoga or meditation class. 
Do you feel like spicing up your holiday?
Palais Namaskar has a Pool Palace, Mountain Palace, and Water Palace.
These incredibly large and opulent accommodations have a huge private pool, every thinkable amenity, and a personal butler to take all your worries away.
For families with young kids, they'll enjoy the play corner and game room with video games and foosball.
Guest Rating: 8.8
Address: C/O Route de Bab Atlas, No.88/69, Province Syba, Marrakech, 40000 Marrakech, Morocco
---
15. Palais Aziza & SPA
Situated 5 kilometres outside Marrakech's city centre is Palais Aziza & SPA.
The design of Palais Aziza & SPA is mind-blowing, and every corner of the property is gracefully decorated. 
Are you an art lover?
Throughout the resort and in particular rooms, works of international artists are on display.
You can pick from a wide range of rooms, from the comfy superior double bedroom to the impressive Grand Pool Villa.
After calming down in the spa facility, the hotel has got all your culinary wishes covered.
Palais Aziza & SPA houses three restaurants and two bars, one of which has a lounge and library.
The hotel is close to the Musee de la Palmeraie, which combines lush gardens with contemporary art.
Guest Rating: 8.6
Address: Mejjat 3/38 Cercle Ennakhil, Commune J'Nanate – BP 7272 Palmeraie, 40000 Marrakech, Morocco
---
16. Domaine Rosaroum
About a 15-minute drive from the heart of Marrakech sits Domaine Rosaroum.
For a vacation with the entire family, Domaine Rosaroum might just be the jackpot.
The 5-star hotel has two massive villas, fit for 8 to 10 people respectively.
With an immense patio, your own pool and fully equipped kitchen, the villas are an excellent option for a group trip.
Spa facilities include a heated indoor pool, sauna, hammam, and in-room massages for utmost comfort.
Every morning, a continental breakfast with pastries, tea, coffee, and juices await in your own villa.
For other activities, Domaine Rosaroum has a tour desk where you can arrange transfers, car rental, and tour throughout Morocco.
Guest Rating: 8.6
Address: Sidi Yahia Palmeraie, 40000 Marrakech, Morocco
---
Map of Marrakech 5-Star Hotels with Private Pools
While all these accommodations are pretty awesome, Selman Marrakech comes in highly recommended.
The unique dining experiences, plush villas with private pools, and family-friendly facilities make this hotel a good bet for any type of traveller.
On top of that, the design and architecture of the accommodations are nothing less than gorgeous.
If you're still not sure, there are plenty more Marrakech properties to check out.
Also read:
Find More Marrakech Hotels with Pools