Are you planning to take your partner on a romantic trip to Tokyo?
Shinjuku is one of the most interesting wards in Japan's capital, as it has historical districts, legendary nightlife, and green spaces to relax.
The shopping opportunities are endless in Shinjuku, where you can find massive department stores and malls.
If you want a fun and romantic trip with your partner, this is the place to be.
We have done the research for you, and uncovered 14 luxurious and romantic hotels in Shinjuku, Tokyo.
Be prepared for a vacation in comfort with your lover, as these hotels are all superb.
1. Park Hyatt Tokyo
Combining the latest amenities and stellar views from most rooms, the Park Hyatt Tokyo is a dream come true for romantic holiday goers.
This hotel occupies the 14 top floors of a 52-storey high building, which results in top-class views of the Shinjuku district and even Mount Fuji from some accommodations.
To pamper yourself and your partner, pick the best of the best, which is the Presidential Suite in this hotel.
Within its 290 square metres, you'll have a full-size kitchen with a dining room, library, bathroom with a sauna and spa tub, and even a piano.
All of the rooms have a large TV with a video-on-demand system, a coffee machine, and high-quality bed linen.
Chat with your lover and enjoy Mount Fuji views from the hotel's 3 restaurants and 2 bars.
For your entertainment, Park Hyatt Tokyo houses an indoor lap pool, a spa centre for all your unwinding treatments, a library, and a fitness room to stay in shape.
Guest Rating: 9.1
Star Rating: 5 stars
Address: 163-1055 Tokyo-to, Shinjuku-ku, Nishishinjuku 3-7-1-2, Japan
---
2. Keio Plaza Hotel Tokyo Premier Grand
This 5-star is an excellent spot to spend an amorous holiday in Shinjuku, Tokyo.
Have a look into their Club Floor accommodations, since these include suites with extra living space, a minibar with Japanese whiskey and sake, and Japanese nightwear.
All of the rooms come with a flat-screen TV, coffee making facilities, and a Bluetooth speaker system to play your music of preference at any time.
Indulge in some of the hotel's neat features, such as the sky pool, art gallery in the lobby, and tea ceremony room.
Each day, you can choose a new place to eat: Keio Plaza Hotel Tokyo Premier Grand has about 15 restaurants and bars to satisfy your cravings.
You can pick between Japanese cuisine, a Korean restaurant, and a buffet-style eatery with many international dishes.
Guest Rating: 9.0
Star Rating: 5 stars
Address: 160-8330 Tokyo-to, Shinjuku-ku, Nishishinjuku 2-2-1, Japan
---
3. Daiwa Roynet Hotel Nishi-Shinjuku
Situated in a high-rising building, this classy hotel offers 280 comfortable guest rooms and a long list of conveniences.
The rooms range from standard double rooms to the junior suite, the latter being the top choice for a romantic getaway with your partner.
Within the suite, you'll find heaps of personal care products, a separate lounge area with a massive TV, and a bathroom that includes a tub.
Start the day with an energy boost by sitting down for a buffet-style breakfast, with a range of Japanese and Western items.
Delve into freshly prepared salads, pastries, bread, and smoked fish dishes.
In the same restaurant, called Touto, a Japanese lunch or dinner can be enjoyed as well.
Daiwa Roynet Hotel Nishi-Shinjuku provides guests with several cool amenities, such as a vending machine, ice-making machines, and a 24/7 convenience store.
Guest Rating: 8.9
Star Rating: 4 stars
Address: 160-0023 Tokyo-to, Shinjuku-ku, Nishi-shinjuku 6-12-39, Japan
---
4. Odakyu Hotel Century Southern Tower
Crowned with 4 stars, this upscale property is located on the doorstep of Shinjuku Station.
Besides a convenient location, the hotel welcomes couples with simple yet serene rooms and incredible dining options.
For the best vistas and ultimate well-being, pick one of the executive rooms on the highest floor, hang out on the couch in the seating area, and soak up the incredible city views.
All rooms here feature a fridge, chair, and an electric kettle, so you can wake up comfortably with some hot drinks.
In the restaurant zone, you can find a spot for lunch or dinner, and the dessert course here is a must for the sweet teeth.
Otherwise, head for the bar where perfectly mixed cocktails and snacks for late-night cravings await.
If you wish to explore Shinjuku before check-in or after check-out, the hotel offers a luggage storage service.
Guest Rating: 8.9
Star Rating: 4 stars
Address: 151-8583 Tokyo-to, Shibuya-ku, Yoyogi 2-2-1, Japan
Check Rooms Official site
---
5. JR Kyushu Hotel Blossom Shinjuku
This hotel has been operating since 2014 and is located within short walking distance from Shinjuku Station, the central transportation hub within the ward.
Outside the comfort of your room, you can revel in Japanese dining options, massages, and pick up your favourite drinks from the typical Japanese vending machines available.
Within the carpeted dwellings at this hotel, you'll have the comforts of coffee making facilities, and a bed-facing TV.
For the best romantic stay though, pick a twin room with city views, so you can sit in your own private bathtub while admiring Shinjuku's skyscrapers at night.
Kick-off your day in the on-site restaurant, where a buffet feast with local and Western delicacies is displayed.
If you're planning a day inside, a tapas-style Japanese lunch and a-la-carte dinner in the hotel's restaurant are attractive dining options.
Looking for a more intimate setting? Private dining can be arranged upon request.
Guest Rating: 8.7
Star Rating: 4 stars
Address: 151-0053 Tokyo-to, Shibuya-ku Yoyogi 2-6-2, Japan
---
6. Hyatt Regency Tokyo
From the splendid main entrance to the ritzy rooms, the Hyatt Regency Tokyo screams class.
With the complimentary shuttle service from Shinjuku Station, a smooth arrival at this 4-star hotel is guaranteed.
Whether you target a king room or a marvellous suite, you'll always have airconditioning, a high-definition flatscreen TV, and comfy robes at your disposal.
Staying in a suite grants you Regency Club Lounge access, which comes with a buffet breakfast, afternoon tea, and evening cocktails included in the rate.
For more culinary delights, make your way to one of the 7 restaurants, bars, or the pastry shop where you can stock up on snacks for your day out in Tokyo.
Alternatively, have all the goodies delivered to your residence through the room service.
Hyatt Regency Tokyo has a pool, spa centre, and a fitness facility for your workout routine.
Guest Rating: 8.5
Star Rating: 4 stars
Address: 160-0023 Tokyo-to, Shinjuku-ku, Nishishinjuku 2-7-2, Japan
---
7. Hotel Gracery Shinjuku
Based in a 30-floor structure north of Shinjuku Station is Hotel Gracery Shinjuku, a 4-star hotel that opened its doors back in 2015.
Rooms here leave a favourable impression, thanks to the pastel-coloured walls, carpeted floors, and the use of wooden materials in the interior.
You'll be provided with free tea, coffee, mineral water, plus bath amenities in your private bathroom to wake up refreshed.
Dive into spectacular dishes at the on-site Bonsalute Kabuki restaurant, which is tastefully designed and has an enormous bar as well.
Other than this Italian eatery, the hotel has Café Terrace Bonjour, an establishment with a cosy lounge and terrace.
Hotel Gracery Shinjuku also hosts a snuggly common area with bookshelves.
There are plenty of good reads to choose from for the guest's comfort.
Guest Rating: 8.5
Star Rating: 4 stars
Address: 160-0021 Tokyo-to, Shinjuku-ku Kabukicho 1-19-1, Japan
---
8. Citadines Central Shinjuku Tokyo
Citadines Central Shinjuku Tokyo has 206 rooms under its roof, so you'll have numerous options for your romantic getaway.
Of all the rooms, we would pick the Studio Premier Suite with its loosening lounge area, 47 square metres of living space, and daily housekeeping services.
Since the hotel is based in a multi-storey building, some rooms provide splendid views over the Shinjuku area.
If you need any practical services, the hotel is ready to help out.
They have a convenience store, laundromat, an ice-making machine, and several vending machines for refreshments.
At the 24-hour reception, guests can arrange car hire and book tours throughout the city.
In the on-site Restaurant, Stella, a buffet-style breakfast and lunch can set your rumbling tummy at ease.
Guest Rating: 8.5
Star Rating: 4 stars
Address: 160-0021 Tokyo-to, Shinjuku-ku, Kabuki-Cho 1-2-9, Japan
---
9. La'gent Hotel Shinjuku Kabukicho
If you're after a stay in an artsy hotel with neat Japanese designs in the rooms, look no further.
Fortunately, La'gent Hotel Shinjuku Kabukicho is only a 10-minute walk away from the transportation hub Shinjuku Station.
The looks of the accommodations at La'gent Hotel Shinjuku Kabukicho are elevated with stylish murals, wooden furniture, rugs, and traditional mattresses on the floor.
For design lovers, this hotel might be the definition of cool: the eye for detail in the rooms is extraordinary, and they genuinely are tastefully designed.
The 36-square metre Luxury Twin Room stands out with its seating area, city views, and ample bathroom.
Meanwhile, a kettle, flatscreen TV, bathroom amenities, and the provided slippers make your stay in this 4-star hotel more complacent.
CAFÉ&BAR Crospot is open for breakfast and dinner and serves Western-style dishes focusing on comfort food and refreshing drinks.
Guest Rating: 8.3
Star Rating: 4 stars
Address: 160-0021 Tokyo-to, Shinjuku-ku, Kabuki-cho 2-40-5, Japan
---
10. Hilton Tokyo Hotel
In terms of facilities that could make your romantic holiday memorable, Hilton Tokyo Hotel is hard to beat in the Shinjuku area.
Chic and tasteful are appropriate descriptions for the hotel's atmosphere; both the common areas and the rooms are elegant, modern, and carefully designed.
Celebrate the love with your partner in the ritzy King Tower Suite Executive, which features a coffee machine, grand living room, and premium TV, all accompanied by stellar city views.
Food is always just metres away, as the resort houses 4 restaurants and 2 bars for a fun time until the early hours.
Otherwise, order your food for in-room dining, a service that's available 24 hours per day.
Burn some calories in the indoor lap pool, or follow your fitness routine in the fully-equipped gym.
The hotel also features several shops and a spectacular tennis court on the rooftop.
Guest Rating: 8.3
Star Rating: 5 stars
Address: 160-0023 Tokyo-to, Shinjuku-ku, Nishishinjuku 6-6-2, Japan
---
11. Hotel Sunroute Plaza Shinjuku
Within the buzzing heart of Shinjuku sits Hotel Sunroute Plaza Shinjuku, a 4-star property that's footsteps away from the train station.
No matter which room you choose in this hotel, you'll be able to soak in a bathtub, enjoy a flatscreen TV, and have a kettle to prepare your hot drinks.
The rooms' interior is quite charming, with light timber furniture, paintings on the wall, and wonderfully carpeted floors.
Within the hotel, a spa centre awaits, offering aromatic body treatments and reflexology to relax your aching muscles.
Apart from 624 guest rooms, Hotel Sunroute Plaza Shinjuku has an Italian restaurant and bar where you can sit down for classic Italian cuisine and late-night beverages.
The hotel offers shuttle services to and from Tokyo's airport at an additional fee, making it easy to arrive or depart hassle-free.
Guest Rating: 8.3
Star Rating: 4 stars
Address: 151-0053 Tokyo-to, Shibuya-ku, Yoyogi 2-3-1, Japan
---
12. Shinjuku Prince Hotel
Shinjuku Prince Hotel boasts 571 guest rooms on the 10th to 24th floor of a skyscraper, just north of Shinjuku Station.
The largest rooms here measure nearly 31 square metres, come with superb city views, a TV, and high-quality bathroom amenities.
While the hotel occupies the building's top floors, the Seibu Shinjuku PePe shopping centre on the lower levels caters to all your shopping needs.
Don't know how to get around in Shinjuku and all of Tokyo?
The hotel has a tourist desk and information centre for arranging tours, bookings, and obtaining general information.
Spread across the property, 3 restaurants and bars guarantee you won't have to leave the building to dine out.
Furthermore, Shinjuku Prince Hotel has vending machines and offers massage services to make your stay even more pleasant.
Guest Rating: 8.2
Star Rating: 4 stars
Address: 160-8487 Tokyo-to, Shinjuku-ku, Kabuki-cho 1-30-1, Japan
---
13. Shinjuku Granbell Hotel
For couples, Shinjuku Granbell Hotel is an appealing choice in the Shinjuku district.
Within the resort, a number of food venues, an art exhibition, and everyday conveniences provide you with an unwinding holiday experience.
Rooms range from a humble double to the extravagant penthouse suites, with the latter being a magnificent pick for a honeymoon or romantic trip.
Soak in the free-standing tub with city views, revel in technological gadgets like an iPod docking station and video-on-demand options, and hang out on a long-stretched sofa.
By booking the suites, you'll have Club Lounge access, which includes free drinks and snacks.
Pamper yourself and chat over an exquisite dinner at the restaurant on the 12th floor, where delectable dishes and unspoiled views over Shinjuku are significant draws.
On the first floor, the Art Lounge, which showcases works of Asian artists, is a sweet spot to wander around.
Guest Rating: 8.0
Star Rating: 4 stars
Address: 160-0021 Tokyo-to, Shinjuku-ku Kabukicho 2-14-5, Japan
---
14. Kimpton Shinjuku Tokyo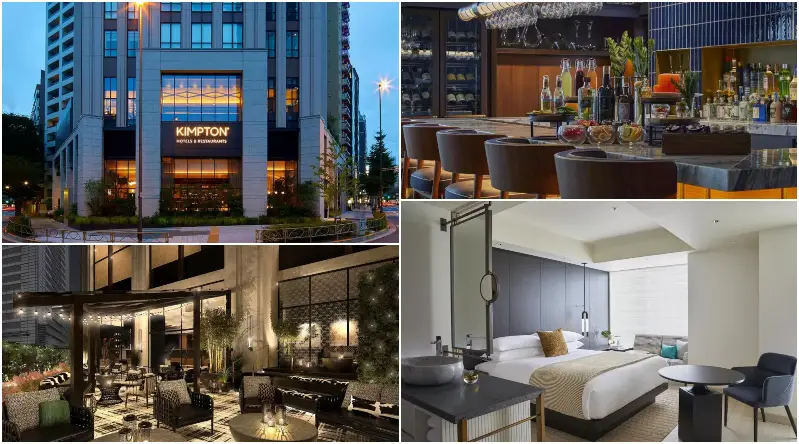 Thanks to its location in the heart of Shinjuku, this modern hotel is close to all the main attractions of this ward.
Inspired by the New York art and street scene, this hotel is decorated in vibrant colours and artistic elements in the common areas and rooms.
The Shinjuku Suite is fit for a glamorous stay in Tokyo, thanks to its lovely soaking tub, a separate bedroom with a large TV, and a generous living room.
If you like the hotel's design, you can buy artworks and decorative items at the concept store.
The Jones and District are the places to go for a bite and a drink; the former is a bar with all-day beverages and snacks, while the latter serves diners Japanese cuisines.
If you want to be active during your romantic break, Kimpton Shinjuku Shinjuku Tokyo also houses a modern gym room.
Guest Rating: –
Star Rating: 5 stars
Address: 160-0023 Tokyo-to, Nishishinjuku 3-4-7 , Japan
---
Map of Luxury Romantic Hotels in Shinjuku
Also read:
FAQs
Summary