Thinking about glamping near Zio National Park?
With its natural and historical site, the Zion national park allows you to follow the paths where ancient native tribes walked and lived.
This place always welcomes visitors by its magical sandstone cliffs.
See the different colors – red, pink, and cream, given the best contrast with the beautiful blue sky.
Experience the red rock canyon from various unique plants to wild animals on your adventure.
But where can you camp in comfort to fully appreciate this in nature?
There are a few glamping spots within the area where you will enjoy admiring picturesque scenery on your doorstep.
We have done some research and discovered these five unique glamping sites that will give you an unforgettable experience for your nature getaway.
Let's check them out!
1. Zion Wildflower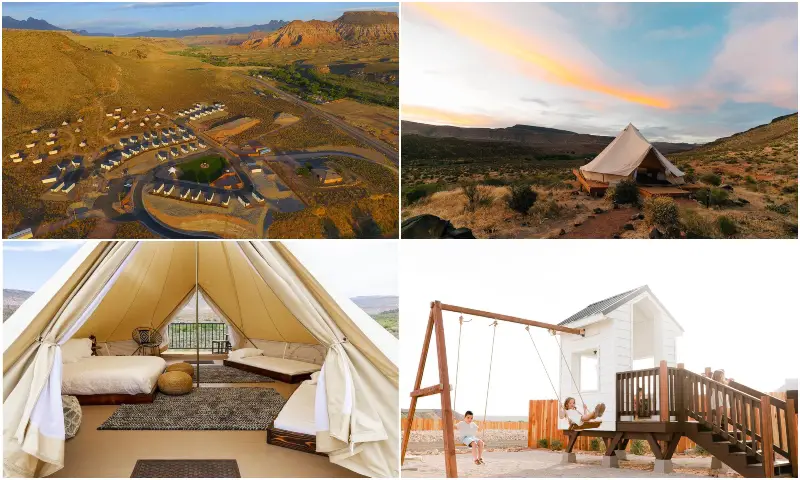 It is located just minutes away from the Zion national park entrance, making it easy to wander the wild and fantastic terrain surrounding the area.
This resort lets you experience pioneer life by waking up to stunning views of Zion Canyon.
You'll have clear views from either the window of your covered wagon or the billowing canvas tent.
If you are unsure about the camping bathroom situation, the luxury bathhouse will set all worries aside.
A private bungalow is another great option without giving up the comforts of home.
Fun games and activities are available on the property, such as fire pits, yard games, hammocks swaying, and briquette BBQ grills.
It also provides locally crafted Adirondack chairs and rejuvenating yoga space for you to relax.
If you are looking for a place to hold your special events such as weddings, its large greenish grassy area can make your dream comes true.
In addition, the complimentary wifi will help you stay connected while you are unwinding yourself with nature.
Guest Rating: 9.2
Address: 100 Kolob Terrace Road, Virgin, UT 84779, United States 
Check Glamping Tents Official site
---
2. Under Canvas Zion
Under Canvas Zion has been recognized as the top 40 resorts in the US with its safari-inspired glamping and Utah's remarkable desert view.
There are plenty of luxury glamping tents to accommodate your preference, from suite and deluxe to the stargazer and safari.
Spending time with your kids would be more fun here when they get to own their tent attached next to yours.
On-site, there are plenty of games and activities.
Enjoy canvas paintings, sand volleyball, bean bag toss games, which will keep all families and guests entertained.
Having dinner with live music could escalate the atmosphere to another level, especially with the lit-up fire.
Staring at the dazzling stars from a viewing window above your bed is indeed an exclusive experience that you rarely find from others.
Guest Rating: 9.0
Star Rating: 3 stars
Address: 3955 North Kolob Rd, Virgin, UT 84779, United States
Check Glamping Tents Official site
---
3. Zion Ponderosa Ranch Resort
This 4,000 acres resort is beautiful yet accompanied by the magnificent views of Zion National park.
Whether you travel with family, friends, or as a couple, there are several lodging options that will suit your needs.
This includes vacation homes, cowboy cabins, Conestoga wagons, and more.
Zion Ponderosa Ranch has many desired facilities and amenities on-site.
Enjoy the swimming pool, hot tubs, basketball, volleyball, tennis courts, and games room.
There is also a picnic area and fire pits for outdoor dining.
Having a cup of gourmet coffee with various breakfast choices would be ideal to start your day at Narrows Snack Bar.
Going poolside at Bart's Bistro for lunch is something that you should not miss.
Alternatively, Rays Restaurant also offers traditional and fine dining selections with gorgeous natural surroundings.
If you're looking for more adventurous outdoor activities, there are tons for you to enjoy.
Ziplines, rock climbing, paintball and horseback riding are just some of the options available at Zio Ponderosa Resort.
Guest Rating: 8.6
Star Rating: 4 stars
Address: Twin Knolls Road, Springdale, UT 84758, United States 
Check Glamping Tents Official site
---
4. Zions View Camping
Zions View Camping is located on a private hilltop giving a spectacular view of Zion National park and Canaan Mountain Range.
It is also centrally situated from Grand Canyon, Bryce Canyon, and Antelope Canyon.
The camp offers enormous tents which are spacious and breathable.
Couples and families of 4 are easily accommodated.
Worth noting, there's literally no electricity on-site so it is a complete nature experience.
However, there is a charcoal BBQ grill, fire pit, solar lights, and wifi.
Dogs are also welcome!
This glamping site is famous for its water canyon hike or the narrows.
The trail is just right up the road from the property.
Guest Rating: 8.2
Address: Academy Avenue East and Hildale Street, Hildale, 84784, United States
---
5. Zion Glamping Adventures
Zion Glamping Adventures is only one hour drive to Zion National Park.
This place offers a large and luxury tent with wonderful views of the Canaan Mountain wilderness area.
All the tents are equipped with an air conditioner and heater with a privacy distance.
They are also attached to the hangout area where you can have a picnic or hold a BBQ party.
The campsite provides two great functioning bathrooms with hot showers and flush toilets.
There is a shared playground where you can enjoy games and activities with others.
For those with pets, it is also dog-friendly, but there is an additional fee.
If you have no plans, you can join one of their tours, such as horse riding, hiking, jeep tours, and buggy rides.
The Water Canyon trail, where you will see incredible waterfalls and a natural rock bridge, is a short distance walk from the property.
Guest Rating: 8.1
Star Rating: 5 stars
Address: 1545 North Water Canyon Road, Hildale, UT 84784, United States
Check Glamping Tents Official site
---
Zion National Park Glamping Map
Also read:
Find More Places to Stay Near Zion National Park
FAQs
Which glamping site is closest to Zion National Park?

Under Canvas Zion is the closest camping site to Zion National Park.

It is just outside one of the northwestern gates into the canyon. 

Due to its great location, this resort provides breathtaking views with a feeling like you are actually staying inside Zion Canyon
What's the best glamping site near Zion National Park for couples?

Imagine lying down under the tent and staring at desert skies with bright stars. How romantic!

Even though it is a rare find, this is what you get if you stay at the Stargazer tent of Under Canvas Zion.

The tent not only offers a luxurious nature treat, but it also comes with high privacy.
What's the best glamping site near Zion National Park for families?

If you are traveling with family, Zion Ponderosa Ranch Resort is one of the great options to go for.

With big lodging and plenty of activities, this is perfect for creating a memorable time together.

Another excellent choice is Under Canvas Zion where your kids will get their private tent.
Which glamping sites near Zion National Park are dog-friendly?

Zion Glamping Adventures is a dog-friendly glamping site.

You only have to pay a one-time pet fee of 25 USD. 

The camp site offers spacious areas which are not only good for you but also for dogs.
Summary