Do you want to visit Georgetown in Penang with your family?
This is one of the best historic destinations in Malaysia along with delicious local food and vivid art.
So if you want to discover ancient temples and colonial mansions, or simply try the culinary delights, Georgetown will be perfect for families.
We did some research and found the best luxury family hotels in Georgetown so you can be sure everyone will have a fun time.
1. Seven Terraces
Seven Terraces is an elegant heritage hotel.
It is based in the Little India quarter, within walking distance from sites like Pinang Peranakan Mansion and street art.
Inside its historic walls, Seven Terraces house stylish apartments that sleep up to 4 guests.
Stunning rugs, four-poster beds, and classic furniture, give the residences a colonial vibe.
This is paired with modern touches including a large TV with Bluetooth speakers.
Within this British colonial and Chinese inspired complex, you can dine at the Kebaya Dining Room, where Asian flavours meet French cooking techniques.
Alternatively, you can go for alfresco dining at the nearby Mews Cafe, a casual spot for both local and international food.
The hotel has its own antique shop, where you can stock up on souvenirs ranging from pottery to jewellery.
Guest Rating: 9.3
Star Rating: 4 stars
Address: Stewart Lane, 10200 George Town, Malaysia
---
2. Jawi Peranakan Mansion
Jawi Peranakan Mansion has roots deep into Chinese and colonial history, as shown in the grand architecture and interior.
Pick the suite or villa for a family getaway.
You'll enjoy comforts like a bathtub, lounge area, and all free toiletries you could wish for.
The Mansion Suite is particularly an excellent choice for a family vacation, as up to 5 people can stay in this spacious residence.
Sit down for a meal at the intimate Malaya, where the soul of Malaysian cuisine is displayed in Indian, Chinese, and Malay dishes.
An outdoor pool and a complimentary, Western-style breakfast are some of the nice touches in this hotel.
At the front desk, you can arrange services like an airport shuttle, luggage storage, and tour bookings.
Guest Rating: 9.3
Star Rating: 4 stars
Address: 153, Jalan Hutton, 10050 George Town, Malaysia
---
3. Noordin Mews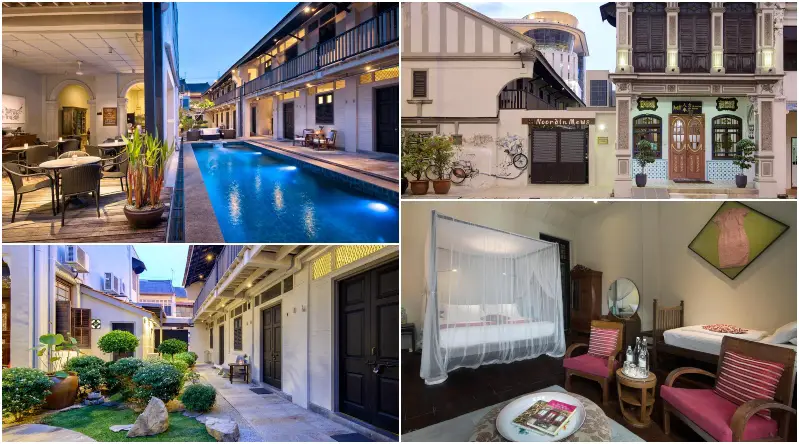 This property is located near some of Georgetown's museums and within walking distance from the jetty.
Both the Noordin Suite and the Sultan Suite can accommodate families.
They come with amenities like a complimentary minibar, toiletries, and a coffee machine for a great start of the day.
Noordin Mews treats guests with a neat swimming pool at the courtyard, a shared lounge where you can relax, and a library.
Alternatively, you can borrow an assortment of board games for a fun time with family.
For a cooling beverage and snacks, head to the hotel's all-day cafe and grab a complimentary newspaper to go with it.
A complimentary breakfast spread with choices of fresh fruits, toast, pancakes, nasi lemak, and hot drinks await you each morning of your stay.
Guest Rating: 9.3
Star Rating: 3 stars
Address: 53, Noordin Street, 10300 George Town, Malaysia
---
4. 23 Love Lane Hotel
With only 10 rooms, 23 Love Lane Hotel is a modestly sized but elegant property near the Penang State Museum and Art Gallery.
All of the residences here have an en-suite bathroom with high-quality toiletries.
The staff also provide a daily turndown service.
For a large family get-together, we recommend the Anglo Indian bungalow.
This combines 3 suites and has a second floor with a private lounge and book collection.
At the hotel's reception, you can arrange a heritage tour around Penang or Georgetown. 
After a day of exploring Georgetown, take advantage of their massage services or sit down on a bench in the hotel's private garden.
[email protected] is the place to settle yourself for a hearty breakfast, an afternoon tea with your loved ones, or a cosy dinner.
Guest Rating: 9.2
Star Rating: 5 stars
Address: 23 Love Lane, 10200 George Town, Malaysia
---
5. Areca Hotel Penang
Based in an old heritage building sits Areca Hotel Penang, a 4-star establishment that's conveniently located in the heart of Georgetown. 
For the best room, the Family Suite measures 48 square metres, can sleep up to 4 people and has a generous wardrobe to stall all of your clothes.
Other comforts are a cable TV with satellite channels, minibar, in-room safe, and free mineral water to get through Penang's scorching days.
When eating time is around the corner, head down to Arece Cafe for Nyonya Chinese, Malay, and Western dishes.
This is also the place where the complimentary afternoon tea with pastries, cakes, and refreshing milk teas is served.
Besides 24-hour reception, this hotel pleases guests with a library, computer lounge, and a children's room full of toys.
Guest Rating: 9.1
Star Rating: 4 stars
Address: 5 Jalan Khoo Sian Ewe, 10050 George Town, Malaysia
---
6. Muntri Mews
Muntri Mews is part of a chain of heritage hotels in Georgetown, with an emphasis on preserving traditional architecture and decorations.
To soak up the unique history and cultural significance of Georgetown, Muntri Mews is one of the best options in town.
Ideal for an unwinding family gathering, the Loft Suite and Terrace Suite are large enough, and you'll be greeted with a fantastic welcome drink.
Recline in one of the lounge chairs in your room, or chill in the wonderfully decorated common areas in the hotel.
Mews Cafe is located within this hotel, which makes eating out a straightforward process.
This is also the restaurant where the complimentary breakfast is served.
Choose from a buffet line, or order your favourite items a-la-carte to create a delightful morning family meal.
Guest Rating: 9.1
Star Rating: 4 stars
Address: 77, Lebuh Muntri, 10200 George Town, Malaysia
---
7. East Indies Mansion
Taste the history of the East Indies Mansion, an 18th-century private mansion that's been painstakingly converted into an atmospheric hotel.
The suites – named after spices – remind visitors of the past.
Thanks to details like aged beams, traditional paintings, and the hardwood floors.
They feature a dressing room, a patio and a bathroom fit with tons of free toiletries.
Other free goodies in this one-of-a-kind property includes breakfast, served in the tranquil courtyard.
Aside from coffee, tea, freshly squeezed juices and tropical fruit, you can order your desired main meal from the menu.
If you want to cook up a family feast yourself, you can use the hotel's shared kitchen.
Guest Rating: 9.1
Star Rating: 3 stars
Address: No. 25, China Street, 10200 George Town, Malaysia
---
8. Spices Hotel
Spices Hotel sits in an old quarter of Georgetown, within walking distance to some of the city's most famous murals.
Thanks to lots of outdoor spaces and planted greenery, this 4-star hotel breathes a calm ambience.
The high-ceiling suites are excellent to host small groups.
You'll benefit from comforts like bathrobes, a TV with DVD player, and a kettle to make your own hot beverages.
Each of the rooms has a sliding door, through which you can access small courtyards full of plants.
Spots to hang out with a book or board games include a common area or the outdoor courtyard, where you can admire a century-old tree that overshadows the property.
Just outside Spices Hotel, you'll find the Yap Kongsi temple, the stunning Leong San Tong Khoo Kongsi history museum, and the Ghost Museum.
Guest Rating: 8.9
Star Rating: 4 stars
Address: No.5, Lorong Lumut, 10200 George Town, Malaysia
---
9. OZO George Town Penang
OZO George Town Penang is situated in the modern part of Georgetown, not far from the sea and the coastal walking promenade.
Still within walking distance from the old heritage centre, this 4-star resort is an attractive pick for family travels.
The OZO Family Suite provides guests with astonishing city views.
You'll also get comforts like a bathtub, air conditioning, and a LED TV with a multimedia panel.
For a cheaper, but equally snuggly residence, opt for the Sleep Family room that can host 4 people.
OZO George Town Penang certainly is one of the best options in the city when it comes to guest-friendly facilities.
Think a gorgeous rooftop swimming pool, fitness room, shared lounge for unwinding free time, and a bar with epic panoramic vistas.
Guest Rating: 8.9
Star Rating: 4 stars
Address: 166 Jalan Argyll, 10050 George Town, Malaysia
---
10. JEN Penang Georgetown by Shangri-La
Although JEN Penang Georgetown lies a bit south of the buzzing centre, it's easy to explore the town by foot from here. 
If your aim is to stay in a stylish hotel in Georgetown, this gem surprises you with modern art, colourful furniture, and beautifully finished matte walls in some rooms.
Inside your room, you'll also have a safe, small fridge, large TV, and a radio.
Enjoy traditional street food at Cafe Jen, or have some cocktails at the Lobby Lounge.
For relaxation, the hotel has your back with massage treatments and an outdoor pool with a lounge deck.  
In the fitness centre, you can burn your excess holiday calories.
Guest Rating: 8.8
Star Rating: 4 stars
Address: Magazine Road, 10300 George Town, Malaysia
---
11. Royale Chulan Penang
Conveniently based near Georgetown's ferry pier is the Royale Chulan Penang.
This is a heritage hotel that occupies an 1892 residence.
Enjoy your family trip to the fullest in the family rooms, where a small seating area and dark curtains will guarantee a peaceful stay.
Outside the room, you'll have heaps of opportunities to hang out and enjoy a relaxing vacation.
The Heritage Lounge is the perfect spot to propose a toast with your family, while the Royale Spa lets you indulge in rejuvenating treatments.
Otherwise, jump into the outdoor pool, lounge on one of the deckchairs, or do your workout routine in the fitness room.
In case you're travelling with babies or toddlers, extra cots are available upon request.
Guest Rating: 8.7
Star Rating: 4 stars
Address: No. 1 & 2, Pengkalan Weld, 10300 George Town, Malaysia
---
12. Sunrise Gurney
Sunrise Gurney offers apartment-style accommodations in the northwestern part of town. 
Look no further if you're after the best views, as the spacious apartments overlook the sea and Penang's long-stretched coastline.
Book a 2-bedroom residence suitable for 6 people, and enjoy an extensive list of amenities.
Some of the cool features include a kitchen with oven, stove, fridge, and separate dining and lounge areas.
Recline at the swimming pool, or make use of the facilities in the complex's fitness centre.
Do you need a ride to or from the airport?
This hotel can arrange shuttle services to make travelling with your family a breeze.
Guest Rating: 8.6
Star Rating: 3 stars
Address: 68A-12-1 Persiaran Gurney Pulau Pinang, 10250 George Town, Malaysia
---
13. WOW Hotel Penang
With its location right in the heart of the old quarter, WOW Hotel gives you easy access to exciting museums, street art, and night markets.
Inside, this boutique hotel features 45 rooms, ranging from humble double rooms to a classy presidential suite.
The latter is a compelling choice, as it boasts a minibar, seating area, and a coffee machine to kick-start your day with a fresh brew.
In the lobby, you can overlook the historic streets of Georgetown, read a book, or enjoy some family time.
On the rooftop, you can totally loosen up in the hot tub, or play a game of life-size chess. 
Otherwise, head for the game room and play billiard, table football, or good old board games.
For the youngest travellers, the hotel offers an indoor playground with a ball pit and monkey bars. 
A free breakfast with toast, eggs, sausages, fruits and hot drinks is served each morning in the lounge.
Guest Rating: 8.5
Star Rating: 3 stars
Address: 406 Jalan Penang, 10000 George Town, Malaysia
---
Map of George Town Family Hotels
From modern apartments to carefully curated heritage homes, Georgetown has an impressive selection of luxurious accommodations. 
To combine a historical atmosphere with modern-day amenities, Noordin Mews is a desirable hotel.
Cosy rooms are paired with family-friendly facilities like a library, swimming pool, and board games.
Alternatively, WOW Hotel Penang provides kids with enough entertainment to be amused for days.
Also read:
Find More Family Hotels in George Town Penang
What is the best luxury family hotel in Georgetown with the best views?
Sunrise Gurney has the best views in their apartments.

From this high-rising building along the coast, you can overlook the beaches, walking promenades, and the skyline of the modern part of Georgetown.

Both a bedroom and lounge face the large windows, allowing you to soak up the views at any moment.

Which luxury family hotel in Georgetown has the best facilities for young kids?

In terms of family amusement, it's hard to beat the WOW Hotel Penang.

Their game room with arcade game machines, billiard tables, and table football is a cool gathering place for kids.

The kid's room is a playing paradise, good for hours of fun.

What is the best luxury family hotel in Georgetown close to tourist attractions?

Spices Hotel has a lovely location right in Georgetown's World Heritage centre.

This establishment is just a few steps away from a couple of famous murals like the Boy on Chair, the Yap Kongsi temple, and the Ghost Museum.

The dazzling Leong San Tong Khoo Kongsi temple is also less than a 200-metre walk from Spices Hotel.

Summary