Planning a trip to Vancouver?
This vibrant Canadian city has it all from mountains and stunning nature to great restaurants and lively nightlife. 
It's the kind of place where you can experience the hustle-bustle of city life but also escape to the quiet of the mountains whenever you feel like it.
Come warm weather and you can even enjoy the beaches, public pools, parks, summer festivals, and all kinds of happening markets.
If you're looking for a luxury hotel, Downtown Vancouver is the place to be.  
During the warmer seasons, there's nothing like coming back to a hotel with a pool after exploring everything this city has to offer.
We've found the best luxury downtown Vancouver hotels that have pools to make your stay comfortable and memorable!
Outdoor Swimming Pools
1. Shangri-La Hotel Vancouver
Looking for the ultimate in relaxation and sophistication?
Check out the Shangri-La Hotel that offers spacious rooms and excellent service with an Asian flair – all in the heart of Vancouver's bustling downtown area.
The hotel has 119 luxury rooms and suites that have contemporary decor and floor-to-ceiling windows that allow plenty of natural light in.
The marble bathrooms are incredibly spacious and many rooms have balconies with splendid city views.
Guests can head to the health club that offers a range of exercise equipment, pilates, a relaxing outdoor pool as well as whirlpool.
Their signature spa CHI offers massages, facials, body wraps, and other treatments in private suites.
This is perfect for guests looking to pamper themselves.
Shangri-La Hotel is located close to Robson Street – a shopping haven, Stanley Park for nature lovers, and Granville Street for people who want to party the night away.
Guest Rating: 9.4
Star Rating: 5 stars
Address: 1128 West Georgia Street, West End, V6E 0A8 Vancouver, Canada
---
2. Fairmont Pacific Rim
If you must do it in style, we recommend the luxurious Fairmont Pacific Rim Hotel that was rated the World's Best Business Hotel by Condé Nast Traveler readers.
With stunning views of mountains, the city, and the harbor, this modern downtown hotel brings you the best of all worlds. 
Whether you choose to stay in a Harbour View room, the Mountain View room, or the chic Signature Ofuro room, you sure won't be disappointed by the decor and service. 
There's no better way to enjoy a fine day in Vancouver than by lazing around on the rooftop pool enjoying the palm trees and the cabanas.
If working out is on your agenda, check out the 2100 square foot fitness facility located on the 5th floor.
Complete with ellipticals, treadmills, bikes, yoga and pilates, the fitness center takes care of all your needs.
Try delicious seafood at their restaurant Botanist, enjoy donburi bowls and bento boxes at RawBar, or simply order in.
End your day with a relaxing treatment and magnificent views at the award-winning Willow Stream Spa also located on the 5th floor.
Guest Rating: 9.2
Star Rating: 5 stars
Address: 1038 Canada Place Way, V6C 0B9 Vancouver, Canada
---
3. LEVEL Furnished Living Yaletown-Richards

If you're looking for furnished apartments that offer hotel-style service, check out LEVEL Yaletown-Richards.
Depending on your needs, you can choose from a one-bedroom suite, a deluxe one-bedroom suite, a two-bedroom suite, and a two-bedroom terrace suite.
Head to the rooftop to take a plunge in the spacious pool, soak in the hot tub, or simply read your favorite book in one of the poolside loungers.
Stay fit at the fitness center where there is plenty of weightlifting and cardio equipment to make you sweat.
Continue the wellness experience at the steam and sauna room where you can simply unwind.
You can also enjoy a lovely summer BBQ with friends and family on the rooftop.
The best part about staying here is the dedicated concierge team who will make sure that your every desire is fulfilled.
Guest Rating: 9.2
Star Rating: 5 stars
Address: 1388 Richards Street, V6B 3G6 Vancouver, Canada
---
4. The Westin Grand, Vancouver
Located in the heart of downtown's entertainment district, the award-winning Westin Grand hotel promises an elevated experience for all guests.
All their newly designed rooms are modern and promise ample natural light.
You'll be guaranteed wonderful views of the city or the mountains.
Guests will love the old school ambiance, the innovative cuisine, and the craft cocktails at Hendricks lounge and restaurant.
Enjoy a swim at the hotel's outdoor heated lap pool or chill in the whirlpool and sauna.
Break a sweat at the WestinWorkout Fitness Studio which is well-equipped with weights. 
The hotel is close to BC Place, Rogers Arena, and Stanley Park so you will find yourself in the midst of all the action.
One thing is for sure – you will definitely leave the Westin feeling absolutely rejuvenated!
Guest Rating: 9.0
Star Rating: 4 stars
Address: 433 Robson Street, V6B 6L9 Vancouver, Canada
---
5. Pan Pacific Vancouver Hotel
Vancouver's waterfront is truly a delight for locals and tourists alike especially when it's warm outside.
The Pan Pacific Vancouver Hotel is conveniently located right at the waterfront.
It is close to the city's best attractions and offers sweeping city, harbor, or mountain views.
Guests can choose from a couple of fabulous rooms.
We recommend anything with breathtaking harbor and mountain views like the Amber Suite, the Panoramic Harbourview Room, or the Bayview Suite.
For dining, you have the choice of Oceans 999 Restaurant or Five Sails Restaurant.
Continue your night with premium cocktails at Coal Harbour Bar or take in sweeping views with a drink at the Patio Terrace.
With views like that, you simply cannot miss the heated outdoor saltwater pool, the large hot tub, or the sundeck with plenty of sunbeds.
Guests can also relax in the indoor saunas or enjoy a customized service at Spa Utopia, a sanctuary that will remind you of Ancient Rome with its pillars and waterfalls.
Fitness lovers can head to the gym fitted with the latest equipment.
Everything you need is right here at the Pan Pacific!
Guest Rating: 8.9
Star Rating: 5 stars
Address: Suite 300-999 Canada Place, V6C 3B5 Vancouver, Canada
---
6. Coast Coal Harbour Vancouver Hotel by APA
This upscale urban hotel is located right at the heart of the city, a stone's throw away from the stunning Stanley Park.
The rooms at Coast Coal Harbour will bring an instant smile to your face with floor-to-ceiling windows that overlook the majestic city.
All rooms come with 55 inch TVs, an electric bidet seat, a large working desk, and traditional welcoming origami cranes which symbolize hospitality.
There's nothing like enjoying a nice dip in the heated outdoor pool and whirlpool after a long day of sightseeing.
There is one on-site restaurant, Prestons, which uses local ingredients to create a mean meal and some fabulous drinks.
Last but not least, the Sanatio Spa at the hotel will let you experience Japanese culture at its finest. 
The staff here embody "Omotenashi" which means they're wholeheartedly dedicated to serving others.
With a full range of Japanese spa treatments, massages, and facials, you're going to love your experience here!
Guest Rating: 8.9
Star Rating: 4 stars
Address: 1180 West Hastings Street, V6G 4R5 Vancouver, Canada
---
7. LEVEL Vancouver – Yaletown Seymour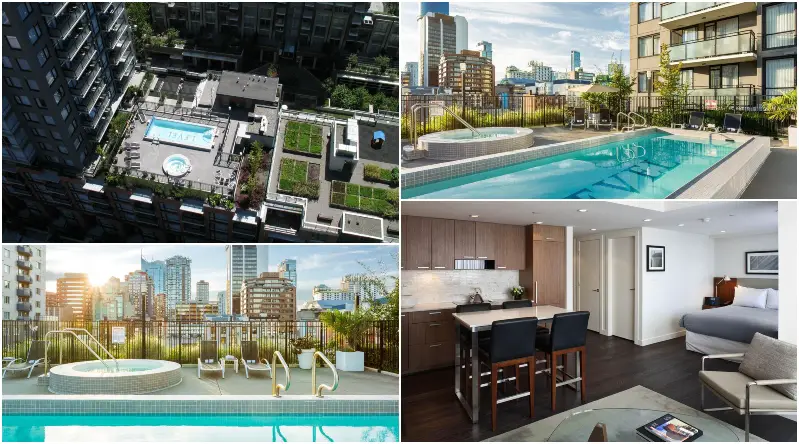 If your stay in Vancouver is going to be longer than a couple of days, we recommend booking the LEVEL Vancouver – Yaletown Seymour.
A remarkable blend between an apartment and a hotel, the suites here will take your vacation to the next level.
Guests can choose from the Level Suite, the One-Bedroom apartment, the Two-Bedroom apartment, or the Townhome which is great for families. 
The rooftop pool offers the perfect opportunity to spend a relaxing afternoon. 
You could even chill with friends in the hot tub or curl up with your favorite book on the many lounge chairs set up here.
Guests may even set up a BBQ with a view on the rooftop which offers ample seating.
Unwind at the spacious steam and sauna facilities.
For fitness buffs, there's a 2000 sq. ft. gym that features weightlifting and cardio equipment as well as world-class trainers.
The best part is that these apartments are pet-friendly so you don't have to leave poor Fido behind!
Guest Rating: 8.9
Star Rating: 5 stars
Address: 1022 Seymour Street, V6B 0G1 Vancouver, Canada
---
8. Hyatt Regency Vancouver
The Hyatt chain is known for its high standard of service and the Hyatt Regency in Vancouver is no different.
Nestled in the heart of downtown, this is the perfect location for both business and leisure travelers. 
With modern designs and all the comforts of home, the rooms here offer stunning views that will make your stay memorable!
Escape the chaos of the city by heading to the heated outdoor pool located four storeys above the bustling streets.
Guests can also enjoy the oversized jetted hot tub or burn some calories at the StayFit Fitness Center.
Enjoy a delectable seafood meal at the in-house restaurant, Mosaic Grille, and relax with a drink at the Mosaic Bar.
The Grain Tasting Bar in the main lobby will mesmerize you with its artisan cocktails, regional wines, and craft beer.
Hyatt Regency is also pet-friendly and earth-friendly having been awarded five keys by the HAC Green Key Program.
Guest Rating: 8.6
Star Rating: 5 stars
Address: 655 Burrard Street, V6C 2R7 Vancouver, Canada
---
9. The Westin Bayshore Vancouver
The Westin Bayshore offers the best of all worlds with beautiful Stanley Park right at their doorstep.
You'll have easy access to the vibrant Coal Harbour shores, and stunning views of the snow-capped North Shore mountains.
With urban decor, soothing hues, luxurious amenities, and jaw-dropping views, the rooms here will make you feel like absolute royalty!
The lovely outdoor pool is perfect for a lazy swim or you can just relax on the many cabanas here.
At Vida Spa, you can experience the magic of Ayurveda combined with traditional Western healing.
It's a unique spa experience that will engage your senses and nurture your body and mind.
There's also a designated area for couples, an indoor pool, and an infrared sauna.
For dining, enjoy the freshness of farm-to-table cuisine at H2 Rotisserie & Bar.
Then try creative cocktails at H Tasting Lounge, or grab a cuppa or smoothie at T&Co.
The Westin Bayshore is your gateway to absolute bliss!
Guest Rating: 8.5
Star Rating: 4 stars
Address: 1601 Bayshore Drive, V6G 2V4 Vancouver, Canada
---
Indoor Swimming Pools
10. Rosewood Hotel Georgia
Think the Roaring Twenties combined with contemporary design in the heart of vibrant Vancouver.
The Rosewood Hotel Georgia is a landmark building that was restored to its former glory and is now a beloved hotel among guests and tourists alike.
The hotel offers rooms, suites, and residences, all of which exude grandeur and elegance.
The Load Stanley and Rosewood Suites have private terraces and plunge pools to make your stay worth its while.
Located on the fourth floor of the hotel, the heated 52-foot indoor saltwater lap pool is something else with its natural sunlight and Art Deco inspirations.
For active travelers, you can head to the 2400-square-foot fitness center. 
Equipped with TechnoGym, Cybex, and Precor fitness equipment, everything you need is right here! 
End your day at Canada's only Forbes five-star spa, Sense, where you can indulge in luxurious treatments and absolute tranquility. 
If there's one thing you can't miss out on while at the Rosewood, it's the glorious meals at world-class restaurants like Hawksworth, Reflections: The Garden Terrace, 1927 Lobby Lounge, and Bel Cafe.
Guest Rating: 9.3
Star Rating: 5 stars
Address: 801 West Georgia, V6C 1P7 Vancouver, Canada
---
11. Embarc Vancouver by Diamond Resorts
There's nothing like looking down at the hustle and bustle of a city like Vancouver from the skies.
Located on the highest point in downtown Vancouver, Embarc by Diamond Resorts offers stunning studio apartments.
They have floor-to-ceiling windows, granite countertops, sleek stainless steel appliances, and city or mountain views.
For guests looking to get some quiet relaxation, there's an indoor lap pool as well as a hot tub and sauna.
The fitness center is well-equipped and will make sure you keep that excess holiday weight away.
There is an on-site restaurant but the Embarc is also walking distance from some great restaurants and shopping areas.
Vancouver Art Gallery is just 400 meters away while Christ Church Cathedral is 600 meters from the property. 
Guest Rating: 9.3
Star Rating: 4 stars
Address: 1001 Hornby St #2951, V6Z 3A5 Vancouver, Canada
---
12. Hotel BLU
Contrary to its name, guests will never be blue at the Hotel BLU in downtown Vancouver.
Known for its stylish accommodation, top-notch amenities, and warm hospitality, this boutique hotel is a class apart. 
You can choose from deluxe rooms, elegant suites, and chic New York style loft units, all of which are pet-friendly.
After exploring the city, you can rejuvenate in the 28-foot indoor swimming pool, enjoy a soak in the hot tub, or relax in the sauna.
Enjoy a hearty a la carte breakfast at the Azure Lounge, try traditional and modern Japanese cuisine at Black Rice Izakaya, and fall in love with the oyster bar at Fanny Bay Oyster Bar.
Last but not least, Hotel Blu takes immense pride in being an eco-friendly hotel.
They provide green products, low-flush toilets, electric vehicle stations, and LED lighting.
Guest Rating: 9.2
Star Rating: 4 stars
Address: 177 Robson Street, V6E 1B2 Vancouver, Canada
---
13. Auberge Vancouver Hotel
To make the most of your Vancouver trip, we recommend staying by the vibrant waterfront which also offers breathtaking views of the mountains. 
The Auberge Vancouver Hotel is located in the Terminal City Tower and is a perfect base to explore the city from.
The rooms are sophisticated and refined.
All rooms overlook the city, harbor, or glorious mountains. 
When you're not out and about, you can swim laps in the large 25-meter indoor pool.
Relax in the whirlpool or sauna room, while gazing at the panoramic view of Lion's Gate Bridge, the harbor, and North Shore mountains. 
Guests can also relax at the spa which offers services like hot stone massages, sports massages, and reflexology.
The hotel is close to a couple of great restaurants including Lion's Pub, Goldies, The Blackbird Public House, Miku, and Freshii.
Guest Rating: 8.8
Star Rating: 4 stars
Address: 837 West Hastings Street, V6C 1B6 Vancouver, Canada
---
14. The Sutton Place Hotel Vancouver
When it comes to elegance, European charm, and breathtaking beauty, The Sutton Place Hotel is every bit as fancy as it sounds.
No matter where you look, the hotel offers a perfect blend of luxury and sophistication.
You can choose from a variety of suites that feature handcrafted furnishings, silk tapestries, and premium bedding.
We recommend staying in the La Grande Résidence.
This combines the comfort and services of The Sutton Place Hotel with the convenience of residential living.
For some downtime, head to the indoor pool and whirlpool.
You'll find the poolside menus offer healthy spa classics as well as other delicious items. 
Enjoy award-winning cuisine at the Boulevard Kitchen & Oyster Bar or buy some great wines at The Sutton Place Wine Merchant, featuring over 700 labels.
End your day at the Vida Spa where rejuvenation is attained through Ayurvedic treatments and specially trained therapists.
The Sutton Place Hotel is a Conde Nast Traveler Gold List favorite and one of Travel and Leisure's Top 500 so you won't be disappointed.
Guest Rating: 8.6
Star Rating: 5 stars
Address: 845 Burrard Street, West End, V6Z 2K7 Vancouver, Canada
---
15. Metropolitan Hotel Vancouver
Located in downtown Vancouver, the Metropolitan Hotel offers the perfect blend of comfort, convenience, and excellent service to all its guests. 
The 197 luxurious guest rooms are spacious, well-designed, feature extra-large marble bathrooms, and many even offer splendid views of downtown Vancouver. 
The indoor pool is heated and the large windows allow plenty of natural sunlight for you to bask in.
Burn some calories at the fitness center where you will find both cardio equipment and a range of weights.
Then, enjoy the relaxing sauna also on-site.
You won't regret eating at the hotel's iconic Diva at the Met restaurant which serves the finest seafood, meats, poultry, vegan, and gluten-free dishes.
There's also a full-service bar and wine cellar for wine aficionados. 
Guest Rating: 8.6
Star Rating: 4 stars
Address: 645 Howe Street, V6C 2Y9 Vancouver, Canada
---
16. Pinnacle Hotel Harbourfront
The Pinnacle Hotel Harbourfront is ideally located in the heart of downtown Vancouver and promises stunning views, impeccable service, and first-class cuisine. 
The suites here are modern, spacious, and incredibly comfortable with amenities like free WIFI, bottled water, LCD TV, and large windows.
If you choose to stay in the harbourfront rooms or the Coal Harbour suite, you will also wake up to glorious North Shore mountain and Coal Harbour views.
The on-site restaurant and bar P2B Bistro serves contemporary cuisine made with regionally sourced fresh ingredients.
During downtime, you can also relax at the large indoor pool which has a shallow end for kids and overlooks the stunning Vancouver harbor.
If your beloved pet is traveling with you, you can even ask for a pet-friendly room.
Stanley Park and the Vancouver Aquarium are both about 18 minutes away and the hotel is close to a lot of lively restaurants, bars, and shopping areas.
Guest Rating: 8.3
Star Rating: 5 stars
Address: 1133 West Hastings Street, V6E 3T3 Vancouver, Canada
---
Map Downtown Vancouver Hotels with Pools
With so many great Downtown Vancouver hotels to choose from, we're sure you're going to find one that works perfectly for your stay!
Personally, we vote for the Fairmont Pacific Rim for its amazing outdoor pool, stunning views, and delicious restaurants.
For indoor pools, we recommend the Rosewood Hotel Georgia, especially the Load Stanley and Rosewood Suites which have their own private plunge pools.
Also read:
If you'd like to look around some more, check out these hotels below.
Find More Vancouver Hotels with Pools
Summary