Lisbon is the colourful and exciting capital of Portugal.
This metropolis of 2.8 million is filled with unique museums, extensive parks, and tons of Portuguese restaurants.
If you're planning a trip to this sunny city, a swimming pool within your hotel is a nice bonus.
What's better than unwinding in a heated pool after a day of exploring Lisbon?
After some extensive research, we have selected 18 luxurious resorts that offer guests the comfort of a pool.
Apart from pools, you'll love the 5-star services and amenities featured at all the following hotels.
Outdoor Pools
1. Memmo Príncipe Real – Design Hotels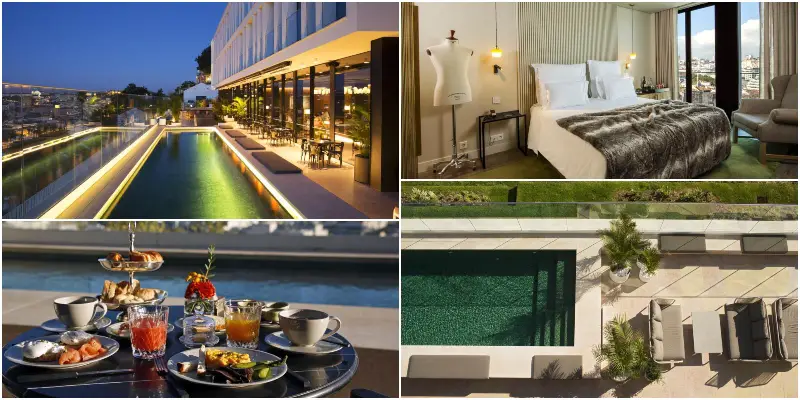 Situated in a historic district in town, Memmo Príncipe Real – Design Hotels is an oasis of luxury.
This 5-star hotel has 41 rooms that come with splendid city views and a very classy interior.
Feel spoiled in a luxury room that includes a Smart TV, and a sound system.
The daily turn-down service adds to the premium feel of this hotel.
Café Príncipe Real restaurant and bar offers a-la-carte dining, quick bites and a long list of drinks.
Right next to the restaurant, you'll find the outdoor swimming pool with panoramic views over Lisbon.
Memmo Príncipe Real also treats guests with a complimentary 1.5 hour walking tour of the neighbourhood.
Guest Rating: 9.2
Address: Rua D. Pedro V 56J, Santo Antonio, 1250-094 Lisbon, Portugal
---
2. Tivoli Avenida Liberdade Lisboa
Located along the main boulevard Avenida de Liberdade is Tivoli Avenida Liberdade Lisboa.
This extravagant property has comfy rooms with leather furniture, artworks, and timber details.
Amongst all the luxury, the spectacular pool surrounded by a tropical garden is the eye-catcher.
With two restaurants and two bars facing Lisbon's skyline, Tivoli Avenida Liberdade lets you sample Portuguese cuisine paired with epic views.
Are you up for a lazy holiday?
In-room dining service is provided with an all-day menu.
With the spa facilities, fitness centre, and sauna, you don't even want to leave this ritzy hotel.
Guest Rating: 9.1
Address: Avenida da Liberdade, 185, Santo Antonio, 1269-050 Lisbon, Portugal
---
3. Verride Palácio Santa Catarina
Located near the Tagus river, Verride Palácio Santa Catarina is an astonishing historic dwelling.
Verride Palácio Santa Catarina actually looks more like a fairytale palace, rather than a luxury hotel.
Inside, the 19 rooms all have a unique character with stunning wooden ornaments and floors.
Exquisitely presented food and city views are the most essential ingredients of the on-site restaurant Suba.
Start the day with a fresh breakfast, served at the panoramic rooftop bar.
The rooftop bar with a pool is also the perfect spot to finish a day of discovering the city.
Guest Rating: 9.0
Address: Rua de Santa Catarina 1, Misericordia, 1200-401 Lisbon, Portugal
---
4. Sheraton Lisboa Hotel & Spa
Sheraton Lisboa Hotel & Spa sits in a sky rise building in the heart of the city.
The rooms and suites are decorated with vintage furniture but have modern amenities.
Both the room and suites have a flatscreen TV, tea and coffee maker, and a spacious ensuite bathroom.
Work up a sweat in the gym, or unwind for a massage or beauty treatment at Spirito Spa.
Of course, there's also a spacious outdoor pool opened daily from 10am-6pm.
At night, you can enjoy sipping on a beer or cocktail in the elevated bar with massive windows providing spectacular views of Lisbon.
Here, on the top floor, Panoramic Restaurant also serves modern Portuguese dishes.
Guest Rating: 8.6
Address: Rua Latino Coelho, 1, Avenidas Novas, 1069-025 Lisbon, Portugal
---
Indoor Pools
5. MYRIAD by SANA Hotels
Located in a skyscraper on the shore of the Tagus river, the positioning of MYRIAD by SANA Hotels is unbeatable.
Rooms have a modern atmosphere, with minimalist design and bright colours.
Each room is equipped with a minibar, large TV, and a coffee machine to make waking up pleasant.
After exploring your modern room, plunge into the indoor pool or request for a massage.
In the River Lounge Restaurant & Bar, the vistas over the river are breathtaking.
Order from a menu of local delicacies, wines, beers, and liquors in this picture-perfect setting.
Guest Rating: 9.3
Address: Cais das Naus, lote 2 .21.01, Parque das Nações, Parque das Nacoes, 1990-173 Lisbon, Portugal
---
6. Eurostars Museum
Eurostars Museum is surrounded by the plastered houses and cobbled streets of the scenic Alfama district.
Rewarded with 5 stars, Eurostars Museum has top-notch services and facilities.
Rooms are spacious, furnished with a sofa or chairs, and include a private bathroom with a hot tub.
To kick off your day with an energy boost, sit down for a buffet breakfast in the in-house restaurant.
Feel free to dip into the indoor pool, feel rejuvenated in the hammam, or lay down for a soothing massage.
As the name suggests, this hotel is also a museum.
Exhibitions within the property and artworks on the guest rooms show the culture and history of Lisbon.
Guest Rating: 9.1
Address: 52 Rua Cais de Santarém, Santa Maria Maior, 1100-603 Lisbon, Portugal
---
7. PortoBay Liberdade
Located in a beautiful historic district sits PortoBay Liberdade.
If you're planning to pamper yourself during your holiday, this is the right address.
Pick from one of 98 rooms, ranging from classic rooms to the junior suite.
Even the cheapest rooms at PortoBay Liberdade have high-quality toiletries, a coffee machine, and a comfy bathrobe.
PortoBay Liberdade has a menu with spa treatments, a large indoor swimming pool, an outdoor hot tub and a sauna.
Fill your belly with fine food from Bistro4, or propose a toast with your travel mates in the lounge bar.
Guest Rating: 9.0
Address: Rua Rosa Araújo, 8, Santo Antonio, 1250-195 Lisbon, Portugal
---
8. The Vintage Hotel & Spa – Lisbon
The Vintage Hotel & Spa – Lisbon lies within walking distance from the Botanical Garden of Lisbon.
Combining art and modern amenities, this luxury hotel should be high on your Lisbon travel list.
Each room has unique artworks and carefully designed details, plus a coffee machine and a flatscreen TV.
Book a suite, and you won't have to pay for the well-stocked minibar.
As soon as you step outside your room, you'll bump into the spa lounge with its heated pool and other calming facilities.
It's nearly impossible to think of a better location to finish the day than the V Rooftop Bar that overlooks Lisbon.
Guest Rating: 9.0
Address: Rua Rodrigo da Fonseca, 2, Santo Antonio, 1250-191 Lisbon, Portugal
---
9. Corinthia Lisbon
Corinthia Lisbon is a 5-star resort in the north of the city.
Did you come here to bathe in luxury?
Pick the executive suite or premium suite.
These accommodations fit a TV with Chromecast, and the massive windows give you an insight into the city.
With complimentary Sky Lounge access, you can benefit from free breakfast, finger food, and drinks during the entire day.
If you don't book one of these rooms, you can still go to the spa with its heated pool, hot tub, and sauna.
Corinthia Lisbon has several restaurants, some of which are located in a lush green setting outside.
The restaurants have private cabanas to allow you to fully enjoy your friends' and family's company.
Guest Rating: 8.9
Address: Av. Columbano Bordalo Pinheiro, 105, Campolide, 1099-031 Lisbon, Portugal
---
10. Altis Grand Hotel
Altis Grand Hotel has been an iconic hotel in central Lisbon since 1973.
This hotel has 259 rooms and 15 suites, so you'll be hard-pressed to pick your holiday haven.
Rooms combine ivory and dark timber elements.
Some of the room facilities are a desk with a comfortable chair, a laptop safe, and a minibar.
The heated indoor pool is freely accessible, and on top of that, you can relax in the spa centre or work out in the gym.
Altis Grand Hotel has two restaurants, a lobby bar, and a garden bar on the roof.
The breakfast served in the hotel's restaurant includes Portuguese pastries, so you'll have a proper local food experience.
Guest Rating: 8.8
Address: Rua Castilho 11, Santo Antonio, 1269-072 Lisbon, Portugal
---
11. Dom Pedro Lisboa
Dom Pedro Lisboa is situated in the northwest of Lisbon, near the astonishing Amoreiras 360 viewing deck.
From the rooms and suites, you'll either be rewarded with park, river, or city views.
In a classic setting, you can indulge in a minibar, a widescreen TV, and an ensuite bathroom with a bathtub.
Are you travelling in larger groups or with children?
The hotel offers the opportunity to book connecting rooms.
Loosen up in the indoor pool, with a spa bath and deck chairs on the side.
Dom Pedro Lisboa can also arranges activities outside when you're ready to venture out, such as a private sailing tour and tram tour throughout the city.
Guest Rating: 8.6
Address: Av. Engenheiro Duarte Pacheco, 24, Campolide, 1070-109 Lisbon, Portugal
---
12. Four Seasons Hotel Ritz Lisbon
Few properties in Lisbon are more stylish and tastefully designed than Four Seasons Hotel Ritz Lisbon.
The moment you enter, this hotel overwhelms with vintage furniture and giant modern artworks on the walls.
All rooms, from the 42-square metre superior king to the 115-square metre grand suite, provide guests with comfy slippers and bathrobes.
Entertain yourself in your room, with the TV with DVD player, CD player, and iPod dock.
The list of services and amenities in Four Seasons is long, from the outdoor running trail to spa services and an indoor pool.
For the ladies, the hotel has a salon for your manicure and pedicure needs.
Guest Rating: 8.5
Address: Rua Rodrigo da Fonseca, 88, Avenidas Novas, 1900-123 Lisbon, Portugal
---
Indoor & Outdoor Pools
13. EPIC SANA Lisboa Hotel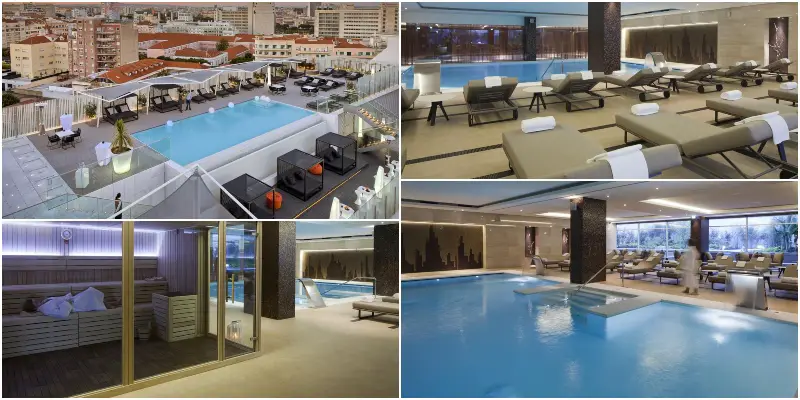 If you're looking for a hotel with pools, EPIC SANA Lisboa Hotel is the jackpot you're after.
Pick from an outdoor and indoor pool, or just take a plunge back to back.
Other than a pool paradise, EPIC SANA Lisboa Hotel houses rooms with an espresso machine and a minibar.
The deluxe suite comes with a separate bedroom and a lounge area, including a comfy couch.
Some inviting aspects of this hotel are a restaurant, two bars, and a wellness program long enough to relax during your entire stay.
Pets are welcome to stay in this 5-star property, so you can celebrate the vacation with your fluffy friends.
Guest Rating: 9.2
Address: Av. Engenheiro Duarte Pacheco, 15, Santo Antonio, 1070-100 Lisbon, Portugal
---
14. Olissippo Lapa Palace – The Leading Hotels of the World
Located in a traditional Portuguese plastered manor, Olissippo Lapa Palace Hotel has got the looks.
On the inside, this majestic dwelling has a grande interior with classical furniture and chandeliers.
Stay in a charming room that overlooks the outdoor pool, garden or the river.
Each room has a different design, but they all have a balcony and TV with DVD player in common.
Opt for a relaxing swim in the outdoor or heated indoor pool, or forget about your worries in the spa and wellness centre.
Dine under the gorgeous ceilings of Lapa Restaurant, have a bite on the poolside and order a drink in the vintage Rio Tejo Bar.
An extra pinch of luxury is the 24-hour room service.
Guest Rating: 9.2
Address: Rua do Pau de Bandeira, 4, Estrela, 1249-021 Lisbon, Portugal
---
15. Palacio do Governador
Within walking distance from the iconic Belém Tower sits Palacio do Governador.
This boutique hotel has 60 rooms, divided into generously sized rooms and suites.
Before heading out for any activity, pick from the selection of breakfast items at the buffet line.
In case you don't feel like going out Palacio do Governador has a 1200 square metre spa centre full of massage rooms.
Alternatively, dive into the 25-metre pool.
At the Spa Circuit & Gym, you'll have access to an indoor pool with two waterfalls, an ice fountain, a hammam, and plenty of other services.
When it's time to eat, head for the Ânfora restaurant or savour a drink at Occasus Bar.
Guest Rating: 9.1
Address: Rua Bartolomeu Dias, Nr. 117, Belem, 1400-030 Lisbon, Portugal
---
16. Altis Belem Hotel & Spa
Altis Belém Hotel & Spa borders the yacht harbour Doca do Bom Sucesso in the Belem district.
Rooms here have a modern atmosphere, with lots of white and black tones.
Take advantage of the minibar or coffee machine, and enjoy a drink on the balcony overlooking the Belém district.
Eat superb food in Cafetaria Mensagem and Feitoria Restaurant & Wine Bar, the latter being crowned with a Michelin star.
Live like a royal and enjoy both the indoor and outdoor pools.
Although the building only has 3 floors, the views from the rooftop lounge are quite stunning.
You can enjoy this lounge for hours if you borrow a book from the hotel's library.
Guest Rating: 9.0
Address: Doca do Bom Sucesso, Belem, 1400-038 Lisbon, Portugal
---
17. Pestana Palace Lisboa Hotel & National Monument
This deluxe hotel is situated in an old palace and national monument.
The richly decorated interior makes guests time-travel to medieval times.
Rooms are fitted with a minibar and private bathroom with free toiletries.
Whichever room you decide to stay in, most of them have a furnished balcony with garden views.
Treat both your tastebuds and eyes in "Casa do Lago" Bar & Restaurant, based in a 19th-century pavilion.
On top of culinary treats, guests get to swim in the heated indoor pool and outdoor pool encircled by greenery.
Guest Rating: 9.0
Address: Rua Jau, 54, Alcântara, 1300-314 Lisbon, Portugal
---
18. Iberostar Selection Lisboa
Iberostar Selection Lisboa is located in the business district of Lisbon.
However, inside nothing reminds of busy offices and deadlines.
Seek relaxation in the indoor or outdoor pool, raise a glass in the Pool Bar, and order another round in the elegant Boalma Lobby Bar.
In addition, room service is available 24 hours per day, in case you wish to enjoy the comforts of the room.
The rooms have a straightforward design, but present comforts like a minibar, a huge TV, and lovely views.
You'll be excited to wake up with the thought of savouring the buffet breakfast.
Guest Rating: 8.8
Address: Rua Castilho 64, Santo Antonio, 1269-109 Lisbon, Portugal
---
Map of Luxury 5-Star Lisbon Hotels with Swimming Pools
All of the above 5-star hotels in Lisbon are fantastic in their own right.
However, The Vintage Hotel & Spa – Lisbon's artsy rooms, an epic rooftop bar, and an endless list of spa facilities make it one of our favourites.
With easy metro access and the Botanical Garden of Lisbon within walking distance, it's also the perfect starting point to explore the city.
If you're still not sure where to stay, there are plenty more accommodation options with pools in Lisbon.
Find More Lisbon Hotels with Pools
Summary