Are you planning a romantic honeymoon in Bali?
Looking for the perfect resort with a private swimming pool?
Bali is a sanctuary for honeymooners with its picturesque beaches, oceanfront resorts, thriving nightlife and a vibrant artistic culture.
But with so many different scenic locations, which areas have the best resorts?
We've done some extensive research and found 23 amazing Bali honeymoon resorts with luxury private pools.
---
Jimbaran
Jimbaran is a coastal resort town in Bali where you will stumble upon long stretches of sun-kissed beaches, superb surf spots, and many seafood restaurants against a backdrop of sublime forests.
A honeymoon in this Indonesian bay presents a mix of calm seas, sunny days, tropical vibes and delicious seafood.
Add some fantastic landmarks to that mix and you have a perfect package for a couple's retreat.
Check out the open-air Kedonganan fish market and its collection of rainbow-like boats,  Dreamland Beach, Balangan Beach, Garuda Wisnu Kencana Cultural Park and Jalan Tegal Wangi.
Of course, you can't overlook the array of stunning resorts Jimbaran has to offer to honeymooners.
1. The Villas at AYANA Resort, BALI
From golden beaches and limestone cliffs to floating brunches and rejuvenating massages, it is easy to see why the Villas at AYANA Resort attracts couples from all across the globe.
Enjoy your stay at one of 78 villas that comes with a spacious private pool, a beautiful display of local artwork, massive bathrooms, and cozy living areas.
One of the highlights of your stay would be the famous Floating Brunch, an exclusive three-course breakfast served on a floating tray in your private pool.
There is a spa 'Thermes Marins Bali Spa' to revel in, several restaurants to have intimate candle-light dinners and a bar 'Rock Bar Bali' to dance the night away with your spouse.
Guest Rating: 9.3
Star Rating: 5 stars
Address: Karang Mas Estate, Jalan Karang Mas Sejahtera, Jimbaran, Bali, 80364 Jimbaran, Indonesia
2. Four Seasons Resort Bali at Jimbaran Bay
Bid farewell to the post-wedding stress at Four Seasons Resort Bali at Jimbaran Bay and start a new journey afresh.
The breezy beachfront resort strives to provide couples an authentic Balinese experience in a midst of blue seas and golden sand beaches.
Villas at Four Seasons depicts traditional Balinese architecture such as thatched roof, bricks and stone, and bamboo poles, and they overlook the beach.
Each villa has wide indoor and outdoor living areas, a verdant garden, a private pool, large balcony, and a private stone-walled courtyard with a pavilion.
From tapas and Asian-themed dinners to poolside cafes and Buddha bowls, the culinary experience at Four Seasons Resort Bali is also one of a kind.
Guest Rating: 9.2
Star Rating: 5 stars
Address: Jimbaran Bay, 80361 Jimbaran, Indonesia
3. Ahimsa Beach
Sprawling along the calm shores of Jimbaran Bay, Ahimsa Beach Resort is a 3-minute walk away from the beach and a short distance from the airport.
For couples, One-Bedroom Pool Villa is the most sought after room in the resort.
It has a modern open-plan layout and boasts a private pool, a lush tropical garden and fully equipped kitchen.
Couples have access to free Wi-Fi, a brightly lit lounge, and a separate dining area.
The resort allows couples to explore the seaside town in their own pace and have tropical adventures.
There are several restaurants, boutiques, and stores just outside the resort.
Guest Rating: 9.1
Star Rating: 5 stars
Address: Jl. Yoga Perkanti, 80361 Jimbaran, Indonesia
4. X2 Bali Breakers Resort – (Jimbaran)
After you have tied the knot, begin the new adventure in a tropical setting at X2 Bali Breakers Resort
For couples, check into a deluxe private pool villa decorated in a contemporary and tropical style.
Each luxury room is equipped with a King Koil mattress and plush bedding, a 43′ smart system TV, a spacious bathroom with a private bathtub, rain shower, along with tea and coffee making facilities.
The villas have a large private patio to bask in the balmy sun.
X2 Bali Breakers Resort has a range of culinary options that include fine and casual dining.
Guest Rating: 9.1
Star Rating: 5 stars
Address: Jalan Pantai Balangan, 80361 Jimbaran, Indonesia
---
Kuta
Known for its beaches, surf spots, rave parties and resorts, Kuta is a charming coastal village on the southern side of Bali.
It is a popular destination for honeymooners in Bali.
The waves are consistent throughout the year luring surfers from all over the world.
Kuta is also close to Seminyak, an upscale resort town; and Legion, a suburban area and beach noted for its nightlife and shopping opportunities.
Here are the best resorts in Kuta for couples.
4. The Anvaya Beach Resort Bali
The Anvaya Beach Resort Bali is a 5-star luxury beach resort located in the heart of Kuta.
Brimming with tropical charm and Balinese elegance, the resort is a haven for married couples who are finally able to escape the wedding chaos.
You can either opt for a deluxe room or a premier room.
Deluxe rooms feature designs strongly inspired by Bali Aga culture including motifs and artworks.
The rooms offer direct access to the swimming pool and include a private balcony with beach views.
Premiere rooms have unique details that are distinct to Hindu Bali culture.
They are spacious with direct access to a 1.2-metre deep lagoon pool and have a private terrace.
Guest Rating: 9.2
Star Rating: 5 stars
Address: Jalan Kartika Plaza, 80361 Kuta, Indonesia
5. The Sandi Phala Beach Resort and Ma Joly Restaurant
Calling itself exotic and romantic, the Sandi Phala lives up to its name with its ambience for an ideal couple's getaway.
They have special honeymoon services for married couples.
Book the Junior Suite and enjoy fresh breakfast or in-room service, complimentary mini bars, L'Occitane bathroom amenities and much more.
In the Deluxe Pool Suite you'll find superb Indonesian decor along with a private plunge pool.
On your romantic escapade, indulge in fine dining at Ma Joly Beach Restaurant that sits right across the beach.
Guest Rating: 8.8
Star Rating: 5 stars
Address: Jl. Wana Segara, Bali, 80361 Kuta, Indonesia
6. Mahe Garden Inn and Villas
Couples who are seeking a homely accommodation will be pleased with Mahe Garden Inn and Villas.
Surrounded by fresh blooms, tropical flora and calming greenery, the homestay is a cozy place that will connect you to nature.
Mahe Garden Inn is set close to Kuta Beach, Tuban Beach, Gusti Ngurah Rai airport as well as several stores and restaurants.
There are two kinds of luxury options in Mahe Garden; Superior Room and the Villa.
Superior rooms are appointed with a queen size bed, air-conditioner, TV, Wi-Fi and a private bathroom with a shower.
It's upper floor overlooks the gardens while the ground floor has balconies.
Villa Rooms are even more luxurious and equipped with a private plunge pool.
Guest Rating: 8.2
Address: Jalan Kubu Anyar no 8A, 80361 Kuta, Indonesia
---
Seminyak
Seminyak is an upscale beach resort area near Kuta with a wide range of lavish hotels, spas, fine dining restaurants, high-end boutiques, and savvy bars.
Couples who want to wallow in luxury amidst Balinese sultry beauty will enjoy their romantic adventure in Seminyak to the fullest.
Apart from romance, there is a chance for you to brave the waves in one of the many surf spots.
As the sun melts into the horizon, be there to witness the glorious sunset from Seminyak or Petitenget beach.
7. Villa Sammy
Villa Sammy is a budget-oriented accommodation ideal for couples who want to enjoy Bali's beauty without putting a hole in their wallet.
Located near Batu Belig Beach, the rooms include air-conditioning with a patio and free Wi-Fi.
Each villa has a fully functional kitchen that includes a microwave and a fridge, flat-screen TV, desk area and a cozy lounge.
There are private bathrooms equipped with a shower, hairdryer and free toiletries.
At Villa Sammy, there is an indoor pool where couples can relax and cool down.
You will find several popular beaches and landmarks near the villa such as Petitenget Beach, Double Six Beach and Petitenget Temple.
Ngurah Rai International Airport is also in close proximity.
Guest Rating: 9.6
Star Rating: 4 stars
Address: Jl. Lebaksari, Gang Stap No. 02, 80361 Seminyak, Indonesia
8. Annora Bali Villas
Annora Bali Villas is an exclusive resort sprawling a few meters from Seminyak Beach.
Annora combines traditional Balinese elements with contemporary details creating an ideal stay for couples.
Offering seclusion amidst tropical panoramas, the resort is a perfect choice for a romantic getaway.
Keep an eye out for their Royal Honeymoon Package that includes a stay of 3 days and 2 nights at One Bedroom Pool Villa.
The resort greets the newlyweds with a beautiful flower decoration upon their arrival, and with a cake on the second day of their stay.
Spa treatments and a romantic dinner are also included in the package.
Guest Rating: 9.5
Star Rating: 4 stars
Address: Jl. Abimanyu No. 999X, 80361 Seminyak, Indonesia
9. Uma Sapna
Reminiscent of Bali's vibrant art scene, Uma Sapna is a modern villa complex located in the heart of Seminyak.
The upscale resort has both 1-bedroom and 2-bedrooms villas; each enveloped in utmost privacy.
Your honeymoon at the tropical paradise becomes even more enjoyable when you can unwind in luxury.
Experience fine dining right in the comfort and privacy of your own villa, have deluxe spa treatments and massages, and explore the grand neighborhood and its beaches nearby.
If you are planning to stay at Uma Sapna for your honeymoon, check out their honeymoon package which is tailored specifically for newlyweds.
Guest Rating: 9.5
Star Rating: 5 stars
Address: Jl. Drupadi No. 20XX, Bali, 80361 Seminyak, Indonesia
10. The Legian Bali
The Legian Bali is perched along the Indian Ocean and is all about serenity, romance, and natural charms.
It has 67 suites and a magnificent Beach House that face the sunny shores.
Each room is attached to a private terrace that offers endless sea views.
For couples on their honeymoon, one bedroom deluxe suite is a great choice which is oozing with opulence.
It has a private balcony with unobstructed coastal vistas, a lounge, and a luxurious bathroom.
Just so you know, the resort also hosts wedding events.
In case you are interested in extending wedding celebrations or a sunset affair, check out their special offers.
Guest Rating: 9.5
Star Rating: 5 stars
Address: Jalan Kayu Aya, Bali, 80367 Seminyak, Indonesia
11. The Oberoi Beach Resort, Bali
Oberoi Beach Resort combines traditional architecture and modern conveniences.
For honeymooners on a romantic escape, this resort is no less than a mini heaven.
Oberoi Beach Resort is surrounded by lush greenery and is teeming with tropical gems.
There are several options for couples to choose from that include rooms with garden views, ocean views or a private pool.
You can experience Balinese culinary wonders at one of the on-site five-star restaurants or cafe.
Frangipani Cafe is a daytime cafe at  Seminyak Beach serving American, Continental, and Indonesian cuisines.
Kura Kura is an open-air fine dining space with exquisite meals and endless ocean views.
Guest Rating: 9.5
Star Rating: 5 stars
Address: Seminyak Beach, Jalan Kayu Aya, 80033 Seminyak, Indonesia
---
Canggu
The resort village of Canggu is noted for its stunning beaches, terraced rice paddies, temples and amazing surf spots.
It is lying on the south coast of the Indonesian island of Bali near Kuta and Seminyak.
In recent times, Canggu has become a popular hotspot among tourists but still retains its tranquility and charm.
12. Annupuri Villas Bali
Annupuri Villas Bali has air-conditioned guest rooms appointed with a flat-screen TV with satellite channels, a fridge, and coffee making facilities.
The rooms have a separate wardrobe and a private bathroom with a shower, and complimentary toiletries.
Guests also have access to a shared terrace that overlooks the beautiful sights of Canggu.
There is a restaurant, an outdoor swimming pool, a bar and garden within the resort.
As cycling is quite popular in the area, the resort also offers bike rentals to its guests.
Guest Rating: 9.5
Star Rating: 5 stars
Address: Greenlot Sambandha, 80351 Canggu, Indonesia
13. Theanna Eco Villa and Spa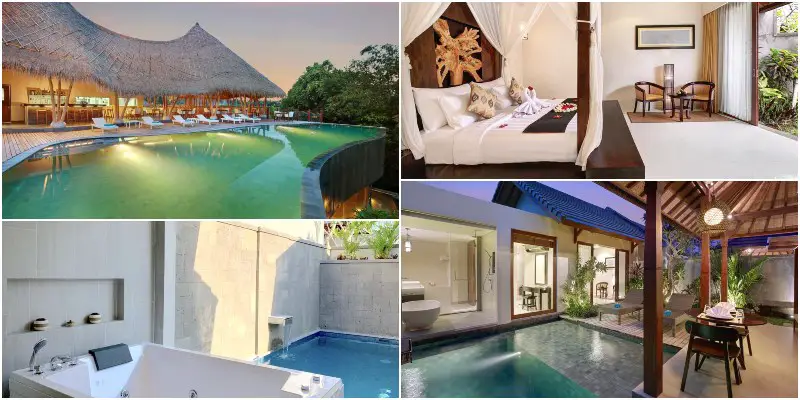 With a promise of a relaxing, beachfront honeymoon of your dreams, Theanna Eco Villa and Spa beguiles couples with its premium Bali Honeymoon Package.
The resort invites couples to stay in one of the luxury pool villas combined with several amenities and warm hospitality.
Romantic candlelight dinners, floral arrangements, and revivifying spa therapies are offered to pamper their guests.
Couples can opt for intimate spa treatments at the resort's spa.
There is a wide range of attractions near the villa complex as it is in the heart of Canggu with quick access to beaches, upscale restaurants, and ritzy bars.
Guest Rating: 9.4
Star Rating: 5 stars
Address: Jalan Pantai Batu Bolong No. 25A, 80361 Canggu, Indonesia
14. ZIN Canggu Resort & Villas
Nestled in the quaint resort village of Canggu, the ZIN Canggu Resort & Villas offer a comfortable stay with views of the beautiful Nelayan Beach.
The terrace views in particular, are absolutely breathtaking and enhanced with luxurious amenities.
Besides the Nelayan Beach, the Batu Bolong Beach and Berawa Beach are also at a close proximity from the resort.
They have a restaurant with a' la carte breakfast and an impressive selection of continental cuisines.
Kick back with some drinks at the bar and tour the lovely gardens in the area.
There is also an outdoor pool, as well as bike hire if you wish to explore the village.
Guest Rating: 9.4
Star Rating: 4 stars
Address: Jalan Nelayan No.78 , 80361 Canggu, Indonesia
15. Villa Sally
Experience the exotic beauty of Bali in extravagance and style by staying at the luxury villas of Villa Sally.
The convenient location is only a few minutes from Berawa Beach, and has a splendid backdrop of greenery and rice fields.
All villas have private pools and airy living rooms along with a full kitchen.
The modern and refined layout is loaded with all the basic and deluxe amenities to keep you comfortable and well-pampered throughout your stay.
Enjoy local treats and cuisines of Bali, and unwind with relaxing spa treatments.
It is great for a romantic retreat as you can get an intimate, private setting with natural beauty artistically blended with modern comforts.
Guest Rating: 9.4
Star Rating: 5 stars
Address: Jl. Tegal Sari, Banjar Tegal Gundul, Tibubeneng, 80361 Canggu, Indonesia
---
Ubud
The artsy and laidback town of Ubud is filled with natural beauty.
It is the perfect place to unwind, relax and connect with nature.
Go on long strolls along the lovely rice fields, pampering yourself with massages from professional masseurs and learning yoga from the pros.
The Campuhan Ridge is the most peaceful part of the town, away from civilization and traffic, making it a perfect spot to talk long walks and click memorable pictures surrounded by natural beauty.
A nearby historic temple, lovely lotus pond, monkey forest and the heavenly Tegenungan Waterfall offers a tropical oasis to guests.
16. The Kayon Jungle Resort by Pramana
The Kayon Jungle Resort gives you a chance to connect with the raw, natural beauty of Bali.
Serene landscapes and tropical climate take guests away from the mundane worries of life while renewing their spirits.
It is located in the lovely Balinese village 'Bresela' and is only a few minutes from the cultural hub of Ubud.
The spacious and chic rooms have a tasteful and minimalistic layout with LED TVs having cable access, soundproofing and free Wi-Fi along with minibars and soaking tubs.
Spend the day being pampered at the Serayu Spa with a variety of body treatments to choose from and unwind at night with the hotel's own bar 'Kepitu'.
Guest Rating: 9.6
Star Rating: 5 stars
Address: Br. Bresela, Payangan, Ubud, Gianyar, Bali, 80572 Ubud, Indonesia
17. The Kayon Resort by Pramana
Kayon Resort is located on Ubud hills side and surrounded with lush rainforest and glistening Petanu River.
The word 'Kayon' means tree of life, and the resort really follows through with the name by being in complete harmony with the surrounding natural beauty.
It's rustic touch and cultural influences are reflected in the layout and artwork of the boutique resort.
Kayon Resort's intimate and romantic ambience makes it a great place for a couple's retreat.
Enjoy the beauty of unique rooms with bamboo ceilings and stone walls, some of them having terraces and balconies overlooking magnificent views and landscapes of Ubud.
Guest Rating: 9.6
Star Rating: 5 stars
Address: Banjar Kepitu, Desa Kendran, 80571 Ubud, Indonesia
18. Purana Boutique Resort
Located in the creative village of Ubad, the Purana Ubud Boutique Resort is set close to the Ngurah Rai International Airport and the artistic centre of cultural Ubud.
Dotted with a private collection of 10 Rooms and Villas, the resort is encompassed by swaying coconut trees, salty ocean breeze and delightful views.
Here you can soak up the sun and immerse yourself in harmony and peace with your spouse.
Their one bedroom private pool villa is geared towards honeymooners.
It includes an infinity pool, a sun deck and lots of greenery to calm the eyes.
Guest Rating: 9.6
Star Rating: 4 stars
Address: Purana Boutique Resort Br. Kumbuh, Desa Mas, Ubud, 80571 Ubud, Indonesia
19. Tejaprana Bisma
Tucked in the highlands of central Bali, Tejaprana Bisma is a hidden gem of Ubud, located in the heart of the town in Jalan Bisma.
The convenient location makes all the popular attractions and natural landscapes of Ubud easily accessible from the resort.
There's the tranquil Campuhan river valley on one side and sprawling golden rice fields on the other.
This is a perfect place for nature buffs, with a serene, rustic atmosphere and layout reflected in every nook and cranny of the resort.
It's comfortable and airy rooms have TV with access to international channels, minibar, free Wi-Fi and tea/coffee makers.
Tejaprana Bisma also has a tasteful restaurant on-site offering delicious cuisines and drinks.
Guest Rating: 9.6
Star Rating: 5 stars
Address: Jalan Bisma, Ubud, Gianyar, Bali 80571, Indonesia, 80571 Ubud, Indonesia
20. Kuwarasan A Pramana Experience
This romantic getaway is located deep in the Tegallalang Village in Ubud.
Kuwarasan is a sophisticated and refined resort surrounded by thick, lush greenery of the rice fields and towering coconut trees.
The resort offers a little piece of heaven with thoughtful luxurious touch reflected in the interiors and services.
Kuwarasan has an outdoor swimming pool with lovely views, a classy restaurant and a bar.
The Monkey Forest, Saraswati Temple and International airport are all easily accessible from the resort.
Each room has flat screens with satellite TV access, a wardrobe, shower, kettle, private bathrooms and lovely garden views.
Guest Rating: 9.6
Star Rating: 5 stars
Address: Jl. Cinta, Br. Penusuan, Tegallalang Ubud, Gianyar, 80561 Ubud, Indonesia
---
Nusa Lembongan
Nusa Lembongan is a scenic island destination, adorned with long stretches of turquoise blue ocean, lined with refined hotels and resorts.
It's calm waters are great for a snorkeling adventure, surfing, diving and other water sports.
The island is worth exploring, be it the thrilling T-Rex Bay of Nusa Penida, heroic cliff jumping at Nusa Ceningan, or observing the devil's tears with exploding sprays of water.
Although there are speedboats that allow you to take day trips around the island, there are many great hotel options to stay in the midst of all the fun and beauty.
21. Svaha Private Villas Ceningan
Svaha Private Villas Ceningan is located in Le Pirate Beach, with the Sandy Beach Club being only a few minutes from the property.
Couples can enjoy a variety of outdoor amenities such as the outdoor pool, open air bath, beachfront, massages, the beautiful sun terrace, and lovely gardens.
You can also enjoy other activities such as fishing, canoeing, snorkelling, diving and a number of other water sports.
The Mahana Point Sea and Blue Lagoon Sea (with jumping cliff) are only 1km away from the resort.
All the non-smoking rooms are loaded with amenities to keep you comfortable, entertained and well-rested throughout your stay.
Guest Rating: 9.2
Star Rating: 3 stars
Address: Le Pirate Beach, Ceningan, 80771 Nusa Lembongan, Indonesia
22. Sunset Garden Nusa Lembongan
The beautiful and simple Sunset Garden of Nusa Lembongan is located in Mushroom Bay near the beach.
It is essentially a bed and breakfast with a variety of amenities such as a year-round outdoor pool and a classy lounge with bar.
The rooms have luxurious private pools and LED TVs, along with complimentary Wi-Fi and laundry facilities.
Sunset Garden also offers free transfer to Sunset Beach, Devil's Tear, Dream Beach and Mushroom Beach.
Each room has a quaint seating area to enjoy the evening tea while enjoying serene views from the balcony.
Guest Rating: 9.2
Star Rating: 4 stars
Address: Sunset Beach, Sandy Bay Beach Lembongan, 80771 Nusa Lembongan, Indonesia
---
If you are not convinced and are still on the hunt for a perfect honeymoon resort in Bali, here are some more options to consider.
Find More Honeymoon Resorts in Bali