Are you planning to travel to Japan's exciting capital Tokyo?
Tokyo is bubbling with energy, and this city of millions has awesome bars, restaurants, architecture, and entertainment on offer.
Dive into Tokyo's history at one of the ancient shrines, or ascend a blinking skyscraper for epic vistas of this massive metropolis.
If you're traveling with your family during hotter seasons, it's best to stay at a luxurious Tokyo hotel with a swimming pool.
We've done some research and uncovered the best 5-star hotels in Tokyo with pools.
Check them out!
1. The Prince Gallery Tokyo Kioicho
Based in a hypermodern high-riser, The Prince Gallery Tokyo Kioicho is the perfect example of a classy and opulent hotel.
Many of the plush rooms here overlook lush gardens and the magnificent skyline of Tokyo, but the Deluxe Premier Twin rooms are the best fit for families.
All rooms come with coffee-making facilities, airconditioning, a bathtub, and a separate lounge area where you can hang out accompanied by city views.
To keep your family well-fed, the hotel features a Japanese restaurant, a Meditteranean eatery, and a bar for the adults.
Besides a fitness center and comfy spa facilities, the hotel has a large indoor swimming pool with striking panoramic vistas over Tokyo.
Bear in mind that the gym and the spa center are accessible exclusively for guests older than 18 years.
Guest Rating: 9.3
Address: 102-8585 Tokyo-to, Chiyoda-ku, Kioicho 1-2, Japan
---
2. Imperial Hotel Tokyo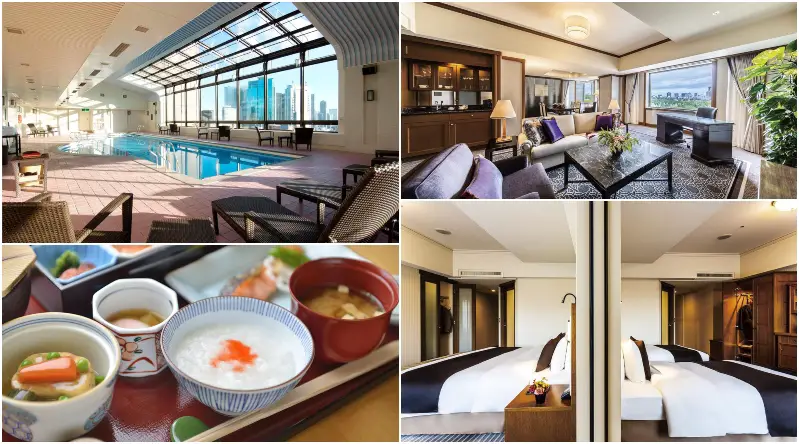 Don't let the flat building fool you from the outside; the Imperial Hotel Tokyo is an iconic establishment in Japan's capital city.
Inside, almost all that glitters is gold, as the hotel houses fancy chandeliers and elegant rooms.
You'll find all the best state-of-the-art facilities to pamper you and your family.
Book one of the Premier or Deluxe Suites, where you live like royalty, with comfy bathrobes, a private bar, and your own coffee machine.
For a relaxing afternoon with the kids, head for the lap pool, located on the 20th floor.
Other neat features of this grand hotel include tea ceremony rooms, a massage parlor, a beauty salon, and a baby room with a babysitting service.
You can eat something different during each meal of your stay; the Imperial Hotel Tokyo has 12 restaurants.
Furthermore, there are 4 bars and lounges for late-night snacks and sips.
Guest Rating: 9.2
Address: 100-8558 Tokyo-to, Chiyoda-ku Uchisaiwai-cho 1-1-1, Japan
---
3. Andaz Tokyo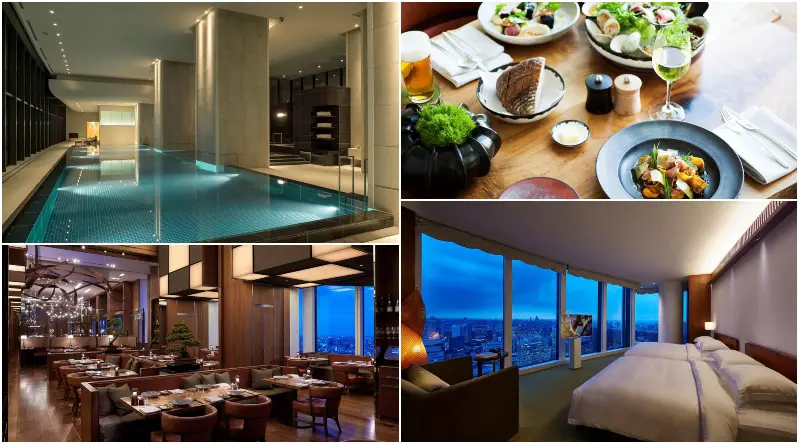 Andaz Tokyo boasts 164 guest rooms, 5 restaurants and bars, and a splendid indoor pool on the 37th floor.
Andaz Tokyo prides itself in its premium services and amenities like a pastry shop, a complimentary smartphone in each room, and a complimentary minibar.
For families, one of the 8 suites with 2 king beds is a superb option.
You get to enjoy free lounge access that includes free drinks and snacks.
On top of the latest comforts and gadgets, these elevated suites have the best views imaginable.
Feeling hungry?
Andaz Tokyo is home to a Japanese grillroom, a Western-oriented diner, a sushi bar, and the stunning rooftop bar on the 52nd floor.
At the AO Spa & Club, you can do your laps in a pool, or lay down for a rejuvenating massage.
Guest Rating: 9.2
Address: 105-0001 Tokyo-to, Minato-ku, Toranomon 1-23-4 , Japan
---
4. The Peninsula Tokyo
The Peninsula Tokyo is an extravagant hotel, located near the Imperial Palace and Hibiya Park. 
Pick the 81 square metres Executive Suite for a ritzy family getaway.
You'll enjoy a snuggly living room, a dining table for 4, and a spacious bathroom with a massive tub.
Are you traveling with smaller kids?
They'll be delighted with the Pokemon in-room amenities such as a toothbrush set and a stuffed Pikachu toy.
At the Peninsula Spa, you can get your fitness thrills, or soak in the 20-meter pool.
Otherwise, pick a facial, massage, or incense treatment from the long spa menu list.
Get seated to sample the Cantonese kitchen in Hei Fung Terrace, or nibble on exquisite dishes in Peter on the 24th floor.
Guest Rating: 9.1
Address: 100-0006 Tokyo-to, Chiyoda-ku Yurakucho 1-8-1, Japan
---
5. Park Hyatt Tokyo
Park Hyatt Tokyo is a 5-star hotel in the western part of the city.
Committed to providing guests with the ultimate views, this hotel occupies the 14 highest floors of a 52-story building.
This upscale hotel embraces guests with some amazing amenities
You'll find a library with international books, a pool complex, and a pastry and delicatessen shop.
The rooms are jam-packed with features, ranging from a bathroom with a tub and a TV, to a video-on-demand system. 
A sweet spot to hang out during your stay is the hotel's pool, where you find lounge chairs and an adjacent gym.
Culinary highlights include the grill restaurant on the top floor and the atmospheric The Peak Lounge.
Guest Rating: 9.1
Address: 163-1055 Tokyo-to, Shinjuku-ku, Nishishinjuku 3-7-1-2, Japan
---
6. Grand Prince Hotel Takanawa Hanakohro
This exclusive resort is based in south Tokyo, but it seems far away from any urbanization in certain aspects. 
Rooms and the common areas are furnished in a traditional Japanese way, with wooden floors, mats, and beams supporting the ceilings.
To make the most of your time here, reside in one of the Club Floor suites.
These rooms come with plenty of living space, a comfortable lounge for the entire family, and executive lounge access.
Outside, you can wander around the scenic Japanese gardens, which covers about 20,000 square meters. 
The hotel's unique feature is its outdoor pool, surrounded by a lounge area with reclining chairs and an adjoining bar.
Guest Rating: 9.0
Address: 

108-8612 Tokyo-to, Minatoku 3-13-1, Japan
---
7. Keio Plaza Hotel Tokyo Premier Grand
Keio Plaza Hotel Tokyo Premier Grand is based in the popular Shinjuku area, loved for its shopping and entertainment options.
If you're traveling here with a large family, the 4 bedded family room is a superb choice, as it can accommodate up to 8 people.
Otherwise, the Premier Grand Suite will cater to all your needs.
It has a comfy lounge area, a minibar with sake and Japanese whiskey, and high-quality bath amenities.
For a refreshing plunge, head for the Sky Pool on the 7th floor of the building.
Just note that this outdoor pool is only open during the summer months.
If you're after different activities, the hotel also offers a fitness center and a tea ceremony area.
Keio Plaza Hotel Tokyo Premier Grand also has a convenience store and a food boutique with sweets and pastries.
Guest Rating: 9.0
Address: 160-8330 Tokyo-to, Shinjuku-ku, Nishishinjuku 2-2-1, Japan
---
8. Conrad Tokyo
Conrad Tokyo lies in the city's very heart, within walking distance from the Tokyo Tower and the Hamarikyu Gardens.
This luxury hotel is situated on floors 28 to 37 of a high-rise building.
It offers families upscale dining options and some of the most attractive suites in Tokyo.
You can choose between elegant king rooms, executive rooms, and gorgeous bay view suites that grant you access to the Executive Lounge.
With this access, you can savor a complimentary breakfast, an afternoon tea, snacks, and cocktails in the evening.
Treat yourself to fine Japanese, Chinese, or French cuisine in one of the hotel's highly rated restaurants.
Conrad Tokyo has an indoor pool with lovely city views and lounge chairs for your comfort.
Alternatively, you can overlook Tokyo from a massage bed in the hotel's spa facility, or work out in the fitness room.
Guest Rating: 8.9
Address: 105-7337 Tokyo-to, Minato-ku, Higashi-Shinbashi 1-9-1, Japan
---
9. The Prince Sakura Tower Tokyo
If you're looking for an excellent combination of great rooms and a long list of amenities, The Prince Sakura Tower Tokyo might be the one for your family trip.
The Sakura Suite is a fabulous retreat with panoramic windows, 85 square meters of living space, a bathroom with a large soaking tub, and 2 TVs.
Many rooms in this resort overlook the Japanese garden that comes to life with vibrant blossoms during spring.
Wandering around here is a joy in any season though, as there's a forest, scenic bridges, ponds, and a temple nearby.
On the inside, you can follow your workout routine in the large gym, get refreshed in the spa, or satisfy your appetite in a Japanese or Italian restaurant. 
Guests have complimentary access to a whirlpool and sauna.
For an additional fee, you can use the outdoor pool at the nearby Grand Prince Hotel New Takanawa.
Guest Rating: 8.9
Address: 108-8612 Tokyo-to, Minato-ku, Takanawa 3-13-1, Japan
---
10. Sheraton Grande Tokyo Bay Hotel
The Sheraton Grande Tokyo Bay Hotel is located right at Tokyo Bay, close to Tokyo Disney Resort.
With over 1000 guest rooms, you'll have plenty of options for a relaxing stay during your family vacation in Tokyo.
Sheraton Grande Tokyo Bay Hotel has large family rooms.
But what's unique are their dog-friendly rooms with a dog mattress and food bowl, so no one has to be left behind at home.
This resort features both an indoor and outdoor pool, but the latter is only in use during the summer and requires an additional payment.
Have some fun with your family and hit the minigolf course, make the kids play in the TreasureIsland zone, or unwind in the spa centre.
Enjoy a buffet-style feast in the Grand Cafe, sample some Japanese specialties in the teppanyaki restaurant, or visit one of the other 3 onsite cafes.
Guest Rating: 8.4
Address: 279-0031 Tokyo-to, Maihama 1-9, Japan
---
Tokyo Family Hotels with Pools Map
Also read:
Find More Tokyo Family Hotels with Pools
FAQs
Summary