As the capital city of Thailand, millions of people visit Bangkok each year for parties and holidays. It's one of the top tourist destinations worldwide where you can get luxury at great value. However, with the hot weather and high humidity year-round, it's best to stay at hotels with private pools. We had a look at the most highly-rated hotels and found some incredible rooms. At each hotel, we'll highlight the top suites, villas, and facilities available to guests. Here's a look at the best hotels in Bangkok with direct access to a private pool.
---
1. The Siam
The Siam is a premier 5-star hotel offering a stay that compares to deluxe, exotic palaces. It is within acres of gardens alongside the river, near historical attractions. On arrival, you'll see ivory-white villas adorned with art to add a luxury vibe. The Riverside Pool Villa exudes this the most, with its marble-pillared outdoor area. In this room, you'll have your own flowing pool, luxurious tub, and views of the river that's mere meters away. This room is perfect for couples but can stretch to accommodate a group of three. Each stay at the hotel gives you access to breakfast and butler service for added luxury.
Guest Reviews: Gorgeous gardens and architecture. We enjoyed the beautiful boat to take us to the heart of the riverfront.
Star Rating: 5 star
Best Rooms: Riverside pool villa
Address: 3/2 Thanon Khao, Vachirapayabal, Dusit, Dusit, 10120 Bangkok, Thailand,10120 Bangkok
---
2. Capella Bangkok
The Capella Bangkok is a beautiful and softly furnished hotel, great for unwinding. A light wooden and beige color scheme runs through the hotel, creating a calming feel. Located off the bank of the Chao Phraya River, you're surrounded by lush green panoramic views. All the rooms are excellent here, but the best stay is at their Villa. This marbled yet soft room has a dining area, living room, private garden, and a jacuzzi plunge pool. You'll also have your private entrance to keep you away from other guests. Filled with warm hues, this is the perfect place to escape while staying in Bangkok.
Guest Reviews: Extraordinary interior design, very friendly staff, perfect rooms with beautiful views of the river.
Star Rating: 5 stars
Best Rooms: Villa
Address: 300/02 Charoenkrung Road, Yannawa, Sathorn, Bangkok 10120, Sathorn, Thailand
---
3. Park Hyatt Bangkok
A stay in Park Hyatt should be considered for its unique, high-rise views of Bangkok. You'll see the sprawling city below as you stay in rooms that rise high into the skyline. The hotel utilizes a minimalist and clean design approach, giving a modern feel to the rooms. But if you want to splash around, the presidential suite is the only room with a private pool. This is an oasis of luxury at the higher levels of the hotel. From the pool, you'll have the most panoramic views of the city. There's also a private gym and home theatre to enjoy. The bathrooms also double up as a private spa, featuring a soaking bathtub and rain shower.
Guest Reviews: Amazing location. Buffet breakfast had very tasty options. They give us a surprise for our honeymoon trip.
Star Rating: 5 stars
Best Rooms: Presidential suite
Address: Central Embassy, 88 Wireless Road, Lumpini, Pathumwan, Pathumwan 10330 Bangkok, Thailand
---
4. Rosewood Bangkok
The Rosewood is a stunning hotel with a distinctive shape among the skyline. Everything about the hotel is designed to make you feel welcome. Even the form of the hotel is inspired by the Thai gesture of greeting. There's an aquatic feel throughout the hotel, using water features to add a luxurious tone. It's a heavily marbled location, balancing tradition and modern design elements well. Only one room has a private pool and that's the top-floor Nara House. Adding to the stunning city views, this tranquil retreat uses natural light to illuminate the pool. To enhance your stay, order room service and try their unique dishes and drinks.
Guest Reviews: Super friendly staff and excellent facilities. Central location with the BTS station right outside.
Star Rating: 5 stars
Best Rooms: Nara House
Address: 1041/38 Phloen Chit Road Lumpini, Pathumwan, Pathumwan, 10330 Bangkok, Thailand
---
5. VIE Hotel Bangkok, MGallery
This 5-star hotel has a tropical feel, especially compared to other contemporary-looking options. With rooms filled with greenery, it creates a hotel with charm and active energy. The best stay is at the Penthouse Suite 1. Here you'll be able to access a jacuzzi bathtub and sundeck adjourned to a private lap pool. The interior is also nice, using more homely furnishings and design flourishes. In the hotel, you can enjoy five different restaurants, including a Piano Bar and Pool Bar. Located in the heart of Bangkok, this location blends convenience with authentic extravagance.
Guest Reviews: Short walk to Siam Discovery. Buffet breakfast was extensive and had some variety day-to-day.
Star Rating: 5 stars
Best Rooms: Penthouse 1
Address: 117/39-40 Phaya Thai, Ratchathewi, 10400 Bangkok, Thailand
---
6. Jasmine Resort Bangkok
Located next to Phra Khanong subway, Jamisn Resorts offers a great place to relax and play. There are 244 rooms in the hotel, all spacious and filled with charm. You can get suites with a balcony pool, allowing you to take in the views of Bangkok. These suites are darker with earthy tones, making them feel comfortable and grounded. In addition to the pool, you also get a dining and lounge area to enjoy too. All guests will have access to their facilities including the gym, squash court, and outdoor pool. If you want to relax, book a time at Shin Shin Spa for the best massages.
Guest Reviews: We stayed in the Pool Suite – just beautiful! Breakfast was OK, but not much variety if you stay 11 days like us.
Star Rating: 5 stars
Best Rooms: Suite with private pool
Address: Sukhumvit Road, (1511 Sukhumvit Soi 67-69) BTS Phrakhanong Wattana, Wattana, 10110 Bangkok, Thailand
---
7. Bangkok Marriott Marquis Queens Park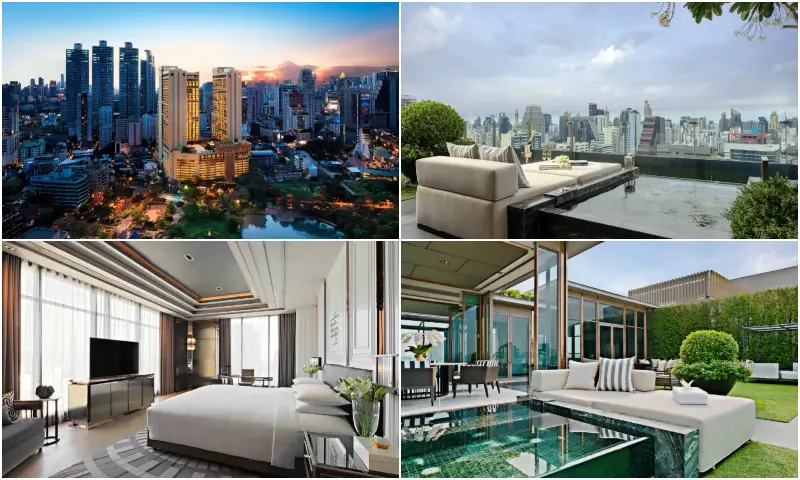 The Marriot Marquis in Queens Park is the epitome of modern luxury, sitting in the heart of Bangkok. The hotel is close to some of the best downtown attractions and has great connectivity. In the hotel, you'll be welcomed with decor that combines Thai and modern accents. This is best seen in their Sky Suite, an ample, somewhat art-deco space with a crisp design throughout. Here, you'll have access to an amazing outdoor area with a plunge pool. Ideal for big gatherings, lounge chairs are scattered around the green space overlooking the city. This 3-bedroom Presidential level suite is simply stunning! You can also dine in their award-winning Chinese, Japanese, and Thai restaurants.
Guest Reviews: Best hotel I've ever stayed in. The breakfast was unbeatable. The Staff was always helpful and friendly.
Star Rating: 5 stars
Best Rooms: Sky suite
Address: 199 Sukhumvit Soi 22, Klong Ton Klong Toey, Klong Toei, 10110 Bangkok, Thailand
---
8. SHAN Villas Sukhumvit
The SHAN villas in Sukhumvit are a relaxed, toned-down luxury that feels far more beachy. Inside, rooms are filled with straw designs and light colors resembling a seaside resort. There are multiple fantastic rooms here, but one of the best is the Villa with a private pool. All 4 bedrooms have access to the outdoor terrace pool. It's very open, airy, and light, especially during the day. One highlight is their rooftop restaurant, with its guests sitting in geometric domes. The restaurant only uses the finest ingredients, ensuring you have a fantastic meal.
Guest Reviews:  Mekha Dome was a great place to have a party. Free shuttle service to the nearest BTS was very useful. 
Star Rating: 4 stars
Best Rooms: Villa with private pool
Address: 16 Soi On Nut 18, 10250 Bangkok, Thailand
---
9. The Grand Sala Thai
The Grand Sala isn't as highly rated as some other options, but that doesn't mean it scrimps on luxury. All their rooms are divine, with a few offering private pools and luscious interiors. The furniture is soft, comfortable, and cream to help create a light environment. If you want a private pool, have a look at the Suite or Villa. These can differ in style, but both are crystal clear and secluded from onlookers. In the Suite, you'll also get an outdoor lounging area shaded by a thatched straw gazebo. The Grand Sala is not in the touristy areas though, so going to attractions may be inconvenient.
Guest Reviews: Beautiful accommodation and the pool was excellent. There's a great local night market nearby.
Star Rating: 4 stars
Best Rooms: Suite with private pool
Address: 190/12 LatPhrao 122 (Mahadthai 1)Yaek 18, Phlab Phla, Wang Thon Lang, 10310 Bangkok, Thailand
---
Best Area To Stay in Bangkok
Dusit District– This area of Bangkok is the most elegant-looking area of Bangkok. It's filled with white marble temples and authentic eateries. The Siam Hotel is a great place to stay if you want to explore the area.
Pathumwan – This is a lovely cosmopolitan area. It's fantastic for shopping and has more modern attractions. Some highly recommended hotels here include Rosewood and Park Hyatt.
Sukhumvit – This Bangkok area is renowned for its nightlife. Here you'll find rooftop bars, high-end clubs, and more party-centric locations. Capella Bangkok is the best hotel if you want to be near this area.
---
Best Time To Visit Bangkok
The best time to visit Bangkok is during its cool season when you can avoid hot, humid temperatures. The cool season is from November to February and is when you'll see many tourists. December and January are even busier with Christmas and New Year celebrations. Avoid Bangkok during the wet monsoon season, from May to October. Although this might be a good time to pick up a hotel bargain too. If you have access to a swimming pool onsite, the humidity and heat will be more bearable.
---
Best Value Bangkok Hotels with Private Pools
SHAN Villas Sukhumvit villa with private pool
Most luxury suites and villas in Bangkok are quite pricey, especially if there's a private pool. Based on past guest reviews, these hotels offer the best bang for your money: 
---
Bangkok Hotels That Allow Guests For Parties
Park Hyatt Presidential Suite
Many visitors in Bangkok will often have parties and bring back guests to their hotel to continue the fun. For additional guests, security usually checks their IDs before they allow them to enter. This is just for your own safety. Some hotels are very strict with extra guests, while others can be more understanding. If you're planning a late-night gathering, these are the best hotels to book.
Park Hyatt – The Presidential Suite here is ideal for a posh gathering. Luxurious furnishings inside and stunning views on the terrace set the mood for high-class guests. If everyone loosens up by the end of the night, you'll have your own private pool to continue the party.
Bangkok Marriott Marquis Queens Park – With unrivaled floor space to keep the party going, the Presidential Suite is one of the best options. While the suite can accommodate up to 9 guests, there's a dining table that can fit up to 16. Use your imagination and see what you can plan for a big night. 
---
Best Bangkok Pool Suites For Couples
Verandah King at Capella Bangkok
Capella Bangkok – Capella offers rooms that are perfect for couples. Their soft yet warm interior is romantic, with some of the best rooms being their private villas.
The Siam – Located right next to the river, The Siam is a perfect location for couples. The best stay is in their Riverside Pool Villa, which oozes luxury.  
---
Bangkok Hotels Map
You may also be interested in these Bangkok articles:
Find More Bangkok Hotels with Private Pools
---
Best Bangkok Pool Suites