Many dream of a Caribbean holiday, longing for powder-white beaches and tranquil seas. One of the best places to experience all this is Antigua, a tropical island in the Caribbean. This stunning landscape is filled with excellent resorts perfect for couples and families. Luxury is the focus of these resorts, offering spas, fine dining, and picture-perfect sea views from your room. But we're going to show you some villas where you can jump straight into the water. Here are all the best resorts and hotels in Antigua with private plunge pools.
---
1. Jumby Bay Island
Live your fantasy of staying on a tranquil private Island at Jumby Bay. Accessible by private yacht, the island is separated from mainland Antigua by a turquoise sea. The island has all you need for a fantastic getaway, including white-sand beaches. For the best experience, stay in the Tortuga Villa. Here, you'll have a cozy, eggshell-designed private villa with an outdoor tub and swimming pool. This villa has four bedrooms and uses open-plan living, creating a harmonious experience. With fantastic views, any room at Jumby Bay offers amazing sunsets to close out each magical day. Enrich your experience at the Jumby Bay Spa, offering treatments against dreamlike backdrops.
Guest Reviews: The Estate suite was 10 out of 10. Loved the terrace with the private pool and outdoor tub.
Star Rating: 5 stars
Best Rooms: Tortuga villa
Address: PO Box 243 West Indies, Saint John's, Antigua & Barbuda
---
2. Keyonna Beach Resort Antigua
Ideal for romantic couples, Keyonna Beach Resort is a peaceful adults-only haven. This resort is on the beachfront, giving easy access to the island's best views. On arrival, you'll instantly notice the mellow atmosphere. For a sense of home, stay at the Beachfront Sanctuary pool cottage. This private retreat offers rooms designed to make you feel like Caribbean royalty. The cottage also has an outdoor shower and a living area directly by the plunge pool. Beyond the pool, you'll have views of the sandy beach and the clearest water on the horizon. You have various options to make your stay more romantic, including private beach dinners.
Guest Reviews: The beach was unreal, the food was delicious, and our plunge pool cottage was breathtaking.
Star Rating: 4 stars
Best Rooms: Beachfront sanctuary pool cottage
Address: Turner's Beach, 00000 Saint John's, Antigua & Barbuda
---
3. Hermitage Bay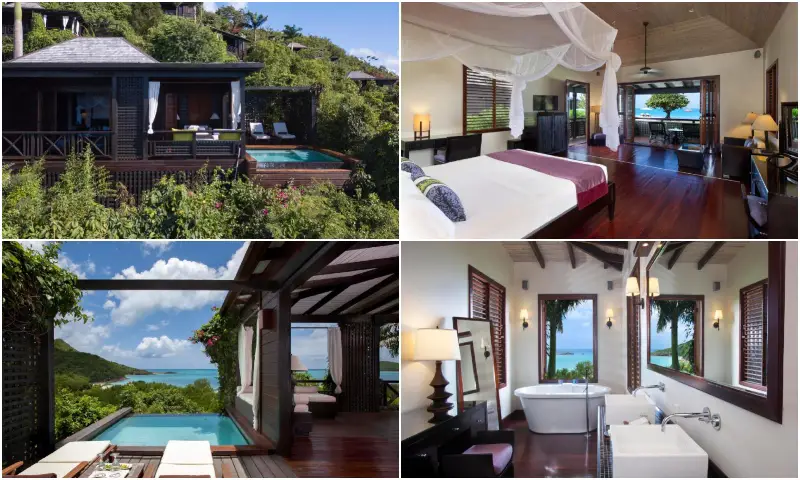 Hermitage Bay is an all-inclusive resort offering a luxury stay in the Caribbean. This retreat is found on a hillside in Antigua, boasting incredible views and secret bays. All their rooms offer private pools, but the Hillside Pool Suite remains the best choice. This villa uses dark wood and surrounding greenery to highlight your private plunge pool. You can soak up the sun on loungers or gaze at the beautiful starry nights overhead. For dining, try their authentic Antiguan dishes under the moonlight with your partner. There's also the opportunity to enjoy sport fishing or nearby championship golf courses. Hermitage Bay offers an affluent stay and is a great way to experience Antigua and the Caribbean.
Guest Reviews: The food was exceptional for an all-inclusive package. The views from our suite were fantastic.
Star Rating: 5 stars
Best Rooms: Hillside pool suite
Address: Jennings new extension, Antigua Saint John's, Antigua & Barbuda
---
4. Hammock Cove Antigua
Another exclusively-adult resort, Hammock Cove is great for couples to enjoy. The resort is next to Devil's Bridge, offering beautiful scenery in all directions. The best rooms available here are waterfront villas. These are modern, open-plan spaces decorated in Santorini-white to create a bright space. The outdoor pool area overlooks a glistening cove and includes a plunge pool to relax in. Here, you'll have an ambassador to tend to your every need, offering unrivaled luxury. There's also a Michelin-star dining experience on-site, headed by Marco Festini.
Guest Reviews: Our villa was spacious and comfortable. Loved the outdoor area and the plunge pool was a nice touch.
Star Rating: 5 stars
Best Rooms: Villa
Address: Devil's Bridge National Park, Willikies, Antigua & Barbuda
---
5. Galley Bay Resort & Spa
Galley Bay Resort sits between the best beaches in Antigua and lush tropical gardens. Adult-only, the resort is perfect for couples and newlyweds. It's glamorous but self-described as 'unpretentious', offering a more down-to-earth yet beautiful stay. The most desirable room is Gauguin Cottage. This private space is unique, with white rooms accented in pastel blue under a straw ceiling and roof. For ultimate privacy, you also have a plunge pool surrounded by palm trees and other foliage. There are three dining options, ranging from gourmet to casual. When staying at Galley Bay, you can also enjoy a spa, a local bird sanctuary, and various water sports.
Guest Reviews: Beautiful beach with lots of water sports. All-inclusive included a la carte at all restaurants.
Star Rating: 4 stars
Best Rooms: Gauguin Cottage
Address: Five Island Village, Saint John's, Antigua & Barbuda
---
6. Cocos Hotel Antigua
Cocos Hotel offers a much more rustic stay than some flashier locations. Adult-only romance is the main aim here, as you can enjoy candlelit dinners, among other things. Located off the southwestern coast of Antigua, you'll get amazing ocean views everywhere. The best rooms, being the pool cottages, have a countryside feel, thanks to exposed beams. As well as that, you also have a dark-wood decking and plunge pool, giving quick access to the beachfront. Other pool cottages are deep among palm trees, offering a memorable jungle-like stay. Although amazing on the base package, you can also get a VIP or Honeymoon experience. Here you'll get exclusive spa treatments and extra treats to help you build an amazing time.
Guest Reviews: The location is amazing with two beaches. Incredible sunsets by our private pool.
Star Rating: 4 stars
Best Rooms: Pool cottages
Address: Valley Church Beach, 0000 Bolans, Antigua & Barbuda
---
7. Escape at Nonsuch Bay Antigua
Located on Hughes Point Antigua, Escape is part of the larger Nonsuch Bay resort. It's separate from the usually family-focused retreat, offering a relaxed and adult-only getaway. The views from Esapce at Nonsuch Bay are dramatic, as their villas span a curved hillside. You can enjoy these views from their fine restaurants and public pool facilities. Although the location is far from the beach, you can get suites with private plunge pools. These are the best options since you still have natural scenery from your private pool. The suites are much more minimalist, but the bedroom has a traditional Caribbean feel.
Guest Reviews: Our room was amazing with a beautiful view and our very own plunge pool.
Star Rating: 4 stars
Best Rooms: Suite with private pool
Address: Hughes Point, St Philips, Antigua, Gaynors, Antigua & Barbuda
---
8. Cocobay Resort Antigua
Like many of the other properties in Antigua, Cocobay is adult-only. Designed around romance and relaxation, this resort has a great reputation. At Cocobay, you can stay in light and airy cottages that all offer great views of the impressive horizon. The best cottage is the deluxe option with a private plunge pool. These offer great views, a pool, hammocks, and a private balcony for you to relax and enjoy your stay. On-site, you can also enjoy a fantastic bar area, yoga, and nature walks into the nearby landscape. Everything about Cocobay is about comfort, romance, and convenience.
Guest Reviews: This resort is a must-stay. The deluxe pool cottage with ocean views is the best.
Star Rating: 4 stars
Best Rooms: Deluxe cottage with private pool
Address: Valley Church, 1427 Johnsons Point, Antigua & Barbuda
---
9. Tamarind Hills
Located off the southwest coast of Antigua on a waterfront bluff, Tamarind Hills is in a great spot. It's surrounded by amazing beaches and is easy to get to, being 30 minutes from the main airport. The deluxe room here is the Oceanfront O5, which offers four bedrooms for a group stay. This room has bedrooms that open to an infinity plunge pool and overlooks crystal waters. All the rooms have a modern Caribbean decor, giving the suites a classy yet rooted touch. On-site, you can enjoy a beach club and bar, where you can dine and drink among your fellow guests. There are also wellness treatments available, including pilates and an open gym.
Guest Reviews: Our villa and the beach were amazing. Loved the plunge pool and the beautiful sunsets.
Star Rating: 4 stars
Best Rooms: Oceanfront four bedrooms O5
Address: Saint Mary's, Bolans, Antigua & Barbuda
---
10. Sandals Grande Antigua
Sandals Grande offers everything you could ever want in a resort. With unlimited fine dining and swim-up bars, it's a holidayer's dream. The options are endless here, as you can try snorkeling and other water sports or unwind with a game of tennis. For the best stay, opt for their Caribbean honeymoon butler rondoval. You'll have a private area with a poolside bedroom hut, hot tubs, and outdoor dining spaces. Secluded, this place is extremely romantic under stars and candlelight. This is backed up by the fact that Sandals Grande has been awarded the most romantic resort year after year. It's the top destination for couples and is a place you should definitely consider.
Guest Reviews: The boat trips for snorkeling over the reefs were great! More food options would have been good.
Star Rating: 5 stars
Best Rooms: Caribbean honeymoon butler rondoval with private pool
Address: Dickenson Bay Street, Saint John's, Antigua & Barbuda
---
11. Royalton Antigua, An Autograph Collection

For the perfect family holiday, Royalton Antigua is a great option. Allowing guests of all ages, this hotel offers everything for a perfect stay. Adults can enjoy bars and casino areas, whereas clubs can entertain younger guests. The Chairman overwater bungalows are the suites that offer the best experience. Here you'll get spacious, light wooden rooms leading to a stunning decking area. Outside, you can take in views from your infinity plunge pool or climb down directly into the ocean below. At Royalton, be prepared for their weekly signature White Party. This is where guests dress in all white to gather for a memorable night of fun.
Guest Reviews: The beach was beautiful. Because it wasn't crowded, they upgraded us to a private pool.
Star Rating: 5 stars
Best Rooms: Chairman overwater bungalows
Address: Five Islands, Deep – Bay Saint John, Antigua, Five Islands Village, Antigua & Barbuda
---
Best Time to Visit Antigua
The best time to visit Antigua is between mid-December and mid-April. This is when the weather is dry and sunny with temperatures averaging around 80°F (27°C). It's also peak tourist season, so expect higher rates for hotel suites with private pools. Beaches will be extra crowded too. If you're looking for a quieter and more affordable time to visit, May to November is better. The weather is still pleasant, and you'll find better deals on accommodations.
---
Best Luxury Resort in Antigua
Hammock Cove is the most modern and best 5-star resort on the island. It has one of the highest guest ratings and offers the most magical rooms that open up to an amazing poolside area. On top of the dramatic views, you'll have a personal ambassador for each suite. Their onsite dining and facilities are just as luxurious with a standout Michelin-star restaurant. Hammock Cove is in a fantastic location and impresses in every category. Just keep in mind, that it's an adults-only resort.
---
Best All-Inclusive Resort in Antigua
Hermitage Bay is the stand-out all-inclusive resort in Antigua. In their all-inclusive package, they cover three amazing meals a day from their a la carte menus and as many snacks as you want. Activities like snorkeling, windsurfing, and paddle boarding are also offered at no extra charge. Plus, unlike many other all-inclusive options, Hermitage Bay includes all soft drinks and premium alcohol. Boasting private beaches and various activities, there are plenty of things to do during your stay.
---
Best Antigua Resort With Private Pools For Families
Jumby Bay Island – Huge range of suits and villas that cater to small and big families. More importantly, they all have private pools. If you have young kids, head to Camp Jumby Pavilion for games. There's also a turtle program to release hatchlings back into the wild. Babysitting services are available too for parents who need some alone time.
Tamarind Hills –

Book a whole house for your family at this resort. They have 2-4 bedroom options, catering to all groups. With a private pool in every house, it's one of the best places for family gatherings. 
---
Best Antigua Resort With Private Pools For Couples
Keyonna Beach Resort Antigua – Choose between the Beachfront Sanctuary Pool Cottage or Garden Pool Cottage. This is an all-inclusive resort and highly rated by past guests. It's an incredible location and you'll be just steps from the beach.
Sandals Grande Antigua – This resort is specially designed for couples only. They have the most private honeymoon suites, all with private pools. The Mediterranean One Bedroom Butler Villa Suite is a great option since it has a hot tub as well. Having said that, all their Honeymoon suites are well set up for romantic stays. 
---
Antigua & Barbuda Resorts Map
Find More Resorts in Antigua & Barbuda
---
Best Antigua Pool Rooms