The Amalfi Coast is famous for its sheer cliffs, scenic coastline, and small beaches.
But if you want to go for a swim, there's no better place than a private pool at your hotel.
Along the Amalfi Coast, you'll find spa hotels, 5-star suites, and hotels by the beach.
We'll show you the best rooms with private pools – many are on the balcony with spectacular ocean views.
So before you book, be sure to check our list of the best Amalfi Coast hotels with private pools.
1. Villa Magia
Villa Maggia is a 5-star boutique hotel in the cliffside village of Positano.
Located in Punta Reginella, it's close to the village's shops, bars, and restaurants.
If you want a suite overlooking the sea, book the Suite with private pool.
Inside, there are two separate bedrooms, enough space for four adults.
Outside, you'll have a large private pool on a furnished deck with spectacular views of the sea.
After a day in the sun, relax with a cocktail or glass of wine at Luna Cocktail & Tapas Bar.
Set on the main terrace, they offer delicious tapas and views of Positano's beaches.
Enjoy some me-time at the Bouganvillea outdoor spa and wellness area.
Guests can choose a massage, spa treatment, Turkish bath, or the oxygen therapy pool.
Guest Rating: 9.6
Star Rating: 5 stars
Best Rooms: Suite with private pool
Address: Via San Giovanni 19, 84017 Positano, Italy
---
2. Hotel Santa Caterina
Hotel Santa Caterina is a 5-star hotel set on a cliff overlooking the Amalfi Coast.
For a memorable holiday, they have 2 special suites designed for honeymoons.
Both have swimming pools on the private terrace with panoramic views of the Amalfi Coast.
Ask for the Follia Amalfitana suite and you'll have the additional Jacuzzi to relax in.
For something more, head to the beach club via the cliffside glass elevators.
Swim in the seawater pool, relax on the beach, or enjoy grilled seafood at Al Mare.
For an intimate dinner, Glicine serves a Mediterranean menu overlooking Amalfi Bay.
Or, relax with one of the Spa's special lemon massages or any of their body treatments.
Guest Rating: 9.5
Star Rating: 5 stars
Best Rooms: Honeymoon suites
Address: S.S. Amalfitana, 9, 84011 Amalfi, Italy
---
3. Villa Fiorentino
Villa Fiorentino sits in one of Positano's most scenic areas, overlooking Amalfi Bay.
For unique accommodation, book the Luxury suite with a private pool.
The large furnished terrace with an infinity pool and al fresco dining is perfect for those summer months.
Inside, is a spacious living area, including a luxury bath with a whirlpool tub and a massage shower.
An external staircase from the suite leads to the resort's Positano Rooftop.
Here, guests can swim in two infinity pools or relax with a cocktail from Infinity Bar.
It's even available for private cocktails and romantic candle-light dinners for two.
For a private couple's getaway, book an hour at the spa's mirror-glass pool and jacuzzi.
Guest Rating: 9.5
Star Rating: 4 stars
Best Rooms: Luxury suite with private pool
Address: Via Guglielmo Marconi 150, 84017 Positano, Italy
---
4. Palazzo Avino
Palazzo Avino, one of Italy's finest 5-star hotels, is located in historic Ravello.
For the best suites with private pools, we recommend the Belvedere or Infinito suites.
Both feature spacious terraces with either private infinity or hydro pools.
There's even space for dining so you can enjoy the amazing views of the Amalfi Coast.
Infinito is a bit larger with a jacuzzi and a large separate shower in the master bath.
For award-winning authentic Italian dining, dinner at Rossellini's is a must.
Terraza Belvedere is more casual, serving fresh pasta and the area's best martinis.
Located next to the pool, the full-service spa is the place to relax.
There are massage and treatment cabins, a sauna, a hydro pool, and a Turkish bath.
Guest Rating: 9.5
Star Rating: 5 stars
Best Rooms: Suites
Address: Via San Giovanni del Toro 28, 84010 Ravello, Italy
---
5. Borgo Santandrea
Borgo Santandrea is a 5-star hotel overlooking the village of Conca dei Marini.
For the most luxurious presidential stay, book the Premium pool suites.
It's pure indulgence with handmade ceramic tile floors and a luxurious marble bath.
Outside is a furnished terrace overlooking the sea and a private infinity pool.
It's the ideal spot to spend a lazy afternoon or a romantic evening taking in the view.
During the day, head down to their private beach for more relaxation.
It's accessible by elevator and features a bar, a seafood restaurant, and plenty of lounge chairs.
Other dining options include gourmet Italian at La Libreria and regional dishes at Alici.
For a sea view retreat, the Spa offers a range of treatments, a sauna, and a special couples suite.
Guest Rating: 9.5
Star Rating: 5 stars
Best Rooms: Premium pool (Presidential suite)
Address: Augustariccio 33, 84011 Amalfi, Italy
---
6. Hotel Marincanto
Hotel Marincanto is situated in la Sponda overlooking the city of Positano and the sea.
It's surrounded by some of Positano's most popular restaurants and shopping areas.
If you're looking for something special, book one of the suites with private pool.
These suites are one-of-a-kind with tile floors, upscale furnishings, and large bathrooms.
You'll love the panoramic views from the outdoor terrace and the indoor jacuzzi pool.
The Marincanto is the only hotel in Positano with a private beach reserved for guests.
Reached by a private stairway, you'll find sunbeds, showers, and bar service.
Besides the beach, you can cool off in the infinity pool and enjoy panoramic views of the bay.
Whenever you're hungry, Terrazza offers local dishes and cocktails to go with the spectacular views.
Guest Rating: 9.0
Star Rating: 4 stars
Best Rooms: Suite with private pool
Address: Via Cristoforo Colombo 50, 84017 Positano, Italy
---
7. Relais Paradiso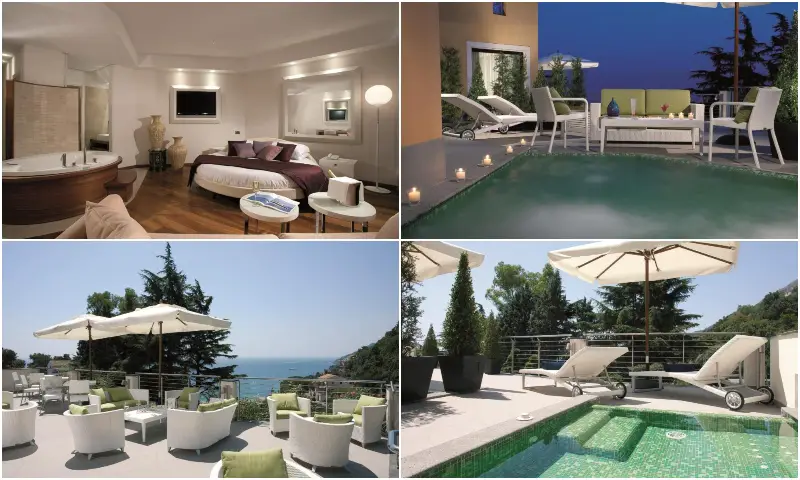 Relais Paradiso is a 5-star luxury hotel in Marina di Vietri.
Located away from the larger towns, it's ideal for an intimate getaway.
For couples, we recommend the Exclusive suite.
Luxurious and romantic, you'll have a large circular king bed plus a private whirlpool bath next to it.
On the terrace, there's a private pool, dining, and recliners to enjoy the sun.
You can easily spend the whole afternoon here with your partner.
For dining, enjoy an intimate lunch or dinner at the hotel's Executive Lounge restaurant.
You'll experience great service, a relaxed atmosphere, and delicious Mediterranean cuisine.
Guest Rating: 8.6
Star Rating: 5 stars
Best Rooms: Exclusive suite
Address: Via Nuova Riato 10, 84019 Vietri, Italy
---
8. Covo Dei Saraceni
Covo Dei Saraceni is a popular 5-star beachfront hotel in Positano.
For an unforgettable experience, book the Suite with terrace.
It's the hotel's largest suite, with two double beds, ceramic tile floors, and marble bathrooms.
Outside is the largest terrace on Amalfi Bay, offering guests the best sea views in Positano.
There's a private pool, a spacious outdoor living room, and an extra shower.
If you prefer the beach, Positano beach is just a short walk from the hotel.
Or, you might want to cool off at one of the hotel's outdoor pools with a cocktail in hand.
After a day in the sun, try one of Covo Dei Saraceni's bars or restaurants.
The Brasserie has the best pizza in Positano, while Covo offers delicious local dishes.
Guest Rating: 8.6
Star Rating: 5 star
Best Rooms: Suite with terrace
Address: Via Regina Giovanna 5, 84017 Positano, Italy
---
Amalfi Coast Hotels Map
Find More Amalfi Coast Hotels with Private Pools
---
FAQs
Summary