A scenic Caribbean island, Barbados is home to beautiful beaches, crystal clear waters, and abundant wildlife. It's a tourist destination perfect for family vacations, romantic celebrations, and reunions. Besides the island's natural beauty, it hosts several luxurious resorts with all-inclusive packages. We'll highlight resorts with easy access to beaches, spas, and other exclusive amenities. In Barbados, there is always a well-appointed suite available for all types of guests. Here are the best all-inclusive resorts in Barbados.
---
1. O2 Beach Club & Spa 
Located a few minutes away from Dover Beach, O2 Beach Club & Spa is a 5-star luxury resort. Premium features include a cozy sun terrace with whirlpool tubs, 3 pools, and a 24-hour gym. Adding to its elegance are complimentary how-to classes and unlimited golfing at Barbados Beach Club. Staying true to its 5-star rating, it also features 5 luxurious onsite restaurants facing the Caribbean Sea. And for a self-pampering time, the Acqua Spa offers spa treatments to keep you relaxed and rejuvenated. The all-inclusive experience is available with a minimum stay of 4 nights. For families, the oceanfront Two-Bedroom Suite is the best choice. While couples may find their One-bedroom suites more intimate.
Guest Reviews: Great location by the beach. Excellent food choices and branded drinks were included. The spa was 10/10.
Star Rating: 5 stars
Best Rooms: Two-bedroom suite
Address: Dover Beach Christ Church, Saint Lawrence BB 15028, Christ Church, Barbados
---
2. Waves Hotel and Spa by Elegant Hotels 
Waves Hotel and Spa is a luxurious resort set along the beautiful Fitts Village Beach. It's an all-inclusive property that offers a variety of physical and wellness activities. Besides that, it boasts 2 swimming pools, a fitness center, and a spa with a sauna and steam room.  Elegantly prepared food and drinks are available at Seascape, Shiso, and Kýma. Choose from 70 eco-chic rooms and suites with modern amenities and Zen-like interiors. All rooms also have a patio or a balcony where guests can enjoy views of the ocean or the lush greenery.  The Pool View Spa, 1 Bedroom Suite is most recommended for couples on a honeymoon. It has a king bedroom, a separate living area with a pull-out sofa, and a balcony overlooking the pool.
Guest Reviews: Our room had an incredible ocean view. We loved the pool and beach, plus access to the watersports was free.
Star Rating: 4 stars
Best Rooms: Pool view spa, 1 bedroom suite
Address: Prospect Bay, BB23000 Saint James, Barbados
---
3. Sea Breeze Beach House 
Blue and white hues welcome guests as they enter the beautiful Sea Breeze Beach House. Guests can enjoy unlimited exquisite dining, drinks, and golfing on an 18-hole golf course. Experience world-class dining at 6 restaurants and 5 bars, including Mahogany Lounge and Cerulean. With a kids' club and a teen lounge, this resort is perfect for families on a Caribbean getaway. It's also a luxury haven that features 3 swimming pools, a 24-hour gym, and a floating sundeck. All rooms have private balconies so you'll have stunning ocean views. There's also a Four-bedroom family suite for large groups. Complete with modern amenities, it has a living area with 2 sofa beds and an ensuite bathroom with a rainfall shower.
Guest Reviews: Our suite was comfortable with a great view. The dinners were lovely and the entertainment was outstanding.
Star Rating: 4 stars
Best Rooms: Luxury four bedrooms family suite
Address: Maxwell Coast Road, 00000 Christ Church, Barbados
---
4. Sugar Bay Barbados 
Contemporary, colorful, and calm – these make Sugar Bay Barbados a charming resort. With direct access to the beach, guests have all the time to bathe under the sun. Onsite restaurants and bars like the Reef Restaurant and Umi offer sumptuous Caribbean and Asian cuisines.  This resort features 2 swimming pools, a well-equipped gym, a spa, and a salon. It also has a games room, a kids' club, and various water sports activities for families. Guest rooms and suites look sophisticated, all configured with relaxing and inviting interiors. For small groups, check out the Family suite with a furnished balcony. It features a king bed, a living room with a sofa bed, and a luxurious ensuite bathroom.
Guest Reviews: The all-inclusive was the best. Excellent food choices and all kinds of drinks were available in the resort's bars.
Star Rating: 4 stars
Best Rooms: Family suite
Address: Garrison Historic Area, BB15156 Bridgetown, Barbados
---
5. Turtle Beach by Elegant Hotels 
Bask in the sun while mesmerizing at the beauty of white sand beaches at Turtle Beach by Elegant Hotels. An all-inclusive resort, it offers a variety of activities for all guests to experience and enjoy. From non-motorized water sports, fitness classes, and island tours to unlimited golfing, this hotel has it all. It's also family-friendly with 2 swimming pools, as well as a children's splash pool and a kids' club. Well-prepared dishes and cocktails are served at Chelonia, Asiago's, and Sand Trap Restaurant. Spacious suites with calming interiors, high-quality amenities, and stunning views will welcome you. For the most comfortable stay, choose the 1 Bedroom Suite. It has a king bedroom, a spacious living area, and a private balcony overlooking the garden or the pool.
Guest Reviews: Great location, we had direct beach access, and we enjoyed all the watersports. The Italian restaurant was excellent.
Star Rating: 4 stars
Best Rooms: 1 Bedroom suite
Address: Dover, Maxwell Christ Church, Barbados, BB17154 Christ Church, Barbados
---
6. Crystal Cove by Elegant Hotels 
Boasting an elegantly landscaped waterfall pool, Crystal Cove is a boutique hotel with easy beach access. Its all-inclusive experience includes access to water sports, fitness services, and customized tours. World-class buffet-style and a la carte menus are available at Reflections and Drifters Beach Bar & Restaurant. It has 3 onsite bars, including The Cave Bar, which is accessed by swimming through the waterfalls. Other features of the resort are a fitness center, a kids' club, and a beachside lounge area. The relaxing and charming vibes are also evident in its furnished, island-themed guest rooms. The spacious and well-appointed 1 Bedroom Suite is most suitable for families.  With a private balcony, you'll love the breathtaking ocean views.
Guest Reviews: Our suite was very comfortable. The beach was nice with a variety of water sports.
Star Rating: 4 stars
Best Rooms: 1 Bedroom suite
Address: St James, BB24007 Saint James, Barbados
---
7. Treasure Beach by Elegant Hotels 
Situated near Paynes Bay Beach, Treasure Beach is an idyllic, adults-only boutique hotel. With a complimentary water taxi, guests enjoy hassle-free transportation to their romantic hideaway. This 5-star resort is designed like an art gallery, displaying local art pieces all over the place. It even has an outdoor deck where guests can create their own works of art. All 35 1-Bedroom Suites are ideally designed for couples on a romantic getaway. As you walk inside, you'll be pleasantly surprised by its bright interiors. Each suite has a private balcony or patio, while some suites also have a private plunge pool. For an intimate dinner date, head to Tapestry Restaurant, Batik Bar, or the Wine Cellar.
Guest Reviews: We had a lovely room overlooking the beach. The food was good and the cocktails were well made.
Star Rating: 5 stars
Best Rooms: 1 Bedroom suites
Address: Paynes Bay, BB24009 Saint James, Barbados
---
8. Sandals Barbados 
Exuding a classy charm, Sandals Barbados is a 5-star resort on Dover Beach. It's an all-inclusive adults-only hotel with a free shuttle service. This 5-star resort boasts a 4-lane bowling alley, 6 whirlpools, and 11 pools, including a rooftop pool. Train at the modern fitness center and avail yourself of any of the spa treatments at Red Lane Spa. Indulge in a variety of local and international cuisines and drinks at 11 onsite restaurants and 14 bars. With day and night live entertainment shows, your stay in this resort is never boring. Choose from suites with swim-up rooms or soaking tubs right on the balcony. Sandals Barbados is certainly one of the best places to stay for couples.
Guest Reviews: We had a nice suite with a great view. We enjoyed the beach, plus the swim-up and rooftop bars were so much fun.
Star Rating: 5 stars
Best Rooms: One-bedroom butler suites
Address: Dover Crescent, BB00000 Christ Church, Barbados
---
9. Sandals Royal Barbados 
The award-winning Sandals Royal Barbados is the more sophisticated version of Sandals Barbados. Opulence is at its core with Rolly-Royce private transfers and roundtrip airport transfers. It's a 5-star, adults-only, all-suite resort with similar features to its sister hotel. The Penthouse 1-Bedroom Oceanview Butler Suite is the finest suite with more updated furnishings. It has a furnished balcony and an elegant bathroom with a soaking tub. Guests have access to the same swimming pools, fitness center, and Red Lane Spa. But it has a glass-edge pool and is recognized for having the first rooftop pool. There are 10 restaurants within the resort, serving fancy local, American, and Asian cuisines.
Guest Reviews: The resort was amazing. The beach is gorgeous, the food was good, and the cocktails were top-shelf.
Star Rating: 5 stars
Best Rooms: Penthouse one-bedroom oceanview butler suite
Address: St Lawrence Gap SN, BB00000 Christ Church, Barbados
---
10. The Club Barbados
Set right on Sandy Lane Beach, The Club Barbados is an all-inclusive luxury retreat. A resort exclusive to adults, it's a perfect getaway for reunions and gatherings. It's also a romantic place for weddings, honeymoons, anniversaries, and other intimate occasions. Some of its features are 3 swimming pools, a gym, and a wide range of activities for guests to enjoy. Food and drinks are available at Sunset Restaurant, Enid's Restaurant, and 5 bars. For some pampering, the Tranquility Body & Soul Spa offers a variety of spa and salon services. To complete your stay, book a garden view or an oceanfront view 1-Bedroom Suite. Relax in the large bedroom or the living area and enjoy sweeping views on the private balcony.
Guest Reviews: Our suite was comfortable and it was a short walk to the beach. Nice swimming pools and free watersports.
Star Rating: 3 stars
Best Rooms: One bedroom suite
Address: Vauxhall, Holetown, 33442 Saint James, Barbados
---
Best Areas to Stay in Barbados
Christ Church – Within easy reach of the airport, this area of Barbados is perfect for family vacations. Famous for its restaurant scene, make St. Lawrence Gap your first stop here. If you stay here, O2 Beach Club & Spa is in a great location. Alternatively, check out Sandals Royal Barbados for some of the best onsite dining.
Saint James – This part of the island, brimming with luxury hotels, caters to a more elite clientele. Experience an island paradise at Treasure Beach or wellness in Waves Hotel & Spa. Lancaster Great House will be your ultimate date spot for live music here.
Bridgetown – As the capital, Bridgetown is the cultural hub of Barbados. Be sure to also visit Garrison Savannah, a historic racecourse. Don't miss out on the turquoise waters of Carlisle Bay, either. Sugar Bay's serene ambiance is a definite favorite here too.
---
Best Things To Do In Barbados
Catamaran & Snorkeling Cruises  – Seize the chance and take catamaran cruises along the beautiful coast of Barbados. Meals, gear, as well as hotel transfers are included. Tiami Catamaran Cruises is one of the most budget-friendly options available here. Pay a bit more and enjoy cruises in a small group by Silver Moon too.
Harbour Lights Beach Extravaganza – Beach by day and club by night, Harbour Lights is your ultimate destination for fun times. Yet, the dinner shows are what set this venue apart. Live music, fire eaters, and tasty Bajan BBQ get you in the mood for an unforgettable night out on the beach.
Holetown – The site of the first British landing in Barbados is on every history buff's radar. You will find a famous monument, many shopping malls, and active nightlife here. For couples, a sunset meal at Tides is a must. Arrive in mid-February, in time to attend the ever-colorful Holetown Festival.
Beaches – The sandy beaches are Barbados' main source of allure for travelers. Live out your Caribbean beach fantasies in Paynes Bay Beach. When you are in the mood for some celebrity watching, hit up Sandy Lane Beach. We also encourage staying at one of the many beachfront resorts on the South Coast.
Oistins Bay Gardens Fish Fry – There is no better place for foodies to be on Friday evenings than here. Watch your fish grilled on the spot, then find a seating suitable for your delicious meal. Music will guarantee that you dine in a lively atmosphere. To avoid long lines at the vendors, arrive before eight o'clock.
---
Best Time To Visit Barbados
Barbados with its stunning beaches and warm climate is a popular year-round destination. However, certain times of the year offer advantages for travelers seeking the best experience. Whether you're looking for sunny days, smaller crowds, or lower rates, choosing the best time to visit can make a difference.
High Season (December to April) – This is the peak tourist season in Barbados when the weather is warm and dry. It's ideal for beach activities and watersports. But, it's the busiest time, so expect bigger crowds and higher rates at resorts.
Shoulder Seasons (May to June, November) – These months mark the shoulder season in Barbados, and you can enjoy outdoor activities without the crowds. It's still warm, the humidity is low, and there's a lower chance of rain. It's ideal for enjoying the beach, snorkeling, and scuba diving.
Low Season (July to October) – This is the low season in Barbados due to the increased chance of rain and hurricanes. However, the rain showers are brief, and you can still enjoy sunny days. There are lower room rates and fewer crowds, so it's ideal for budget travelers looking for quiet time.
Consider Weekday Stays – If you prefer a quieter experience and fewer crowds, plan to visit Barbados on a weekday. The beaches and attractions are less crowded. The popular tourist spots have shorter lines and wait times too.
---
How To Get Around Barbados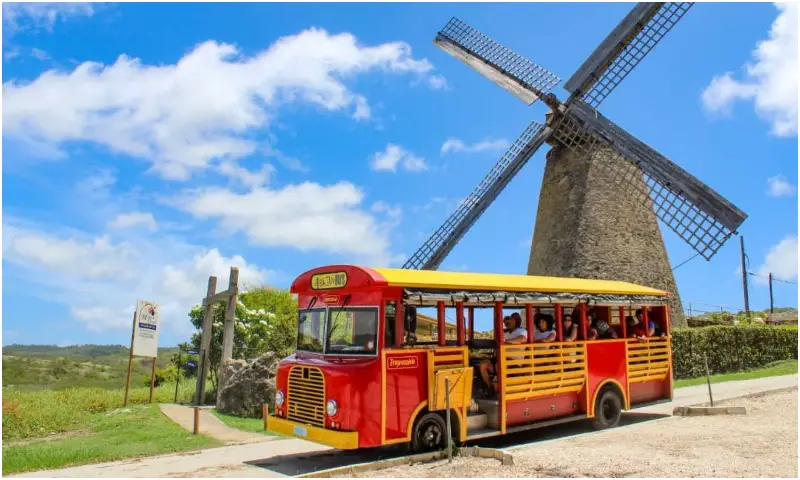 ---
Best All-Inclusive Barbados Resorts For Families
Sea Breeze Beach House – Families often book this Barbados hotel due to its spacious bedrooms and private outdoor spaces. Yet, where this hotel shows off comes after checking out. As you wait for your flight, they still let you use hotel amenities and even provide a suite for kid's naps.
Sugar Bay Barbados – Incredible service and plenty of beach shenanigans await families in this location. Children of all ages will have an activity suitable to their taste here. Also, select one of the oceanfront Family Suites and revel in endless swims and sunsets.
Turtle Beach by Elegant Hotels – Establish a base at this hotel to be at the heart of the action. You will love the shopping sprees to St. Lawrence Gap and playing by the pools. The hotel also has a Dine Around program. This allows you to visit nearby sister facilities so you can sample diverse cuisines for every meal.
---
Best All-Inclusive Barbados Resorts For Couples
Treasure Beach by Elegant Hotels – Overlooking gorgeous Paynes Bay, couples are always in good hands here. Creative date ideas onsite include arts and mixology classes. The most sort after room is the Luxury Ocean View Suite. You have your own private on-balcony pool, a great spot to wind down for couples.
Sandals Barbados – Capitalizing on its location, the hotel spoils guests with the loveliest beaches and pools. This is also a couples-only hotel so there won't be noisy kids running around. If you book at least three nights, they will even arrange a free wedding for you! 
Sandals Royal Barbados – Give your romantic getaway a luxury touch and reserve a beachfront or swim-up suite here. Our favorite is the Royal Seaside Penthouse, with its ocean view and fancy bathroom. The gourmet onsite restaurants and rooftop pool are just the cherries on top.
---
Barbados Resorts Map
---
Summary