Known as 'The Beverly Hills of Mexico', Polanco is the richest neighborhood in the city.
It's peppered with designer shops, upscale restaurants, and among it all, some of the most luxurious hotels.
There are also some fabulous green spaces and a mixture of both modern and classic architecture.
Below, we've rounded up the best 5-star hotels in Polanco.
We'll show you the top properties with spas and swimming pools.
There are even rooms with balconies so you can enjoy the views.
These luxury hotels are in the best location, so you can get out and enjoy the stylish area.
1. Las Alcobas, a Luxury Collection Hotel
Looking for a 5-star boutique retreat?
The Las Alcobas will not disappoint.
This was once a private residence that has been converted into a collection of intimate alcoves.
Rooms are beautifully designed with modern concepts by renowned designer Yabu Pushelberg.
The property boasts an exquisite restaurant run by award-winning chefs.
We also recommend a visit to their spa.
Here, treatments use ancient techniques and traditional ingredients – make sure you try the Mayan Healing Ritual.
Guest Rating: 9.6

Star Rating: 5 star

Best Rooms: Presidential Pasaje penthouse suite

Address: Presidente Masarik 390, Colonia Polanco Chapultepec, 11560 Mexico City, Mexico
---
2. The Alest Hotel
This intimate boutique option is a hidden gem within walking distance of the city's best spots.
On arrival, you'll instantly notice the perfect staff service, ensuring your stay is as comfortable as possible.
There are only 19 rooms which include three stunning Junior Suites all designed with relaxation in mind.
Inside, you'll find timeless interiors and custom-made furniture.
The onsite restaurant and bar encompass local gourmet experiences with a touch of exclusive mixology.
A delicious continental breakfast of fresh fruit, yogurt, granola, and pastries is served each morning.
They also have an outdoor terrace so you can enjoy the fresh air while dining.
Guest Rating: 9.5

Star Rating: 5 stars

Best Rooms: Suites

Address: 45 Eugenio Sue, 11550 Mexico City, Mexico
---
3. The Wild Oscar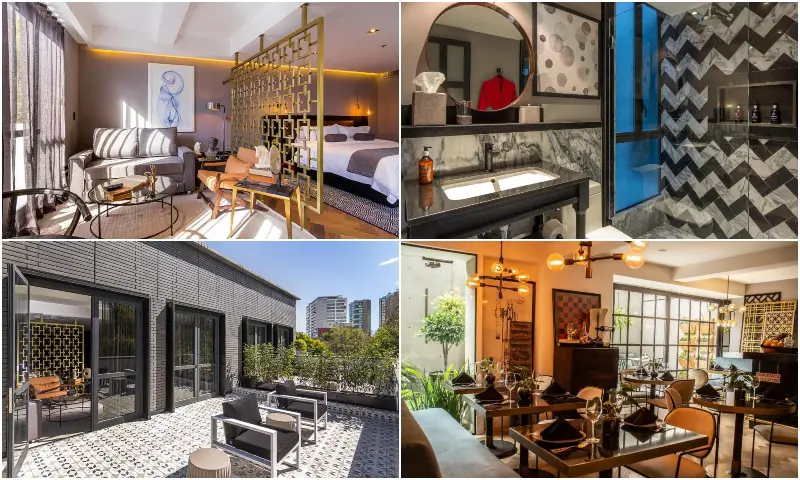 This 5-star hotel concept is planned around the idea of functionality and comfort.
The result is a spectacular residence that combines the best aspects of 'home'.
You can expect original artwork, bespoke furniture, and exclusive amenities.
There are a number of room categories to choose from.
We recommend the Suite with a terrace which not only has the most space but is also the most luxurious.
Mexican techniques and seasonings are combined with international cuisines at the onsite fine dining venue, Constance.
For the best views, visit The Wild Rooftop where you'll be blessed with 360-degree views of Mexico City.
Other facilities include a wine bar, a 24-hour fitness suite, and a business center.
Guest Rating: 9.2

Star Rating: 5 stars

Best Rooms: Suite with terrace

Address: Lamartine #516, Polanco, 11580 Mexico City, Mexico
---
4. Grand Fiesta Americana Chapultepec
The Grand Fiesta is considered one of the country's most beautiful hotels.
Housed in sleek modern architecture, it has a selection of luxurious rooms and exceptional amenities.
Bedrooms are finished with modern décor and offer views of Chapultepec Castle.
There's a fitness center, express business center, valet parking, and a first-class spa.
Signature restaurant Azur serves Mediterranean-style cuisine, as well as tempting artisan cocktails.  
A range of experiences can be organized by the hotel staff.
Examples include customized romance packages, visits to local museums, and wellness-inspired activities.  
Guest Rating: 9.1

Star Rating: 5 stars

Best Rooms: Junior suite 1 king

Address: Hotel Mariano Escobedo 756 Colonia Anzures, 11590 Mexico City, Mexico
---
5. InterContinental Presidente Mexico City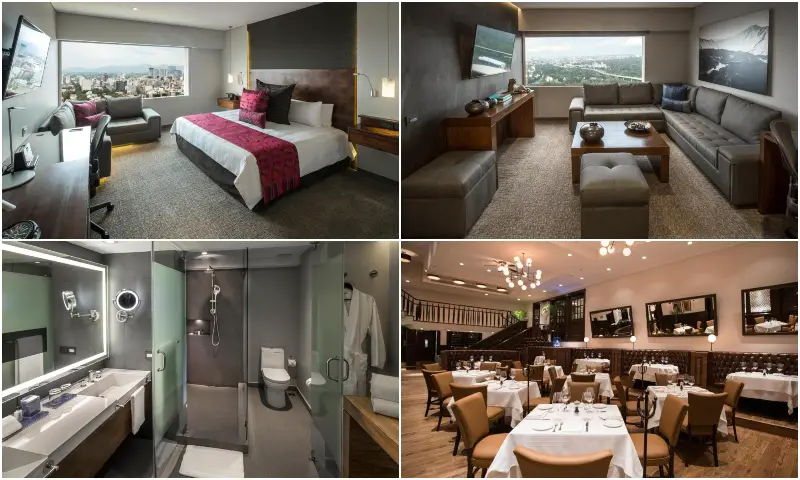 The InterContinental is a large 5-star hotel with a total of 700 rooms.
It's a great all-rounder, located in a perfect spot.
But what really makes this address stand out for us, is the choice of F&B outlets onsite.
There are a total of six restaurants including cuisines from France, Italy, Mexico, and China.
After dinner, we'd recommend enjoying some live music with a cocktail at the hotel's Lobby Bar.
A selection of well-dressed bedrooms and suites are available.
You expect contemporary rooms with Mexican accents, mod-cons such as iPod stations, and luxurious bedding.
If you want to continue your fitness regime, then there's a state-of-the-art fitness center that has striking views of Chapultepec Park.
Guest Rating: 9.1

Star Rating: 5 stars

Best Rooms: Master king suite

Address: Campos Eliseos, 218, 11560 Mexico City, Mexico
---
6. Hyatt Regency Mexico City
This stylish 5-star hotel is situated right next to Chapultepec Park.
Modern guest rooms have air-conditioning, TVs, coffee makers, and views of either the park or the city.
You'll be spoiled for choice with the onsite dining venues.
You can savor sustainably sourced Japanese cuisine, a teppanyaki grill, and Latin-American dishes.
If you fancy a sweet treat, visit Amado.
It's an artisanal bakery with a selection of pastries, chocolates, and candies.
There's also the Amado Market which offers excellent on-the-go options including gourmet sandwiches, salads, and juices.
If you love attractions, all the big museums at Bosque de Chapultepec are just a 10-minute walk away.
Guest Rating: 9.0

Star Rating: 5 stars

Best Rooms: Superior suite

Address: Campos Eliseos, Numero 204 Colonia Polanco, 11560 Mexico City, Mexico
---
7. Las Suites Campos Eliseos
There's a real home-from-home vibe at this luxurious property.
The Suites include flatscreen TVs, iPod docks, well-equipped kitchenettes, and balconies.
Despite the hotel excelling in home comforts, you don't miss out on the excellent facilities of a 5-star hotel.
Guests can enjoy a rooftop terrace with an outdoor pool that has views over Mexico City.
There's also a gym and wellness area which has a hot tub and steam bath.
In the morning, enjoy a complimentary buffet breakfast.
You'll find a huge selection of pastries, yogurts, waffles, and cooked items.
Even though you're close to all the top attractions, this hotel is located on a very quiet street.
Guest Rating: 9.0

Star Rating: 5 stars

Best Rooms: Master suite

Address: Campos Eliseos 470, 11560 Mexico City, Mexico
---
8. JW Marriott Hotel Mexico City
The JW Marriott brand always delivers on the highest service levels with first-class facilities.
On arrival, you'll be greeted in their beautiful lobby. 
Rooms are stylish, spacious, and have everything you'd expect from a luxury hotel.
There are pillow-top mattresses and down duvets to ensure a good nights' sleep.
Aromatherapy Associates amenities are available in the large marble bathrooms.
You'll find the best views on the rooftop where there's a heated swimming pool and a Jacuzzi.
Complimentary access to the Health Club with state-of-the-art equipment is available for all guests.
At night, try their onsite restaurant serving Mexican cuisine or grab a few drinks in their lobby bar.   
Guest Rating: 9.0

Star Rating: 5 stars

Best Rooms: Executive Suite with Terrace

Address: Andres Bello 29, 11560 Mexico City, Mexico
---
9. Camino Real Polanco Mexico
Here's one for the art and architecture lovers.
It was designed and created by renowned architect Ricardo Legorreta, originally for the 1968 Olympics.
It's considered a Hotel-Museum thanks to the building's distinct beauty and collection of art by famous painters and sculptors.
There's a huge choice of room categories including standard bedrooms up to the Presidential Suite.
We love the Suite Virreyes because they're huge!
It comes with exclusive services such as access to The Executive Lounge and butler service.
Also, the F&B choices onsite are world-class: there's a total of ten restaurants offering a variety of cuisines.
It's a social hotel with ample guest spaces to mingle.
Other facilities of interest include a fitness center, pool, spa, and for families, there's a kids club.
Guest Rating: 8.7

Star Rating: 5 stars

Best Rooms: Suite Virreyes

Address: Mariano Escobedo No. 700, 11590 Mexico City, Mexico
---
10. Orchid House Polanco
The Orchid House comes from a lineage of urban travelers so they know just what guests really want.
Here, you'll feel like you're living like a local, but with all the lush comforts of a hotel.
Though it's housed in a modern and chic 100-year-old mansion, you'll still find remnants of another time.
There's stained glass, antique Barro floors, neoclassic ceilings, and a restored antique pink Cantera to name a few.
If you enjoy the outdoors, you will love the green spaces and Orchidariums around the property.
Inside the rooms, you'll have everything you need to feel relaxed.
This includes TVs with Netflix, minibars, Nespresso coffee, complimentary WiFi, and room service.
In the morning, European breakfast is served at Eliseoh Terrace & Bistro.
Guest Rating: 8.6

Star Rating: 5 stars

Best Rooms: Superior king suite

Address: 76 Campos Eliseos, 11560 Mexico City, Mexico
---
11. W Mexico City
What sets this property apart from others in the area is the genuinely warm Latin hospitality.
Well, that and of course the facilities and sleek rooms, all of which are second-to-none.
Whether you're in town for work or play, the W Mexico City really does have everything you need.
Those here on business will benefit from 9 meeting studios and endless event capabilities in innovative spaces.
And those simply here for leisure, take advantage of the onsite fitness center, spa, and hot tub.
For dining, there is a classy restaurant, 25DOS, serving Mexican cuisines.
Also onsite, is one of the best bars in the city, The Living Room Bar.
It features a DJ booth, unique Masquerade design concepts, VIP areas, and a delicious cocktail menu.
Guest Rating: 8.5

Star Rating: 5 stars

Best Rooms: Extreme WOW, penthouse

Address: Campo Eliseos 252, 11560 Mexico City, Mexico
---
Polanco 5-Star Hotels Map
Find More 5-Star Hotels in Polanco
---
FAQs
Summary