Are you looking for the most luxurious hotel in Dublin City Centre?
Surrounded by beautiful architecture and a vibrant nightlife, staying in a 5-star property is the only way to go.
We'll show you the best rooms designed for couples and families.
There are also highly rated hotels with spas and pools onsite.
So before you plan your trip, check out these 5-star hotels in Dublin City Centre.
1. The Merrion Hotel
Located in the heart of Dublin city centre, this is the capital's most luxurious 5-star hotel.
There are 142 bedrooms and suites providing excellent comfort and advanced facilities.
The best option would be the Deluxe King Room inspired by the original 18th-century townhouses.
They have two great restaurants where you can try fantastic Irish dishes.
For drinks, No. 23 Cocktail Bar offers an intimate yet vibrant ambience after a day out in the city.
Also onsite, the Tethra Spa boasts a huge pool, steam room, gymnasium, and two private treatment rooms.
The ideal location allows easy access to nearby galleries, museums, and the shops of Grafton Street.
Guest Rating: 9.4

Star Rating: 5 stars

Best Rooms: Deluxe king room – Main House

Address: Merrion Square, D2 Dublin, Ireland
---
2. The Marker Hotel – A Leading Hotel of the World
This hotel is the ideal urban retreat with outstanding service and attentive staff.
There are 187 rooms, all come with luxury private bathrooms, a comfy bed, and flat-screen TV.
If you want a room with extra space, the Junior Corner Suite is the best choice.
For dining, try the Brasserie and indulge in award-winning Irish cuisine.
Or for something more light, the Marker Bar serves lunch, dinner, and drinks with a diverse selection of cocktails.
Don't forget to check out their Rooftop Lounge and enjoy the magnificent view of Dublin city.
There's also a spa, an infinity pool, a jacuzzi, sauna, steam room, and fitness centre.
Guest Rating: 9.2

Star Rating: 5 stars

Best Rooms: Junior corner suite

Address: Grand Canal Square, D2 Dublin, Ireland
---
3. The Shelbourne, Autograph Collection
The Shelbourne lies in the heart of Dublin and overlooks the majestic St. Stephen's Green.
Some of the rooms and suites are named after their most notable guests.
We recommend the Signature Suite – a spacious and luxurious home away from home.
During the day, the Saddle Room welcomes you with a cosy atmosphere, top-tier Irish service, and a superb menu.
For drinnks, the Horseshoe Bar and No. 27 Bar serve the best champagnes and sparkling wines.
There's also a pool, a gym, a spa, and a salon.
You are only steps away from Dublin's main shopping areas and many important historical sites.
Guest Rating: 8.9

Star Rating: 5 stars

Best Rooms: Signature Suite

Address: 27 St Stephen's Green, D2 Dublin, Ireland
---
4. InterContinental Dublin, an IHG Hotel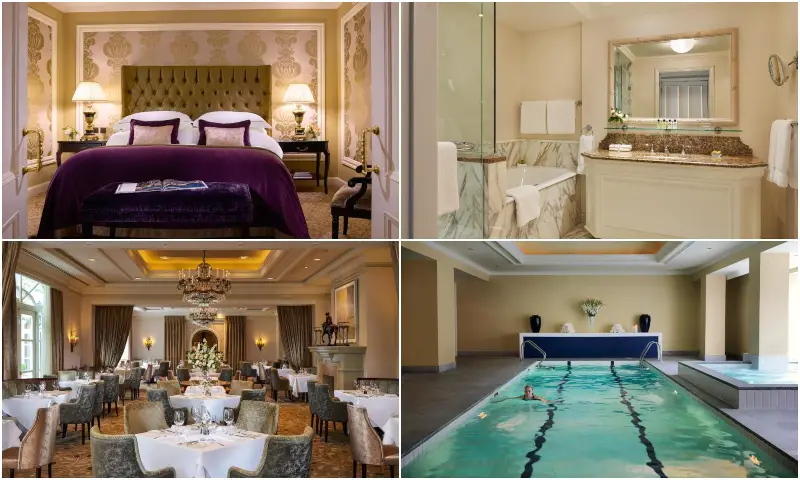 If you're looking for a 5-star hotel that offers both traditional and luxury values, this is the place for you.
There are 208 guestrooms and suites with amazing city, sea, and mountain views.
We highly recommend the Luxury Suite, which has everything to offer for a perfect extended stay.
There are many fine dining options: Seasons Restaurant, The Whiskey Bar, Lobby Lounge, and Garden Terrace.
After a long day in the city, The Whiskey Bar is the perfect evening retreat to relax with a nice drink.
Extra amenities include a gym, a spa, pools, and bicycle/walking tours.
The hotel is only a short walk away from many hidden gems and popular spots.
Guest Rating: 8.8

Star Rating: 5 stars

Best Rooms: Luxury suite

Address: Simmonscourt Road, D4, Dublin, Ireland
---
5. Conrad Dublin
This hotel is a mixture of Dublin's rich literary legacy and modern design.
All rooms and suites are allergy-free and extraordinarily clean.
Indulge yourself with the spacious Deluxe King Suite to get fantastic views of the city.
Other amenities include a spa, a gym, and a banquet room.
Take a seat in The Coburg and enjoy a casual brunch, dinner, or a late supper.
Don't miss out on the tasty, always-changing menu of the Terrace Kitchen & Social.
Also, stop by Lemuel's for a glass of wine or fine food and elegant tea time.
If you like going on walks, St Stephen's Green and Iveagh Gardens are just a short walk from the hotel.
Guest Rating: 8.8

Star Rating: 5 stars

Best Rooms: Deluxe king suite

Address: Earlsfort Terrace, D2 Dublin, Ireland
---
6. The Westbury Hotel
Situated in Dublin's most cultural area, The Westbury welcomes its guests in refinement and luxury.
There are various rooms and suites to choose from, all allergy-free and furnished with luxuries.
The Presidential Suite is perfect for guests who seek a private yet lavish stay.
You can experience traditional alfresco dining at WILDE, or unwind at Balfes – a fun bistro with an outdoor terrace.
The Sidecar is a stylish and modern version of a 30's cocktail bar, where you can have a drink and unwind.
Don't forget to visit the lovely Gallery for afternoon tea and a captivating art collection.
Other amenities include a gym, a banquet room, and 24-hour front desk.
Guest Rating: 8.8

Star Rating: 5 stars

Best Rooms: Presidential suite

Address: Grafton Street, D2 Dublin, Ireland
---
7. The Westin Dublin
This 5-star hotel is located right in the centre of the main shopping and entertainment areas.
Their 191 rooms and suites guarantee maximum comfort with beautiful Irish décor.
For the best stay, the Deluxe King Suites overlook Dublin city and are filled with gorgeous handcrafted furnishings.
Openind for breakfast and dinner, Morelands Grill serves exceptional dishes on the menu.
Or, dine and unwind at the hotel's magnificent five-story The Atrium Lounge.
In the evening, take a break from the bustle of Dublin with a nice cocktail in the Mint Bar.
Other amenities include a gym, a banquet room, and ATM on site.
Across the road, you'll find Trinity Tram stop so you can explore the city easily.
Guest Rating: 8.8

Star Rating: 5 stars

Best Rooms: Deluxe suite room

Address: College Green, Westmoreland Street, D2 Dublin, Ireland
---
8. The Fitzwilliam Hotel
The Fitzwilliam Hotel lies between St Stephen's Green and Dublin's most popular shopping avenue.
If available, try staying in the Deluxe Premium room that has a private terrace.
For fine dining, Glovers Alley next door offers exciting dishes with warm, attentive service.
Or just chill at Inn on the Green, a modernised Irish pub that serves brunch, afternoon tea, cocktails, and dinner.
Other amenities include a gym, full body massage, and 24-hour front desk.
The location gives easy access to the leading cultural, historical, and leisure attractions.
When you're ready to explore, go across the road to St. Stephen's Green tram stop.
Guest Rating: 8.7

Star Rating: 5 stars

Best Rooms: Deluxe premium room

Address: Saint Stephens Green, D2 Dublin, Ireland
---
9. Dylan
The Dylan hotel sits in a Victorian neighbourhood in a unique landmark property.
There are numerous choices of rooms and suites with air conditioning, flat-screen TV, and minibar.
For the best sleep, we highly recommend the Experience rooms where each bed is custom made.
The best food is served at Eddison Restaurant, with dishes made from the in-season products.
If you're after drinks, the Nurserie Terrace and The Ruby Room Bar are ideal for an evening get together.
Alternatively, you can check out the various restaurants and bars along Pembroke Road.
Guest Rating: 8.4

Star Rating: 5 stars

Best Rooms: Experience room

Address: Eastmoreland Place, D2 Dublin, Ireland
---
10. Keavan's Port Hotel
Located on Camden street, this hotel is the perfect choice for an urban getaway.
Each of their 89 ensuite rooms feature a flat-screen TV, unlimited free Wi-Fi, and air-conditioning.
Most rooms are designed for couples.
But if you're travelling as a group, there are family rooms with sofa beds.
This hotel also houses a lovely restaurant, a terrace, and a garden.
On top of that, you'll find plenty of pubs, bars and restaurants around the hotel for you to choose from.
You're also just a short stroll from many of Dublin's attractions.
Guest Rating: 8.2

Star Rating: 5 stars

Best Rooms: Family room

Address: Dublin 1-5 Camden Street Uppr and 49-51 Camden Street Lower, Dublin, Ireland
---
Dublin Hotels Map
Find More Luxury Hotels in Dublin City Centre
---
FAQs
Summary