There's no lack of great places to eat for tourists in Tokyo. However, there can be language barriers or menus that don't speak English! If you're worried about going hungry while out and about, see our top recommendations. We'll show you where to find old-style Tokyo street food, fish markets, and even restaurants with views. To make things easier, there are plenty of food tours available too. So get your appetite ready as we reveal the best places to eat in Tokyo for tourists.
---
1. Shinjuku Golden Gai
Shinjuku Golden Gai is a nostalgic remnant of old Tokyo. It's made up of maze-like alleys, mostly filled with drinking establishments. Enjoy the unique ambiance of tiny niche bars or brave the steep narrow staircases to hidden places above. Many bars, however, are for 'members only', or not open to bar-hopping tourists. If you see a bartender with a welcoming smile and an English menu, then that's the place for you. Some bars to look out for include ARAKU, Tachibana Clinic, and Death Match in Hell. Although it's easier to follow a local guide so you can hit the top food and drinking spots. There's a lot to discover here but it's best to arrive after 9pm.
Opening Hours: Most bars open from 8pm 
Highlights: Small bars
Location: Kabukicho, Shinjuku, Tokyo, Japan
---
2. Omoide Yokocho (Memory Lane)
Omoide Yokocho is one of the best places to get a taste of the rough and tumble of Tokyo's good old days. Most of the original shops burnt down in 1999 but were soon rebuilt to the original vibe. It's a steaming alleyway wafting with the smells of mostly small yakitori or fried chicken stalls. There are also izakaya pubs that serve a wider variety of foods. Some menus are in English, but it's easy enough to see the fare, especially at the many skewer eateries. You can get there from either the east or west exit of Shinjuku Station.
Opening Hours: Most shops open early evening til late at night; few open for lunch
Highlights: Small bars & restaurants
Location: 1 Chome-2 Nishishinjuku, Shinjuku City, Tokyo 160-0023, Japan
---
3. Ameyoko Shopping Street
Ameyoko is south of Ueno Station. It was once famous for selling candies and then American goods after the war. Now, it's more of a broad shopping experience, but popular for fresh produce and seafood. You'll also find items like souvenirs, bags, and cosmetics. There are plenty of resting spots along the street at cafes and casual diners. You can easily get full from snacking as you walk down the street. Shops are tourist-friendly so there's room to bargain with vendors, although prices are quite low already.
Opening Hours: Daily 10am-8pm
Highlights: Sweets, fruits & seafood
Location: 6 Chome-10 Ueno, Taito City, Tokyo 110-0005, Japan
---
4. Yurakucho Yakitori Alley
Yurakucho Alley is another unique place to eat in Tokyo. Here you will find small eateries built beneath the overhead railway tracks. They run on either side of Yurakucho Station, especially towards Tokyo Station. But there are more shops on the west side. The majority of eateries are for yakitori fried chicken or other kinds of izakaya Japanese pub foods. Yurakucho district is a more laid-back and less pretentious shopping alternative to next-door Ginza. Prices are quite reasonable too.
Opening Hours: Daily 5pm-10:30pm
Highlights: Small bars & meat skewers
Location: 2 Chome-3-3 Yurakucho, Chiyoda City, Tokyo 100-0006, Japan
---
5. Tsukishima Monja Street
'Monja' street in Tsukishima of lower Tokyo is dedicated to monja-yaki. Monja-yaki is a type of savory fried batter with selective toppings that you just have to try. Basically, you DIY at a table with a built-in fry griddle, but the staff will help you out. Many shops also cook up the heartier Osaka 'okonomiya-yaki' with cabbage mixed into the batter. It's popular to follow up monja-yaki with okonomiyaki and then yaki-soba or fried noodles. Some shops also have English menus and the best places tend to have queues at peak times. There are private tours led by local guides who can show you the best place to try Monja-yaki.
Opening Hours: Daily 10am-10:30pm
Highlights: Monjayaki (fried pancakes)
Location: 1 Chome-3-丁目 Tsukishima, Chuo City, Tokyo, Japan
---
6. Asakusa – Nakamise Shopping Street
Asakusa is home to one of Tokyo's most famous tourist sites and temples, namely, Sensoji. The temple's famous Kaminarimon gate with the giant lantern is a short walk from Asakusa Station. From here, stroll along Nakamise Street towards Hozomon gate which is the main temple entrance. If you walk straight through the street, it's only a 5-minute walk. But there are many touristy places to eat in the side alleys, mostly affordable by Tokyo standards. Most sit-down restaurants will have food displays in the window or picture menus you can easily choose from. While it's just a short walk to Sensoji temple, you could easily spend 1-2 hours at various stalls.
Opening Hours: Shops daily 10am-5pm
Highlights: Street food at Nakamise Shopping Street & Sensoji Temple
Sensoji Temple: 2 Chome-3-1 Asakusa, Taito City, Tokyo 111-0032, Japan
Nakamise Shopping Street: 1 Chome-36-3 Asakusa, Taito City, Tokyo 111-0032, Japan
Check Tours Nakamise site | Sensoji site
---
7. Kappabashi (Kitchen Town)
Kappabashi Doguya or 'Kitchen Town' is more the place to buy your favorite ramen immortalized in plastic. The street is dedicated to restaurant kitchenware, but non-retail customers are welcome. You can pick up top-quality Japanese knives, ceramics, and useful gadgets.  There are shops that sell popular food magnets, noren curtains, plastic food displays, and your best-ever chopstick set. The street is named after an infamous water imp-like creature. It's about a 10-minute walk from Sensoji Temple and there are local eateries along the way. You can also take the Tsukuba Express Line to its Asakusa Station. From here, walk up Kappabashi Shion Street to Kappbashi Dougugai.
Opening Hours: Most shops Monday to Friday 9am-5pm
Highlights: Kitchenware
Location: Kappabashi Street, Tokyo, Japan
---
8. Tsukiji Outer Market
Tsukiji used to be Japan's largest and most vibrant fish market. Tourists loved this place, especially the tuna auctions, but then things got out of hand. Since then, the main commercial market has relocated to the new Toyosu Fish Market. Tsujiki Outer Market is what remains, and it's a treasure trove for seafood lovers. Professional restaurateurs still come here to buy fresh produce and sample food. It's all super fresh since they're delivered from Toyosu Market. You can grab a fishy breakfast at Outer Tsukiji as early as 5am. Most eateries close around noon or by 2pm, so come in the morning and you can catch brunch on the fly.
Opening Hours: Most shops 6am-2pm; Sunday & Wednesday closed
Highlights: Sushi & Seafood
Location: 4 Chome-16番2号 Tsukiji, Chuo City, Tokyo 104-0045, Japan
---
9. Toyosu Fish Market
Toyosu Fish Market is Tokyo's modern answer to where tradition meets curiosity. It was built to replace the older Tsukiji Market in 2018. There's now an observation deck where tourists and visitors can safely view the auctions. For food, check out the three food areas featuring original restaurants or branches relocated from Tsukiji. Some of the best sushi can be found here, but it does get busy. You can also visit the Yokocho Market which sells non-perishable goods including teas and other souvenirs. Tsukiji Outer Market is still the better deal unless you want to watch the tuna auctions.
Opening Hours: Daily 5am-2pm
Highlights: Seafood & tuna auction
Location: 6 Chome-6-1 Toyosu, Koto City, Tokyo 135-0061, Japan
---
10. Tokyo Skytree
When it comes to the best tourist attractions in Tokyo, there is no dearth of places to eat and shop! The Musashi 364 Sky Restaurant is an exclusive dining experience. If you want to experience fine dining here, you have to book ahead. For something casual, Sky Tree Cafe sells coffee, beverages, light snacks, and sweets, but it can get crowded. You'll find Sky Tree Cafes on floors 340 and 350. Alternatively, dine in the Solamachi annexed shopping complex. They have restaurants on the 6th and 7th floors, many with English menus. The 30th and 31st floors have premium restaurants and a lounge with views of the Tokyo Sky Tree.
Opening Hours: Daily 10am-9pm
Highlights: Observations decks & Musashi Sky Restaurant
Location: 1 Chome-1-2 Oshiage, Sumida City, Tokyo 131-0045, Japan
---
11. Shibuya
Shibuya Station is famous for its iconic Scramble Crossing intersection. The city itself includes Harajuku and Omotesando, but Shibuya Station is the main hub. Around the station are shopping centers such as Shibuya 109, Scramble Square, and Hikarie. Along Shibuya Center Gai you can find some of the best-priced sushi in Tokyo. North of the station, in Udagawacho, are small cafes and more select places to eat in a quieter atmosphere. Food Show, beneath Shibuya Station, is an amazing food mall for deli take-outs, sweat meats, and snacks. After dark, head to Nonbei Yokocho, with its alleys of small bars and yakitori-style eateries.
Opening Hours: Most restaurants close by midnight
Highlights: Shibuya crossing
Location: Shibuya, Tokyo
---
12. Ginza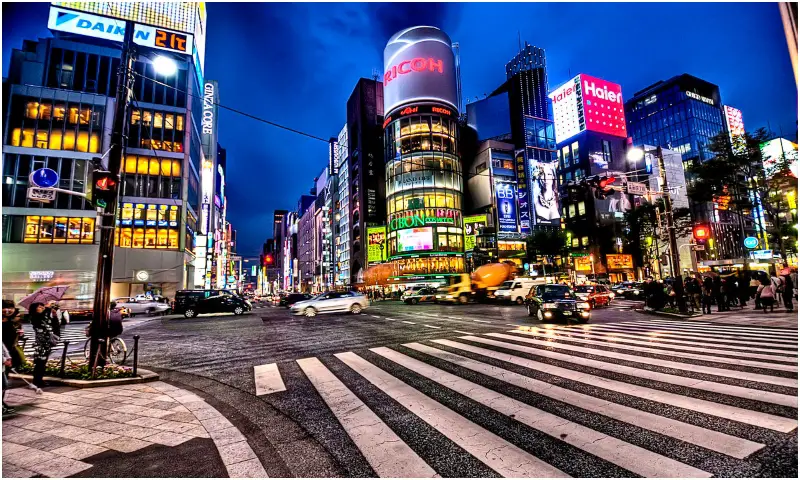 Ginza, the most upscale Tokyo district, is well-known for its Michelin Star restaurants (at least five). Apart from many fine dining establishments, there are casual dining choices too. Ginza Mitsukoshi Food Hall is its most famous basement food mall where you can pick up top delicacies and confectionaries. If you're brave enough, look for restaurants serving blowfish. Besides Japanese food, there are plenty of international restaurants. For the drinkers, check out Bar Lupin, Gaslight Eve, or Bar Evans for jazz and cocktails. There are also places where you can experience a tea ceremony.
Opening Hours: Most restaurants 11am-11pm
Highlights: Fine dining & cocktail bars
Location: Ginza Tokyo
---
13. Akihabara
Akihabara is Tokyo 'geek central' – ground zero to all things tech, anime, and manga. Maidreamin is Japan's largest 'maid supplier' with seven maid cafes in Akihabara. If you don't want to tramp too far away, there's dining in Yodobashi Camera. Also next to the station is Akihabara UDX with restaurants including Tempura Hisago — serving tempura since 1918! Not to be missed are Akihabara's ramen restaurants such as Aoshima Shokudo, Motenashi Kuroki, or Ramen Tsugumi. There are other famous local eateries such as Tonkatsu Murago east of the station. Just over the bridge, close to Ogawamachi Station is Kanda Matsuya – one of Tokyo's oldest soba restaurants.
Opening Hours: Most maid cafes close by 11pm
Highlights: Maid cafes, anime & manga
Location: Akihabara, Tokyo
---
14. Harajuku
Harajuku is home to 'kawai' and the fast-moving trends of Tokyo's youth culture. Locals come here for the numerous cafes, especially desserts or sweets stalls. As a tourist, you'll love shopping, cosplay, and souvenir hunting, but the food on display will distract you! On the north side towards Takeshita Street, you'll find plenty of sweet cafes. You may even come across pet cafes with cats, hedgehogs, or other small animals. Coming off the east side of Meiji Jingu Mae (Harajuku) Station are more cafes as well as the trendy Cat Street. Omotesando Hills shopping center is just on the other side of the Cat Street intersection.
Opening Hours: Shops typically open 11am-8pm
Highlights: Cosplay culture; cute cafes & desserts
Location: Harajuku, Tokyo
---
15. Yanaka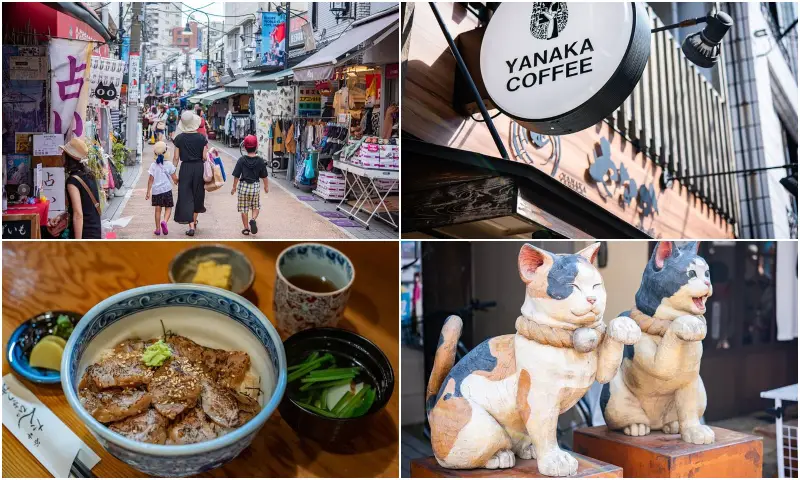 Yanaka district is known as a 'shitamachi' or a downtown area. It's an old untouched part of Tokyo a short walk from Ueno Park. The main street, or Yanaka Ginza, sells all sorts of daily items including sweets, snacks, and fresh foods. In the opposite direction is Yomise-dori street, famous for manju or steamed sweet buns and green tea. Keeping to the old town charm, many buildings have been repurposed into more trendy types of cafes and eateries. It's worth joining a tour to learn more about its history. And of course, trying local food along the way. 
Opening Hours: Most shop 10am-6pm
Highlights: Traditional old town & street food
Location: Yanaka Ginza, Tokyo
---
Best Places To Stay In Tokyo
---
Best Time To Visit Tokyo
Tokyo is a popular destination for foodies, combining modern elements with traditional Japanese. But if you want to enjoy your meals, it's important to consider the right timing for the best experiences. Here are a few seasons to keep in mind.
Spring (March to May) – This is a popular time to visit, as the city comes alive with the cherry blossoms in full bloom. The temperatures are mild, so it's ideal for enjoying the city's street foods and outdoor markets. Because of the cherry blossoms and some other festivals, crowds may be larger and prices higher.
Autumn (September to November) – Autumn offers mild weather, fewer crowds, and stunning fall foliage. It's the ideal time to explore Tokyo's outdoor attractions without the sweltering heat or heavy rain. There are plenty of different foods to try as you stroll through the city.
Winter (December to February) – While winter in Tokyo can be chilly, it offers a unique experience with colorful displays and festive markets. It's also a great time to indulge in seasonal delicacies like hot pot dishes and warm sake.
Avoid Golden Week and Obon – During these holidays, Tokyo becomes very crowded. Also, the prices for rooms and flights tend to be higher. It's best to avoid these times unless you want to enjoy the festivities during this time. Tokyo has plenty to offer year-round, so whenever you choose to go, you're promised a memorable visit.
---
Best Ways To Get Around Tokyo
Navigating Tokyo can be an exciting adventure, thanks to its efficient transportation system. From subways to buses to taxis, there are several options for getting around the city. Whether you're looking for exclusive restaurants or street food, here are the best ways to get around Tokyo.
Tokyo Metro & Toei Subway Lines – Tokyo's subways are a reliable and efficient way to travel around the city. The Metro and Toei lines connect major districts and tourist attractions. Frequent trains make it easy to hop quickly from one point to another.
JR Train Lines – Japan Railways Yamanote Line is a circular train line around central Tokyo. It connects popular neighborhoods like Shibuya, Shinjuku, and Akihabara. Their flat-rate ticket is particularly useful if you want to explore more than one area of the city.
Buses – Tokyo's bus network is a convenient way to reach destinations not covered by subways. They're the best option for exploring residential neighborhoods, and they offer a chance to see the city above ground.
Taxis – Taxis are a convenient option when traveling short distances, or as a group. But, they can be expensive, especially during peak hours. Have the destination written in Japanese or use a navigation app to communicate with the driver.
---
Best Places For Street Food In Tokyo
Ameyoko Shopping Street – This is a lively market, close to Ueno Station. It's known for its fresh produce, seafood, and candy shops. There are also several food stalls selling everything from snacks to freshly baked Japanese pastries.
Nakamise Shopping Street – If you're going to Asakusa's Sensoji Shrine, you'll see this buzzing street. Its side alleys are filled with touristy restaurants all offering delicious street foods. Popular dishes include pork buns and dumplings, menchi katsu, and crispy curry bread.
Yanaka Ginza – This is an old-town district in Tokyo known for its delicious street foods. You'll find a variety of local favorites, including menchi katsu, grilled rice balls, and pancake balls filled with seafood. When you visit, be prepared for long lines, as these dishes are very popular.
---
Best Places To Eat Sushi In Tokyo
Tsukiji Outer Market – Tsukiji Outer Market is one of the best places in Tokyo to taste fresh, high-quality sushi. Priced from 2000-3000 yen, visitors can enjoy fresh tuna, sea urchin, salmon, and prawns. It's always crowded at lunch and dinner so avoid these timeslots and visit from 2pm-5pm.
Shibuya Center Gai – One of Tokyo's busiest shopping streets, you'll find some of the best-priced sushi in the city. There are a variety of quality conveyor belt sushi restaurants with prices starting at 100 yen. For something higher end, the area also offers smaller sushi bars where everything is made to order.
Toyosu Fish Market – Known as the world's largest fish market, it's one of the best places in Tokyo for sushi. All the fish is market fresh and most of the restaurants offer chef-recommended sets or individual pieces. Because of the market's popularity, you may need to wait in line to sample some of the best sushi in Tokyo.
---
Most Exclusive Restaurants In Tokyo
---
Weirdest Places To Eat In Tokyo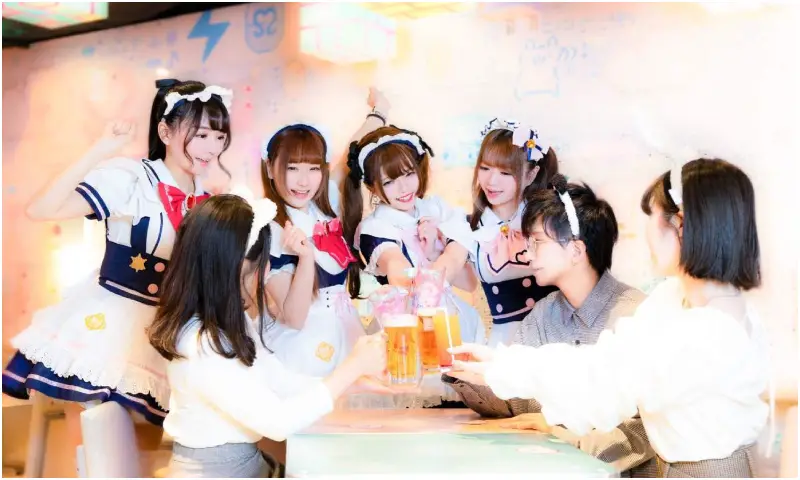 Akiharara's Maid Cafes – Take a peek into Japan's cosplay scene when you enter one of Akihabara's maid cafes. At Maidreamin Café, waitresses dressed as maids will welcome you and show you to a table. Once you've placed your order, they'll serve and entertain you with a performance or two.
Harajuku Pet Cafes – Harajuku's pet cafes are as popular with locals as they are with visitors. Imagine enjoying a coffee with an owl on your head, or sipping a beer while penguins waddle nearby. It's all possible in Harajuku, where exotic cafes feature a variety of animals, including pigs and hedgehogs.
---
Best Tokyo Restaurants With A View
Musashi 364 (Tokyo Sky Tree) – Tokyo Skytree is the tallest building in Tokyo, with Musashi 364 restaurant perched at the top. You'll experience the best views of Tokyo while enjoying a full-course Japanese/French fusion meal.
New York Grill (Park Hyatt Tokyo) – Set on the 52nd floor of the Park Hyatt Hotel is the renowned New York grill. The breathtaking views of Tokyo's skyline are as popular as their selection of steaks and fine wines.
---
Tokyo Map – Places to Eat
---
Summary