Singapore is one of the best foodie destinations in the world for first-time visitors. 
Despite being a small country, there are more places to eat than you could imagine. 
You'll find traditional small hawker-style food courts, fine dining, riverside bars, and unique experiences.
With so much to choose from, we'll show you where to go to find the most delicious food. 
Here are the best places to eat for tourists in Singapore! 
1. Singapore Chinatown
Singapore Chinatown has more hawker centers and places to eat than a tourist could ever wish for.
The largest is the Chinatown Complex along Smith Street with over 260 hawker shops!
Besides souvenir shops, you'll find a range of stalls for foodies including yum cha, chili crab, and bubble tea.
The Hong Lim Food Centre, just outside Chinatown, is another smorgasbord of delicacies.
It's ground zero for Famous Sungei Road Trishaw Laksa – a Michelin Bib Gourmand.
Close to Buddha Tooth Relic Temple, there's Maxwell Food Center which is a mainstay of traditional Singaporean recipes.
More upmarket restaurants, cafes, and bars can be found along the popular Club Street and another choice pick is Keong Saik Road.
If you're venturing further from Chinatown station, Amoy Street Food Centre is also worth visiting.
Opening Hours: Daily 9am-10pm
Highlights: Buddha Tooth Relic Temple, shops, hawker food
Location: Smith Street, Singapore, 058971
---
2. Marina Bay Sands
The Marina Bay Sands, Singapore's most modern hotel and shopping mall, has plenty of choices for casual diners.
There are over 45 restaurants with food choices that span the globe.
You'll be spoilt here for top-class casual dining, fine dining, rooftop dining, cafes, and bistros.
Most are found in The Shoppes Mall, including the Michelin 2-star Waku Ghin by Tetsuya Wakuda.
There are additional celebrity chef restaurants by Gordan Ramsey, Danial Boulud, Justin Quek, and Wolfgang Puck.
Keep in mind, some establishments may have a smart casual dress code.
Reservations, especially for fine dining, can be made but there are exceptions.
Opening Hours: Daily 8am-10pm
Highlights: Marina Bay Sands hotel, The Shoppes mall
Location: Bayfront Avenue, Singapore, 018956
---
3. Orchard Road
Orchid Road is Singapore's internationally famous shopping boulevard.
At the upper end, check out the mall Palais Renaissance for upscale dining, especially Japanese.
Opposite, the Far East shopping center has three food halls and over 130 restaurants.
On one of the busier intersections, there's Ion Orchard mall which features Hawkers Street.
You'll find dishes from some of Singapore's most popular names in hawker food.
Next door is Wisma Atria for light meals and sweet treats.
And further down, there's Takashimaya serving everything Japanese including upscale cafes.
Across the road is Paragon Center, a finer and more original selection to match the upscale shops. 
Near Somerset station, there are more trendy restaurants at [email protected] and Orchard Central.
Opening Hours: Most shops open daily 9am-10pm
Highlights: Shopping malls, food courts
Location: Orchard Road, Central Singapore, 238858
---
4. Clarke Quay
Clarke Quay is on a bend in the Singapore River.
It's populated by restaurants and bars with boat cruises stopping here regularly. 
The closest station is Clarke Quay MRT, on the North East Line.
You can exit the station to the Clarke Quay Central shopping mall for popular fast food and café choices.
Walking along the quay front you'll come to the colorful pedestrian Read Bridge. 
On the station side, there are popular seafood, BBQ, and beer places like Brewerkz.
Across the river, there's a huge choice of restaurants in a spacious pedestrian zone marked by Clarke and Read street intersection.
At night, lighting along the terraced restaurant and roofs brings plenty of colour to the area. 
Opening Hours: Most shops open daily 10am-11pm
Highlights: Riverside restaurants, bars & cruises
Location: River Valley Road, Singapore 179024
---
5. Boat Quay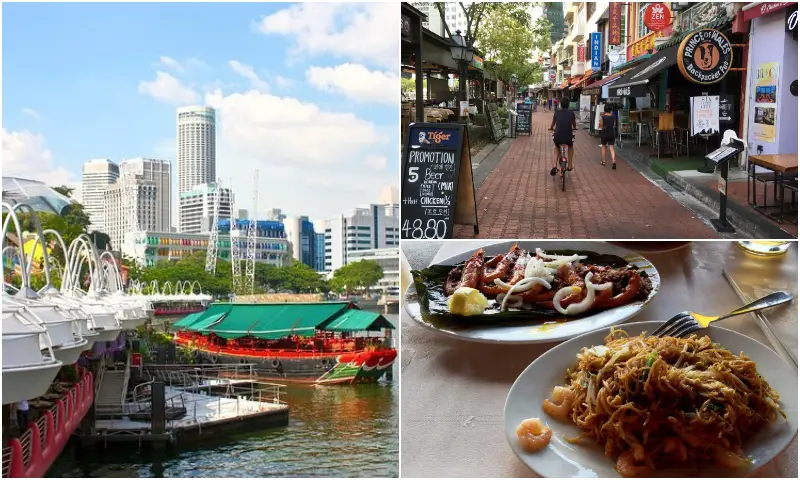 Boat Quay is another wharf area just around the river bend from the New Bridge road.
You easily walk from Clarke Quay MRT, but the closest station is Raffles Place. 
It's a pedestrian walkway that runs about 300 meters.
Along this strip, there are plenty of bars and alfresco restaurants with riverside patios.
Asian and European cuisines are the more common food choices here.
Most food places are open from around 11am until 11pm, and some drinking holes remain open early into the morning.
Boat Quay is one of Singapore's most popular night spots, especially for expat working communities.
It's generally less crowded than Clarke Quay with smaller establishments and tends to be less touristy.
Opening Hours: Most shops open daily 11am-11pm
Highlights: Alfresco restaurants & bars
Location: Bonham Street, Singapore 049782
---
6. Chijmes
Chilmes is one of the most historical places you can dine and be entertained in Singapore.
You can't miss its steepled church façade built in 1903. 
Inside the grounds of this former convent and girl's school is a selection of restaurants and entertainment venues. 
On the sunken level, there's a Jazz Club, a Tapas Club, and a live entertainment venue. 
The base level also includes a winery and tapas bar. 
On the main ground level, there are more restaurants to try.
This includes Chinese cuisine, pan-Asian fusion, Singaporean seafood, Latin, Japanese, and casual al fresco.
There's also a whiskey and cocktail bar for adults downtown.
Opening Hours: Daily 24 hours
Highlights: Indoor & outdoor restaurants, bars, cafes
Location: 30 Victoria Street, Singapore 187996
---
7. Little India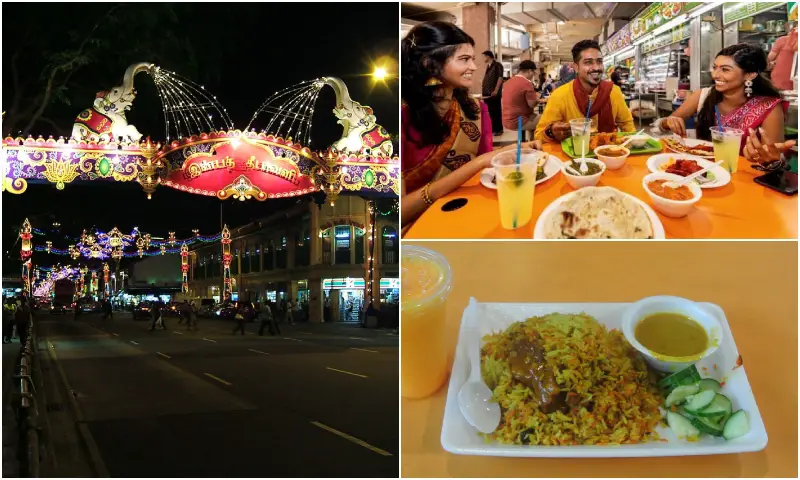 Singapore, with its diverse population, has various ethnocentric enclaves.
Little India has its own flair, and the MRT train will get you to the doorstep and into the Tekka Centre.
Here you can sample hawker foods from all over the Indian subcontinent. 
Restaurants dotted around Little India specialize in Kerala, Bengali, Tamil, Sri Lankan food, and more.
Check out popular places like Gayatri, Komala Villas, Banana Leaf Apolo, MRT Singapore, and Khansama Tandoori.
But for a unique dining experience, we recommend Mustard Singapore.
Little India is a great place for pure veg food, but Indian sweetmeats are not to be missed.
Between bites, stop by the Indian Heritage Centre, Sri Veeramakaliamman Temple, and Abdul Gafoor Mosque.
If you want to learn more about this area, it's best to join a Little India tour.
Opening Hours: Daily 10:30am-12:30am
Highlights: Tekka Center, Indian food
Location: Serangoon Road, Singapore 21795
---
8. Bugis Street
Bugis Street is where your wallet stretches further so you can shop until you drop. 
However, it's a good idea to fuel up on street food or give your feet a break in its various cafes and eateries.
You can pick up numerous treats along the pedestrian streets or browse the actual Bugis Food Street arcade.
Bugis Junction Mall has the largest selection by far of local, SE Asian, and international fast food brands. 
Fortune Centre, along Middle Road, is an excellent place for vegetarian restaurants. 
A little further up is Sunshine Plaza which is another non-descript plaza with good cheap food.
Its Victoria Kitchen is recommended for real Hong Kong-style dim sum.
Opening Hours: Daily 10am-10pm
Highlights: Cheap souvenirs, Asian street food
Location: 3 New Bugis Street, Singapore 188867
---
9. Haji Lane
Haji Lane is one of Singapore's narrowest and most colorful commercial streets. 
It's part of Kampong Glam, Singapore's best 'Indie neighborhood' with eclectic boutiques and cafes.
Habibi-san is your best bet for Turkish and Lebanese food and Shalaby Sweets for baklava.
If you feel like a beer, stop at Black Sheep & Co and grab some food to go with it.
At the end of Haji Lane onto Beach Road, you'll find more popular food spots.
Mexican cuisine at Piedra Negra and Prawn Mee noodle shop are two of the more popular places.
Just behind Haji Lane is Bali Lane with some gems not to be missed. 
One is Kulon for Indonesian food, but for something more vibey, check out BluJaz.
For a full gauntlet of Middle Eastern food, you're better off in Arab, Bagdad, or Bussorah Street streets. 
Opening Hours: Most shops open daily 11am-8pm
Highlight: Shophouses, boutiques, bars, and restaurants
Location: Haji Lane, Singapore 189213
---
10. Arab Street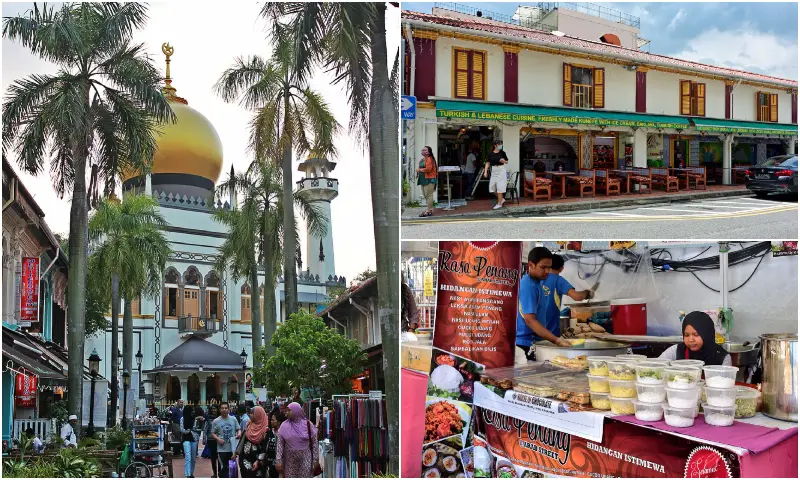 Arab Street runs parallel to Haji Lane just to the north and is only a 5-minute walk from Bugis station.
It's a busy commercial street selling mostly fabrics, but the food starts from the corner of Bagdad Street. 
Into Bagdad Street, you'll pass Julie Bakes which is one of the best cake shops in the area. 
The key destination, however, is the Bussorah pedestrian street that runs up to the Masjid Sultan Mosque on your left.
Here you will find plenty of restaurants and sweet shops with a good picking of Turkish and Lebanese places.
The lower section of Bussorah Street has more variety including Teppanyaki, Italian, Indian, Egyptian, and Malay.
You can tour the Masjid Sultan Mosque as long as you're dressed appropriately.
Opening Hours: Sun-Wed 11am-9pm, Thurs-Sat 11am-10pm
Highlights: Masjid Sultan Mosque, Middle Eastern restaurants
Location: Muscat Street, Singapore 198833
---
11. Lau Pa Sat (Telok Ayer Market)
Lau Pa Sat is an old Victorian market that turned into a Singapore food center. 
It basically sits on the eastern edge of Chinatown about five minutes from Thian Hock Keng Temple.
The closest MRT station is Downtown or it's halfway between Shenton Way and Raffles Place. 
Lau Pa Sat is where foods of the world unite Singapore hawker style!
You'll find traditional Singaporean food, Halaal stores, Indian, Malay, Thai, Korean, Japanese, and Mexican.
A key destination, however, is Satay Street along its outside edge. 
Here you can browse various BBQ stalls, skewered meats, and beer to wash it all down.
Opening Hours: Daily 24 hours
Highlights: Hawker center
Location: 18 Raffles Quay, Singapore 048852
---
12. Geylang Serai Market
Geylang Serai Market is on the edge of central Singapore towards the airport.
It's a combination of a wet market, a dry market, and hawker stalls.
To get here, get off at the main station Paya Lebar MRT.
There are more authentic Malay and Indonesian food stalls here than anywhere else in Singapore and most are strictly Halal.
There are good biryani choices too and a splattering of other food stalls to remind you it's still Singapore.
Geylang is Singapore's oldest Malay district.
It's best to follow a local guide if you want to try all the unique flavours in the markets.
Opening Hours: Daily 6am-10pm
Highlights: Wet market, hawker centers
Location: 1 Geylang Serai, Singapore 402001
---
13. Sentosa
Sentosa is Singapore's island getaway and you can get there via road, bus, train, or cableway. 
If you're hungry, the first place to grab a bite coming off the Sentosa Gateway is Resorts World Sentosa. 
Located close to Universal Studios are numerous restaurants, fast food outlets, cafes, and a few bar lounges. 
A more unique dining experience is Sentosa's cable car sky dining. 
Upon arriving at Mount Faber Peak, enjoy some drinks and starters at the Arbora Bistro before boarding your private cable car.
Once aboard, your 4-course meal is ready and waiting, but you should book in advance.
Another great dine-out is the award-winning City Lights Tall Ship cruise. 
The elegant ship departs from Sentosa Resorts World and it's the perfect night out for couples and families.
Opening Hours: Daily 24 hours
Highlights: Resorts World, Cable car sky dining, Tall ship dinner cruise
Location: Sentosa Gateway, Singapore 098269
---
14. Raffles Hotel
Singapore wouldn't be Singapore without Raffles!
Raffles Hotel is named after the Britisher chap that turned Temasek or Singapura into a British East India trading post.
This stunning historic colonial structure dates back to 1887.
If you can't afford a room, you may be able to enjoy some fine entertainment in the lap of luxury.
Fine dining choices include French gourmet, modern Chinese, authentic Italian, and traditional North Indian.
But make sure you sit down in the Raffle's Courtyard for that unforgettable Singapore Sling.
For all the restaurants at the hotel, make sure you book ahead and dress appropriately.
Opening Hours: Daily 7:00am-10:00pm
Highlights: Afternoon tea, Singapore Sling
Location: 1 Beach Road, Singapore 189673
---
Singapore Places to Eat Map
---
FAQs
Where are the best bars & restaurants by the water in Singapore?

Clarke Quay and Boat Quay, within walking distance of each other, are the best places along the Singapore River.

Clarke Quay is lively with bigger establishments, while Boat Quay is a bit quieter.

It's a 300-meter stretch of small alfresco-style restaurants and late-night bars.
Where are the most expensive places to eat in Singapore?

The historic Raffles Hotel has some of the most exclusive fine-dining restaurants in Singapore, so have your wallet ready.

Alternatively, you can try fine dining in the modern ambiance of the Marina Bay Sands.

A number of restaurants have water views so you can see the city lights at night.
What's the best restaurant in Singapore with a view?

The Marina Bay Sands has sky-view fine-dining restaurants, bars, and a sky-view lounge club.

You can also dine out on the rooftop.

Besides the city landscape, you'll have the best views of Gardens by the Bay, particularly at night.
What's the best place for hawker food in Singapore?

Without a doubt, you'll find the best hawker food in Singapore Chinatown.

The problem is which hawker center to choose from!

Some people prefer the Maxwell Centre for traditional Singapore recipes.

While the Hong Lim and Amoy food centers have a few Michelin Bib Gourmand places.

For the largest selection of food, there's the Chinatown Complex on Smith Street.
Summary
| | |
| --- | --- |
| Singapore Places to Eat | Highlights |
| Singapore Chinatown | Buddha Tooth Relic Temple, shops, hawker food |
| Marina Bay Sands | Marina Bay Sands hotel, The Shoppes mall |
| Orchard Road | Shopping malls, food courts |
| Clarke Quay | Riverside restaurants, bars & cruises |
| Boat Quay | Alfresco restaurants & bars |
| Chijimes | Indoor & outdoor restaurants, bars, cafes |
| Little India | Tekka Center, Indian food |
| Bugis Street | Cheap souvenirs, Asian street food |
| Haji Lane | Shophouses, boutiques, bars & restaurants |
| Arab Street | Masjid Sultan Mosque, Middle Eastern restaurants |
| Lau Pa Sat | Hawker center |
| Geylang Serai Market | Wet market, hawker centers |
| Sentosa | Resorts World, Cable car sky dining, Tall ship dinner cruise |
| Raffles Hotel | Afternoon tea, Singapore Sling |