New Orleans is a melting pot of unique flavors catering to all taste buds. As a tourist, you'll love the restaurants and bars on every corner.  We'll show you where to find street food, outdoor dining, and even live music. At night, some streets become extra lively so you can enjoy more bites and drinks. For first-time visitors, you can join tours to sample a bit of everything, particularly in the French Quarter. So before you fill your tummy, here are the best places to eat and drink in New Orleans.
---
1. French Market
Explore local delicacies at the longest-operating open-air market in the US. Based in the heart of the famous French Quarter, it is easily accessible by car or public transport. To fully experience the quirk of the French Market, join one of the free guided tours. Various food vendors, cafés, and outdoor restaurants make it hard to choose what to eat. However, you must try beignets at Café de Monde. Another sweet essential is Loretta's Authentic Pralines where you'll find local treats. For fresh produce, the Farmer's Market here is open daily.  Throughout the year, there are flea markets and other social events too.
Opening Hours: Daily 9am-5pm
Highlights: Farmers market, food stands, outdoor dining
Location: Esplanade Avenue, New Orleans, LA 70130,  United States
---
2. Bourbon Street
Bourbon Street is one of the most lively places to visit at night in New Orleans. Most known for its French Creole architecture and balconies, some pubs and restaurants are open til 1 am. Visit Pat O'Brien's and Old Absinthe House, which are senior establishments in the area. They are the birthplaces for heady cocktails The Hurricane and Absinthe Frappe. Another icon on Bourbon Street, Galatoire's, serves up the tastiest turtle soups and other Creole classics. If you're looking for the best food and drinks in one place, check out Arnaud's. Also, stop by Café Lafitte in Exile, for the best disco parties and karaoke nights.
Opening Hours: Daily 24 hours
Highlights: Restaurants, bars, nightclubs
Location: French Quarter, New Orleans, LA , United States
---
3. Royal Street
Royal Street has become a staple tour location for sightseeing in New Orleans. Dotted with colorful shops, art galleries, and antique finds, there's plenty to look at. When it comes to dining, you'll be surprised by the variety of foods on display. At Mr. B's Bistro, indulge in flavorful Gumbo Ya Ya, a New Orleans classic. Or try Brennan's famous breakfast spot, serving up their original bananas daily. If you're longing for some good Oysters Rockefeller, check out Antoine's. For a romantic date, we recommend Court of Two Sisters. Their daily jazz brunches are legendary. Lastly, the city's only rotating bar, Carousel Bar, awaits you with strong beverages.
Opening Hours: Daily 9am-2am
Highlights: Restaurants, art galleries, antique shops
Location: French Quarter, New Orleans, LA , United States
---
4. Magazine Street
If you're looking for a more quiet and relaxing experience, this is the place for you. Magazine Street has a great selection of bars and restaurants with outdoor seating. Pay a visit to Mahony's for authentic po-boys and fresh seafood. Socialize in a lush environment at The Bower, as you snack on cheese and charcuterie. Then, take a seat at Lilette's lovely patio, while your greeter brings out a selection of fine wines. If you're traveling with a pet, beers at The Bulldog have you covered. Lengua Madre's 5-course tasting menu is a quality expedition of Mexican food. Finally, your trip to Magazine Street is incomplete without a glass of Sazerac, a New Orleans sample.
Opening Hours: Daily 6am-12am
Highlights: Shops, cafes, restaurants
Location: Garden District, New Orleans, LA, United States
---
5. Frenchmen Street
Check out Frenchmen Street, home to the best live music in the city. From jazz to blues and alternative genres, you are bound to have a great time. Enjoy the intimate atmosphere of The Spotted Cat, where live jazz and local brews meet. Or, hit up The Maison and dance the night away as you munch on New Orleans classics. It even organizes Drag and Burlesque shows every weekend. For a more family-styled eatery, Adolfo's Italian cuisine is a local favorite. Moreover, Dat Dog makes junk food look appetizing no matter the calories. While the most delicious pizzas and tapas plates are served at Margot's and Three Muses.
Opening Hours: Daily 11am-2am
Highlights: Restaurants, street markets, bars, live music clubs
Location: 7th Ward, New Orleans, LA, United States
---
6. Faubourg Marigny
Faubourg Marigny is another fun neighborhood, ideal for casual dining. It is filled with restaurants with outdoor seating, bistros, and cute cafés. Ruby Slipper Café serves up yummy brunches, both sweet and savory. Whereas, at Flora Café, you can browse local art as you eat. Paladar 511 is your chic date location, which dishes up gourmet Italian food. While, at Morrow's contemporary New Orleans and Korean flavors intertwine. If you like people-watching, Horn's Eatery has a sidewalk seating area you can use. They offer superb dishes for a family breakfast or a friend's hang out.
Opening Hours: Daily 11am-2am
Highlights: Cajun bistros, bars, jazz clubs
Location: Frenchmen Street, New Orleans, LA, United States
---
7. Mississippi River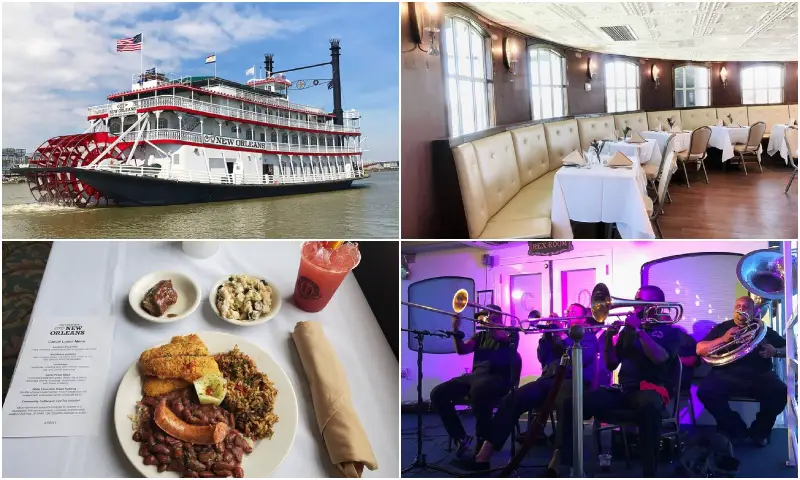 The Mississippi River flows through the city offering plenty of unique dining options. Riverside restaurants and river dinner cruises are quite popular in New Orleans. Riverboats, such as Creole Queen and Natchez, provide both entertainment and food. If you're looking for date ideas, sign up for a 3-hour dinner or brunch cruise and listen to soft jazz tunes. It will be a real highlight as you marvel at lit-up New Orleans from the Mississippi. Those favoring to stay ashore, but still wanting access to the views, don't fret. Chemin Á La Mer has panoramic views of the river and a lovely outdoor terrace to socialize on. Their oysters and gulf seafood line-up are also unbeatable.
Opening Hours: Daily 8am-7pm
Highlights: Live jazz, cocktails, lunch & dinner cruises
Location: Toulouse Street, New Orleans, LA, United States
---
8. New Orleans School of Cooking
Foodies and amateur cooks pay attention! New Orleans School of Cooking lets you in on recipes behind local specialties. Watch a professional chef prepare classic dishes, which of course, you can eat afterwards. Or, get hands-on and try cooking the food yourself in a cooking class. On the menu, there's mouth-watering Jambalaya, Crawfish Étouffée, and Pralines to name a few. As a bonus, they even provide the drinks for you at no charge. Allow 2-3 hours for these fun cooking experiences.
Opening Hours: Daily 9am-5pm
Highlights: Creole & Cajun cooking classes
Location: 524 St Louis St, New Orleans, LA 70130, United States
---
French Quarter Tours
For first-time visitors to New Orleans, it's best to take a tour of the French Quarter first. On Frenchmen Street, join the crowds, bar crawl, and dance to catchy tunes. If you don't mind walking, embark on tours exploring popular foodie venues in the area. Alternatively, you can even hop on a carriage ride to take you to historic spots. But if you just want to relax, there are outdoor terraces at various restaurants and pubs. Make sure you sample delicious New Orleans classics, including beignets and seafood. Come around Christmas, when you can admire the neighborhood decked out during Holiday Home Tours.
Find Food Tours in New Orleans French Quater
---
Best Places To Stay In New Orleans
The Windsor Court – As you can see in the photo, this hotel is a blend of British elegance and South hospitality. It does luxury like no one else in New Orleans. From its excellent spa facilities to fine dining, guests receive royal treatment here. Moreover, if you book the Premium King Suite, you can see the iconic Canal from the comfort of your bed.

Raomi at Factors Row – At a perfect location for exploring the city, this is a favorite of families traveling to New Orleans, even on longer trips. What's more, all apartment-styled units are affordably priced and come fully furnished. Have a blast with your kids at the Penthouse Apartment, among bunk beds and city views.
Hotel Monteleone – Spend your honeymoon in this iconic New Orleans establishment and create lifelong memories. Its French Quarter views and large bed make the Deluxe Suite an ideal couples' lodging here. Also, enjoy couples' dips in the rooftop pool and dance to jazz music at Carousel Bar as well.
Drury Plaza Hotel New Orleans – Offering free daily breakfasts and happy hour, guests get the best for their money in this hotel. Other amenities include a rooftop pool, hot tub, snack bar, and a safe parking garage. After walking around New Orleans, the Superior King Room will be the ideal place to recharge in.
---
Best Time To Visit New Orleans
New Orleans is a lively year-round city offering visitors a mix of history, food, music, and nightlife. To make the most of your visit, you need to choose the best time to experience the city at its best. Whether you're exploring the French Quarter or enjoying the city's various cuisines, here are the best times to visit New Orleans.
Fall (September to November) – Pleasant weather and fewer crowds make this a perfect time to visit. It's the ideal time to explore historic neighborhoods like the French Quarter and Garden District. Plus, you'll enjoy food-related events like Crescent City Blues & BBQ and Oak Street Po-Boy Festival.
Springtime (March to May) – Spring brings blooming flowers and warmer temperatures. It's ideal for exploring, dining at sidewalk cafes, or enjoying live music performances throughout the city. From late April to early May, the New Orleans Jazz & Heritage Festival celebrates the city's musical heritage and local cuisine.
Mardis Gras (February or March) – This is the most famous and exciting time to visit New Orleans. It's one big party, with parades, lively music, costumes, and plenty of food and drink. But it's very crowded and you'll pay higher prices for flights and rooms.
Off-Peak Season (June to August) – If you want to avoid crowds and pay discounted rates, visiting during the summer is a good option. The weather can be hot and humid, but with fewer crowds, you can enjoy the city at your own pace. It's the ideal time to enjoy indoor attractions, like museums, galleries, and the city's renowned restaurants.
---
Best Ways To Get Around New Orleans
Streetcars – Tour the New Orleans way! Five streetcar lines crisscross the city, thus making reaching popular tourist spots easy and cheap. Traveling on the historic St Charles Streetcar Line is a must. Disembark on St Charles Avenue and spend a beautiful summer evening on Delachaise's outdoor terrace too.
Buses (RTA) – When wandering off the beaten path, buses come to the rescue. They run every thirty minutes to destinations all around New Orleans. For schedules, download the Le Pass app. Here, you can also pick up your Jazzy Pass card and receive unlimited rides on most citywide public transport.
Taxis & Ride Sharing – Compared to other big cities in the US, taxis in New Orleans are quite cheap. Thus, don't hesitate to hail one after a night of dancing. Ride-sharing apps also come in handy when traveling to and from the airport. Due to its strict safety policy, families habitually use KreweCar here, too.
Bicycles – Because of its flat terrain, New Orleans is a great city to tour by bike. Rent one at Bicycle Michael's or hop on a Blue Bike, with many locations around the city. The bike tours at American Bicycle Rentals are also legendary. Those feeling lazy can cruise the French Quarter on a bike taxi too.
Ferries – The most scenic way around Crescent City is on the water. Ferries leave from Canal Street, sailing across the Mississippi, to Algiers Point. Full of small businesses, this is the hidden gem of the city you don't want to miss out on. Also, visit the Jazz Walk of Fame and Old Point Bar.
---
Best Places To Eat & Drink In New Orleans With Live Music
---
Best Places In New Orleans To Eat & Drink At Night
---
Best Places In New Orleans With Outdoor Dining
---
Best Places In New Orleans For Street Food
French Market – This open-air market is the number one place to hit up in New Orleans for street food. Open daily, dine at one of the onsite restaurants, or sample delicacies directly from the vendors. Also, stop by Café de Monde and try their beignets. Alberto's Cheese and Wine Bistro is another must-try here.

Bon's New Orleans Street Food – This restaurant is devoted to bringing quality street food to New Orleans. With its near Jackson Square location, you will not need to make a long detour to have a bite here. Onsite, you can fill up on tacos, muffuletta, and sno-balls.
Order the gluten-free beignets from here as well.

NOLA Po-Boys – When it comes to street food, this New Orleans restaurant deserves special mention. Given that it serves up over 45 types of po-boys, eating here once will never be enough. And, if you find yourself returning for a late-night snack, which you will, order the roast beef sandwich.
Rampart Tree House – This bar is a must-try in New Orleans, known for its wide pizza selection. Additionally, the fun décor makes it a popular tourist spot, too. Open until early morning, enjoy great drinks and yummy street food here. Ask the bartenders to share the haunted history of the place as well.
---
New Orleans Food Map
---
Summary
| | |
| --- | --- |
| New Orleans Food Places | Highlights |
| French Market | Farmer's market, food stands, outdoor dining |
| Bourbon Street | Restaurants, bars, nightclubs |
| Royal Street | Restaurants, art galleries, antique shops |
| Magazine Street | Shops, cafes, restaurants |
| Frenchmen Street | Restaurants, street markets, bars, live music clubs |
| Faubourg Marigny | Cajun bistros, bars, jazz clubs |
| Mississippi River | Live jazz, cocktails, lunch & dinner cruises |
| New Orleans School of Cooking | Creole & Cajun cooking classes |