Also known as the 'City of Canals', Venice is one of Italy's most idyllic cities. Venice is home to beautiful architecture, atmospheric streets, and rich history that make it a real treat to visit. The best time to explore is at night when the crowds have disappeared and the buildings are lit up. Whether you're with your family or partner, there are endless things to do after the sun sets. We'll also highlight a few places where you'll have the best views. To help you make the most of this dazzling city, we've rounded up the best things to do in Venice at night. But first, here are our recommendations.
---
Best Night Views of Venice
The Grand Canal has the best night views of Venice, where you can admire the scenery from a gondola. St. Mark's Square is another great place to visit after the sun sets, offering amazing views of the Basilica lit up. Or head to a rooftop bar, such as Skyline Rooftop Bar, to enjoy superb nighttime views across the city.
---
Most Romantic Places in Venice at Night
The most romantic place to visit in Venice at night is Rialto Bridge. This is the city's most spectacular bridge, and there's access 24/7 daily. Walk hand in hand over the bridge and watch the lights shimmer across the water.
---
Best Place to Visit in Venice at Night for Families
St. Mark's Square is the best place to visit in Venice at night for families. Check out St. Mark's Basilica and see the buildings lit up. Enjoy dinner at the Hard Rock Cafe, only a two-minute walk from the square.
---
1. Grand Canal Gondola Ride
There's no better place to visit than the Grand Canal, Venice's most famous waterway. A great way to explore at night is aboard a gondola – a traditional Venetian boat steered by a gondolier. You'll pass by illuminated landmarks such as Rialto Bridge and St. Mark's Campanile, the tallest building along the river. The sights are truly breathtaking, offering a unique way to see the city. Most nighttime gondola rides go for 30 minutes to 1 hour. For couples, if you want to get serenaded while cruising down the river, it may cost extra. You'll find many gondola stations along the edge of the Grand Canal. Simply join a queue and get ready to enjoy this bucket-list experience!
Opening Hours: Daily 24/7; Some gondola rides from 6pm-9pm
Address: River channel from Santa Lucia train to St. Mark's Square
---
2. Rialto Bridge
Rialto Bridge is one of Venice's most popular landmarks. Dating back to 1173, this bridge is the oldest of four across the Grand Canal, connecting San Polo with San Marco. After the sun sets, walking across Rialto Bridge becomes a spectacular experience. Stand back and admire the bridge lit up against the dark sky. As you walk across the pathway at night, you'll spot brilliant colours reflecting off the water below. Make sure to bring your camera along ‒ you'll definitely need it! From here, you can take a gondola ride along the canal or have dinner at a restaurant nearby. Plenty of shops are in the area too. If you're searching for picturesque places to visit in Venice, Rialto Bridge should be at the top of your list.
Opening Hours: Daily 24/7
Address: Sestiere San Polo, 30125 Venezia VE, Italy
---
3. St. Mark's Basilica
St. Mark's Basilica is one of Venice's most-visited sites and is even more breathtaking at night. Built during the 11th century, the church sits within St. Mark's Square in the heart of the city. During the day, many people flock here to admire the 85,000 square feet of mosaic. However, the best time to visit is at night, when the crowds have dispersed and the mosaics are brightly lit. Book a nighttime guided tour and learn about the Basilica's fascinating history. Explore the nearly empty church and soak in the magical atmosphere. See incredible details up close, such as the Pala d'Oro, an intricately designed altarpiece. While night tours of St. Mark's Basilica do cost money, you won't have to wait in a long queue to step inside.
Opening Hours: Tours from 6pm
Address: P.za San Marco, 328, 30100 Venezia VE, Italy
---
4. St. Mark's Square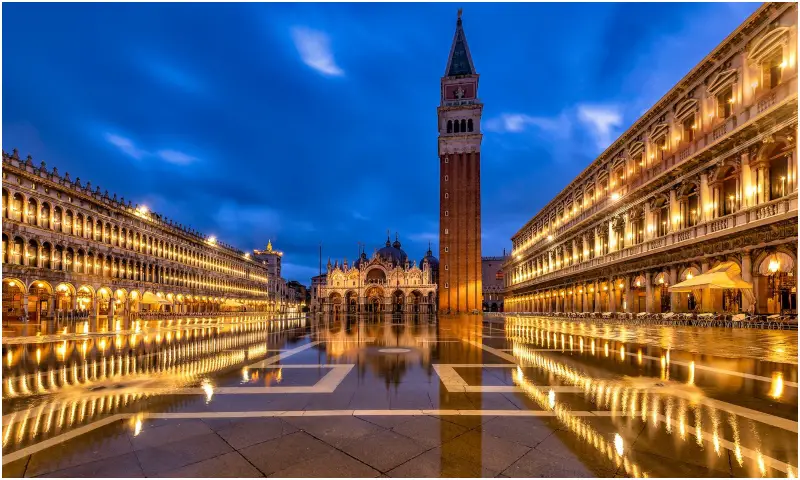 Spend an evening exploring St. Mark's Square, Venice's largest piazza. The square is usually free of crowds at nighttime, so you can look around in peace. Marvel at the buildings' beautiful lights, including St. Mark's Basilica and Doge's Palace, one of the city's Gothic masterpieces. Check out the historic columns that mark the entrance to the square. Once you've finished, enjoy a bite to eat at one of the cafés or restaurants nearby, where there is often live music. Caffè Florian is a great place to stop off, serving cocktails and light bites.  There's nowhere quite like St. Mark's Square ‒ especially at night!
Opening Hours: Daily 24/7
Address: P.za San Marco, 30100 Venezia VE, Italy
---
5. Venice Jewish Ghetto (Ghetto di Venezia)
If you want to explore a different side of Venice, visit the city's Jewish Ghetto (or Ghetto di Venezia) in the Cannaregio district. Located off the beaten track, this is where Jewish people were once ordered to live by the Venetian government. The Ghetto dates back to the 16th century and offers an interesting insight into Venice's history. Today, the Ghetto di Venezia is still the beating heart of the city's Jewish community. Wander around the square and visit different buildings, including bookshops and bakeries. Stop off at one of the synagogues, such as the Great German Schola, established in 1528. The Ghetto is usually quiet and free of tourists, particularly at nighttime.
Opening Hours: Daily 24/7
Address: Campo del Ghetto, Cannaregio sestiere, Venice, Italy
---
6. Dorsoduro
Need somewhere to grab a drink in Venice at night? Head to the Dorsoduro district. Located in the southeast region, Dorsoduro is one of the liveliest areas of the city. It's largely free from tourists and boasts an authentically Venetian atmosphere. It's the perfect place to wander around, offering a mix of attractions and benefitting from lower prices. If you fancy a tipple, take a seat at one of the many traditional bars dotted across the district. Skillà Bar is a great choice for cocktails, located only 10 minutes from Venice Santa Lucia station. Or stop off at Corner Pub, where you can choose from a wide range of beers and wines, as well as delicious snacks.
Opening Hours: Daily 24/7
Address: Sestiere di Dorsoduro, Venezia, Italy, 30100
---
7. Musica a Palazzo
Enjoy an evening of opera with Musica a Palazzo. This is one of Venice's most unique nighttime experiences, held at Palazzo Barbarigo Minotto on the Grand Canal. Musica a Palazzo is a travelling opera that has been performed in Venice since 2005. Listen to outstanding music from instrumentalists and singers during this 2-hour performance. Each room in the Palazzo Barbarigo Minotto is used as a backdrop, so you feel as if you're part of the show. The shows are not performed on a stage, and the singers stand only feet away from you. Musica a Palazzo is a truly memorable experience and not one to be missed. 
Opening Hours: Daily 8pm-11pm
Address: Palazzo Barbarigo Minotto, Fondamenta Duodo o Barbarigo, 2504, 30124 Venezia VE, Italy
---
8. Teatro La Fenice
Teatro La Fenice is a world-famous opera house, located in Venice's San Marco district. Originally built in the 18th century, it was largely destroyed during a fire in 1996. It was eventually rebuilt and reopened in 2003. Watching a show at this theatre is the perfect evening activity in Venice. Step inside and admire the glorious main hall and the Baroque decor. Grab dinner or a drink beforehand at one of the restaurants near Teatro La Fenice. Ristorante Antico Martini is a great option, offering a range of tasty Mediterranean dishes. St. Mark's Basilica is located only a six-minute walk away, making it an excellent place to visit beforehand. 
Opening Hours: Daily tours from 9:30am-6pm; Nightly showtimes vary
Address: Campo S. Fantin, 1965, 30124 Venezia VE, Italy
---
9. I Musici Veneziani
One of the best ways to spend an evening in Venice is listening to live music by I Musici Veneziani. They are a famous orchestra formed in 1996, comprised of talented musicians and opera singers. Their concerts are performed at the Scuola Grande di San Teodoro. It features Baroque music and performers dressed in traditional Venetian clothing. You'll be transported back to the 18th century in this unique setting. Watching I Musici Veneziani perform is an unforgettable experience during a trip to Venice. Before the show, walk around the Rialto Bridge just a 2-minute walk away. There are plenty of restaurants where you can have dinner before the show. Or, go window shopping and check out the boutique fashion stores down the alleys.
Opening Hours: Various days 8:30pm
Address: Scuola Grande Confraternita di S.Teodoro, Campo S. Salvador, 4810, 30124 Venezia VE, Italy
---
10. Interpreti Veneziani Concert
Listen to amazing Baroque music at an Interpreti Veneziani concert. Interpreti Veneziani is a Venice music group that performs material by Bach, Vivaldi, and other composers. The concerts are held at San Vidal, a former church that is now a concert hall. The church is easy to get to, just a 10-minute walk from St. Mark's Square. Attending an Interpreti Veneziani concert is one of the most memorable, romantic experiences in Venice at night. Sit back and enjoy the music in this remarkable 17th-century building. Look around and admire the beautiful details at San Vidal.
Opening Hours: Daily 9pm
Address: S. Marco, 2862/B, 30124 Venezia VE, Italy
---
11. Casino of Venice (Ca' Vendramin Calergi)
Ca' Vendramin Calergi is a beautiful palace located on Venice's Grand Canal. Construction of this awe-inspiring Venetian building was completed in 1509. It was also once home to composer Richard Wagner until his death in 1883. Inside, you'll find the Casino of Venice, complete with various entertainment tables and slot machines. Enjoy a thrilling game of Caribbean Poker or Blackjack. You can also have dinner in the Wagner restaurant, located on the first floor of Ca' Vendramin Calergi. Ideal for adults, this is a fun place to visit for an exciting night in Venice.
Opening Hours: Friday & Saturday 7:30pm-2am; Sunday 5pm-12:30am
Address: Cannaregio, 2040, 30121 Venezia VE, Italy
---
12. Skyline Rooftop Bar
For the most glorious panoramic views of the city, visit the Skyline Rooftop Bar on Giudecca Island. The bar is stationed on the eighth floor of the Hilton Molino Stucky hotel, complete with modern sofas and tables. This sleek, contemporary venue offers a huge range of drinks, with something to suit everyone's tastes. Choose from a selection of signature cocktails created by expert mixologists. Sip your drink and look out at the twinkling lights of Venice below. Skyline Rooftop Bar is the ideal place to visit with a partner, where you can enjoy a relaxing, romantic atmosphere. The views here are unbeatable, stretching right across to St. Mark's Square. If you plan on visiting, it might even be a good idea to stay the night.
Opening Hours: Monday to Thursday 5pm-12am; Friday to Sunday 5pm-1am
Address: Giudecca, 810, 30133 Venezia VE, Italy
---
13. JW Marriott Venice Resort & Spa
Do you prefer a quiet night in? Look no further than the JW Marriott Venice Resort & Spa. Located on Isola delle Rose island, this luxury 5-star hotel offers a quiet retreat away from the bustle of the city. Just a short boat ride from St. Mark's Square, you will be escorted to the hotel via a private shuttle service. Relax in spacious rooms or head to the spa for some pampering. Choose from a range of wellness treatments or unwind in the bio-sauna and hammam. The hotel also boasts wonderful dining facilities, including a bar lounge and a rooftop restaurant. Make it a night to remember by staying in one of their Pool suites.
Hours: Pool & Spa 10am-8pm; Gym 24/7
Address: Isola Delle Rose Laguna Di, 30133 Venezia VE, Italy
---
Venice Map
Find More Things to do in Venice at Night
---
Is Venice safe at night?
Venice is one of the safest cities in the world, including at night. The streets tend to empty as the sun sets and the shops close. But there are still plenty of boutique restaurants where locals dine. Like with any tourist city, be vigilant when using public transport as pickpockets do operate here.
---
Summary