Are you planning on a trip to Sydney to see all the tourist attractions?
There are plenty plenty of places, things to do and attractions to visit, but there are so many different passes and tours.
We're here to help and have picked out the 28 best tourist attractions to see that have tours or discount passes to make your experience even better.
Book Sydney Attractions Pass – Up to 40% Savings
1. Sydney Harbour Bridge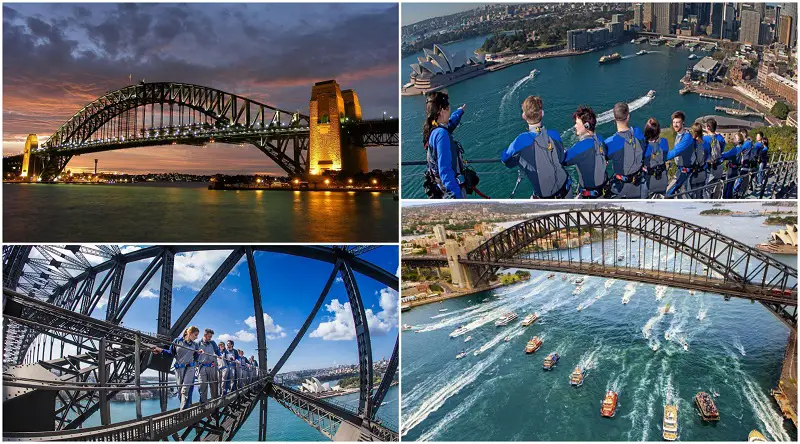 A must-see, the Sydney Harbour Bridge is truly an Australian icon. Spanning 503 metres across the dazzling Sydney Harbour, it truly is a masterpiece of engineering!
Get up close with a walk, ride, drive or even catch a train across. Better yet, see it from the air above on a scenic flight or water below on a ferry or harbour cruise.
If you really want to see more, join a BridgeClimb and be guided all the way to the summit for spectacular views of the harbour, city and surrounds.
What are the best ways for visitors to enjoy the Sydney Harbour Bridge?
Climb it, of course! – Climbing the Sydney Harbour Bridge should be on everyone's bucket list. Get up close and hear all kinds of facts along the way, as well as taking in the stunning views.
The lookout next door – Learn about the bridge's history and construction with a multi-level exhibition located in the Pylon Lookout. Once you've worked your way to the top (up all 200 stairs) enjoy the views as far as the Blue Mountains on a clear day.
Fly overhead – Whether in a seaplane or helicopter, you can get a bird's eye view of the stunning harbour and see the bridge from a whole new angle.
Take a cruise – A lunchtime sightseeing cruise, sunset drinks or even a dinner. There are many options for a harbour cruise!
---
2. Sydney Opera House
Welcoming millions of visitors each year, the Sydney Opera House is definitely an icon.
The distinctive sails sit right on the edge of Sydney Harbour.
The UNESCO World Heritage-listed building hosts more than 1,600 performances each year.
Performances include opera and ballet, through to theatrical productions and contemporary dance.
Take a tour through these hallowed halls or just kick back and enjoy a drink or a meal with fabulous harbour views.
What are the must-do Sydney Opera House experiences?
Take a tour – Let your guide take you on a behind-the-scenes journey through this amazing venue, sharing stories and secrets, and how this world-famous performing arts venue came to be.
Listen to opera – Exactly what the Sydney Opera House was built for, taking in an opera performance on your visit is an absolute must!
Sip cocktails at Opera Bar – Marvel at the amazing views of the Sydney Harbour Bridge any time of day. Savour breakfast or a long lunch, maybe take in the city lights over dinner or just a drink.
Dine at Bennelong – The best Australian produce is served up at Bennelong, tucked inside one of the magnificent sails. The acclaimed restaurant has an inspiring menu. If you're pressed for time, stop by and grab a bite and a quick drink in the bar before a show.
---
3. Sydney Tower Eye
Be sure to take it all in from the city's highest point on a visit to Sydney.
Marvel at views of the Blue Mountains and beaches with the incredible 360 degree views from the Sydney Tower Eye, located right in the CBD.
Visitors can also enjoy the 4D cinema experience.
They can discover more about Sydney and enjoy a wild ride as the fourth dimension is brought into the cinema with wind, bubbles and water.
The Sydney Tower Eye's Observation Deck has binoculars for visitors to get an even better look at the breathtaking views.
There are touch screens with intriguing facts about the other Sydney sights they can see.
They're in multiple languages too!
What landmarks would I be able to see from the Sydney Tower Eye?
Sydney Harbour Bridge – You won't miss the Sydney Harbour Bridge. "The coathanger" should be easy to see from the Observation Deck, set against the brilliant blue harbour.
Sydney Opera House – The iconic sail shapes of the Sydney Opera House are easy to spot.
Luna Park Sydney – See all the fun and games across the harbour at this restored amusement park.
---
4. Sydney Tower Buffet
What better place to enjoy brilliant views than a revolving restaurant?!
Make the most of 360 degree views across Sydney day and night at the Sydney Tower Buffet, one rotation of the restaurant takes around 80 minutes.
Dine 310 metres above ground with stunning views of the city, Sydney Harbour and beyond.
The relaxed atmosphere can be enjoyed by both visitors and locals with over 55 dishes to choose from in the extensive buffet.
Hot and cold dishes covering a variety of cuisines – and dessert, of course – are available for diners to choose from.
What kind of food is available at the Sydney Tower Buffet?
Fresh seafood – A selection of seafood is freshly prepared each day, including prawns, oysters, fish, squid and mussels.
A taste of everything – There's something for everyone, even if you're gluten free, a vegetarian or vegan. Salads packed with fresh vegetables, chicken, beef, dumplings, nachos, pork belly – you name it and it's likely on the menu – even kangaroo!
Dessert – While it's tempting to make the most of the offerings at the buffet, be sure to leave room for dessert. There are lamingtons, cheesecakes, tiramisu, pudding, mousse, fresh fruit and it wouldn't be dessert without pavlova too!
---
5. Taronga Zoo
A zoo with amazing views, Taronga is an easy ferry ride across Sydney Harbour from the city.
You'll be occupied for hours with more than 4,000 animals to see from giraffes standing tall, all the way down to the meerkats bobbing around.
Watch Squirrel Monkeys surrounding you at the only monkey walkthrough exhibit in Australia, go behind the scenes with the Keeper for a Day experience, or tackle the Wild Ropes up above in the treetops.
Which popular animals can you see at Taronga Zoo?
Chimpanzee – The closest living relative to humans, Chimpanzees are endangered in the wild. Seventeen of these intelligent animals call Taronga Zoo home.
Giraffe – Giraffes are the tallest animals so visitors shouldn't have trouble spotting these – they can grow to over 5 metres in height!
Sumatran Tiger – Seeing the endangered Sumatran Tigers is a must for Taronga Zoo visitors. Learn how to preserve their precious wild habitat as you get up close to these amazing creatures.
Ring-tailed Lemur – You might recognise these from the movie Madagascar! The Ring-tailed Lemur can be found in the wild on the island of Madagascar near Africa.
---
6. Australian Museum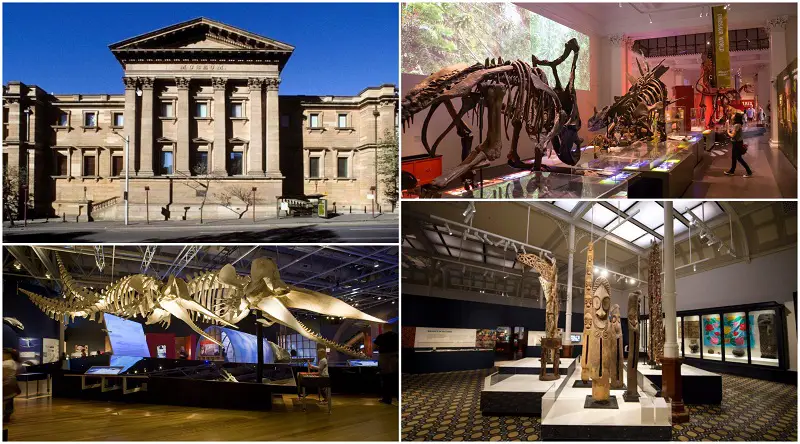 Australia's oldest museum is packed full of exhibits to surprise and delight visitors.
The Australian Museum's collection is made up of more than 18 million objects, though only a small amount can be on display at any one time.
Explore the diversity of flora, fauna and cultures of both Australia and the wider Pacific region through temporary and permanent exhibitions.
What can you see at the Australian Museum?
Dinosaurs Exhibition – The Australian Museum has 10 dinosaur skeletons! There are also eight life-size models so there's plenty to learn about these amazing prehistoric creatures which once walked the earth.
200 Treasures of the Australian Museum – While the entire collection can't be on display all at once, this gallery showcases 100 objects and 100 people, revealing stories about their influence on the museum and the nation. From Australia's first bank note to an Egyptian mummy and even Ned Kelly, visitors are sure to find something of interest here.
Surviving Australia exhibition – Visitors can learn about all kinds of animals which have called Australia home. From giant megafauna of times past, through to the more recently extinct Tasmanian Tiger and even Australia's most venomous snakes.
---
7. Darling Harbour
In the heart of Sydney, Darling Harbour is perfect for all ages.
Meet iconic Australian animals at WILD LIFE Sydney Zoo or SEA LIFE Sydney Aquarium.
Rub shoulders with your favourite celebrities at Madam Tussauds.
Or perhaps let a little tranquillity into your life with a visit to the Chinese Garden of Friendship.
The kids can run wild on the playground at Darling Quarter, too.
After all the excitement and activities, there's an abundance of waterfront dining options to satisfy the whole family.
Soak in the relaxed outdoor atmosphere at restaurants along King Street Wharf, Cockle Bay and Harbourside.
What are the main attractions at Darling Harbour?
Australian National Maritime Museum – The whole family can enjoy exploring indoors and out with galleries, exhibitions and the fleet outside at the wharves. Climb aboard the submarine, see the fastest boat in the world or discover the dangers of life in the Navy.
Madame Tussauds Sydney – Get closer to your favourite celebrities than ever before and grab a selfie with Chris Hemsworth or Adele, two of the many stars you'll spot at Madame Tussauds Sydney.
SEA LIFE Sydney Aquarium – Be entertained at the aquarium with all kinds of underwater environments on display. There are sharks, penguins and plenty more to keep the whole family enthralled and entertained!
WILD LIFE Sydney Zoo – Say hi to cute koalas, spot platypus pals hiding out in their pools or take a walk amongst kangaroos. There's also Ringo the Wombat and Rocky the massive saltwater crocodile.
---
8. SEA LIFE Sydney Aquarium
One of Sydney's favourite visitor attractions, SEA LIFE Sydney Aquarium is located at Darling Harbour.
Explore underwater environments across Australia like the Great Barrier Reef, through to our wild southern oceans.
There's more than 100 metres of viewing tunnels to get up close to the underwater action, and you can learn all about the animals with daily talks and feeds.
What sea life will you see at the Sydney Aquarium?
Penguins – Witness a colony of Little Penguins as they glide through the water and waddle around the South Coast Shipwreck, or get up close to King and Gentoo Penguins in the sub-Antarctic Penguin Expedition where you'll be carried alongside them in a raft.
Dugongs – Meet Pig the Dugong who was rescued after being washed up in Queensland. See him munch his way through plenty of cos lettuce and listen to the story about SEA LIFE Sydney Aquarium's dugong from the aquarists each day.
Sharks – Grey Nurse, Blacktip Reef, Whitetip Reef, Grey Reef, Wobbegong – SEA LIFE Sydney Aquarium is home to them all! Get up close and in the water with the Shark Dive Xtreme experience.
Tropical Reef Fish – Nemo, Dory and all their colourful friends can be found here too!
---
9. Madame Tussauds Sydney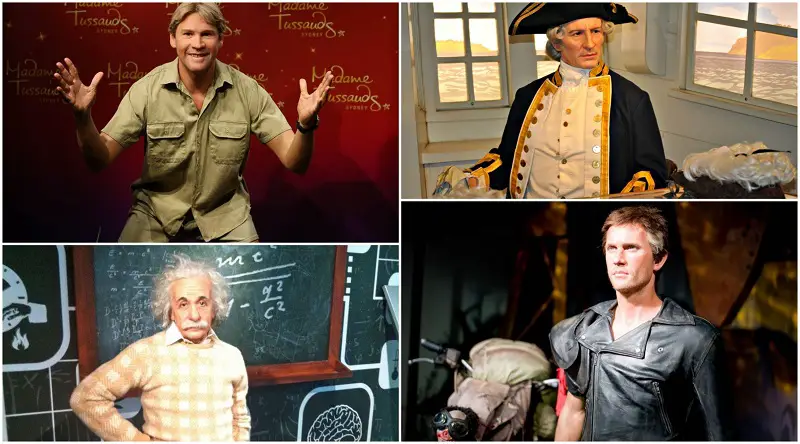 Located at Darling Harbour, see your favourite celebrities closer than ever before at Madame Tussauds. Be sure to pose with your favourites or just grab a selfie.
You'll have plenty of options to choose from with movie stars and the hottest acts in music alongside sporting heroes and world leaders.
Which are the must-see wax sculptures at Madame Tussauds?
Queen Elizabeth II – Don't forget your manners – you simply must curtsey or bow to the Queen.
Catherine, Duchess of Cambridge, and Prince William – The Queen isn't the only royalty you'll run into, Will and Kate are close by!
Supermodels – With the likes of Elle McPherson, Miranda Kerr and Megan Gale to see, you'll be well practiced in the art of the catwalk by the time you leave.
Spider-Man – Your favourite superheroes can be found at Madam Tussauds too. Cling to the ceiling alongside Spider-Man for a photo opportunity your friends won't believe!
Adele – Music superstar Adele will present you with an award of your own – the MTV best newcomer award.
---
10. WILD LIFE Zoo
Next door to Madame Tussauds and SEA LIFE Aquarium are so real life local cuddly (and dangerous) animals at WILD LIFE Zoo.
Learn about the Australian wildlife in the middle of Sydney CBD.
There's no need to travel to the bush just to see koala, kangaroos or wombats!
What can you see and experience at WILD LIFE Zoo?
Breakfast with Koalas – Wake up early in the morning and enjoy a delicious Aussie breakfast in the company of cuddly koalas.
Different animal zones – See kangaroos, butterflies, wallabies, koalas and nocturnal animals in their natural habitats.
Feeding and Talks – Don't miss the various talk shows and feeding time that happen throughout the day and learn about wild Australian animals.
---
11. Australian National Maritime Museum
The Australian National Maritime Museum is a great attraction particularly for families with kids.
Join a guided tour or let the kids get their hands on some of the interactive displays.
Find out what life was like above and below water through interesting exhibitions.
You can also go inside real vessels located outside on the wharves.
What vessels can visitors explore at the Australian National Maritime Museum?
HMB Endeavour – One of the most accurate vessel replicas in the entire world, you'll feel as though you've stepped back in time when you come aboard. Immerse yourself in the lives and experiences of James Cook and his crew as they sailed across the globe.
HMAS Vampire – Part of the Daring class which were the largest destroyers built in Australia; the HMAS Vampire is Australia's largest museum vessel. Throw yourself into what life on board this vessel was like in the Action Stations experience.
HMAS Onslow – Still close to operational condition, the HMAS Onslow allows visitors to explore the mysterious world of submarines. Used to track Soviet submarines during the Cold War, the Onslow.
---
12. Chinese Garden of Friendship
The serenity of the Chinese Garden of Friendship will have you feeling as though you're a million miles away, not at Darling Harbour in the heart of Sydney!
The traditional landscapes have been designed by Chinese landscape architects to achieve a balance of Yin and Yang, and feature waterfalls, mountains, lakes and forests.
What activities are there at the Chinese Garden of Friendship?
Daily fish feeding – Head for the Lenient Jade Pavilion and join the staff as they feed the koi fish each day.
Chinese Garden Highlights Tour – A great way to get your bearings and start exploring, learn about the history of the garden as well as the landscape and cultural heritage.
Traditional Chinese dress-up in the garden – While visiting you can also take the opportunity to try on traditional Chinese costumes. Be sure to bring the camera for this photo opportunity.
The Emperor's Quest – Hidden within the Chinese Garden, discover the twelve animal sculptures representing the Chinese Lunar calendar and see which one you are.
See the Dragon Wall – The wall's two flying dragons represent the sister states of New South Wales and Guangdong, a province in China.
---
13. Powerhouse Museum
Close to Darling Harbour, the Powerhouse Museum is easily accessible for visitors
It showcases a huge range of objects from across the museum's diverse collection as well as other temporary exhibitions.
Covering topics from science, technology and engineering through to design, architecture and health, there are displays to interest almost everyone.
Join a tour or attend one of the regular events, workshops or demonstrations.
What are some of the highlights to see on a visit to the Powerhouse Museum?
Space – Find answers to all your burning space-related questions in this exhibition. Learn how astronauts live and work out in space and experience the illusion of weightlessness in the Zero Gravity Space Lab. See a spacesuit up close, satellites and even a moon rock too!
Boulton and Watt Engine – The oldest wheel-turning steam engine in existence and one of the earliest built, visitors will be enthralled.
Strasburg Clock – One of the Powerhouse Museum's most popular exhibits, the clock is a replica of another famous clock from Strasbourg, France. Witness it spring into action at six minutes before each hour.
Locomotive No. 1 – The exhibit recreates an early train journey from Sydney to Parramatta in the 1800s and the locomotive hauled New South Wales' first train making it extremely rare and one of the museum's most significant collection objects.
---
14. Bondi Beach
An Australian icon, Bondi Beach is buzzing with activity every day and is only eight kilometres from the Sydney CBD.
Soak up the sun from the white sands, go for a dip between the flags while professional lifeguards patrol or take to the waves on your surfboard!
If you've worked up an appetite after a dip, head to one of the cozy cafes or fine dining restaurants nearby. There's also the more casual fish 'n' chips option – take it back to the beach and relax.
Don't miss a visit to Bondi Icebergs, or the magnificent views from the cliff top Bondi to Coogee Coastal Walk.
What are the best ways to make the most of a Bondi Beach visit?
Bondi Icebergs – A Bondi landmark, no visit would be complete without a lap of the Bondi Baths. Visitors can also enjoy the bar and bistro inside Bondi Icebergs, one of the country's oldest swimming clubs.
Bondi to Coogee Coastal Walk – Blend in with the locals along the six-kilometre Bondi to Coogee Coastal Walk, taking in Tamarama, Bronte and Clovelly beaches along the way. There is a steep section and many steps so it usually takes around two hours to complete. The stunning Insta-worthy views along the trail are certainly a fantastic reward for your efforts.
Take a surfing lesson – What better place to learn how to surf than Bondi Beach? Take a private or group lesson on the rolling waves.
---
15. Sydney Fish Market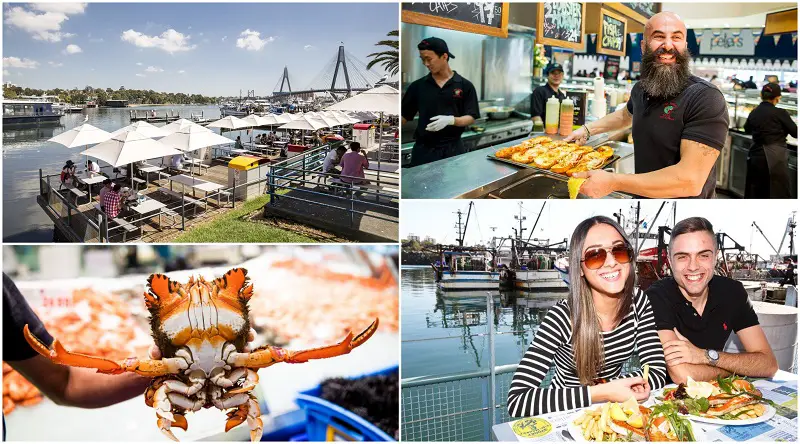 Be enthralled by the buzz at the lively Sydney Fish Market, the largest seafood market in the southern hemisphere.
See over 2,000 crates of fresh seafood brought to market and sold each day using an innovative, fast-paced Dutch auction system.
Visitors can also buy seafood at the numerous restaurants on-site, as well as the bakery, butchery, deli and greengrocer.
Also at the market, you'll find the famous Sydney Seafood School with an unrivalled line-up of cooking classes, not to be missed!
What are the main activities for visitors at Sydney Fish Market?
Join a tour – Go behind the scenes and see how the market works. Discover more about the history, spot the variety of species being auctioned off and view oysters being shucked right in front of you.
Take a cooking class – Some of Australia's best chefs have taught at the Sydney Seafood School. Some of the most popular classes are the Thai and Seafood BBQ but there's plenty to choose from whether you're a beginner or more advanced.
Come for lunch – There's nothing better than eating the freshest seafood with a view out over the water – stay for lunch or pick up something special and take it home for dinner.
---
16. Royal Botanic Gardens
The Royal Botanic Gardens certainly are a brilliant attraction in their own right, as well as being in a spectacular location perched on the edge of Sydney Harbour.
Over 200 years old, the gardens have an amazing collection of flora from Australia and across the globe.
Wander through Australian natives, a selection of succulents from across the world, or explore the rainforest area.
What can visitors do at the Royal Botanic Gardens?
Take a tour – Free tours with volunteer guides run daily at the Royal Botanic Gardens, showcasing the interesting history of the site and the plants found throughout.
Learn about the Aboriginal history of the area – Discover the culture and history of the Cadigal people, the traditional owners of the Sydney city area, and see the ways their people use plants found in the gardens. Guided tours are available.
Explore the Australian Rainforest Garden – Australia's rainforest areas are the most ancient type of vegetation found on the continent. Meander through rare and threatened species including orchids, palms and ferns.
Choo Choo Express – Take a ride on the Choo Choo Express, hopping on and off at any of the stops in the gardens. Relax and watch the gardens roll by as your guide shows off the points of interest and shares stories of the garden's history.
---
17. Circular Quay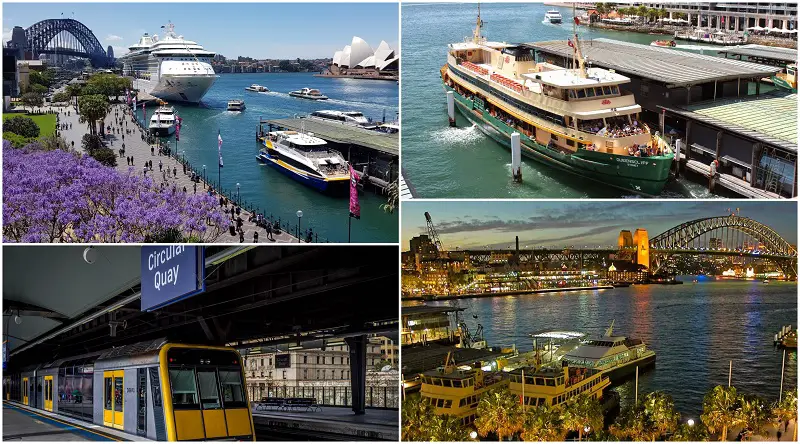 Right in the heart of Sydney, Circular Quay is situated on the edge of Sydney Harbour.
Hop aboard a ferry bound for destinations around the harbour.
Take a short stroll to the Sydney Opera House and Royal Botanic Gardens.
Alternatively, catch a train or bus to North Sydney for a little exploring.
Take a walk along the western side and you'll come across the Museum of Contemporary Art Australia and historic Rocks precinct.
You can even wander underneath the Sydney Harbour Bridge.
Close by you'll find many top restaurants including Quay, Bennelong and Aria.
Alternatively, duck into nearby cafes for a coffee and cake.
A number of tours depart from Circular Quay including harbour cruises, guided walks, tall ships and whale watching during winter.
What attractions can be found close by?
Sydney Opera House – See the iconic sails and even take a tour of the building.
Museum of Contemporary Art Australia – Explore the galleries featuring contemporary works by Australian and international artists.
Customs House – A unique space in a stunning heritage building where visitors can enjoy exhibitions and events.
Royal Botanic Gardens – Wander through the gardens, take a guided tour or relax in one of the eateries on-site.
---
18. Museum of Contemporary Art Australia (MCA)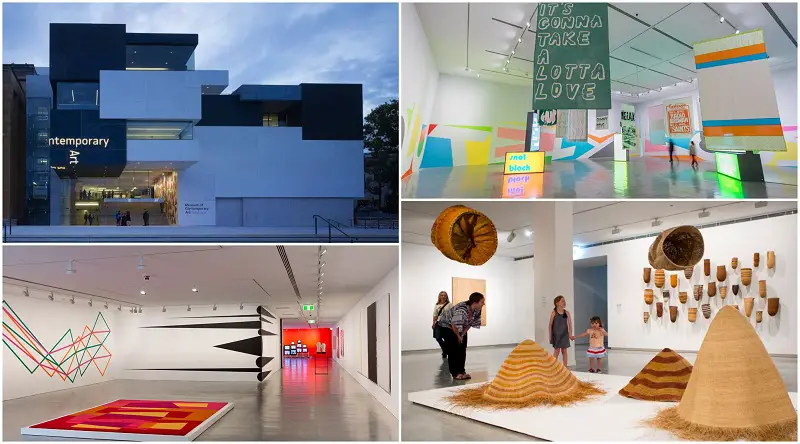 The Museum of Contemporary Art Australia (MCA) houses an ever-changing line-up of thought-provoking exhibitions and events.
It showcases contemporary art from both Australian and international artists.
Both established and emerging artists are all well represented as the MCA attempts to display the diversity of contemporary art in its various forms.
Visitors to the MCA can browse the exhibitions, pick up a unique gift at the MCA Store or enjoy the views as they grab a bite to eat.
What can visitors do at the Museum of Contemporary Art?
Free guided tours – Browse the galleries with a knowledgeable guide by your side to share insights about the works and the artists behind them.
Grab a bite – With two dining options, both with spectacular views, you certainly won't go hungry when visiting the Museum of Contemporary Art.
Head to the store – Browse a selection of goods from Australia's best designers and artists including home wares, books, jewellery and other gifts.
---
19. The Rocks
Explore this historic precinct packed with stories on the edge of Sydney Harbour.
With an eclectic mix of old and new, The Rocks is a great place for visitors to discover.
Cobblestones and heritage buildings abound, nestled alongside contemporary art, modern restaurants and boutique bars.
Be sure to learn more on a walking tour of the area, or perhaps enjoy the delicious food and wines offered in restaurants and cafes.
What are the must-do experiences while visiting The Rocks?
See contemporary art – Exhibitions at the Museum of Contemporary Art showcase the diversity and breadth of contemporary art practice from artists in Australia and across the world.
Browse the markets – The Rocks Markets are a great spot to explore with food on Friday, followed by more than 200 diverse stalls on the weekend.
Take a walk – Join one of the walking tours covering this unique historic area. Learn about Aboriginal culture, pubs and historic sights.
---
20. Chinatown
A vibrant area perfect for visitors to explore, Chinatown will certainly keep you occupied.
Don't miss trying some of the eateries with everything from Chinese to Thai and Vietnamese on the menu.
There are noodle bars, restaurants and, of course, yum cha!
Nearby, go on a behind the scenes tour at the Capitol Theatre or shop at the markets, arcades and malls.
What can visitors see and do in Chinatown?
Dine out – With choices ranging from yum-cha and food courts to blink-and-you'll-miss-them eateries hidden away, you're sure to find something to your tastes.
Enjoy events – Celebrate the Lunar New Year and other events throughout the year in this bustling area. Don't forget to check what's on at the Capitol Theatre; there are regular performances throughout the year.
Go shopping – Grab a bargain at Paddy's markets, browse factory outlets at Market City or shop til you drop in Chinatown.
---
21. Art Gallery of New South Wales
The Art Gallery of New South Wales is spread across five levels so there's plenty for visitors to explore.
With such a large collection – around 5% of the collection can be on display at once – it's no surprise there's everything from European masters through to Australian and Asian art. Visitors can also see on the largest galleries of works by Aboriginal and Torres Strait Islander artists in the entire country.
Tours are available in multiple languages, as well as for the littlies too, so everyone can enjoy the art.
Be sure to also stop by and browse the range at the Gallery Shop, or dine at the restaurant or cafe.
What are the highlights at the Art Gallery of New South Wales?
Free tours – Visitors can join a volunteer guide on a range of free tours through the gallery. Three to five year olds can also nurture a love of art from an early age with tours for Tots, special adventure tours exploring the gallery's collection.
The Collection – Browse Aboriginal and Torres Strait Islander art, as well as the gallery's colonial and 19th-century Australian works. The European old masters are also represented.
Gallery Shop – Specialising in art books, you'll find the Gallery Shop's range more than adequate. There's also a selection of other books, as well as postcards, art supplies and other gifts.
---
22. Sydney's Paddy's Market
You'll need some time just to take it all in at the bustling atmosphere at Paddy's Market on the bottom floor of Market City.
Visitors can find almost anything at Sydney's biggest market.
Whether you're looking to pick up some snacks, souvenirs from your visit to Australia, or a brand new toy for the kids, you're sure to find it at Paddy's Market.
What kind of items are stallholders selling at Paddy's Market?
Accessories – Get a new belt, jewellery or even a phone case. You can pick up all kinds of accessories at a much cheaper price compared to conventional shops in Sydney.
Souvenirs – If you're just visiting, don't forget the all-important souvenirs. There are Australian-themed magnets, shirts, bags, placemats and thongs – anything you can imagine!
Toys – You'll find toys for the young and the young at heart at Paddy's Market. Board games, puzzles, dolls, teddy bears or even model cars and trains.
---
23. Queen Victoria Building (QVB)
The Queen Victoria Building (QVB), was completed in 1898 and takes up an entire city block in Sydney's CBD.
It was beautifully restored to represent the building's original design after many uses including as a library and offices.
The QVB is now predominately a shopping centre.
It houses more than 180 boutiques and retail shops, as well as a number of eateries to satisfy any craving.
Visitors can marvel at the architecture throughout the building, with highlights including the immense centre dome, stained glass windows and an original 19th century staircase.
What kind of shops can visitors find at the Queen Victoria Building?
Ladies Fashion – Gorman, Country Road, Sheike, Topshop and Alannah Hill are just the start of the huge range of ladies fashion stores at the Queen Victoria Building.
Footwear – A range of footwear brands can be found at QVB, whether you're in need of a pair of R.M. Williams boots, Nine West heels or ASICS runners.
Accessories – Brands including Michael Kors, Longchamp and Coach, right through to Pandora and Lovisa will ensure you can find all the accessories you need.
---
24. St Mary's Cathedral
A Sydney landmark, St Mary's Cathedral is located in the CBD opposite Hyde Park.
Mass services are held throughout the week with visitors welcome to attend.
When services are not being held, visitors can take the opportunity to wander through the iconic building, sit and enjoy the serene atmosphere or view the Cathedral Crypt.
St Mary's is an example of an English-style gothic church and is constructed from local sandstone.
Those interested in architecture and history will enjoy many of the building's features including stunning stained glass windows and the gargoyles perched up high on the towers and turrets.
What is there to see and do at the Cathedral?
Take a guided tour – Free guided tours of St Mary's Cathedral are available on most Sundays.
See the Crypt – The terrazzo floor in the Cathedral Crypt is one of the finest examples in the world of mosaic floors. Visitors can take in the remarkable architecture surrounding the final resting place of important Australian Catholic figures.
Listen to music – Well-known for its music and Choir, St Mary's has regular recitals and concerts throughout the year, in addition to Choir music included in regular church services.
---
25. State Theatre
An important part of Sydney's cultural fabric, the State Theatre has seen a lot since it opened in 1929.
It has played host to red carpet premieres, traditional English pantomimes, and famous musical acts.
The magnificent building includes elements of gothic, Italian and art deco styles.
Inside you'll find artworks by noteworthy Australian artists and the second largest chandelier on earth, weighing more than four tonnes.
Be sure to take a tour and learn more about this unique building.
What can visitors see on a guided tour of the State Theatre?
Behind the scenes – Be fascinated by the engineering and mechanics behind the State Theatre, and catch a glimpse of the famous Character Lounges.
Artworks – Glimpse works by illustrious Australian artists including William Dobell, Mary Edwards, Charles Wheeler and Raymond Lindsay.
Chandeliers – The Koh-i-Nor will captivate visitors. One of 13 hand-cut crystal chandeliers framing the auditorium, it's the world's second largest.
---
26. Sydney Capitol Theatre
The historic Capitol Theatre plays hosts to theatre shows, musicals, ballets and other concerts throughout the year.
Located in Haymarket, the theatre is easily accessible from the Sydney CBD.
It's not just the shows themselves though, the Capitol Theatre is the perfect location for a great night out.
An hour before each performance is when you'll find the foyers and bars open.
Go along early to meet up with friends and family with a drink to enjoy the whole experience from start to finish.
The theatre's roaming ice cream vendor will serve choc-tops straight to your seat, or head to the bars for your choice of snacks and confectionery.
What do visitors need to know about the Capitol Theatre?
Book a tour – It's not just shows you can see, discover the architecture and history of the building with a tour guide who can tell stories of it all.
Stay nearby – There's plenty of accommodation options close by if you're visiting Sydney. Meriton Apartments, Metro Hotel Marlow Sydney Central, Holiday Inn Darling Harbour and Breakfree on George are all within walking distance of the Capitol Theatre.
---
27. Luna Park Sydney
Who doesn't love Luna Park?
With amazing harbour views, visitors will love this amusement park!
Enjoy classic rides like the Ferris Wheel, race family and friends down the Giant Slides or take a spin on the Carousel.
There are also fun sideshow games.
Have a hit on the Hi Striker, give the Laughing Clowns a try or test your skills on the Balloon Busters.
Your visit won't be complete with some fairy floss or maybe an ice cream – there are plenty of spots to grab a bite at Luna Park too.
What will your family enjoy at Luna Park?
Rides – Don't miss the Carousel, Ferris Wheel or Dodgem Cars. If you're a real ride lover, have a go on the Tumble Bug and be flung all around!
Sideshow alley – A combination of luck and skill is exactly what you need to take on the sideshow alley games. Slam the hammer and test your strength on the Hi Striker, perfect your timing on the Laughing Clowns or see if your aim lines up on the Knockems.
Coney Island – This funhouse is not-to-be-missed on your visit to Luna Park Sydney. Journey through the Mirror Maze, take a ride down the Giant Slides or line up on the pinball machines.
Food – You won't go hungry at Luna Park Sydney with everything from fried chicken and cheeseburgers, through to hot dogs and ice cream.
---
28. Featherdale Wildlife Park
If getting up close to native Australian wildlife is high on your list of things to do, look no further than Featherdale Wildlife Park.
It's located on the way from Sydney to another amazing destination – the Blue Mountains.
Enjoy a hands-on experience where you can have a personal encounter with some of the animals.
You'll find koalas, kangaroos and animals of all sizes from the 4.5-metre saltwater crocodile through to birds and bilbys.
Discover emus, bettongs, wombats and 40 reptile species among the 1,700 animals and 280 species.
Which animals can you see on a personal encounter?
Dingo – Featherdale's dingoes are waiting to meet you – get up close for a pat and photo while you chat to the Dingo keepers.
Crocodile – No, not a gigantic one. Visitors are allowed to hold a baby Saltwater Crocodile at Featherdale.
Koala – A must-do for any visitors, say hi and pet an iconic Australian animal – the koala.
---
Sydney Tourist Attractions Pass
If you want to see as many tourist attractions possible in Sydney, purchase an iVenture Card which includes many of the attractions listed.
It's the best way to save money.
You have the option to choose a 3 day pass, 7 day pass, or a more flexible alternative to see 3, 5 or 7 attractions over a 3 month period.
Book Sydney Attractions Pass – Up to 40% Savings