Sydney is one of the most popular cities in Australia. If you're planning a day out in the Sydney CBD, there are plenty of things to do. You can see world-class landmarks, museums, wildlife parks, and unique shopping malls. We'll show you places to visit ideal for families, romantic dates, and even rainy days. Before we go through each attraction, here are some recommendations.
---
Best Things to Do in Sydney CBD for Free
Many locals go for walks in Darling Harbour, the Rocks, Circular Quay, and Royal Botanic Gardens. Quite often there are events on weekends too. Circular Quay is particularly popular since everyone wants a view of the Harbor Bridge and Opera House. For free museums, check out the Australian Museum, Powerhouse Museum, MCA, and Art Gallery of New South Wales.
---
Best Things to Do in Sydney CBD When it's Raining
Visit shopping malls like QVB, Market City, Paddy's Markets, or Westfields. For families with young kids, you may prefer visiting SEA Life and WILD LIFE Zoo. For the best views of the city, Sydney Tower is an obvious choice. All these places are under cover.
---
Best Things to Do in Sydney CBD with Children
You can spend the day at SEA Life, WILD LIFE Zoo, and Madame Tussauds since they are right next to each other. Other museums worth visiting are the Powerhouse Museum and Maritime Museum. There's also a huge kid's playground in Darling Harbour which is always crowded on weekends. For something more thrilling, head to Luna Park.
---
Best Things to Do in Sydney CBD at Night
Besides the usual cinemas, book a show at the Capitol Theatre or State Theatre. If you're looking to party into the night, there are a number of nightclubs, bars, and karaoke places along George Street and Pitt Street. If you're looking for a good variety of dining, have a look at the Darling Square area. It's close to Chinatown and it's always buzzing at night.
---
1. Sydney Harbour Bridge Climb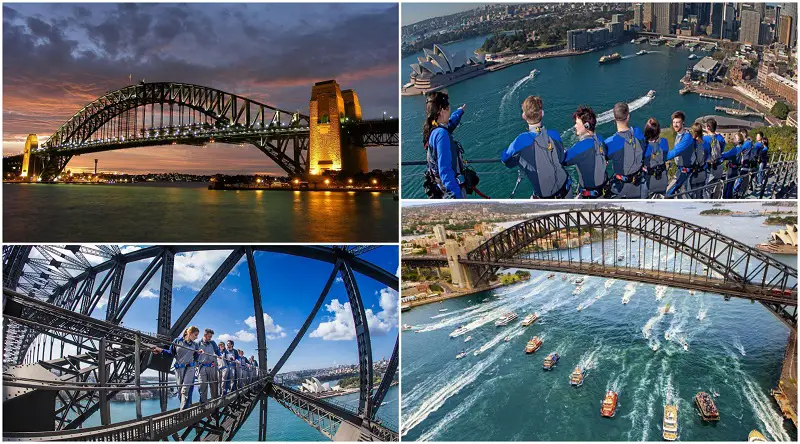 A must-see, the Sydney Harbour Bridge is truly an Australian icon. Spanning 503 meters across the dazzling Sydney Harbour, it truly is a masterpiece of engineering. Get up close with a walk, ride, drive, or even catch a train across. Better yet, see it from the air above on a scenic flight or water below on a ferry or harbor cruise. If you really want to see more, join a BridgeClimb and be guided all the way to the summit. You'll have the most spectacular views of Sydney harbor, city, and surrounds.
Opening Hours: Daily 24/7
Address:

Sydney Harbour Bridge, Sydney NSW
---
2. Sydney Opera House
Welcoming millions of visitors each year, the Sydney Opera House is definitely an icon. The distinctive sails sit right on the edge of Sydney Harbour. The UNESCO World Heritage-listed building hosts more than 1,600 performances each year. Performances include opera and ballet, through to theatrical productions and contemporary dance. Take a tour through these hallowed halls or enjoy fine dining at Bennelong, their onsite restaurant. The easiest way to get to the Opera House is by train. It's a scenic 10-minute walk from Circular Quay station.
Opening Hours: Daily 9am-5pm; show times vary at night for live performances.
Address: Bennelong Point, Sydney NSW 2000
---
3. Sydney Tower Eye
Located right on top of Westfields, you'll find the mega-tall structure Sydney Tower Eye. Standing at 309 meters, it's Sydney's tallest building so you'll be able to see everything from there. Binoculars are placed around the observation deck so you can get a closer look at all the CBD landmarks. Some structures you'll definitely see include the Harbor Bridge, Opera House, and Luna Park. For the ultimate experience, there's a virtual reality rollercoaster ride that takes you around the tower. Or, you can do it for real and go on a skywalk outside the building. Besides weekends, it's generally not crowded so you can still take great scenic photos from inside the tower.
Opening Hours: Daily 10am-7pm
Address: Westfield Sydney, Level 5/108 Market St, Sydney NSW 2000
---
4. Skyfeast at Sydney Tower
What better place to enjoy brilliant views than a revolving restaurant?! Make the most of 360-degree views across Sydney day and night at Skyfeast. One rotation of the restaurant takes around 80 minutes. While you're looking down on Sydney CBD, there'll be over 55 dishes to choose from in the extensive buffet. Enjoy fresh seafood, hot dishes, salads, and of course desserts. Skyfeast is open for lunch and dinner, with weekdays being the cheaper option.
Opening Hours: Lunch 12pm-2pm; Dinner 5pm-10:30pm
Address: Level 4/108 Market St, Sydney NSW 2000
---
5. Taronga Zoo
A zoo with amazing views, Taronga Zoo is an easy ferry ride across Sydney Harbour from Circular Quay. You'll be occupied for hours with more than 4,000 animals to see. There are giraffes standing tall, all the way down to the meerkats bobbing around. Check times for keeper talks so you don't miss out. The Free Flights Bird show, in particular, is very popular. To really make your visit special, try staying overnight in their eco-lodges or wildlife retreat.
Opening Hours: Daily 9:30am-5pm
Address: 

Bradleys Head Rd, Mosman NSW 2088
---
6. Australian Museum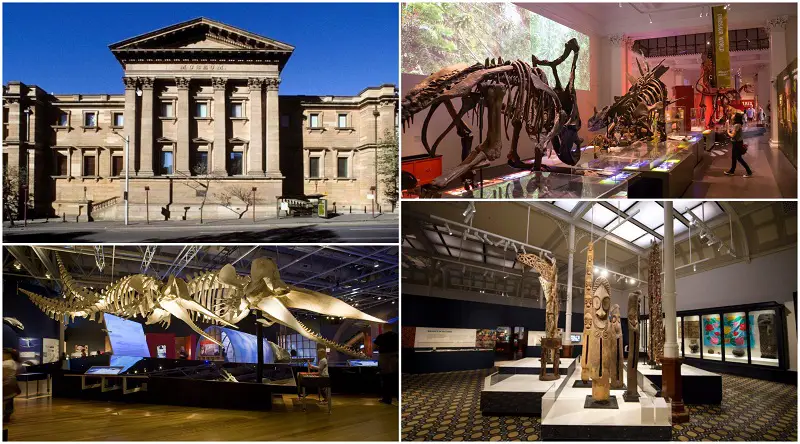 Australia's oldest museum is packed full of exhibits to surprise and delight visitors. Inside, there's a collection made of more than 18 million objects. However, only a small amount can be on display at any one time. Explore the diversity of flora, fauna, and cultures of both Australia and the wider Pacific region. The full-size dinosaur bones are popular with kids so expect to spend some time here. Best of all, entry is free to permanent exhibits and there's certainly lots to see.
Opening Hours: Daily 10am-5pm
Address: 1 William St, Darlinghurst NSW 2010
---
7. Darling Harbour
In the heart of Sydney, Darling Harbour is perfect for all ages. Meet iconic Australian animals at WILD LIFE Sydney Zoo or SEA LIFE Sydney Aquarium. Rub shoulders with your favorite celebrities at Madam Tussauds. Or perhaps let a little tranquillity into your life with a visit to the Chinese Garden of Friendship. The kids can run wild on the playground at Darling Quarter too. After all the excitement and activities, there's an abundance of waterfront dining options to satisfy the whole family. Soak in the relaxed outdoor atmosphere at restaurants along Cockle Bay, Harbourside, and trendy Darling Square.
Opening Hours: Daily 24/7
Address: Darling Harbor, Sydney, NSW
---
8. SEA LIFE Sydney Aquarium
One of Sydney's best family attractions, SEA LIFE Sydney Aquarium is located at Darling Harbor. Explore underwater environments across Australia like the Great Barrier Reef, through to our wild southern oceans. Some of the animals you'll see include penguins and dugongs. And of course, there'll be an underwater tunnel to view huge sting rays and sharks. Allow about 2 hours to stroll through all the exhibits. You should have time to visit other attractions in Darling Harbor.
Opening Hours: Monday to Wednesday, Friday 10am-3pm; Thursday & Weekends 9:30am-4pm
Address: 1-5 Wheat Rd, Darling Harbor, Sydney NSW 2000
---
9. Madame Tussauds Sydney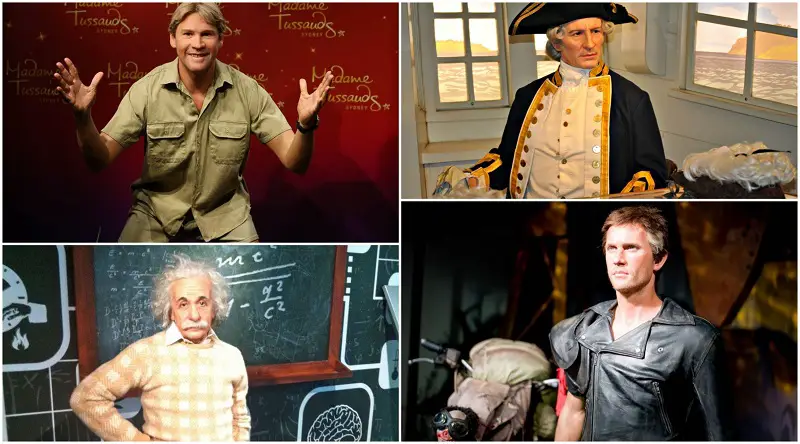 Located at Darling Harbour, see your favorite celebrities at Madame Tussauds. You'll be amazed by the details in the life-size wax figures. As you explore each zone, pose with the celebrities and take plenty of photos. There are movie stars, TV personalities, singers, sporting heroes, and world leaders. You'll even bump shoulders with fictional characters like Spiderman and Wonder Woman.
Opening Hours: Daily 9:30am-4pm
Address: 1-5 Wheat Rd, Darling Harbor, Sydney NSW 2000
---
10. WILD LIFE Zoo
Right, next door to Madame Tussauds and SEA LIFE Aquarium, you'll find WILD LIFE Zoo. This is where you'll see cuddly natives like koalas, kangaroos, or wombats. Towards the end of your visit, you'll see a huge crocodile too. There are a few talks shows and feeding times during the day. One of the more popular experiences is breakfast with the koalas, but there is an extra cost.
Opening Hours: Daily 10am-3pm
Address: 1-5 Wheat Rd, Darling Harbor, Sydney NSW 2000
---
11. Australian National Maritime Museum
The Australian National Maritime Museum is a short walk across a bridge from SEA Life, WILD LIFE Zoo, and Madame Tussauds. You'll see a tall ship, a huge warship, and a submarine from the bridge. These are their most popular exhibits since visitors are allowed to go on board. Inside, you'll also see large yachts, boats, and other interactive displays. Guided tours are available too if you want to learn more about the exhibits and ships.
Opening Hours: Daily 9:30am-5pm
Address: 2 Murray St, Sydney NSW 2000
---
12. Chinese Garden of Friendship
The Chinese Garden of Friendship is a beautiful serene attraction in Darling Harbor. If you want to get away from the bustling city, this is the perfect spot. The garden was designed by Chinese architects to achieve a balance of Yin and Yang. Inside, you'll see the perfect mix of waterfalls, mountain-like structures, and greenery surrounding the main lake. Head for the Lenient Jade Pavilion and join the staff as they feed the koi fish each day. If you're visiting during lunch hours, check out the restaurant Gardens by Lotus for a unique yum cha experience.
Opening Hours: Daily 10am-5pm
Address: Pier Street, Cnr Harbour St, Darling Harbour NSW 2000
---
13. Powerhouse Museum
Close to Darling Harbour, the Powerhouse Museum is just a short walk from Darling Harbor. You'll see a huge range of exhibits, many of which are interactive. Covering topics from science, technology, design, and engineering, there are displays to interest almost everyone.  Some of the popular exhibits include Locomotive No.1, Strasburg Clock, and the Zero Gravity Space Lab. If you have young kids, this is a great place for learning.
Opening Hours: Daily 10am-5pm; Thursday 10am-9pm
Address: 500 Harris St, Ultimo NSW 2007
---
14. Luna Park Sydney
Located just across the Harbor Bridge, this is the only place where you can enjoy rides near the CBD. They have classic rides like the ferris wheel, carousel, and roller coasters. Kids will love Coney Island, a funhouse with mirror mazes and giant slides. There are also fun sideshow games. Have a hit on the Hi Striker, give the Laughing Clowns a try, or test your skills on the Balloon Busters. Your visit won't be complete with some fairy floss or maybe an ice cream. The theme park is generally busy on Friday nights through to weekends, and during NSW school holidays.
Opening Hours: Friday & Saturday 11am-8pm; Sunday 11am-6pm; close Tuesday to Thursday if its not school holidays
Address: 1 Olympic Dr, Milsons Point NSW 2061
---
15. Sydney Fish Market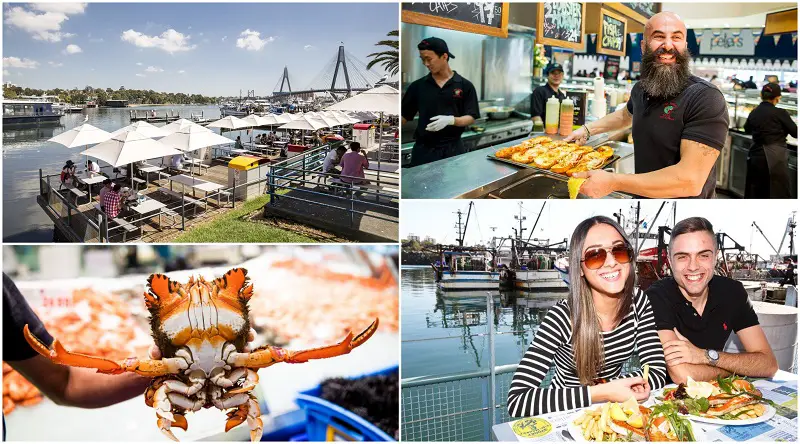 Be enthralled by the buzz at the lively Sydney Fish Market, the largest seafood market in the southern hemisphere. See over 2,000 crates of fresh seafood brought to market and sold each day. If you arrive early, you'll see the innovative, fast-paced Dutch auction system. For most visitors though, they come for lunch. A number of stalls have packages that include cooked lobster, muscles, camalari, and of course, hot chips! To get there, get off at the Fish Market tram stop, or drive directly to the paid parking onsite.
Opening Hours: Daily 7am-4pm
Address: Corner Pyrmont Bridge Rd &, Bank St, Pyrmont NSW 2009
---
16. Royal Botanic Gardens
The Royal Botanic Gardens is a 30-hectare park with an amazing collection of flora from across the globe. It's a spectacular location perched on the edge of Sydney Harbour, so don't be surprised if you see a few weddings. Most locals visit the gardens for picnics, exercise, or just fresh air during work hours. You're free to explore the whole garden, but if you're a bit lazy, catch the Choo Choo Express. Relax and watch the gardens roll by as your guide shows off the points of interest and shares stories of the garden's history. Besides the epic harbor views, one of the must-visit areas is The Calyx. Inside, you'll see the largest green wall in the Southern Hemisphere.
Opening Hours: Daily 7am-6:30pm
Address: Mrs Macquaries Rd, Sydney NSW 2000
---
17. Circular Quay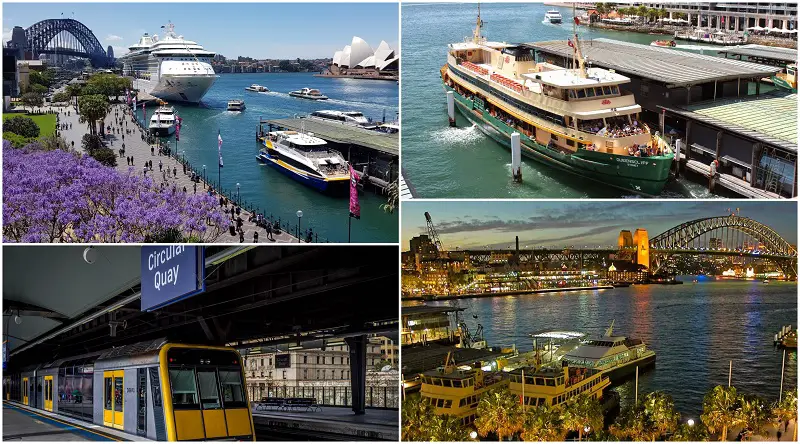 Right in the heart of Sydney, Circular Quay is situated on the edge of Sydney Harbour. It has its own train station, possibly one of the most scenic stops. As you get off the train, you'll see the Sydney Opera House and Royal Botanic Gardens on the east. On the western side, you'll come across the Museum of Contemporary Art Australia and the historic Rocks precinct. And of course, you won't miss the epic views of Sydney Harbour Bridge from Circular Quay. A number of tours depart from Circular Quay including harbor cruises, guided walks, tall ships, and whale watching. This is also where you catch a ferry to Taronga Zoo.
Opening Hours: Daily
Address: Circular Quay
---
18. Museum of Contemporary Art Australia (MCA)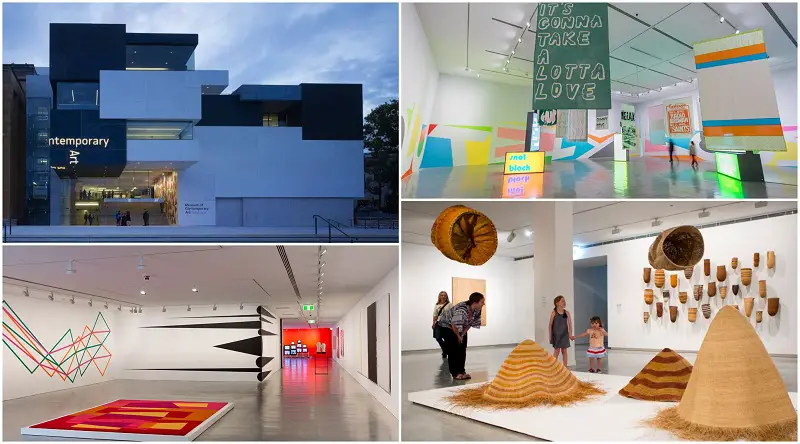 The Museum of Contemporary Art Australia (MCA) houses an ever-changing line-up of artwork, exhibitions, and events. It showcases contemporary art from both Australian and international artists. With free entry, this is a great stop if you're heading to the Rocks. Volunteer guides are also available if you want to learn more about the exhibits. It's only a short walk from Circular Quay station. Or if you're getting off a cruise from the Overseas Passenger Terminal, it's practically the closest attraction. Allow 1-2 hours on your visit here before exploring the rest of Sydney CBD.
Opening Hours: Tuesday to Sunday 10am-5pm; Friday 10am-9pm; Monday closed
Address: 140 George St, The Rocks NSW 2000
---
19. The Rocks
Explore this historic precinct packed with stories on the edge of Sydney Harbour. With an eclectic mix of old and new, The Rocks is a great place for visitors to discover. Along the cobblestone streets, you'll see heritage buildings, contemporary art, modern restaurants, and boutique bars. You can join a walking tour of the area, before trying the delicious food and wines offered in restaurants and cafes. On weekends, check out the Rock Markets and see the unique stalls on George Street.
Opening Hours: Daily
Address: Near Circular Quay and Harbor Bridge
---
20. St Mary's Cathedral
A Sydney landmark, St Mary's Cathedral is located in the CBD opposite Hyde Park. Mass services are held throughout the week with visitors welcome to attend. When services are not being held, visitors can take the opportunity to wander through the iconic building. Sit and enjoy the serene atmosphere or view the Cathedral Crypt. St Mary's is an example of an English-style Gothic church and is constructed from local sandstone. You'll see stunning stained glass windows and the gargoyles perched up high on the towers and turrets.
Opening Hours: Daily 6:30am-6:30pm
Address: St Marys Rd, Sydney NSW 2000
---
21. Art Gallery of New South Wales
The Art Gallery of New South Wales is spread across five levels so there's plenty for visitors to explore. They have a huge collection from European masters through to Australian and Asian art. They also have the largest gallery of Aboriginal and Torres Strait Islander artwork in the country. Join a volunteer guide on a range of free tours for more insights into the galleries. For lunch, check out the cafe on lower level 1 or the fine dining restaurant on the ground floor.
Opening Hours: Daily 10am-5pm; Wednesday 10am-10pm
Address: Art Gallery Rd, Sydney NSW 2000
---
22. Sydney's Paddy's Market
If you love shopping and want to find some bargains, head to Paddy's Market. Located on the bottom floor of Market City, you'll find buzzing allys of stalls. Items you may see include souvenirs, jackets, lingerie, toys, and mobile accessories. You'll find almost anything at Sydney's biggest market. After you're done bargaining with vendors, go upstairs to Market City for lunch. There's a variety of Asian restaurants in the food court and top floor.
Opening Hours: Wednesday to Sunday 10am-6pm; Monday & Tuesday closed
Address: Market City, 9-13 Hay St, Sydney NSW 2000
---
23. Queen Victoria Building (QVB)
The Queen Victoria Building (QVB), was completed in 1898 and takes up an entire city block in Sydney's CBD. It was recently restored to represent the building's original design after many uses including as a library and offices. The QVB is now predominately a shopping center. It houses more than 180 boutiques and retail shops, as well as a number of eateries to satisfy any craving. Check out the architecture throughout the building. Some of the things to look out for include the immense center dome, stained glass windows, and an original 19th-century staircase.
Opening Hours: Daily 9am-6pm; Thursday 9am-9pm; Sunday 11am-5pm
Address: 455 George St, Sydney NSW 2000
---
24. State Theatre
An important part of Sydney's cultural fabric, the State Theatre has seen a lot since it opened in 1929. It has played host to red-carpet premieres, traditional English pantomimes, and famous musical acts. The magnificent building includes elements of Gothic, Italian, and Art Deco styles. Inside, you'll find artworks by noteworthy Australian artists and one of the largest chandeliers in the world. It weighs more than four tonnes!
Opening Hours: Show times vary
Address: 47-51 Market Street, Sydney,
---
25. Sydney Capitol Theatre
The historic Capitol Theatre plays musicals, ballets, and other concerts throughout the year. Located in Haymarket, the theatre is a short walk from Central Station. An hour before each performance, the foyers and bars open. There are also a number of Asian restaurants near by at reasonable prices. Arrive early for dinner and drinks to make it a complete experience. Most shows also have an intermission so you can go for a quick bathroom break or check out the souvenirs.
Opening Hours: Show times vary
Address: 13 Campbell St, Haymarket NSW 2000
---
Sydney Map