Discover the excitement of BGC, Taguig! Experience the perfect fusion of modernity and charm in this vibrant district. In this guide, we'll unveil the top attractions and activities, ensuring an unforgettable time. Whether you're a foodie, art lover, or avid shopper, BGC has it all.  Join us as we explore the best things to do and places to visit in this energetic hub. Get ready for an incredible adventure in BGC, Taguig!
---
1. Venice Grand Canal Mall
The Venice Grand Canal Mall, an Italian-styled shopping paradise, is a favorite amongst tourists. Watch bands, singers, and live acts at the Venice Piazza – the rare street acts will blow you away. If you're looking for the ultimate cinematic experience, book tickets at the Venice Cineplex. For Instagrammers, this mall has many spots for the perfect selfies thanks to the exquisite Venetian interiors. The Kids Happy Time is a playground that will keep your kids entertained for hours while you do your shopping. Try local and international restaurants including Italian, Japanese, American, and Korean. For couples, the famous Gondola ride through the magnificent canals is a must-do. Lastly, layer up and get snowboarding, sledding, and ice-skating at the Snow Mastiii Noida.
Opening Hours: Monday to Thursday 11am-9pm; Friday 11am-11pm; Weekends 9am-11pm
Duration: 1-3 hours
Address: McKinley Hill Dr, Taguig, 1630 Metro Manila, Philippines
---
2. Uptown Mall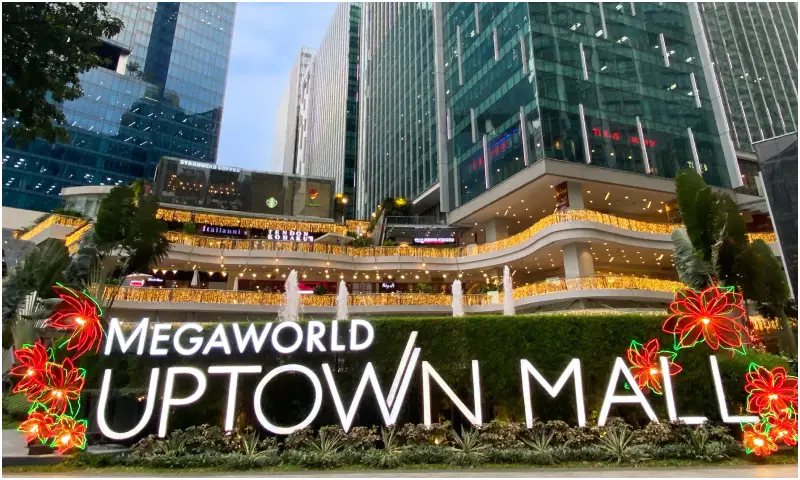 Uptown Mall is the Flagship of the Megaworld Malls, with international shops including Fossil, Typo, and more. Have the best gastronomic experience by dining at the Italian, Korean, and Chinese restaurants available. For Korean and Chinese dining, we recommend the award-winning Tim Ho Wan International restaurant. Get a taste of Italy at Pizza Perfect with each pizza freshly handcrafted – a true taste sensation. Watch new movie releases at the Ulta Cinema while a butler serves you at your seat. Spend quality family time at Kidzooona, an indoor playground designed to keep the little ones entertained. Take a break from shopping, and pamper yourself at the Glow Spa, or Hey Sugar.
Opening Hours: Sunday to Thursday 10am-10pm; Friday & Saturday 10am-11pm
Duration: 1-3 hours
Address: 36th Street, 9th Avenue, Taguig, Metro Manila
---
3. Market! Market!
Out of all the malls, this is one of the best places to get affordable prices. You can find deals at big brand stores, themed bazaars, and hawker markets. For the kids, stop by the medieval-themed Kevins Toys & Library daycare and play center. If you have teenagers, they'll enjoy a fun-filled day at the LazerXtreme Centre. Try some freshly baked Korean cakes at Moshi Manju, or quench your thirst with bubble tea at Chatime. Occasionally on the main floor, there are cultural events and live shows. Check out their Facebook page to see what's happening each week.
Opening Hours: Monday to Thursday 11am-10pm; Friday to Sunday 10am-10pm
Duration: 1-3 hours
Address: McKinley Pkwy, Taguig, Metro Manila, Philippines
---
4. Bonifacio High Street
Perfect for walking around, Bonifacio High Street has a mixture of local, boutique, and international stores. The outdoor grassy areas make for the perfect picnic date with family and friends. Get your taste buds dancing and try some authentic Japanese cuisine at Ramen Nagi. Spoil yourself with a fresh set of nails at Nail Tropics, or a stylish haircut Bench Fix Lab. The festive lights, water, and art installations make it perfect for Instagram pictures. For the animal lovers, your furry friends are welcome to join you. Timezone offers fun for the family and kids with rides, simulation, redemption, and more. The Amphitheater hosts shows and events, so be sure to check the times on their Facebook page.
Opening Hours: Sunday to Thursday 11am-9pm; Friday & Saturday 11am-11pm
Duration: 1-3 hours
Address: Taguig, Metro Manila, Philippines
---
5. SM Aura Premier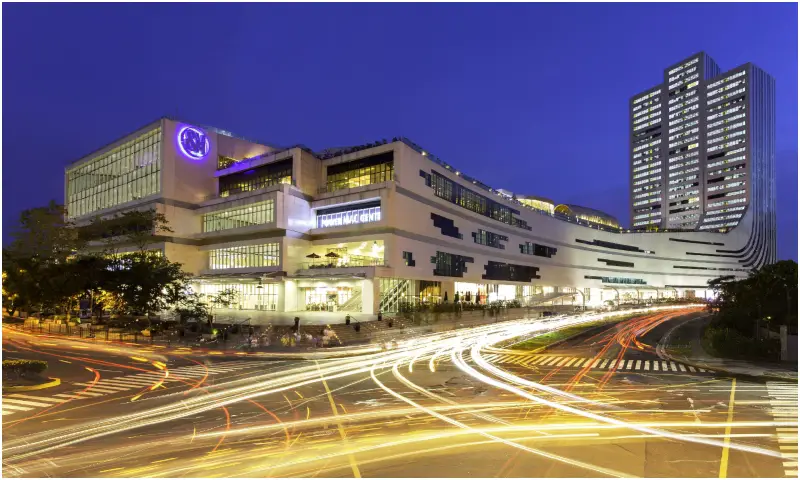 This is a more upscale shopping mall compared to other complexes in BGC. Besides shops, it also has a variety of entertainment venues and restaurants. Make your visit more exciting by dining at the Skypark, and taking in the magnificent views of the city. If you have a dog, stop by Paw Park for delicious pet treats, fun activities, training, and more. For movies, the IMAX Theater is the best place to watch the latest blockbusters in BGC. Or have some fun, and connect with your family and friends for a fun Friday night of bowling. Sweat it out at the Fitness First Gym, and afterward, grab a smoothie or coffee at Starbucks. For some Asian cuisine, head over to Four Seasons Hot Pot & Buffet to satisfy your tastebuds.
Opening Hours: Daily 10am-10pm
Duration: 1-3 hours
Address: 26th Street, Corner McKinley Pkwy, Taguig, 1630 Metro Manila, Philippines
---
6. Manila American Cemetery and Memorial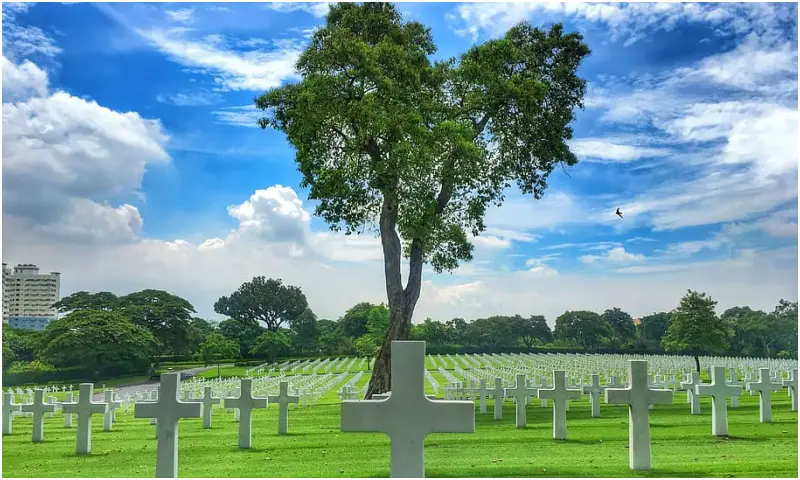 Manila American Cemetery and Memorial marks the graves of nearly 17 thousand WWII soldiers. It is the largest American cemetery in the world located outside of the USA being over 152 acres. Forming a circular pattern, the headstones are aligned in 11 plots nestled between the vibrant, green trees. The site is free, and anyone may visit to learn more about war history. A Chapel is located in the center of the cemetery. Inside, is an exquisite blue-mosaic depiction of a Madonna. Read about the achievements of the American armed forces on the twenty-five mosaic maps. The exhibits at the visitor's center reveal powerful stories through images and detailed descriptions.
Opening Hours: Daily 9am-5pm
Duration: 1-2 hours
Address: 1634 McKinley Rd, Taguig, Metro Manila, Philippines
---
7. BGC Arts Center
Get your creative juices flowing and spend a day at the BGC Arts Centre. Be a spectator to live events, shows, plays, and performances. They have unique shows including stand-up comedians, magicians, mimes, and even poetry readings. Theatre musicals and plays usually draw the most visitors. Also, explore the exquisite public art wall murals spread along Bonifacio High Street. Each wall mural has been created by a different artist, and their creativity will leave you awe-stricken. The art installations are captivating and powerful, so spend some time at each one to take in their beauty.
Opening Hours: Check programs & events
Duration: 2-3 hours
Address: 26th St, Taguig, Metro Manila, Philippines
---
8. The Mind Museum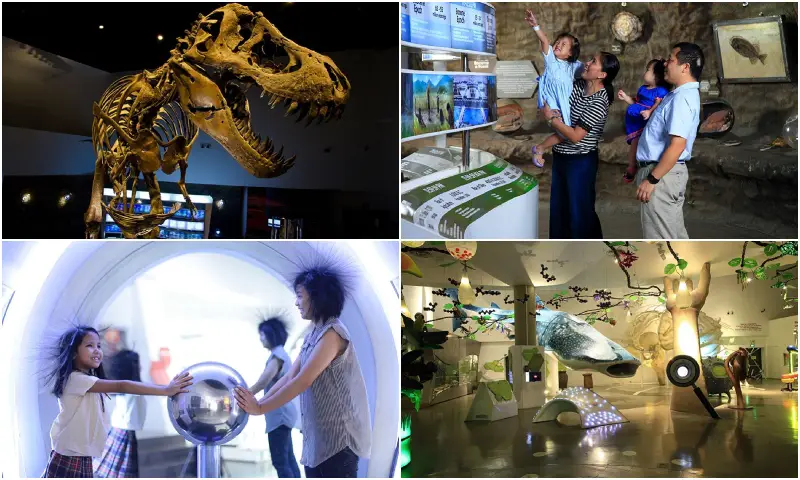 Get ready to expand your mind and knowledge by exploring the 5 different extraordinary galleries. These include the Atom, Life, Earth, Technology, and Universe. The most interactive gallery is the Atom Gallery where you can see natural forces in action. All the zones serve a purpose though, educating visitors on how our world works through engaging exhibits. If you have young kids from 2 to 6 years old, they'll enjoy the Playtales exhibition most. Occasionally, there are promotions like free entry for birthdays. They have tickets for all-day access or a 3-hour time slot. 3 hours should be more than enough time as there are more places to explore nearby.
Opening Hours: Wednesday to Sunday 9am-6pm
Duration: 2-3 hours
Address: JY Campos Park, 3rd Ave, Taguig, 1634, Philippines
---
9. Burgos Circle Park
Get some summer sun, and spend some time outdoors by taking a walk in the Burgos Circle Park. The art installation in the center of the circle draws tourists and locals alike. What the tree symbolizes is the "circle of life," and it serves as a reminder to keep the environment clean. Get some shade under the vibrant tropical trees and read a book, or have a picnic with friends and family. The scenery makes it a perfect spot to take pictures, so have your cameras ready. Most locals come here for a relaxing walk after a busy week. For food and drinks, head to Coffee Bean Café nearby or Café Juanita. If it's later at night, Bugsys Sports Bar and Bistro is a great spot for evening cocktails.
Opening Hours: Daily 6am-10pm
Duration: 1-3 hours
Address: Forbes Town Center, 29th Street, Fort Bonifacio, Taguig, 1630 Metro Manila, Philippines
---
10. Forbes Town
Get ready for the ultimate gastronomic adventure, from American-style burgers to traditional Asian cuisine. Dine at the popular Soru Izakaya for a taste sensation – the Lava Maki is a customer favorite. Enjoy the nightlife, cocktails, and social atmosphere at the Tap Station, or the Tipsy Pig. These are just some of the popular spots but there are more deals on their Facebook page. Get summer-ready, and achieve your fitness goals by joining the Fly Weight boxing gym. If you have dogs, be sure to bring along your best friend for a day filled with fun.  Sign up for the digital pet pass to make entry more accessible. You can spoil your dog with a premium grooming service at Luxuri Pets by Aivee. 
Opening Hours: Daily 11am-11pm
Duration: 1-3 hours
Address: Forbestown Rd, Taguig, Metro Manila, Philippines
---
11. The Palace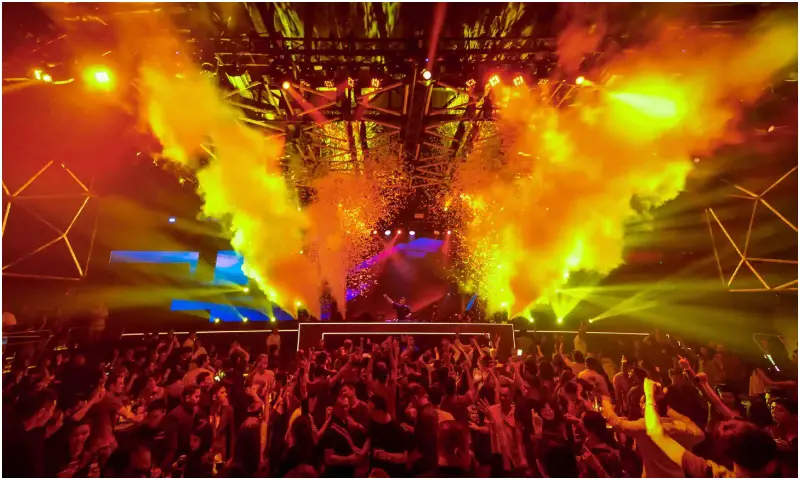 Get your dancing shoes on and have the time of your life at the biggest entertainment complex in the country. The Palace has a number of venues to suit all occasions. Most visitors go to Xylo, the country's #1 nightclub, as they regularly host international DJs. The beach vibe at The Island is popular for cocktails and meals. But if you prefer a more lively atmosphere, head to Yes Please where the music plays all night.  The elite club at the Revel is more expensive as they serve the best premier liquor. And lastly, try the original Bad Bunny Slushie at the Clubhouse, designed with maximalist decor.
Xylo: Wednesday to Saturday 10pm-onwards
The Island: Thursday to Sunday 8pm-onwards
Revel: Wednesday to Saturday 10pm-onwards
Yes Please: Monday to Saturday 6pm-late
Clubhouse: Tuesday & Thursday to Saturday, 9pm-onwards.

Duration: 

All night!

Address: 

Uptown, 9th Ave, Taguig, Metro Manila, Philippines
---
How To Get Around BGC,
Taguig
Walking – BGC is a pedestrian-friendly area with well-designed sidewalks and pedestrian crossings. Walking is a convenient and enjoyable way to explore the neighborhood. Especially if you're traveling short distances within BGC. The area is compact and easy to navigate on foot.
Public Transportation – BGC is well-served by public transportation options. Jeepneys and buses connect BGC with other parts of Metro Manila. The Ayala MRT Station and Guadalupe MRT Station are also nearby, providing access to the metro rail system.
Grab and other ride-hailing services – Grab is a popular ride-hailing service in the Philippines, and it operates in BGC. Install the Grab app to easily book a ride to your desired destination within BGC. If you prefer private vehicles, this is a convenient and reliable way to travel around the area.
---
Best Time To Visit BGC, Taguig
Dry season – The dry season, which typically runs from November to April, is considered the best time to visit BGC. During this period, the weather is generally sunny and pleasant. There is a lower chance of rainfall. This makes it ideal for outdoor activities and exploring the neighborhood.
Weekdays – BGC is a bustling district, and it can get quite crowded during weekends. Locals and tourists flock to the area for shopping and dining. To avoid crowds and have a more relaxed experience, consider visiting BGC on weekdays. You'll have easier access to restaurants, cafes, and other attractions without the weekend rush.
Festivals and events – BGC is known for hosting various events and festivals throughout the year. If you're interested, plan your visit during specific festival periods. Events like Art BGC and Bonifacio Global City Passionfest offer unique cultural experiences. Hotel rates might be higher and room availability is limited, so ensure you book early.
---
Where To Stay In BGC, Taguig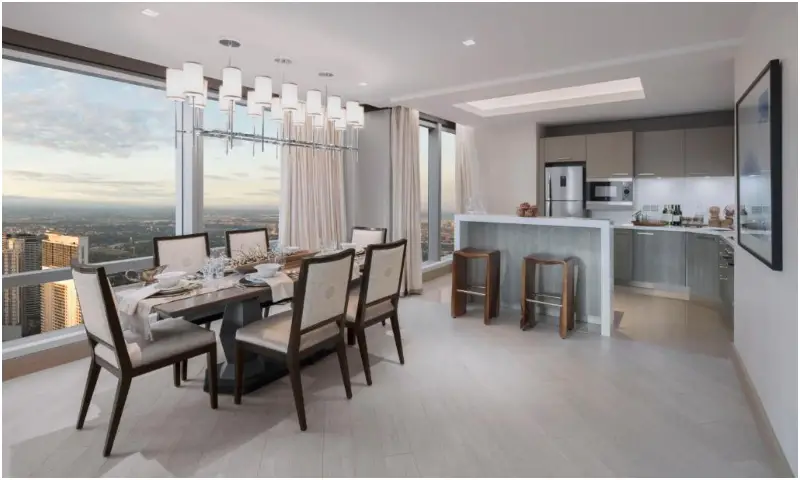 Shangri-La Residences The Fort

[For Families

] – The Two Bedroom Residence is the ideal room to book for families on holiday. It offers two large bedrooms; the main with an extra large double bed, and the second bedroom with two double beds. The apartment is equipped with a full kitchen, dining, lounge area, and two luxurious bathrooms.
Grand Hyatt Manila

[For Couples]

– If you're looking for the perfect romantic getaway, then the Grand Executive Suite is the room for you. You'll have a comfy, extra-large double bed and a huge lounge area. But the most impressive feature is the floor-to-ceiling windows offering city views. You'll have the most amazing sunsets from here.
Ascott Bonifacio Global City Manila

[For Pet-Friendly]

– Bring your furry friends along, because the Two-Bedroom Executive Room is pet-friendly. Inside, you'll find separate bedrooms, a dining area, a lounge area, and a fully equipped kitchenette. To make this room even better, the rate includes breakfast for 4 people.
---
BGC, Taguig Map
---
Summary