A traditional market town, Launceston has a historic feel with Georgian homes and narrow streets.
It's a haven for travellers with its broad array of sights, attractions and shops while maintaining its traditional atmosphere.
There are plenty of romantic things to do in Launceston, but never enough time to enjoy them all.
But with a comprehensive tour package, you are guaranteed to make the most out of your visit to this quaint Tasmanian city.
Read on for the most romantic things to do in Launceston.
1. Cruising to Cataract Gorge and Lunch
Ruggedly beautiful, Cataract Gorge combines dramatic landscapes with Victorian-era landscaping right on the city's doorstep.
The reserve is nestled amid wild parklands and almost vertical cliffs that soar along the South Esk River as it meets Tamar River.
Go on an intimate cruise to the spectacular Cataract Gorge.
Soak up vistas of the sheer cliffs and cascades from your comfy boat seat with unobstructed views.
Enjoy the captain's captivating narration on the history of the area.
Go on a romantic hike with your partner along the picturesque walking trails or spend some alone time on the chairlift to the hills.
Finally, refuel with a delicious lunch on the picnic grounds.
Departure time: 10am
Duration: 4 hours
Departure Point: Launceston, Tasmania
---
2. Cataract Gorge at Night
Cataract Gorge is a beautiful reserve of cliffs and bush land, situated right on the edge of Launceston city center.
Walking along the gorge during sunset is a popular pastime for locals and visitors alike.
At night, the gorge is well lit to ensure you enjoy great views.
The scenery is amazing and the paths are accessible for all fitness levels.
For a proper work out, head up over the hills for panoramic romantic views over Launceston and the city lights.
This surreal experience is ideal for couples who haven't had their fill of Cataract Gorge by day.
Departure time: 5pm
Duration: 3-4 hours
Departure Point: 147 Paterson St, Launceston TAS 7250, Australia
---
3. Explore Cradle Mountain National Park
With its jagged peaks towering over three glacial lakes, Cradle Mountain is the centerpiece of the Cradle Mountain-Lake St. Clair National Park.
Nestled amid an ancient rainforest, alpine heathland and lakes, Cradle Mountain is a hiker's paradise.
Couples can enjoy short hikes with scenic views of the mountain and Dove Lake.
If you're up for it, hike the Overland Track which will reward you with spectacular scenery.
You can also spot local wildlife such as wallabies, spotted-tailed quolls, Tasmanian devils and pademelons.
Duration: Day trip
Location: 2.5 hours from Launceston
---
4. Bay of Fires Day Trip from Launceston
White beaches, stunning blue waters and bright orange rocks are what make the Bay of Fires one of the most romantic locations in Tasmania.
It's one of the top places to visit if you're looking for a day trip.
On your way, share oysters with your partner at a local oyster farm.
Visit a lavender farm and stroll round hand in hand.
Couples can also soak up breathtaking vistas of the bay, Fingal Valley and Weldborough Pass.
It's a relaxing 3 hour drive from Launceston.
Duration: Whole day
Address: St Helens, Tasmania, Australia
---
5. Josef Chromy Wines Winery
Perhaps it's the landscape or simply the Chardonnay, but there's something romantic about Josef Chromy Winery.
Soak up panoramic vistas stretching out towards the vine-covered slopes and rolling hills.
Cozy up to your loved one near the log fire inside, and sample winery favorites such as the Chardonnay and Pinot Noir.
Enjoy an array of culinary experiences, from basic samplings at the cellar door to tours that pair chocolate and wine.
For a complete experience, join a tour that highlights the winemaking process.
After that, you and your partner can savor a delicious meal paired with wine.
Opening Hours: Thursday to Monday 10am-5pm
Address: 370 Relbia Rd, Relbia TAS 7258
---
6. Tamar Valley Wine
Situated right on the doorstep of Launceston, the Tamar Valley Wine Route is a fertile lush area of pasture, orchards and vineyards.
The wine route goes through the valley and can be accessed by joining a tour from Launceston.
Notable wineries to visit include Clover Hill, Pipers Brook, Delamere, Ninth Island and Bass.
Make it a romantic wine tasting expedition with samplings of Chardonnay, Riesling and most notably, the Pinot Noir.
Another key highlight are the cellar door restaurants that pair an exquisite meal with fine wine.
Duration: half day to full day
Location: 30 minutes drive from Launceston
---
7. Wineglass Bay Trip from Launceston
Discover Wineglass Bay on this full-day trip from Launceston.
The excursion will take in the Freycinet National Park, including Wineglass Bay, Honeymoon Bay and other top sites.
Enjoy scenic views of the attractions on brief nature walks in Freycinet National Park.
Soak up panoramic 360 degree panoramas at Cape Tourville Lighthouse.
You may also go on a romantic stroll along the white sands of Wineglass Bay.
Or savor fresh oysters at the Freycinet Marine Farm.
Duration: Day trip
Location: 2.5 hours drive from Launceston
---
8. Hollybank Treetops Adventure
Explore the natural wonders of Launceston on a forest canopy tour.
Before your tour, you will both receive training and safety gear.
Journey across the treetops on a thrilling zipline course.
Zoom above the Piper River on one of Australia's longest ziplines which measures 400 meters.
The tour is ideal for first time dates as it will take you to various platforms where you can soak up panoramic vistas.
After your tour, you will get digital photos of this memorable experience.
Opening Hours: Daily 9am-5pm
Duration: 2.5 hours
Address:

66 Hollybank Rd, Underwood TAS 7268
---
9. Penny Royal Adventure and Dining
Journey back in time to the dark and playful past of bushranger Matthew Brady on this Penny Royal adventure.
There's a wide range of activities for you and partner to enjoy including ziplines and rock wall climbing.
Fun adventures include panning gold, fossicking gemstones and sailing the lagoon.
The scenic cliff walk will take you across a dozen rope bridges to soak up panoramic vistas of Launceston and the Tamar Valley.
This is a great opportunity to enjoy romantic chats.
After your adventure, you can both refuel at the restaurant with a mix of western and Asian dishes.
Opening Hours: Monday to Saturday 11am–2pm, 5–8pm; Sunday 11am-3pm
Duration: 3 hours
Address: 1 Bridge Rd, Launceston TAS 7250
---
10. Queen Victoria Museum and Art Gallery & Planetarium
Queen Victoria Museum is a showcase of Tasmanian design and history.
You'll see historic artwork, Australian crafts, science, natural history and convict memorabilia.
There's plenty here to see for a romantic date.
The museum's Planetarium is a popular favorite that explores the night sky, the origins of life and Pluto.
Here you can both enjoy technical wizardry, digital shows and a high-powered star projector.
Opening Hours: Daily 10am-4pm
Duration: 3-4 hours
Address: 2 Invermay Rd, Invermay TAS 7248
---
11. Platypus House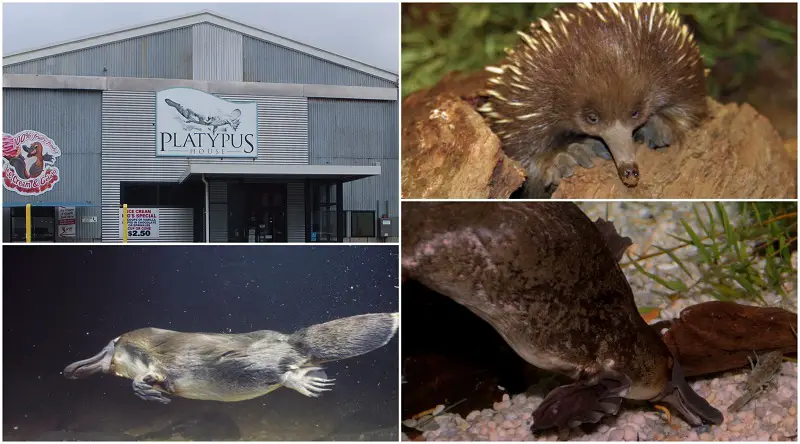 See and learn about the rare Tasmanian Platypuses and Echidnas at the Platypus House.
You and your partner can enjoy a guided tour designed to raise awareness about these Australian animals.
Unique to Australia, Tasmanian Platypuses and Echidnas are not found anywhere else in the world.
On your tour you can watch the egg-laying mammals eat and play.
Perfect for casual dates, this tour kicks off at the platypus ponds, and continues at the echidna garden.
Afterwards, watch a short film on platypuses in a small theatre.
Opening Hours: Daily 10am-3:30pm
Duration: 1-2 hours
Address: 

 

200 Flinders St, Beauty Point TAS 7270
---
12. Seahorse World
Located in the north of Tasmania, Seahorse World is the first commercial seahorse farm in the world.
Seahorse World's breeding program is designed to conserve seahorses by reducing the numbers removed from the wild.
This includes a tour of the aquarium dedicated to the education, breeding and conservation of the seahorse.
On this romantic tour, you will both get the inside scoop on a working seahorse farm.
There are also other colorful marine animals to see here such as stingrays, sharks, giant cuttlefish and spider crabs.
Opening Hours: Daily 10am-5pm
Duration: 1-2 hours
Address: 

200 Flinders St, Beauty Point TAS 7270
---
13. Woolmers Estate
Journey back in time at Woolmers Estate.
The site is an early 1800's pioneer farm that was continuously occupied by the Archer family descendants for over 175 years.
An array of historical buildings remain on the estate, including a bakehouse, blacksmith's shop and stables.
In addition, there's the Archer Family collection which includes everything from furniture and art, to cars and photographs.
The National Rose Garden is also located here and is ideal for taking a romantic walk.
The Garden has over 5,000 roses including the earliest China and European roses, along with 21st century roses.
Opening Hours: Wednesday to Sunday 10am-3:30pm
Duration: 1-2 hours
Address: 

658 Woolmers Ln, Longford TAS 7301
---
14. National Automobile Museum of Tasmania
The National Automobile Museum of Tasmania boasts one of the best collections of historic vehicles, classic cars and motorcycles in the country.
Showcasing over a century of automobile designs, the museum's star attraction are the vintage cars.
Feast your eyes on classic Rolls-Royce, Jaguars, Bentleys and Mercedes.
Super cars are another attraction with the streamlined Ford and the Holden Monaro.
A tour of the car museum provides a snapshot of urban history and is bound to intrigue you and your partner!
Opening Hours: Daily 9am-5pm; Winter 10am-4pm
Duration: 1-2 hours
Address: 84 Lindsay St, Invermay TAS 7248
---
15. Brickendon Historic Farm and Convict Village
Explore the Brickendon Historic Farm and Convict Village which has been owned by the same family since 1824.
There are over twenty buildings to explore including the Dutch barns, Gothic chapel and blacksmith's shop.
Take a romantic stroll through the garden which has roses, ornamental fruit and century old trees.
Still a working farm, Brickendon continues to grow crops and rear animals.
You can also spend a night with your partner at the farm's colonial style cottages.
The cottages offer pleasant views of the farm.
Opening Hours: Tuesday to Sunday 10am-4pm
Duration: 1-3 hours
Location: 236 Wellington St, Longford TAS 7301
---
Launceston is the perfect place for romance.
You just need to know where to find it.
Sporty couples on a first date can engage the zipline courses or do some rock climbing.
While history buffs celebrating an anniversary will find their niche at the museums and art galleries that abound.
Whatever you heart desires, you are bound to find it in Launceston.
So go ahead, book a tour today and make it a Launceston vacation to remember.
Find More Things to do in Launceston