Are you looking for romantic date ideas in Birmingham?
There are lots of exciting and fun things to do for couples but it can be difficult to plan.
We've looked at all the attractions, activities and most intimate places to visit and found 24 romantic things to do that will definitely impress.
Read further to find out how you can organise the best date with your partner.
1. Warner Bros Studio – Making of Harry Potter
Retrace Harry Potter's footseps, explore the alluring world of wizardry as you discover the magic of filmmaking.
Board the Hogwarts Express at Platform 9 ¾, stroll down Diagon Alley and step onto sets used in the film's iconic scenes.
Begin your adventure with the Cupboard Under the Stairs, watch a fantastic welcome video, then head to The Great Hall.
Next, see actual costumes and props used in the films and detailed sets such as Hagrid's Hut and Dumbledore's office.
View the animatronic door to the Chamber of Secrets and ride a broom at the Green Screen Exhibit.
Find out how special effects made Harry fly, how magical creatures came alive on screen, and buy yourself a Butterbeer.
This full-day Warner Bros. Studio Tour includes return transfers from Birmingham in a luxury air-conditioned coach.
It's a guaranteed fun and romantic day out!
---
2. Romantic Canal Boat Trip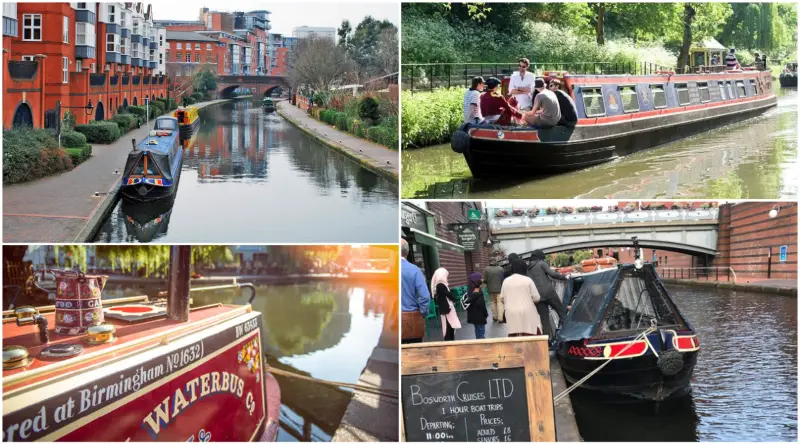 Hop onboard a city narrowboat to experience the city from the water.
Birmingham has more canals than Venice, and its gorgeous scenery is viewed best while on an idyllic cruise.
The tour traces Birmingham's history via 100 miles of canals through the heart of the city and its surroundings.
Waterways provide a haven for visitors and a serene way to unwind too.
The trip takes you through historical sites like Brindley Place, Sherborne Wharf, and Gas Street Basin.
You can also take the special 'Waterbus Service,' a private charter, or relax at the floating Coffee Boat.
Two main companies provide a romantic setting for couples: Bosworth Cruises and Sherborne Wharf.
---
3. Birmingham Discovery Tour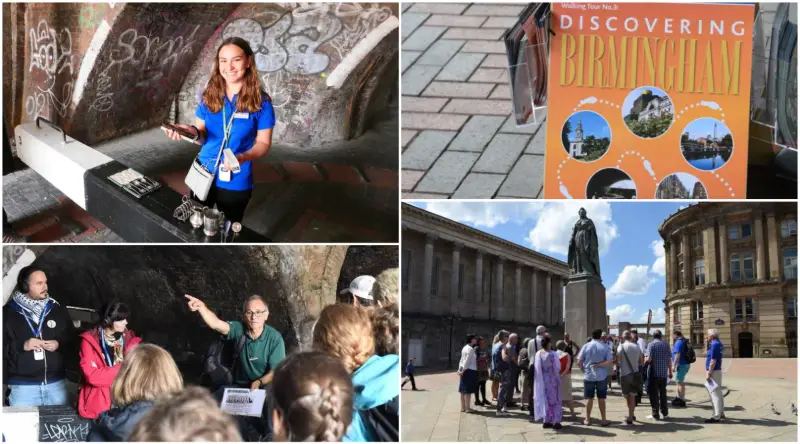 Does your partner love history?
Go on a walking tour to explore Birmingham's medieval origins and traces its roots from Georgian merchants to Victorian idealists.
Ideal for couples, it allows you to experience the city through a local's eyes.
You'll first meet at the Library of Birmingham, before heading to Centenary Square, where you will learn about the city's past.
Enter the Jewellery Quarter via a secret canal route and learn how its businesses developed from Georgian times.
Next, visit St. Chad's Cathedral, view St. Phillips Cathedral at Victoria Square, before returning to the Library.
Enroute, view brass fittings at Coffin Works and finish at St. Paul's Church, a 1779 example of Georgian architecture.
There'll be plenty of time to chat and share thoughts on this unique walking tour.
---
4. Haunted Birmingham Walk & City Game
Go on a fun quest with your partner around the haunted parts of Birmingham as you solve puzzles to unlock haunted stories.
You won't need a guide or map; follow directions on your phone and stop whenever you wish.
Discover the city's most haunted streets, villas, and squares, and horror stories about the tenants as well.
Using an interactive app, solve clues, discover captive souls, spirits as well as strange skeletons.
Guess the answer to the hidden place and unlock its secret story by following each clue for exact directions.
You'll learn a lot about each other on this romantic fun idea.
---
5. The Tolkien Trail
Get inspired by the childhood influences of the renown creator of The Hobbit and The Lord of the Rings.
The 5.5-mile trail follows JRR Tolkien's favourite haunts from the twin towers of Stonyhurst College to the scenic Ribble Valley.
Tolkien Trail begins and ends at the Shireburn Arms in Hurst Green where you can sleepover or share a pint.
It includes Sarehole Mill, which was 300 yards from Tolkien's home and Moseley Bog.
Next is St Anne's Church, Perrot's Folly and the Victorian Tower that inspired Gondor's Two Towers.
Tolkien's last address was 4 Highfield Road, while The Oratory built the grammar school where he studied.
If you're both big Lord of the Rings fans, you'll have plenty of fun on this romantic date.
---
6. Winterbourne House & Garden
Escape to this unique Edwardian historic house and garden nestled within 7 acres of charming botanic gardens.
Located near Birmingham city centre, this gem features lovely antiques and 6,000+ plant species.
Stroll through the woodland walk, the hazelnut tunnel, cross the 1930's Japanese Bridge or absorb the serene ambience.
The Grade II listed walled garden boasts themed borders, a sandstone rock garden, and streamside planting.
Explore antique-filled rooms and Edwardian era furnishings, learn about Winterbourne's history, and how it became part of Birmingham University.
The Arts and Craft splendor of this suburban villa garden plus exciting events add to its charm.
You can't go wrong with a romantic stroll around luscious gardens!
---
7. Birmingham Botanical Gardens & Glasshouses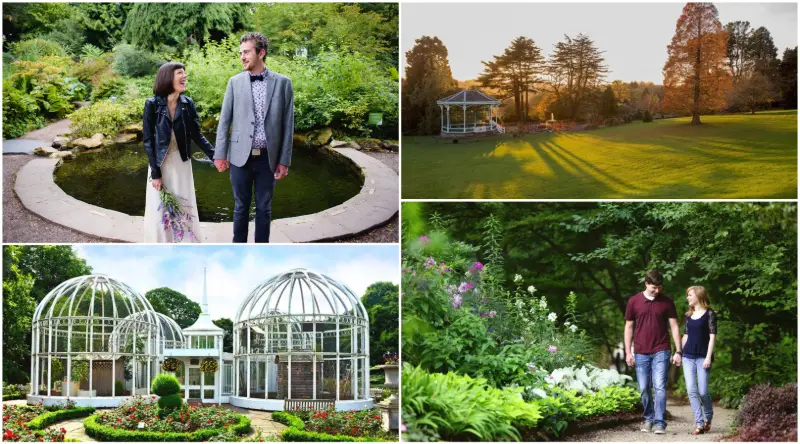 Here's another incredible garden for a romantic date.
Give your partner a sniff of glorious scents at Birmingham Botanical Gardens.
The 15-acre landscaped garden is home to 4 glasshouses – Tropical rainforest, Arid desert, Subtropical, and Mediterranean.
Walk through the Tropical rainforest's lush vegetation and the Subtropical's stunning palms, orchids, and tree ferns.
The Mediterranean House has citrus plants and bright blooms while the Arid House has desert climate and stunning cacti.
A large lawn with beds and hedges around its border graces the entrance to the houses.
Also featured are 7000+ plants, a Rose Garden, shrubs, trees, a Bonsai Collection and the Tropical House lily pool.
Finally, stroll through the Herb and Cottage Gardens, visit the gift shop and enjoy a quiet drink at the pavilion.
---
8. Romantic Stroll in Sutton Park
Take a romantic walk in this tranquil and scenic park found 6 miles north of central Birmingham.
The 2,400 acre National Nature Reserve is one of the largest urban parks in Europe.
Enjoy rich landscapes offering a mix of ancient woodlands, heathland, wetlands, and marshes.
The park includes a huge variety of plants and wildlife, plus you can spot grazing cattle and wild ponies.
It boasts 7 man-made lakes, a golf course, play areas, and a visitor centre.
Stroll to Wyndley Pool as well, the oldest lake in the park, and home to an array of waterfowl.
Sutton Park provides charming scenery and a sense of wilderness, all​ within an urban ​setting.
---
9. Cadbury World Chocolate Factory
Visit this magical chocolate heaven and discover how to make your favourite chocolate.
You will find Cadbury World in the famed village of Bournville, outside Birmingham city centre.
Watch a 4D chocolate adventure, ride the Cadabra​,​ and have a shot at making some chocolate.
​Next, explore chocolate's history, learn about the business​​ and watch as chocolatiers reveal their secrets.
​Be sure to s​hop at the world's largest Cadbury's sweet shop besides ​touring the chocolate smelling village of Bournville.
The tour's highlight is ​exploring Bull Street with its 1820's replica shops plus the ​free Dairy Milk chocolate!
---
10. Canalside Dining at The Mailbox
Enjoy a romantic day as you wine and dine your date at this famed destination.
Mailbox offers you a luxurious escape where you can dine and relax in a lovely setting.
This unique shopping haven is Birmingham's perfect dining spot, boasting classy restaurants and bars.
The venue offers a wide range of food and drinks from stylish cafes, farmers' markets, street dining, to Michelin starred restaurants.
Enjoy fine dining in a canal-side setting while you experience rich meal options from around the globe.
This is an ideal date idea for a casual chat as you enjoy a sunset drink over the canals.
---
11. Movie at the Electric Cinema
Head out for an amazing movie-magic date night at UK's oldest working cinema.
Take a "Behind the Screens" tour to learn about cinema history and view a 100-year collection of cinematic gear.
Located in the Southside district, the Electric is features to 2 digital screens.
The cinema shows a blend of the latest movies, foreign, and classic films.
Enjoy a private movie show while snuggled under cashmere blankets on the luxury sofa, as you sip film-themed cocktails.
For the full Electric experience, enjoy delicious food, wine, or champagne under the grand art deco setting.
Though there's no popcorn, there are many gourmet snacks including handmade ice-cream, tea, and coffee.
---
12. Little Himalaya Salt Rooms
Visit this alternative health centre for a relaxing spa treatment, boost your immune system.
A 45-minute session offers salt therapy (halotherapy), which is the natural healing of common respiratory and skin ailments.
Also, salt inhaled in minute amounts gives relief from allergies and offers a feeling of general well-being.
The cave consists of Himalayan salt bricks, stones, a lit-up ceiling, and relaxing music playing during the session.
Relax, sit back, or close your eyes and allow the salt to clear your airways while it improves your skin.
The salt cave features a special German Brine Steam Nebula Machine used for this purpose.
Attend regular sessions with your partner to unwind, reduce stress, and improve sleeping.
---
13. Mini Golf at Cannon Hill Park
Delight in a round of golf at Cannon Hill Park, Birmingham's stunning green space.
Explore the astounding range of activities, facilities and natural features in this premier park found near Birmingham's city centre.
The park covers 80 acres of formal parks besides 120 acres dedicated to conservation and woodland.
Golden Putter mini golf course boasts 36 holes of golfing fun and is a brilliant way to spend a romantic day.
Spend hours of play as you plot your way through endless twists and turns found on the vast course.
To add to the fun, have a go at the Golden Putter Challenge and try to win a spot on the leaderboard.
---
14. Ackers Outdoor Adventure Centre
Ackers Adventure is an outdoor activity centre in Birmingham city centre.
The 75-acre centre offers various outdoor activities including climbing, skiing, archery, and canoeing.
The activities ​occur​ over marshland​, grassland and woodland which create amazing grounds for an epic outdoor adventure.
Take the chance to try new activities, improve your skills or test your mental strength.
For a steeper challenge, you could also join the obstacle course or jungle challenge.
Take advantage of water activities like kayaking or bell boating to get a different workout.
Sign up for a skiing lesson for two, enjoy snowboarding on floodlit slopes​​ or go for a thrilling free-fall drop.
There are plenty of activities available for couples
---
15. Go Karting at Birmingham Wheels
If you are a go-kart enthusiast, then the heart of the Midlands is the perfect place to experience this thrill on wheels.
Enjoy cruising on a dedicated 1km outdoor international circuit on the most famous go-kart raceway in the UK.
The centre boasts ultra-modern race karts, 4 fully floodlit outdoor circuits and the latest AMB timing system.
Sign up for one of the regular open formats events and race your partner for some adrenaline-filled action.
You can also opt for the signature Wheels 30 adult race and get to use the latest 60mph ThunderKarts.
If you're after an adventurous date, this could be the perfect choice.
---
16. Snobs Nighclub
Snobs, the beloved alternative club is the perfect hangout for indie music or the latest jam hits.
Fans gather here on Wednesday, Friday and Saturday club nights.
The famed 1972 club based in the city centre boasts an electric ambience, awesome music, and low-priced drinks.
The DJs feature different music genres among them indie, retro, alternative rock and Rock 'n' Roll.
A loyal feature in Birmingham club scene, Snobbs is a venture with a unique appeal and has something to offer all couples.
If you love dancing and don't mind a few drinks, this is a fun place to take your partner.
---
17. SEA LIFE Birmingham
For a more quiet and romantic date, take your partner to SEA LIFE Birmingham.
Explore a stunning undersea realm with over 2000 sea creatures.
Plunge into the unique Antarctic landscape at Penguin Ice Adventure to admire and feed the sassy Gentoo penguins.
Tickle a sea anemone, meet a crab, starfish, or discover the striking jellyfish at the Interactive Rockpool.
Get close to the Asian short-clawed otters, view seals, meet the giant Pacific Octopus and experience 4D Cinema.
For more extreme activities, dive undersea and walk through UK's only 360° Ocean Tunnel ringed by reef sharks, fish, and a vast green sea turtle!
---
18. Birmingham Wildlife Conservation Park
Birmingham Wildlife Conservation Park is another great choice for couples who love animals.
This park at Canon Hill houses unique animals including reptiles, birds, monkeys, Red Pandas, meerkats, lemurs and otters.
It features some of the world's most endangered species and runs conservation programmes.
View European Lynx, Northern Bald Ibis, Ocelot Cats and Pied Tamarins among others, all in spacious nature-like pens.
Get to see the animals feed and learn more about them from the keepers.
Enjoy a romantic day at the park and get a close encounter with the world's rarest animals.
---
19. Birmingham Museum and Art Gallery
This world-class museum boasts 40+ galleries displaying art, social history, and archaeology.
You can easily spend a few hours on a date with your partner.
Visit the famous Pre-Raphaelite painting collection, which is part of the world's largest public art collection.
At the Staffordshire Hoard gallery, listen to the enticing story behind the biggest hoard of Anglo-Saxon gold ever found.
Explore Birmingham's history, view art from Greek and Roman culture spanning 7 centuries as well as artefacts from Ancient Egypt.
You'll also see modern art collections, Baroque Art, the Art School and the unique 7th century Buddha.
Additionally, you may visit a diverse range of fascinating exhibitions offered all year so check the official website before deciding on day of your intimate date.
---
20. The Town Hall and Symphony Hall
For a romantic night, head to the Town Hall Symphony Hall for one of their impressive performances.
Get inspired as you immerse yourself in classical, rock, pop as well as award-winning comedy performed by world-renown artists.
Located in Victoria Square, Town Hall is the home of live music concerts and a Grade I listed concert hall.
The hub of Birmingham's civic and cultural life it's also the most iconic historic building.
Attend one of the weekly organ recitals for a chance to listen to the immense power behind the grand Town Hall Organ.
Symphony Hall is the proud home of Birmingham Symphony Orchestra and is one of the best concert halls in the world.
---
21. Birmingham Royal Ballet Performance
Indulge in a classy evening of modern ballet as you soak in the charming performance art on display.
BRB is UK's top touring ballet company and performs regular, classical, and heritage ballets besides new works.
The firm is famous for its artistic genius, while its passionate and engaging dance resonates with audiences globally.
The dancers, orchestra, and stunning costumes turn the perfectly enacted classic acts into fantastic shows.
BRB stages its shows at the Birmingham Hippodrome Stage (BHS), where you can enjoy ballet, opera, and concerts.
If your partner loves dance performances, this will be a unique experience.
---
So there you have it!
From the list, we're sure you'll find a romantic date idea in Birmingham. 
Stall no more – pick up your date and try one of the intimate activities, celebrate an anniversary or just simply have a fun day out!
For extended stays, check out:
Find more Romantic Things to do in Birmingham