Are you looking for romantic date ideas in Birmingham? There are lots of exciting and fun things to do for couples but it can be difficult to plan. We've looked at all the attractions, activities, and most intimate places to visit. And from all the dating ideas, we've found the most romantic things to do that will definitely impress. Read further to find out how you can organize the best date with your partner.
Find Romantic Things to do in Birmingham
---
1. Romantic Canal Boat Trip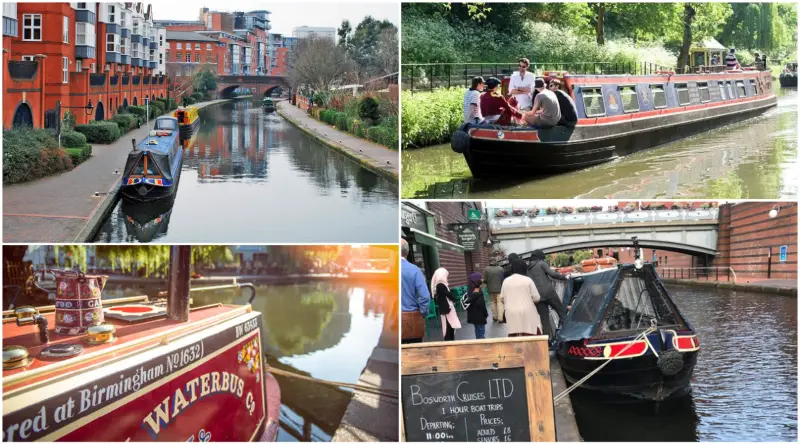 Hop onboard a city narrowboat to experience the city from the water. Birmingham has more canals than Venice, and its gorgeous scenery is viewed best while on an idyllic cruise. The tour traces Birmingham's history via 100 miles of canals through the heart of the city and its surroundings. Waterways provide a haven for visitors and a serene way to unwind too. The trip takes you through historical sites like Brindley Place, Sherborne Wharf, and Gas Street Basin. You can also take the special 'Waterbus Service,' a private charter, or relax at the floating Coffee Boat. Two main companies provide a romantic setting for couples: Brindley Cruises and Sherborne Wharf.
Brindley Cruises: Friday to Monday 10am-5pm
Sherborne Wharf: Daily 10:30am-5pm
---
2. Romantic Birmingham Walk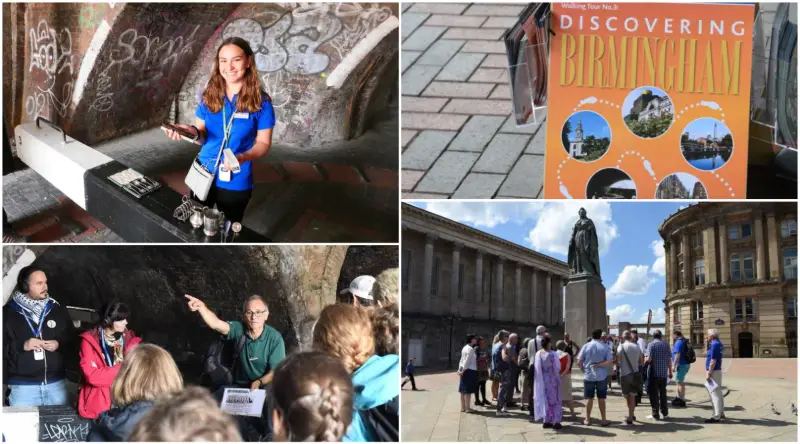 Birmingham offers a perfect blend of history, culture, and stunning scenery. You can go on a romantic walk through parks and gardens. Or stroll around Jewellery Quarter through the cobbled street and quaint shops. Guided walking tours are available for couples who want to explore the city's hidden gems. These tours run by local guides will highlight Birmingham's rich history. From the canals to the city center, there's much more to discover on these guided walks. There'll be plenty of time to chat and share thoughts while you're walking as well.
Duration: 1-3 hours
Tour Times: Various departure times each week
---
3. Winterbourne House & Garden
Escape to this unique Edwardian historic house and garden nestled within 7 acres of charming botanic gardens. Located near Birmingham city centre, this gem features lovely antiques and 6,000+ plant species. Stroll through the woodland walk, the hazelnut tunnel, cross the 1930's Japanese Bridge, or absorb the serene ambiance. The Grade II listed walled garden boasts themed borders, a sandstone rock garden, and streamside planting. Explore antique-filled rooms and Edwardian-era furnishings. Learn about Winterbourne's history and how it became part of Birmingham University. The Arts and crafts splendor of this suburban villa garden plus exciting events adds to its charm. You can't go wrong with a romantic stroll around luscious gardens!
Opening Hours: Daily 10:30am-5pm
Address: 58 Edgbaston Park Rd, Birmingham B15 2RT, United Kingdom
---
4. Birmingham Botanical Gardens & Glasshouses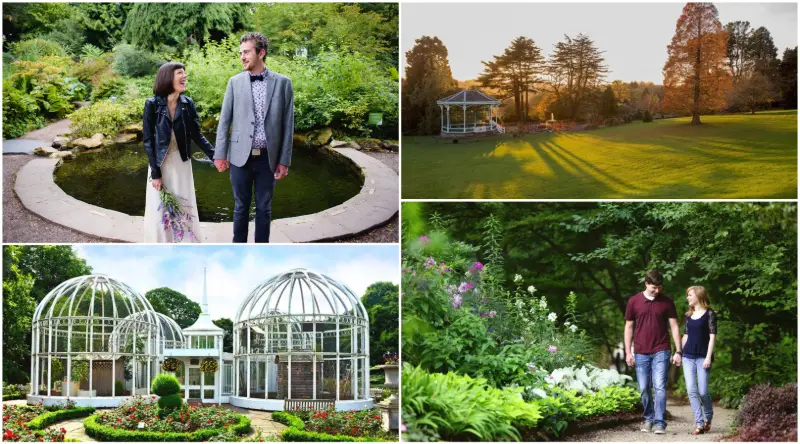 Here's another incredible garden for a romantic date. Give your partner a sniff of glorious scents at Birmingham Botanical Gardens. The 15-acre landscaped garden is home to 4 glasshouses – Tropical rainforest, Arid desert, Subtropical, and Mediterranean. Walk through the Tropical rainforest's lush vegetation and the Subtropical's stunning palms, orchids, and tree ferns. The Mediterranean House has citrus plants and bright blooms while the Arid House has a desert climate and stunning cacti. A large lawn with beds and hedges around its border graces the entrance to the houses. Also featured are 7000+ plants, a Rose Garden, shrubs, trees, a Bonsai Collection, and the Tropical House lily pool. Finally, stroll through the Herb and Cottage Gardens, visit the gift shop, and enjoy a quiet drink at the pavilion.
Opening Hours: Daily 10am-5pm
Address: Westbourne Rd, Birmingham B15 3TR, United Kingdom
---
5. Cadbury World Chocolate Factory
Visit this magical chocolate heaven and discover how to make your favourite chocolate. You will find Cadbury World in the famed village of Bournville, outside Birmingham city centre. Watch a 4D chocolate adventure, ride the Cadabra​,​ and have a shot at making some chocolate. ​Next, explore chocolate's history, learn about the business,​​ and watch as chocolatiers reveal their secrets. ​Be sure to s​hop at the world's largest Cadbury's sweet shop besides ​touring the chocolate-smelling village of Bournville. The tour's highlight is ​exploring Bull Street with its 1820's replica shops plus the ​free Dairy Milk chocolate!
Opening Hours: Monday to Friday 10am-3pm; Weekends & school holidays 9am-4:30pm
Address: Cadbury World, 69 Linden Rd, Bournville, Birmingham B30 1JR, United Kingdom
---
6. Canalside Dining at The Mailbox
Enjoy a romantic day as you wine and dine your date at this famed destination. Mailbox offers you a luxurious escape where you can dine and relax in a lovely setting. This unique shopping haven is Birmingham's perfect dining spot, boasting classy restaurants and bars. The venue offers a wide range of food and drinks from stylish cafes, farmers' markets, and street dining, to Michelin-starred restaurants. Enjoy fine dining in a canal-side setting while you experience rich meal options from around the globe. This is an ideal date idea for a casual chat as you enjoy a sunset drink over the canals.
Opening Hours: Daily 9am-7pm
Address: Royal Mail St, Birmingham B1 1RS, United Kingdom
---
7. Movie at the Electric Cinema
Head out for an amazing movie-magic date night at UK's oldest working cinema. Take a "Behind the Screens" tour to learn about cinema history and view a 100-year collection of cinematic gear. Located in the Southside district, the Electric is features to 2 digital screens. The cinema shows a blend of the latest movies, foreign, and classic films. Enjoy a private movie show while snuggled under cashmere blankets on the luxury sofa, as you sip film-themed cocktails. For the full Electric experience, enjoy delicious food, wine, or champagne under the grand art deco setting. Though there's no popcorn, there are many gourmet snacks including handmade ice cream, tea, and coffee.
Opening Hours: Daily 12pm-9pm
Address: 47-49 Station St, Birmingham B5 4DY, United Kingdom
---
8. Mini Golf at Cannon Hill Park
Delight in a round of golf at Cannon Hill Park, Birmingham's stunning green space. Explore the astounding range of activities, facilities, and natural features in this premier park found near Birmingham's city centre. The park covers 80 acres of formal parks besides 120 acres dedicated to conservation and woodland. Golden Putter mini golf course boasts 36 holes of golfing fun and is a brilliant way to spend a romantic day. Spend hours of play as you plot your way through endless twists and turns found on the vast course. To add to the fun, have a go at the Golden Putter Challenge and try to win a spot on the leaderboard.
Opening Hours: Weekend 10am-6pm
Address: Cannon Hill Park, 2 Russell Rd, Moseley, Birmingham B13 8RD, United Kingdom
---
9. Ackers Adventure Centre
Ackers Adventure is an outdoor activity theme park in Birmingham city centre. The 75-acre centre offers various outdoor activities including climbing, skiing, archery, and canoeing. The activities occur​ over marshland, grassland, and woodland which create amazing grounds for an epic outdoor adventure. Take the chance to try new activities, improve your skills, or test your mental strength. For a steeper challenge, you could also join the obstacle course or jungle challenge. Take advantage of water activities like kayaking or bell boating to get a different workout. Sign up for a skiing lesson for two, enjoy snowboarding on floodlit slopes​​ or go for a thrilling free-fall drop. There are plenty of activities available for couples.
Opening Hours: Monday 10am-4:30pm; Tuesday 10am-9pm; Wednesday 10am-8pm; Thursday & Weekends 10am-5pm
Address: C/o Ackers Adventure, Golden Hillock Rd, Birmingham B11 2PY, United Kingdom
---
10. Go Karting at Birmingham Wheels
If you are a go-kart enthusiast, then the heart of the Midlands is the perfect place to experience this thrill on wheels. Enjoy cruising on a dedicated 1km outdoor international circuit on the most famous go-kart raceway in the UK. The centre boasts ultra-modern race karts, 4 fully floodlit outdoor circuits, and the latest AMB timing system. Sign up for one of the regular formats events and race your partner for some adrenaline-filled action. You can also opt for the signature Wheels 30 adult race and get to use the latest 60mph ThunderKarts. If you're after an adventurous date, this could be a perfect choice.
Opening Hours: Daily 9am-5pm
Address: 1, Adderley Road South, 1 Adderley Rd S, Birmingham B8 1AD, United Kingdom
---
11. SEA LIFE Birmingham
For a more quiet and romantic date, take your partner to SEA LIFE Birmingham. Explore a stunning undersea realm with over 2000 sea creatures. Plunge into the unique Antarctic landscape at Penguin Ice Adventure to admire and feed the sassy Gentoo penguins. Tickle a sea anemone, meet a crab, or starfish, or discover the striking jellyfish at the Interactive Rockpool. Get close to the Asian short-clawed otters, view seals, meet the giant Pacific Octopus, and experience 4D Cinema. For more extreme activities, dive undersea and walk through UK's only 360° Ocean Tunnel ringed by reef sharks, fish, and a vast green sea turtle!
Opening Hours: Monday to Friday 10am-4pm; Saturday 9:30am-6pm; Sunday 10am-4:30pm
Address: The Water's Edge, Eleven Brindley Place, Birmingham B1 2HL, United Kingdom
---
12. Birmingham Wildlife Conservation Park
Birmingham Wildlife Conservation Park is another great choice for couples who love animals. This park at Canon Hill houses unique animals including reptiles, birds, monkeys, Red Pandas, meerkats, lemurs, and otters. It features some of the world's most endangered species and runs conservation programs. View European Lynx, Northern Bald Ibis, Ocelot Cats, and Pied Tamarins among others, all in spacious nature-like pens. Get to see the animals feed and learn more about them from the keepers. Enjoy a romantic day at the park and get a close encounter with the world's rarest animals.
Opening Hours: Daily 10am-5pm
Address: Pershore Rd, Birmingham B5 7RL, United Kingdom
---
13. The Town Hall and Symphony Hall
For a romantic night, head to the Town Hall or Symphony Hall for one of their impressive performances. Get inspired as you immerse yourself in classical, rock, pop as well as award-winning comedy performed by world-renown artists. Located in Victoria Square, Town Hall is the home of live music concerts and a Grade-I listed concert hall. The hub of Birmingham's civic and cultural life it's also the most iconic historic building. Attend one of the weekly organ recitals for a chance to listen to the immense power behind the grand Town Hall Organ. Symphony Hall is the proud home of the Birmingham Symphony Orchestra and is one of the best concert halls in the world.
Opening Hours: Show times vary each week
Symphony Hall: Broad St, Birmingham B1 2EA, UK
Town Hall: Victoria Square, Birmingham B3 3DQ, United Kingdom
---
14. Birmingham Royal Ballet Performance
Indulge in a classy evening of modern ballet as you soak in the charming performance art on display. BRB is UK's top touring ballet company and performs regular, classical, and heritage ballets besides new works. The firm is famous for its artistic genius, while its passionate and engaging dance resonates with audiences globally. The dancers, orchestra, and stunning costumes turn the perfectly enacted classic acts into fantastic shows. BRB stages its shows at the Birmingham Hippodrome Stage (BHS), where you can enjoy ballet, opera, and concerts. If your partner loves dance performances, this will be a unique experience.
Opening Hours: Show times vary each week
Address: 7 Thorp St, Birmingham B5 4AU, United Kingdom
---
15. Birmingham Restaurants
Fazenda Rodizio Bar & Grill Birmingham
Birmingham has a vibrant food scene with chefs from all over the world. There are Italian, Indian, Asian, and classic British restaurants. More importantly, you will find plenty of options for fine dining to impress your partner. We've highlighted a few that have raving guest reviews, so make sure you book ahead for date nights.
---
16. Birmingham Cocktail Bars
Dirty Martini Birmingham
Birmingham is home to cool and quirky bars! If in the mood for a lavish cocktail experience, you will find many options in the Colmore Business District. There are also a couple near the Birmingham Canal Old Line worth checking out. But if you only have time for a few drinks, here are some of the top cocktail bars in Birmingham.
---
17. Birmingham Nightclubs
PRYZM Birmingham
Birmingham comes alive at night with its happening nightclubs! They're spread across the city including Digbeth, Westside, and Jewellery Quarter. Many of these nightclubs offer value packages that attract the best crowds all week long. From local insights, these are the most popular nightclubs to visit in Birmingham.
---
6 Ideas For Date Nights In Birmingham
Go for a romantic stroll along the canal.
Watch a movie at Electric Cinema.
Watch a live performance at Birmingham Royal Ballet, Town Hall, or Symphony Hall.
Take your date to a fancy fine-dining restaurant.
Enjoy casual drinks and nibbles at a Birmingham bar or pub.
Dance til the morning at a nightclub
---
Where To Stay In Birmingham
Nirvana Signature Suite at Malmaison Birmingham
We know some dates can go long into the night. So if everything goes smoothly and you need a rest, there are a few classy hotels in the City Centre. Intimate vibes, a private hot tub, and a comfy bed will add to your romantic date. We've picked out some luxury Birmingham hotels that have suites designed for couples.
The Grand Hotel Birmingham – This landmark hotel is just a 2-minute walk away from the Snowhill Station. You can walk over to New Street to spend a day shopping and head to Broad Street for a drink. Most rooms and suites cater to couples, but sofabeds are available for extra guests. (Official site)
Hotel du Vin Birmingham – This luxury hotel is in the heart of Birmingham with all the city's central shops within a 10-minute walk. Sample the fine wines and ales along with food cooked from fresh, locally sourced ingredients at the in-house restaurant and pub. For couples looking for a romantic night, check out the Signature Suite. (Official site)
Malmaison Birmingham – This boutique hotel is right next to The Mailbox shopping mall and close to Birmingham New Street station. The Nirvana Signature Suite with a private Jacuzzi is a favourite amongst couples. (Official site)
---
Birmingham Map
Also read:
Find more Romantic Things to do in Birmingham