Toronto is only 80 miles from the U.S. border, but despite that, it's still very unique and distinct.
It is a proud Canadian city, filled with culture and various attractions to keep you busy.
There's a lot to do here, but you'll have much more fun at night.
We'll show you activities for families, adults, and even romantic date ideas.
If you find yourself in Toronto with a free evening, here are the most fun things to do at night.
---
1. Sunset Cruises & Sailing
Toronto sits on the North-west side of Lake Ontario, which is divided by the border to the U.S.
This aquatic setting makes it a perfect city for cruises and sailing onto the famous lake.
Setting off at sunset allows you to enjoy beautiful city views as the orange tones reflect off the water.
Due to the city's placement, a sunset cruise gives you the best seat in the house as you watch day turn into night.
When cruising, you have many options on the type of boats you can sail on.
There are old-fashed sailboats, modern yachts, or small vessels ideal for couples.
Most tours leave from Toronto Harbor, close to the downtown area, and take around a couple of hours.
If you choose a cruise with onboard dining options, you're sure to have a romantic time.
Duration: 2-3 hours
Tallship Cruises: Saturday & Sunday 5:30pm
Northern Spirit Dinner Cruise: Saturday 7pm
Odyssey: Friday to Sunday 7:30pm
---
2. Helicopter Scenic Flights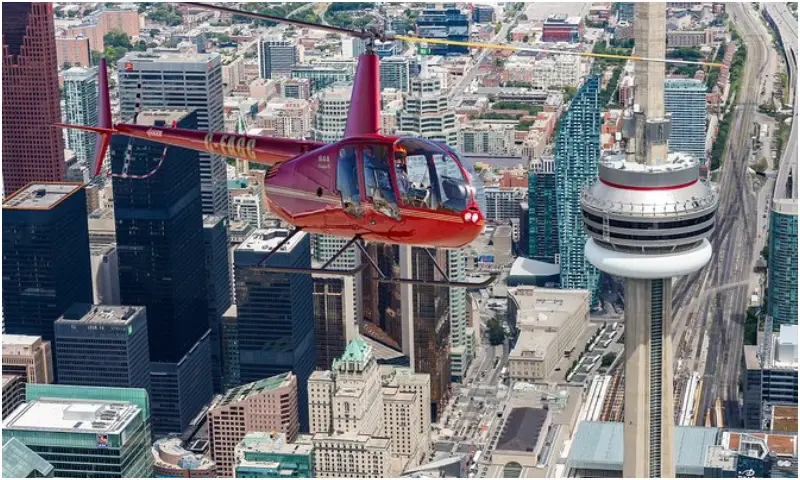 For something more exhilarating, you can experience Toronto from the skies.
Getting a scenic helicopter flight gives you an amazing view of the city and beyond.
Although exceptional during the day, a night tour gives you a fresh new perspective on the city.
The many lights from buildings and the streets create a stunning neon canvas below you.
The flights are swift, lasting up to 14 minutes, but that's plenty of time to take in this impressive city.
A helicopter tour is great as it can help you map out the area, making exploration easier.
These tours leave from Eireann Quay right on the waterfront.
Duration: 7 to 14 minutes
Toronto Heli Tours: Wednesday to Sunday from 5:10pm
Address: Billy Bishop Toronto City Airport Hangar 1, 2 Eireann Quay, Toronto
---
3. Ghost Tours
For a unique insight into the city and details on its unsettling past, try a Ghost Tour at night.
Here, an experienced guide will take you to some of the spookier sights of Toronto.
This tour can help you get an alternative view of some of the city's most famed landmarks.
Tour groups are compact and small, offering a bespoke and casual experience.
You'll be paired with an expert guide who can illuminate some of the stories and dark histories of the city.
On tour, you'll touch on attractions like Lake Ontario, St. Lawrence Market, and more.
This one isn't for the faint of hearts but can give an evening in Toronto an exciting kick and is a unique thing to try.
Duration: 1 hour 15 minutes
Haunted Walk of Toronto: Friday to Saturday from 8:15pm
---
4. Visit Breweries
Canada is a key country in craft beer, and Toronto has plenty of quality breweries.
Checking out a brewery and drinking right from the source is a great night activity in Toronto.
The most renowned is Shacklands Brewing in the Harwood area of the city.
Here you can get some Belgium-style beer and farmland ales brewed in the Stockyards.
A three-minute walk down the road is Junction Craft Brewery, housed in an old heritage building.
Further away by the Contemporary Art Museum is Henderson Brewing, an awarding-winning location.
You're spoilt for choice in Toronto and can easily have a brewery crawl, calling in at some of the top breweries.
Duration: 4 hours
Shacklands Brewing: Tues 12pm-5pm; Wed-Sat 12pm-9pm; Sun 1pm-6pm
Henderson Brewing Co: Sun-Thurs 10am-10pm; Fri-Sat 10am-11pm
Junction Craft Brewery: Tues-Wed 2pm-8pm; Thurs 2pm-9pm; Fri-Sat 12pm-10pm; Sun 12pm-7pm
---
5. Nightclubs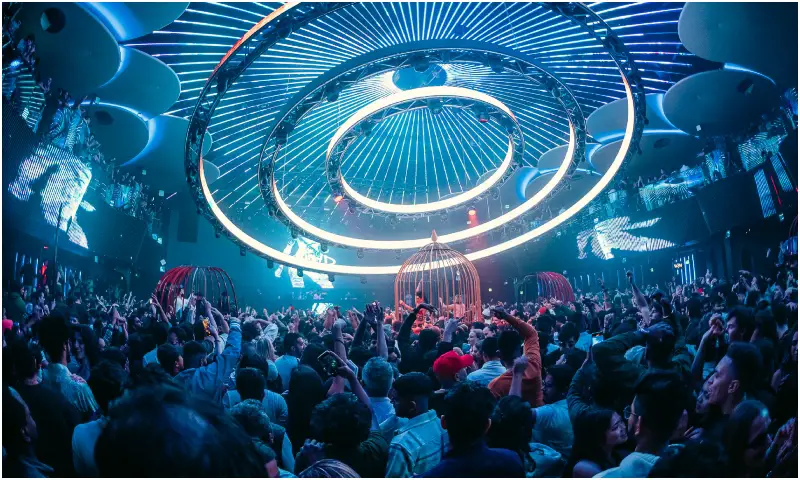 Toronto is one of the best cities for nightlife in Canada, so it is bound to have some fantastic clubs for you to try.
Although there's a vast music scene of different genres, its proximity to the Techno pioneering city of Detroit is obvious.
NEST is a smokey, atmospheric nightclub and is great for electronic music.
Toybox is a slightly more exclusive-style and is harder to get into.
Rebel is an extravagant nightclub and gig venue that has hosted some of the biggest names in dance music.
Finally, Coda is great for those wanting an underground feel at a nightclub.
All these clubs offer a unique and fun experience, allowing you to dance your evening in Toronto away.
Duration: 2-4 hours
NEST: Friday to Saturday 10pm-3am
Toybox: Friday to Saturday 10pm-2am
Rebel: Saturday 10pm-4am
Coda: Friday to Saturday 10pm-5am 
---
6. Ripley's Aquarium of Canada
Although open all day, Ripley's Aquarium is a great destination to visit in the early evening.
The venue will be quieter at these times, and the darker setting is more dramatic.
Encounter some of the most incredible sea creatures, including sharks and stingrays.
Explore the ten sections filled with interesting, fun, and sometimes dangerous animals.
Immerse yourself in this underwater world by walking through their panoramic tunnel.
Here, fish pass overhead, giving you an often unnerving experience.
The aquarium is open till 11 pm on Friday and Sunday, making these days the best time to visit.
Opening Hours: Mon, Wed-Thurs 9am-9pm; Tues 9am-4pm; Fri & Sun 9am-11pm; Sat 9am-6pm
Duration: 1 hour 30 minutes
Address: 288 Bremner Blvd, Toronto, ON M5V 3L9, Canada
---
7. Museum of Illusions
One of Toronto's most trippy experiences is the Museum of Illusions.
Here, you can trick your brain multiple times as you traverse various exhibitions designed to confuse.
Throughout this experience, your perception of reality will be challenged often.
There are plenty of opportunities to confuse as you walk through various depth-bending rooms.
You'll also be able to experience anti-gravity and try unsettling mirrors here.
This exciting voyage into a new reality is best made early in the evening, as the venue closes at 8 pm on the weekends.
It's located close to the harborside, making it a great venue for all the action in the city.
Opening Hours: Sun-Thurs 10am-7pm; Fri-Sat 10am-8pm
Duration: 1 hour
Address: 132 Front St E, Toronto, ON M5A 1 E2, Canada
---
8. Casa Loma
Casa Loma is a grand mansion built in 1914 in an old Gothic castle style.
It was first built as the residence of Sir Henry Pellatt but is now a significant landmark.
You can tour the mansion during the day and experience the splendor and luxury of the building.
Your guide will show you amazing rooms, some secret tunnels, and passageways.
At night, try the fun Casa Loma escape room, an experience unlike anything else.
Enjoy tricky puzzles and live actors to help heighten the stakes.
Choose from scenarios based on medieval fantasy, espionage, and detective thrillers.
For foodies, you can also eat at the wonderful Blue Blood Steakhouse found on-site.
Opening Hours: Daily 9:30am-5pm; Escape room 10am-11pm
Duration: 30 minutes to 1hour
Address: 1 Austin Terrace, Toronto, ON M5R 1X8, Canada
---
9. CN Tower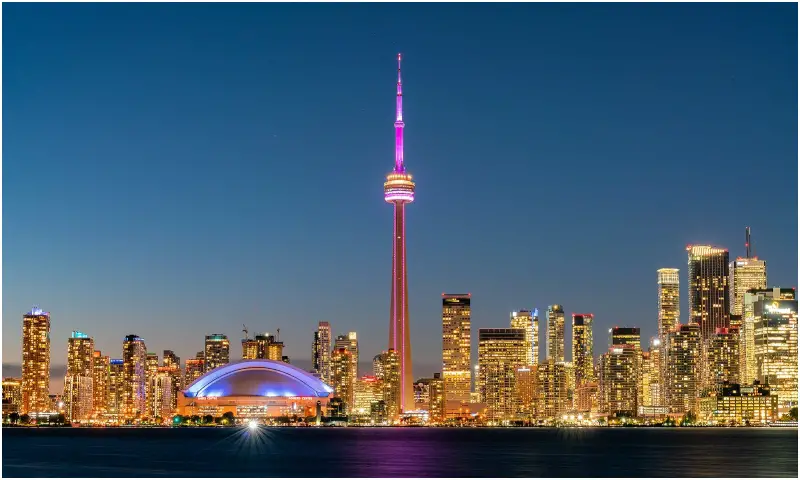 The 116-storey C.N. Tower is one of the most piercing buildings in Toronto.
This needle-like structure stands tall in the city and dominates the skyline.
However, if you want the best experience, venture up to the 360 Restaurant.
Here you can enjoy a delicious evening meal while taking in stunning city views from above.
As the restaurant rotates slowly, you'll be able to get views of the city and beyond in all directions.
You can also go into the SkyPod, the highest observation deck in the Western Hemisphere.
Here, you can feel the tower sway in the wind as you experience views from 1,465 feet from the ground.
Opening Hours: Daily 9:30am-11pm
Duration: 1 hour
Address: 290 Bremner Blvd, Toronto, ON M5V L39, Canada
---
10. Distillery Historic District
The Distillery District is Toronto's premier culture hub, perfect for evening exploration.
Here you can explore multiple stores and surround yourself with Industrial Victorian architecture.
Built on old and derelict warehouses, this area is now a great place to experience the best of the city.
You can sample some great spirits at the bars or browse market stalls that add character to the area.
There are also plenty of art galleries and theatre performances to enjoy.
It's a major hub of Toronto and is fantastic to explore at night.
Opening Hours: Daily 10am-9pm
Duration: 1-4 hours
Address:  55 Mill Street, Toronto, ON M5A 3C4, Canada
---
11. Toronto Chinatown
Toronto is a very multicultural city and loves to celebrate its heritage.
That's most evident in its China Town District, the largest in North America.
It's a dynamic neighborhood filled with unique products and places to eat.
At night, there are a lot of karaoke bars and other venues you can enjoy.
Toronto's Chinatown is filled with signature neon signs that beautifully illuminate the area at night.
You can find all sorts of Asian cuisines, particularly Vietnamese food.
China Town is an iconic city area and worth checking out to sample an authentic atmosphere.
Opening Hours: Daily 9:30am-9pm; many restaurants open until midnight
Duration: 1-3 hours
Address: Spadina Avenue & Dundas Street West, Toronto, ON, Canada 
---
12. Kensington Market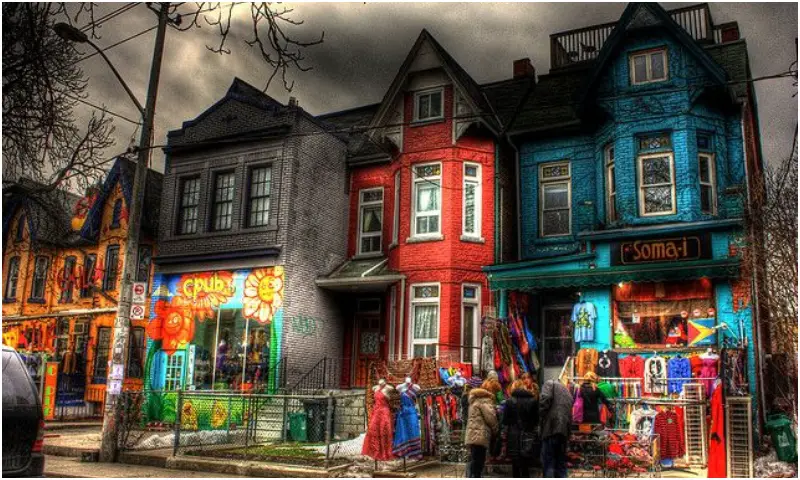 Not far from Chinatown is Kensington Market.
This counter-culture hotspot is filled with colorful shop fronts and creativity.
You'll find various murals, street art, and more when strolling around this area.
Kensington Market prides itself on being a trendy haven, and you'll be able to find many boutiques.
It's a great place to visit in the evening as it has many bars with a unique spirit unlike anywhere else in the city.
The market area is often pedestrianized, making it a great place to walk around, and it is incredibly safe.
It's easy to find something different here – a perfect way to see the creative spark of Toronto at night.
Opening Hours: Daily 11am-7pm
Duration: 2-3 hours
Address: Spadina Ave, Dundas St, Augusta Ave, and College St, Toronto, ON, Canada
---
13. Toronto Harbor
There's nothing better than being by the waterside in the evening.
The Toronto Harbor is a great city area to check out once nighttime falls.
Here, you'll enjoy calm waters, thanks to the area being protected by the Toronto Islands.
You can explore on your own or join local guides to show you more of this fascinating city pocket.
One of the best things to do is to watch the yachts and boats gently bob on the still water.
You can also hop on a cruise and enjoy the stretch of the harborside on the water.
With cafes, pubs, and parks lining the shore, it's a picturesque area to experience at night.
Opening Hours: 24/7; daily night tours from 7:30pm
Duration: 1 hour
Address: Harbourfront, Toronto, ON, Canada
---
14. Medieval Times Dinner & Tournament
For something utterly unique, enjoy the Medieval Times Dinner & Tournament.
Found on Dufferin St, you'll be able to experience accurate Medieval combat here.
Take your seat as armor-clad warriors battle gladiator-style for your enjoyment.
You'll be able to cheer on your chosen knight as you're taken back to the regal middle ages.
During the combat, you can also enjoy a four-course meal that's fit for royalty.
This is one of North America's best attractions and is something special to see in Toronto.
The show also contains spectacular animal performances that will surely leave you mesmerized.
Opening Hours: Days vary each week. Generally Sunday to Thursday from 4:30pm
Duration: 2 hours
Address: 10 Dufferin St, Toronto, ON M6K 3C3, Canada
---
15. Watch Live Game at Scotiabank Arena
The Scotiabank Arena is the premier sports venue in Toronto.
Here you can cheer on the Toronto Raptors as they battle for NBA supremacy.
You can also sample the national game of hockey, as the arena also hosts the Toronto Maple Leafs.
At times, there are various music events, so there's a good chance you'll have something to do.
The venue can hold between 19,800 and 20,511 spectators, depending on what you're watching.
This makes it one of the largest indoor arenas in Canada and is a landmark worth seeing on its own.
Opening Hours: Game times vary each week. Generally from 7:30pm
Duration: 3 hours
Address: 40 Bay St., Toronto, ON M5J 2X2, Canada
---
Best Things To Do In Toronto At Night For Free
Toronto Chinatown – Toronto Chinatown is one of the biggest in North America and is completely free to explore. Take in the sights, sounds, and smells as you amble around at night. It's vibrant and comes alive at night with its many bars and neon lights.
Toronto Harbor Walk – The Harborside is more chill and more modern. A stroll gives you the best views of the waterways and key attractions of the city. With all the sights on display, it's perfect for casual dates.
Explore Kensington Market – For a quirky experience, walk around Kensington Market. At night a few stores will be shut, but you can still have fun checking out the street art in the area. It's a bohemian haven and will be an exciting place to explore.
---
Best Things To Do In Toronto At Night For Families
Ripley's Aquarium of Canada – Filled with sea creatures, the Aquarium will leave an impression. With its 360-degree underwater tunnel, you'll get amazing views of some unique creatures. There are also various themed zones, helping children to learn more about the oceans.
Museum of Illusions – The mind-bending optical illusions will both entertain and confuse. Its exhibitions are colorful and interactive, ensuring kids won't get bored.
Medieval Times Dinner & Tournament – For families filled with fantasy lovers, this is a great activity. Let your imagination run wild as warriors and knights do battle in front of your eyes. The combat can be a bit rough, so this is best for families with teenagers.
---
Best Things To Do In Toronto At Night For Couples
Sunset Cruises – Enjoying the sunset on Lake Ontario is super romantic and best shared with a partner. Whether it's your first date or celebrating a special occasion, it'll be a fun night out. Especially if you have a few drinks on board.
Helicopter Flights – A bird's eye view can help give you a great perspective on life. Although a bit more pricey and adventurous, the scenes from up high can be awe-inspiring with a partner.
360 Restaurant at CN Tower – A dinner in the CN Tower restaurant will be an unforgettable date. Offering amazing food and views, this is a great evening activity for couples. Just make sure you book ahead to get window seats. Complimentary access to the main observation floor is included too.
---
Best Things To Do In Toronto At Night For Young Adults
Breweries – Toronto has a vibrant brewing scene with plenty of options in the city. Try Belgium-style beer at Shacklands before crawling to Junction Craft Brewery. There are also more award-winning locations in the center of town too.
Nightclubs – Nightlife is a major attraction of Toronto, so there are plenty of bars and clubs to explore. You can enjoy techno at NEST or try your luck getting into the more exclusive Toybox. You can also try Rebel, which regularly hosts some huge names in the dance scene. For most nightclubs, it's best to get your name on the guestlist or reserve a table. Having a female companion will also increase your chances of entry. On some nights, it might be free entry as long as you arrive early. 
---
Where To Stay In Toronto
There are many good areas to stay in Toronto, but two districts stand out if you're visiting for a city break.
The Harborfront is a great central location, being safe and close to many top attractions.
You can also stay in trendy Downtown Toronto, close to Kensington Market and Chinatown.
Some of the best hotels include:
The St. Regis Toronto

[For Families]

– Great for families, St. Regis is stylish and offers large rooms. It's located in Old Toronto in the Downtown area. This makes it close to great attractions, especially those best suited to children. Also, try dining at LOUIX LOUIS on the 31st floor. While it looks like a very classy venue for adults, kids are more than welcome here. 
Shangri-La Toronto

[For Couples]

– For a romantic night in Toronto, look no further than Shangri-La. The hotel has an Oriental theme, giving it a unique feel. It's luxurious, offering a spa and pool, as well as an amazing restaurant for couples to dine.
Bisha Hotel Toronto

[Boutique]

– For a boutique and opulent stay, Bisha is a great option located by the CN Tower. It offers grand rooms with regal designs, as well as a rooftop pool. Some of their rooms have private balconies too.
---
Toronto Map
Find More Things to do in Toronto at Night
---
Summary