Seattle is a large city in the northeast of the US, not far from the Canadian border. Being the 15th biggest city in the country, there is much to see and do here. While it's great to explore during the day, Seattle comes alive at night. It's the best time to experience the city's unique culture and scenery by the water. We'll highlight places for casual walks, sunset views, parties, and romantic dates. Here are the best things to do in Seattle at night.
---
1. Sunset Cruises & Sailing
Seattle is surrounded by waterways, making it a perfect location for sailing. Although stunning during the day, the views are magical at sunset. At this time, the orange hue shimmers off the rippling water, creating a romantic scene. Viewing Seattle from the water also gives you a unique vantage point of the city. The sunset cruises will ferry you from various harbors in the city and take up to two hours to complete. You can drink in the atmosphere on tours as you appreciate this wonderful city.
Tour Times: Daily from 5:30pm
Duration: 1-2 hours
---
2. Night Walks in Seattle
Seattle is a large city, making it hard to connect to its culture. Try a walking tour if you want an involved experience better than just ticking off the major sites. Here, you'll have a guide relaying information about Seattle while seeing often unexplored streets. Using their knowledge of the area, you'll be able to unlock some rare experiences. You won't be able to walk the whole city, but you can focus on Downtown, Chinatown, and Uptown. To enhance your experience, head out into Seattle on a Night Walk. You'll see a different side of the city here while stopping at great bars and pubs. If you fancy a fright, you could also try a Ghost walk through the city as you learn the ghoulish tails of the city's past.
Tour Times: Daily from 7pm
Duration: 1-3 hours
---
3. Space Needle
As the most iconic landmark, no trip to Seattle is complete without a visit to the Space Needle. A sci-fi-looking skyscraper that dominates the skyline, it's been a symbol since 1962. At 184 meters tall, Space Needle gives you fantastic panoramic views of the city and Puget Sound. The venue has a fantastic restaurant at the top, allowing you to dine among the stars. For a more enthralling experience, you can also enjoy a cocktail at the Loupe Lounge. Here you'll experience the world's only revolving glass floor. You can also check out the Seattle Center, a venue that hosts various events all year round.
Opening Hours: Daily 10am-9pm; Some nights until 10pm
Duration: 1-2 hours
Address: 400 Broad St, Seattle, WA 98109, United States
---
4. Smith Tower
Although not as iconic as Space Needle, Smith Tower is an essential aspect of the Seattle skyline. Once a relic of pride for Seattle as the tallest building West of the Mississippi, it now contains excellent visitor experiences. Used as an observatory and event space, the building has been part of Downtown Seattle since 1914. Beautiful when viewed from afar, the best way to experience SmithTower is by venturing within the building. As you walk through the ground floor, you'll find souvenirs and treats. There are also some exhibitions that detail the history of the building. Perhaps the best experience here is the speakeasy-style bar. There's nothing as fun as sipping on evening cocktails in one of the oldest buildings in the city.
Opening Hours: Wednesday & Thursday 3pm-9pm; Friday 3pm-10pm; Saturday 11am-10pm; Sunday 11am-9pm
Duration: 1-2 hours
Address: 506 2nd Ave #35, Seattle, WA 98104, United States
---
5. Seattle Great Wheel
If you like experiencing Seattle from a high vantage point, try the Seattle Great Wheel. Over 500,000 LEDS illuminate this Ferris-like wheel located at Pier 57. This allows the wheel to put on an awe-inspiring evening light show as it spins around. You can ride the gondolas, which take around 15 minutes at peak times, and take in incredible city views. On your ride, you'll see the Aquarium, Elliot Bat, Mt. Rainer, and Pike Place Market. While at the pier, jump on the authentic carousel or play in the Klondie Arcade. If you're visiting to see the light show, go on the weekends, as they don't light up the whole wheel during the week.
Opening Hours: Daily 11am-9pm
Duration: 10-20 minutes
Address: 1301 Alaskan Wy, Seattle, WA 98101, United States
---
6. Explore the Waterfront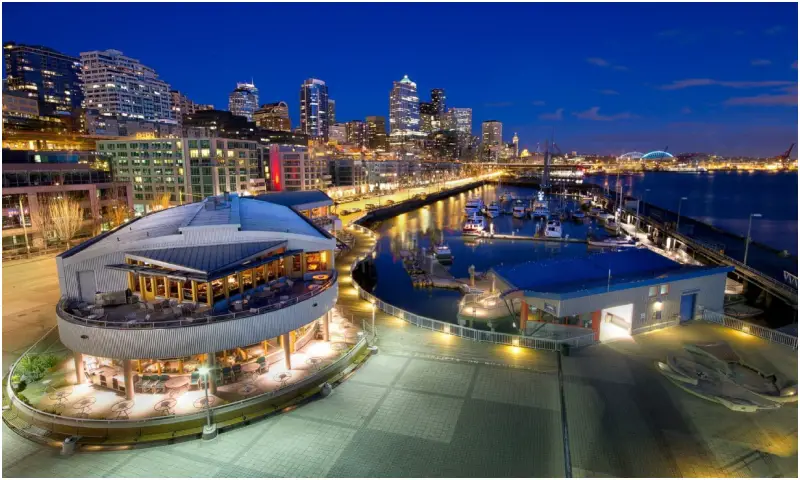 A super fun location in Seattle at night is the Waterfront. Located on the west bay of Belltown, you can experience 20 piers and various amusements here. The highlights you can check out are the Aquarium and the Olympic Sculpture Park. At the Waterfront, you'll have plenty of opportunities to try fresh, local shellfish. The Waterfront is safe to explore at night, thanks to the lit-up buildings on the shoreline. Some tours are available at night, although it's easier to walk around at your own pace.
Opening Hours: Daily 24/7
Duration: 1-3 hours
Address: Alaskan Way, Seattle, 98101
---
7. Pike Place Market
Pike Place is a massive food market found in the Waterfront area. You can find fantastic cuisine and food items local to Seattle or from afar at the market. There are also plenty of excellent restaurants that make great dining locations. The market area has a unique and distinct look, taking from Seattle's industrial past. It's been a major hub of the city for over a century and is sure to wow anyone who visits. At night, many stalls will be closed, although most restaurants are open till midnight.
Opening Hours: Shops open daily 10am-5pm, but many restaurants open until midnight 
Duration: 1-3 hours
Address: Between Western Avenue, 1st Avenue, and Pike Street, Downtown, Seattle, 98101
---
8. Pioneer Square
Pioneer Square has the bold claim of being the city's first neighborhood. The area is distinctive thanks to its Renaissance revival architecture. During the day, the area is quaint, filled with boutiques and nice lunch spots, but it comes alive in the evening. Here, you'll find many great and stylish bars for an extravagant night. It's also a unique area to enjoy an art walk. Pioneer Square is a great place to go without a plan, as you can stumble across fantastic sights. One is the Waterfall Garden Park, a secluded oasis that hides away a 22-foot waterfall. Drink the night away here at Pioneer Square and soak in the authentic Seattle atmosphere.
Opening Hours: Daily 6am-10pm
Duration: 1-3 hours
Address: Cherry Street and 1st Avenue South, Seattle
---
9. Baseball Game at T-Mobile Park
T-Mobile Park is a retractable roof stadium home to the Seattle Mariners. Here, you can watch the local pride and joy of the city take on other MLB franchises at baseball. The 47,929-seat stadium is an experience, especially when under the lights. T-Mobile Park can be considered the beating heart of Seattle, as it's right in the city's center. If you want to catch a game, visit the city between April and October. If the team performs well, you could treat yourself to a Post-season clash in November. When there's no game, you can also get guided tours around the stadium.
Match Times: Night match times vary each week. Generally from 6:40pm 
Duration: 2-3 hours
Address: 1250 1st Ave S, Seattle, WA 98134, United States
---
10. iFLY Indoor Skydiving
Just because the sun has set on Seattle doesn't mean you can't have an adrenaline-filled time. Most activities in the city are water-based, but you can also have a skydiving experience. At iFly World, you'll experience freefall thanks to a powerful turbine. Feel weightless as you create unforgettable experiences as you learn to fly. Located in the Tukwila suburb, this experience is well worth venturing out of town for. You can enjoy the feeling of flight as a group or pair, making it a perfect night activity for everyone.
Opening Hours: Monday to Wednesday 12pm-7pm; Thursday 12pm-8pm; Friday 11am-9pm; Saturday & Sunday 10am-8pm
Duration: 1-2 hours
Address: 349 Tukwila Pkwy, Tukwila, WA 98188, United States
---
11. Museum of Flight
Speaking of flying, another great activity in Seattle is the Museum of Flight. Here, located in a massive hangar, are authentic aircraft from the past. With many suspended in the air, you can admire countless specimens from the First World War up to the modern day. It's one of the largest airplane collections in the United States and is a prime place for fun. You can also enjoy relics from outer-atmosphere flights, as the museum celebrates spaceflights. Unfortunately, it's only open late on the first Thursday of each month – but it's free! On some nights, the venue also hosts various DJ nights, making it a unique place to experience. The Museum of Flight is located right by King County International Airport.
Opening Hours: First Thursday each month 5pm-9pm – Admission free
Duration: 1-3 hours
Address: 9404 E Marginal Way S, Seattle, WA 98108, United States
---
12. Seattle Selfie Museum
If you've ever wanted to take the perfect selfie, then a trip to the Selfie Museum is an ideal experience. Here narcissists can enjoy many quirky backdrops to help them take the perfect snaps. Some popular backdrops you can capture include coloring books and a yellow swing set. The museum has no educational exhibits, instead being a studio space. There's no better place to get the perfect picture when in Seattle. Plus, due to the nature of the space, you'll have many fantastic souvenirs to remind you of your time here.
Opening Hours: Monday to Thursday 12pm-8pm; Friday 11am-9pm; Saturday 10am-10pm; Sunday 11am-8pm
Duration: 1-2 hours
Address: 92 Union St, Seattle, WA 98101, United States
---
13. Pacific Science Center IMAX Theater
Watching a film may not seem like an exciting thing to do, but this is a cinema experience like no other. The IMAX at the Pacific Science Center is one of the most state-of-the-art theaters in the US. Here, the screens are six stories high, so the films come alive in unparalleled clarity. You'll be able to watch all the biggest blockbusters and more scientific documentaries. On occasions, there are enhanced 3D experiences, making it an impactful experience. A visit here also supports science education throughout Washington State.
Session Times: Daily from 10:30am until late
Duration: 2-4 hours
Address: 200 2nd Ave N, Seattle, WA 98109, United States
---
14. Seattle Bars
Seattle has a vibrant nightlife scene, with many different and unique bars to choose from. Some of the best include Linda's Tavern, Unicorn, Bathtub Gin & Co, and Flatstick Pub on Pioneer Square. Linda's Tavern is a nice place for nice people and is excellent if you're looking for a more Western vibe. Unicorn is far more vibrant, themed off carnival vibes, and has a quirkier atmosphere. Bathtub Gin & Co is a classier affair and multi-level liquor and gin bar set under low lighting. If you fancy a bit of mini-golf while sipping on some craft beer, Flatstick Pub promises a great night. Of course, there are various more you can find, so go with an open mind to find a great experience.
Duration: 1-4 hours
Linda's Tavern: Monday to Friday 4pm-2am; Weekends 10am-2am
Unicorn: Monday to Friday 2pm-1:45am; Weekends 11am-1:45am
Bathtub Gin & Co.: Daily 5pm-2am
Flatstick Pub (Pioneer Square): Sunday to Thursday 12pm-11pm; Friday & Saturday 12pm-1am
---
15. Seattle NightClubs
Seattle is a famous party city, so it's bound to have many fantastic nightclubs with their unique feel. You can dance under chandeliers at Trinity while enjoying high-octane EDM. Q Nightclub is a great option, as they spin various genres every weekend. Vue Lounge is more relaxed and offers karaoke for you to become the star of the show if you wish. For more adult time, you can also check out Sarajevo, a luxury nightclub worth dressing up to the nines for. Most of these top nightclubs are found around Belltown, so check out that area of Seattle. You can also try Downtown Seattle; just stick to the main clubs to ensure your safety, especially at night. 
Duration: 2-6 hour
Q Nightclub: Friday & Saturday 10pm-2am
Vue Lounge: Thursday to Saturday 9pm-2am
Sarajevo Nightclub: Friday & Saturday 9pm-2am; Sunday 10pm-2am
Trinity: Thursday 9:30pm-2am; Friday to Sunday 9:30pm-2:30am
---
Is Seattle Safe At Night?
Seattle is relatively safe to walk around at night. The city is known for its nightlife, so most areas do have precautions in place to keep everything safe and fun. You'll see a few more police than usual, and most nightclubs will have security guards to deter crime. That said, avoid walking through the various parks, as these can be rough spaces.
---
Best Things To Do In Seattle After Midnight
You're spoilt for choice if you want to keep your night going after midnight in Seattle. If you're feeling the itch to dance, multiple nightclubs and bars are open till the late night hours. For something more mellow, check out the Great Wheel, as this will usually be illuminated.
Nightclubs – The best way to party in Seattle is at nightclubs. They're generally open from Thursday to Saturday and close around 2am. Q Nightclub, Vue Lounge, and Trinity are most popular on Friday nights.
Bars – Most bars in Seattle also close before 2am. Bathtub Gin & Co and Linda's Tavern are lively places for a few drinks.
Restaurants – A number of restaurants open til the very early hours of the morning. Dine at Lost Lake Cafe & Lounge if you want to sit down to enjoy your food. They're open until 3am Thursday to Saturday. Or if you just want a snack, Monster Dogs serves the best hot dogs until 2:30am every night. 
---
Best Things To Do In Seattle At Night For Free
Olympic Sculpture Park – Open all day and night, sculptures are highlighted by lighting in the ground. It's a loveley area to explore at night. No need to pay for museums 
Seattle Waterfront – A 20-minute stroll from the sculpture park, you'll find the buzzing Seattle Waterfront. It's a beautiful area for a walk along the water. With the Great Wheel lighting up the night, it's one of the most popular spots for night photos.
Alki Beach Park – Located in West Seattle, you'll find a long stretch of sand at Alki Beach. Besides a casual walk, there are fire pits along the beach so you can enjoy the night with friends. 
---
Most Romantic Things To Do In Seattle For Date Nights
Sunset Cruises – Spending the evening on the water as the warm hues of the sunset bounces off the lake is beautiful. There are sail tours departing from Bell Harbor Marina.
Loupe Lounge at Space Needle

– Wow your partner with panoramic views of the city. As you rotate, look through the glass bottom floor while sipping cocktails.

Seattle Selfie Museum – If you love taking photos for memories, this is the perfect place to go. You'll have loads of fun striking poses in the unique backdrops.
---
Where to Stay in Seattle
Seattle is a big city so it's best to stay close to the major attractions near the Waterfront. Both Belltown and Downtown Seattle areas are convenient locations since they're close to Pike Place Market, restaurants, and bars. You'll get the most out of your time if you stay at the following hotels:
Also read:
---
Seattle Map
Find More Seattle Tours at Night
---
Summary