Manchester is a popular tourist destination, most known for its football scene. If you're planning a day out with kids, the city is full of fun activities for you to try. Families can visit interactive museums, parks, and aquariums here. Besides attractions, there are many free and night activities for kids to enjoy too. To get you started, here are the most fun things to do in Manchester with kids.
---
1. Hop On Hop Off Bus Trip
Sightseeing with kids is a breeze if you use this bus service. The Hop On, Hop Off open-air buses take you around Manchester, showing you all the sights. The buses depart from Princess Street, right outside the Manchester Art Gallery. They stop at twelve famous locations, including the Piccadilly Gardens and Manchester Cathedral. You can embark and disembark at any of the stops, making visiting places of interest very easy. If you want to stay on board the whole way, the trip takes 1 hour and 30 minutes. Tickets can be purchased online or on the spot from the driver. These remain valid for two days, thus giving families great flexibility during their time in the city.
Duration: 1 Hour 20 minutes
Tour Times: Friday to Sunday from 10:30am
---
2. Scavenger Hunts
A fun way for families to explore a new city is through scavenger hunts. The biggest perk of scavenger hunts is that they are self-guided. Meaning, you don't have to stick to a schedule and can start whenever you want. You only need an app, or sometimes a booklet, to guide you through the city. Manchester, in particular, offers many exciting adventures to tourists. Treasure Hunt Manchester shows you the highlights of Central Manchester. The Zombie Scavenger Hunt is also a kid's favorite, challenging you to survive a zombie apocalypse.
Duration: 2 hours
Manchester Scavenger Hunt: Daily from 7am
---
3. MoviESCAPE
On rainy days in Manchester, MoviESCAPE is a go-to. A former cotton mill turned escape room, MoviESCAPE has been welcoming visitors for years. Due to the detail-oriented props and décor, you feel transported into an actual movie set here. Rooms can accommodate two to eight people, perfect for families. Of the three rooms, Merlin's Magic Academy is the most kid-friendly. Here, you have 1 hour to solve a great puzzle with the help of magical clues. Come around Christmas and try the festive Santa's Cabin escape room too.
Duration: 1 hour 45 minutes
Opening Hours: Thursday to Sunday 10am-10pm
Address: Welkin Mill, Welkin Road, Bredbury, Stockport, SK6 2BH, United Kingdom
---
4. Watch A Live Football Match
Attending a live football match is a must during your stay in the city. Manchester is home to two world-famous football clubs. Consequently, you will find two stadiums here: Old Trafford Stadium and Etihad Stadium. Book your tickets in advance to see your favorite team play at either venue. Tickets include lounge access, and some come with complimentary hot drinks too. Matches generally happen on Saturday or Sunday evenings, however, be ready for occasional delays and cancellations. Regardless of these hindrances, cheering for your team and watching them score live will be the highlight of your trip.
Duration: 2 hours
Old Trafford: Match times vary each week. Generally from 2pm
Etihad Stadium: Match times vary each week. Generally from 2pm
Man Utd Tickets Man City Tickets
---
5. Science and Industry Museum
Satisfy your little one's curiosity with a visit to this fascinating museum. Entry to the Science and Industry Museum in Manchester is free. Easily accessible by public transport, the museum sits on Liverpool Road. A gift shop, a café, and indoor and outdoor picnic tables are on the premises too. In Revolution Manchester, kids love learning about great scientific discoveries. Still, the Experiment Gallery is a clear winner, where little ones can build and play to their heart's content. Keep an eye out for temporary exhibits, shows, and events held here throughout the year.
Duration: 1-2 hours
Opening Hours: Daily 10am-5pm
Address: Liverpool Rd, Manchester M3 4FP, United Kingdom
---
6. Manchester Museum
Going to the Manchester Museum is another free activity kids will love. Based on Oxford Road, it is near many excellent restaurants and parks. The museum is closed on Mondays, yet, from Tuesday to Sunday, visitors are free to enter. Exploring the Manchester Museum's vast collection of objects is both enjoyable and educational. Children especially love the Dinosaur Gallery, with the giant Tyrannosaurus Rex. Also, head up to the second floor, where the Vivarium is. Here, kiddos can see live reptiles, some of which are rare or endangered.
Duration: 1-2 hours
Opening Hours: Tues-Fri 10am-5pm; Sat 8am-5pm; Sun 10am-5pm
Address: University of Oxford Rd, Manchester M13 9PL, United Kingdom
---
7. SEA LIFE Manchester
Spend family time at this unique venue in Manchester. SEA LIFE Manchester is home to thousands of aquatic creatures, from sharks to turtles. Pre-book the tickets and have a stress-free day here, bonding with your kids. Visit the Ocean Tunnel, Turtle Beach, and Shark Shipwreck. Then, with the VIP experience, learn how to care for these exotic creatures or even feed them yourself. On selected Fridays and Saturdays, the aquarium organizes a special mermaid show. While, Wednesdays are quiet visits, designed for those with autism and other sensory requirements.
Duration: 1-2 hours
Opening Hours: Mon, Wed, Fri 10am-5pm; Tue, Thurs, Sat 10am-7pm; Sun 10am-6pm
Address: Trafford Palazzzo, The Trafford Centre, Trafford Park, Stretford, Manchester M17 8AS, United Kingdom
---
8. The Crystal Maze LIVE Experience
For a more hands-on experience in Manchester, check out Crystal Maze LIVE Experience. It's located right next to the Science and Industry Museum. The Crystal Maze LIVE Experience shares the same concept as its popular namesake TV show. Push your limits and try your luck in four different adventure zones. The games are designed for groups of 8, so other visitors may join your team if you have less. Also, only kids older than 9 years old can participate in this activity. Wearing athletic clothing and training shoes is recommended as well.
Duration: 2 hours
Opening Hours: Tues-Fri 1:30pm-9pm; Sat 9am-9pm; Sun 9am-6pm
Address: St Johns, Lower Byrom St, Manchester M3 4FP, United Kingdom
---
9. Immersive Gamebox
Make your kids' dreams come true by reserving a spot here. This interactive gaming activity thoroughly entertains the whole family. Immersive Gamebox is open daily, but times vary throughout the week. Situated on Market Street, it sits on the ground floor of the Arndale Centre. Onsite, pick from the nine available games and let the fun begin. Angry Birds and Shaun the Sheep are the most beloved among families. The high-tech touch screens truly make for a video game-like experience.
Duration: 1 hour
Opening Hours: Mon-Thurs 11am-8pm; Fri 11am-9pm; Sat 10am-10pm; Sun 11am-6pm
Address: Unit R3, Halle Place, Manchester Arndale, Market St, Manchester M4 3AQ, United Kingdom
---
10. LEGOLAND Discovery Centre, Manchester
During your Manchester family vacation, visiting LEGOLAND is a must. Be it toddlers or teenagers, it has something for everyone. They can get creative building and playing at the LEGO-inspired playground. Equally, toddlers delight in the soft play area and the 'Little Play Squad' sessions. There are two thrilling rides for them to enjoy as well. As a family, watch a LEGO movie at the onsite 4D cinema, or treat yourself to the VR Experience. Reserve your tickets in advance, but select a multi-attraction ticket to get a special discount.
Duration: 2-3 hours
Opening Hours: Mon & Fri 10:30am-3pm; Tues-Thurs 10:30am-2pm; Sat-Sun 9:30am-5pm
Address: Trafford Palazzo, Trafford Centre, Manchester M17 8AS, United Kingdom
---
11. InflataNation
Based in Trafford Park, a visit to InflataNation is inevitable for kids. This inflatable theme park makes for a perfect indoor playground. If it's a rainy day, this is one of the best places to visit with kids. They will have a blast here, playing on the colorful slides and obstacle courses. A mini toddler area is set up for the younger ones as well. While waiting, parents can sit in the onsite café and savor sweet pastries. Come for the special weekly sessions too, which include disability-friendly and grown-up-only classes.
Duration: 1 hour
Opening Hours: Mon-Fri 1pm-7pm; Sat-Sun 10am-7pm
Address: Inflata Nation Manchester, Trafford Park, Textilose Road, Manchester M17 1 WA, United Kingdom
---
12. Chill Factore
For lovers of winter, this activity is a perfect fit. In Trafford Park, Chill Factore is an indoor snow center. All ages can learn skiing and snowboarding here. If you are a more advanced skier, try your luck on the UK's longest indoor ski slope. All ski equipment is included in your ticket. To prepare, make sure you wear warm attire, but you can opt to rent onsite as well. Besides winter sports, visitors can shop and dine on the premises too. The Lodge Bar & Kitchen is one of the more popular restaurants where you get a bird's eye view of the slopes.
Duration: 2 hours
Opening Hours: Mon-Tues 10am-10pm; Wed 7:30am-10pm; Thurs-Fri 10am-10pm; Sat-Sun 8am-10pm
Address: Beyond, 7 Trafford Way, Trafford City, Manchester M41 7JA, United Kingdom
---
13. Mini Golf in Paradise Island
Get competitive by playing mini golf against one another amid tiki huts. Placed inside Trafford Centre, Paradise Island is a two-level adventure golf venue. It has two fun courses; Temple Ruins and Tiki Hut Trail. Paradise Island is an ideal place to hold children's birthday parties too. Tickets here are reasonably priced, and there's also a family discount. Moreover, toddlers under five can try the courses for free. To avoid crowds, the best time to go is Monday to Thursday. End your family day with a movie at Odeon Cinema, which is only a few steps away.
Duration: 1 hour
Opening Hours: Mon-Sat 10am-11pm; Sun 10am-9pm
Address: The Trafford Centre, Trafford Park, Stretford, Manchester M17 8AA, United Kingdom
---
14. Treetop Manchester Trek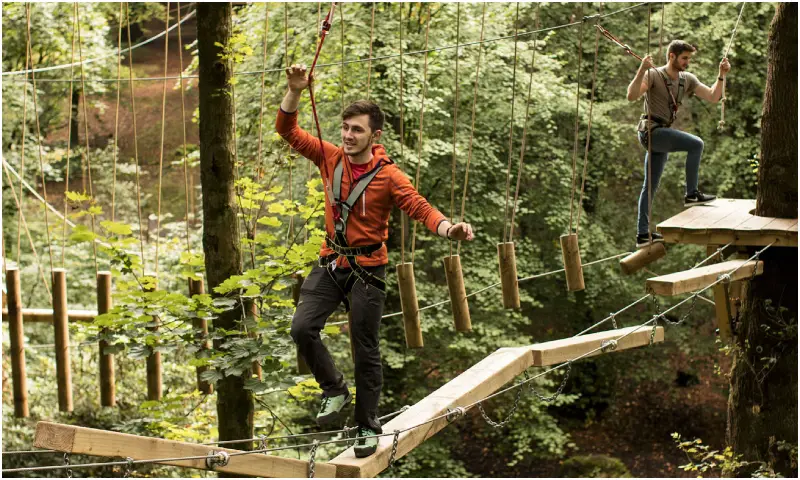 You have come to the right place if you crave some fresh air and adrenaline. Treetop Manchester Trek is all about aerial adventures and tree canopies. In Heaton Park, visitors love flying over treetops on a zip line. There are bouncy nets, trampolines, and slides for the younger ones too. This area is surrounded by netting, making it all safe to use without a harness. It is encouraged to dress kids in nonrestrictive clothing and closed shoes. When you come to Treetop Trek, make sure to use the entrance from St. Margaret's Road.
Duration: 2 hours
Opening Hours: Daily 9am-5pm
Address: Heaton Park, St Margaret's Rd, Manchester M25 2GT, United Kingdom
---
15. Manchester iFLY Indoor Skydiving
Manchester has a viable alternative for kids wanting to fly like superheroes. At iFLY, daring children can soar through the air in a vertical wind tunnel. You can select from several packages, offering two to four flights per person. These flights are safe, as an instructor is with you from beginning to end. Make sure to arrive early to have time to gear up. As a reward, kids will leave home with a certificate and several great photos. This is another great activity if its a rainy day in Manchester. 
Duration: 1 hour 30 minutes
Opening Hours: Daily 8am-10pm
Address: Leisure Village, 9 Trafford Way, Manchester M41 7JA, United Kingdom
---
Fun Things to Do in Manchester with Kids for Free
The best free things to do in Manchester with kids are at museums. At first, museums and kids may not seem compatible, but Manchester has some fun options.
---
Fun Things to Do in Manchester with Kids at Night
Manchester offers many kid-friendly activities at night. But keep in mind, that weekends are generally busier.
Immersive Gamebox – a fun night of interactive games. On Saturday they're open until 10pm.
Paradise Island – casual game of mini golf. Open until 11pm Monday to Saturday. 
Chill Factore – a more active option at night. There are restaurants onsite so you can have dinner too. Open until 10pm daily.
---
Fun Things to Do in Manchester with Toddlers
LEGOLAND – If you travel to Manchester with a toddler, this is the best place to go. Here, toddlers love playing with LEGO and the parent-toddler 'Little Squad Sessions'. You'll also get a LEGO-inspired lunchbox after eating at the onsite café.
InflataNation – This is a great venue for toddlers too. It has a soft play area secured just for them, filled with mini obstacle courses.
---
Fun Things to Do in Manchester Outdoors
As long as it's not raining, there are a couple of fun things to do in Manchester that kids will enjoy. 
Treetop Manchester Trek – Kids enjoy the onsite zip line courses and bouncy nets with great enthusiasm. We also recommend you take a walk around Heaton Park afterward.
Hop On Hop Off Bus – If you prefer to sightsee outdoors, embark on the Hop On Hop Off buses. It has a lovely open-top area, perfect for fresh air and seeing the city views.
---
Where to Stay in Manchester with Kids
2-bedroom Penthouse Suite at the Edwardian Manchester
For kids, it's always best to stay in central areas close to transport, restaurants, and attractions. So wherever you plan to go, we highly recommend staying within Manchester City Centre. There are a number of highly-rated hotels that have 2-bedroom suites, apartments, and even penthouses. After all, parents need their own space too! Here are some of the top hotels we know your kids will love.
Find More Manchester Hotels for Families
---
Manchester Map
Find More Things To Do in Manchester
---
Manchester Attractions Opening Hours