Los Angeles is a glorious metropolitan city in California.
It's the USA's hub for TV and movies, so unsurprisingly, you may spot some celebrities.
This is also where the iconic Hollywood sign looms impressively over the city of Angels.
However, it's at night when you'll find the most fun in LA.
There are plenty of American cultural sights, thrilling activities, and attractions in the evening.
Los Angeles is famous worldwide, a city of glitz and glam, and buzzing with life.
Here are our recommendations for the most fun things to do in LA at night.
1. Santa Monica Beach & Pier
Santa Monica Beach and Pier is a great place for families and kids to have a whole lot of fun at night.
Sunbathing aside, the Pacific Park is full of kid-friendly rides.
Stroll past entertainers, snack shacks, and anglers.
Step back in time for a spin on the vintage merry-go-round.
Alternatively, hit the games arcade for modern-day technology.
Whether you're looking for thrill rides or just a relaxing walk by the beach, everyone can enjoy Santa Monica.
From Monday to Thursday, Pacific Park will close earlier at 7pm, but do extend the hours to 9pm for weekends.
The Santa Monica Pier closes at 10pm.
Opening Hours: Daily 6am-10pm
Address: 200 Santa Monica Pier, 90401
---
2. Hollywood Walk of Fame
Covering 15 blocks of Hollywood, you'll find some of the biggest names recognized on the street floors.
If you are a fan of silver screen legends, you'll likely find their name embedded in brass stars here.
Of course, you can walk around the blocks at any time during the night.
Along the way, visit vintage pubs and learn about the speakeasies and celebrity parties of the Hollywood past.
Enjoy old-fashioned glam and gossip with locals.
If you want more insights into various celebrities, there are many tours available.
Opening Hours: Daily
Address: Hollywood Blvd at Vine Street, Hollywood, 90028
---
3. Beverly Hills
Discover all the secrets of the rich and famous as you tour their neighborhood, Beverly Hills.
Learn who lived and died in which houses, as well as those arrested for crimes.
Michael Jackson, Whitney Houston, Marilyn Monroe, and Hugh Grant are just some of the celebrities you may hear about.
Some of the main points of interest include Sunset Strip, the Beverly Hills Hotel, and the Golden Triangle.
Opening Hours: Daily
Address: 9480 Dayton Way, Beverly Hills, 90210
---
4. The Grove Shopping & Entertainment Complex
The Grove is 57,000 square feet of art deco architecture.
Its a mini-city within a city solely for shopping, dining, and entertaining.
Wander past independent shopping boutiques and restaurants on the stone-paved streets outside.
Or catch the latest movie at the cinemas with various night sessions.
If you're lucky you might even come across a TV Production as the tabloid show Extra is filmed here.
Opening Hours: Monday to Thursday 10am-9pm; Friday to Saturday 10am-10pm; Sunday 11am-8pm
Address: 189 The Grove Dr, Los Angeles, CA 90036, United States
---
5. Indoor Skydiving Hollywood
Have you ever wanted to fly?
Experience what it would be like to glide with an indoor skydiving experience.
You will experience wind speeds of up to 175mph (282kph) as you float in a purpose-built wind tunnel.
Often used by professional skydivers for training, now's your chance to freefall without jumping out of a plane.
You are guaranteed to be buzzing from all that adrenaline!
The best time to visit at night is Thursday, Friday, and Sunday.
Opening Hours: Thursday, Friday & Sunday 12pm-7pm; Monday to Wednesday & Saturday 11am-6pm
Address: 1000 Universal Studios Blvd #1, Universal City, CA 91608, United States
---
6. Los Angeles Farmers Market
You can't buy fresher food than what's on offer at a farmer's market.
From everyday produce to unusual and even quirky foodstuffs, the LA farmers market is the place to go at night.
Whether it's groceries or a meal, the market caters to all.
First opened in 1934, it has grown from a dozen farmer carts to over 100 shops and restaurants.
The CBS Television building next door no doubt helps its success.
Maybe you'll bump into a TV personality during your visit.
Opening Hours: Sunday to Thursday 10am-8pm; Friday & Saturday 10am-9pm
Address: 6333 W 3rd St, Los Angeles, CA 90036, United States
---
7. The Queen Mary
The Queen Mary is a 1930s transatlantic Ocean Liner.
Nowadays, it is a floating museum dedicated to its life at sea.
Aboard you will learn secrets of celebrity passengers and alleged spirits that haunt the decks today.
There are 4 tours available; depending on how many of the exhibits you wish to see.
The Grand Voyage passport is the ticket to everything.
You'll see a 4D Theatre screening, Ghosts and legends Tour, and Queen Mary Historical Exhibits.
Exhibits close at 6pm, as fine dining and paranormal tours begin in the evening.
Opening Hours: Daily 10am-7pm; Tours & Dining open til late
Address: 1126 Queens Hwy, Long Beach, CA, 90802
---
8. Universal CityWalk
Universal City Walk is a 3 block-long commercial fantasy promenade.
It is difficult to know where to start, with brand stores such as Billabong and Abercrombie & Fitch lining the streets.
There are also highly reputed restaurants such as the Hard Rock Cafe.
NASCAR Virtual racing will appeal to fans of Motorsport and cars alike.
The 3D IMAX theatre or 18 screens CityWalk Cinema will give you a huge choice of movies.
Universal CityWalk is generally buzzing most nights, opening till late from Thursday to Sunday.
Opening Hours: Daily 11am-8pm; Weekends til 10pm
Address: 100 Universal City Plaza, Universal City, 91608
---
9. LA at night from Airplane or Helicopter
Los Angeles is a stunning sprawling city, so the best way to see the city is from the sky.
A night aerial view or sunset tour is extra special.
You'll see LA lit up spectacularly.
A romantic treat or a novel way to see the city, it's definitely worth the expense.
You can choose aerial views from a helicopter or airplane.
Fly along the coast, downtown LA, or pass the Hollywood sign for a night to remember.
Duration: 30 minutes to 1 hour
---
10. Madame Tussauds
LA is synonymous with Hollywood and celebrities, so why not go celebrity spotting where you're certain to catch some?
Madame Tussauds Wax figurines are intricately detailed life-sized replicas.
So real you would almost believe you were rubbing shoulders with the stars.
Stroll down the red carpet and get photographed with celebrities.
Sports stars such as Tiger Woods are posing on the green, and even Spiderman can be seen crawling on the ceiling.
With over 100 recreations including Brad Pitt, Jennifer Lopez, Will Smith, and Britney Spears you will be sure to make your friends envious.
The best time to visit at night is on Friday or Saturday.
Opening Hours: Sunday to Thursday 11am-6pm; Friday & Saturday 10am-8pm
Address: 6933 Hollywood Boulevard, Los Angeles, California, 90028
---
11. Ripley's Believe it or Not Museum
This is one of the most popular Ripley's Believe it or Not Museums across the world.
It's unlike any other place you've seen.
Bizare birth defects, revelries of strange occurrences, and odd facts will make you wonder if they are true.
The 300 exhibits include a vampire killing kit, a portrait of Michael Jackson made entirely from candy, and a two-headed cow.
It certainly gives strength to the saying 'truth is stranger than fiction'.
To save money, get a combo ticket that includes Madame Tussauds.
Opening Hours: Sunday to Thursday 10am-11pm; Friday & Saturday 10am-12pm
Address: 67870 Hollywood Blvd, Hollywood, CA, 90028
---
12. Hollywood Wax Museum Los Angeles
Pose with the stars at the world-famous Hollywood Wax Museum.
Since 1965, this site has entertained the masses, making it the most visited attraction on Hollywood Boulevard.
Props and accessories are provided so you can have heaps of fun posing with wax likenesses of the famous.
All of this comes while learning more about them, including their pets, side businesses, charity work, and more.
Like Madam Tussauds, you can pose with life-like celebrities and take plenty of photos.
Opening Hours: Daily 9am-midnight
Address: 6767 Hollywood Blvd, Los Angeles, California, 90028
---
13. Guinness World Records Museum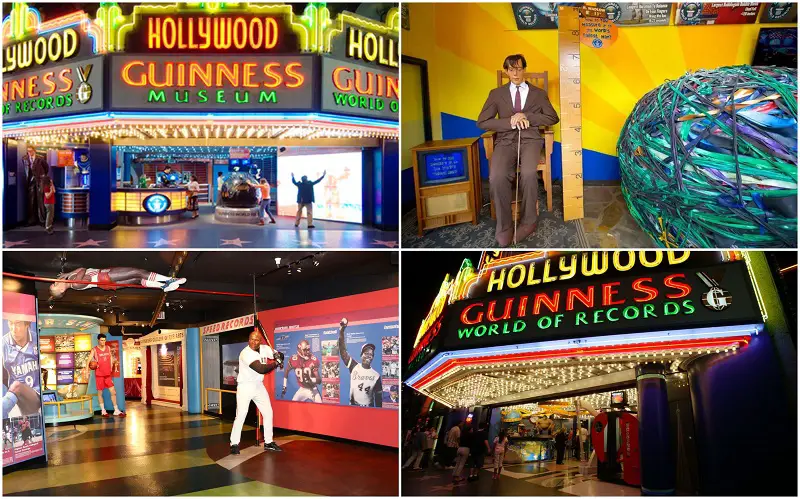 Ever wondered how tall the world's tallest man was, or how many hamburgers can be eaten in 3 minutes?
Look no further than the Guinness World Records Museum.
You'll discover the strangest and most interesting world records brought to life.
Records exhibited are from all categories, including pop culture, nature, sport, and even space.
It's the perfect place to visit at night for families.
Opening Hours: Daily 9am-midnight
Address: 6764 Hollywood Blvd, Los Angeles, California, 90028
---
14. Little Tokyo
Little Tokyo is a commercial district packed with Japanese food stalls, restaurants, and boutique shops.
If you love all things Japanese then this is a must-see in LA at night.
One of only 3 historic Japanese areas in the United States, there is plenty to offer visitors.
Home of the first California Roll and the oldest food purveyor in LA, 130 years of American/Japanese History can be discovered here.
Most restaurants are closed late so it's a great area to grab a midnight snack.
Opening Hours: Daily
Address: Little Tokyo, Los Angeles, CA
---
15. Griffith Observatory
The Griffith Observatory is a gateway to the stars (this time not the celebrity type).
Enjoy a romantic or relaxing sunset tour and hike through Griffith Park to the observatory.
Check out the exhibits and explore the night sky through huge telescopes.
If you time it right, you can enjoy one of their free events.
Discover the night skies of California and enjoy a starlight escape from LA's buzzing nightlife.
Opening Hours: Thursday to Friday 12pm-10am; Saturday to Sunday 10am-10pm
Address: 4730 Crystal Springs Dr, Los Angeles, 90027
---
16. Citadel Outlet Shopping
All great cities have fabulous shopping opportunities and LA is no exception.
The Citadel Outlet houses 115 stores including famous brand names like Calvin Klein and Banana Republic.
Shopaholics will love spending their time browsing for a bargain and splurging on fabulous items to take back home.
The perfect place to pick up a wardrobe worthy of a celebrity.
There are plenty of restaurants and cafes too, so you can keep refreshed and replenish your energy while you shop.
Opening Hours: Daily 10am-9pm
Address: 100 Citadel Drive, Los Angeles , CA, 90040
---
17. Beverly Center Shopping
The Beverly Hills Shopping Centre has 100 shops on offer, ranging from chain shops to high-end.
There is something for everyone's wallets.
The 8-story shopping mall first opened in 1982 on the site of what was previously a local amusement park.
Perhaps bizarrely, it still encompasses a working oil field.
Considered an eyesore by Los Angeles locals, it's worth a visit to make your own mind up.
Opening Hours: Monday to Saturday 10am-8pm; Sunday 11am-6pm
Address: 8500 Beverly Boulevard, Los Angeles, California, 90048
---
18. Dolby Theatre Shows and Events
The prestigious Dolby Theatre is home to the Academy Awards.
Renowned for elegance and celebrity glamour, a visit will leave you feeling like a star.
Book a show and see a top performer such as Celine Dion or Alicia Keys, who have previously sung here.
The Dolby Theatre hosts many other events such as America's got talent, the daytime Emmy Awards, and American Idol Finals.
Take a step away from the stage and explore the backstage areas to discover more about this iconic theatre.
Opening Hours: Times vary for different shows
Address: 6801 Hollywood Boulevard, Los Angeles, California, 90028
---
19. TCL Chinese Theatre
Since 1927, TCL Chinese Theatre has been the sight of red carpet movie premiers.
It's the only IMAX theatre in hollywood, the best place to watch blockbusters.
Step back in time to the glitz and glamour of Hollywood.
Marvel at fabulous costumes, props, and artwork associated with its history.
Learn fun facts and secrets about cement hands and footprints of famous icon.
30-minute tours are ongoing from 10:15 am to 7:45 pm.
There'll be time to catch a late movie too after your tour.
Opening Hours: Show times vary at night
Address: 6925 Hollywood Blvd, Hollywood, 90028
---
20. El Capitan Theatre
El Captain theatre was restored to its original Spanish colonial architecture by Disney in 1991.
It is ornate and glamorous.
If you're a Disney fan, make sure you add this to your bucket list.
There is a changing exhibit showcasing artwork, props, and information about the latest Disney movies.
Now, the theatre itself is only used for premiers and special runs of their movies.
Don't miss out on a chance to experience a show at the theatre.
Opening Hours: Show times vary at night
Address: 6838 Hollywood Boulevard, Los Angeles, CA, 90028
---
21. L.A. Live
Downtown LA's entertainment hub, L.A. Live is the heart of the action.
The collection of restaurants, bars, and clubs showcase sports, music, and movies.
Whether you're visiting with family or on a fun date, there is something for everyone.
Thrive on the hustle and bustle as the area comes alive at night.
The Conga Room, Nokia Centre, and GRAMMY Museum are just some of the iconic attractions here.
This is one of the most luxurious entertainment venues in the country.
Opening Hours: Daily 24 hours
Address: 800 W Olympic Blvd, Los Angeles, California, USA , 90015
---
22. LA Night Clubs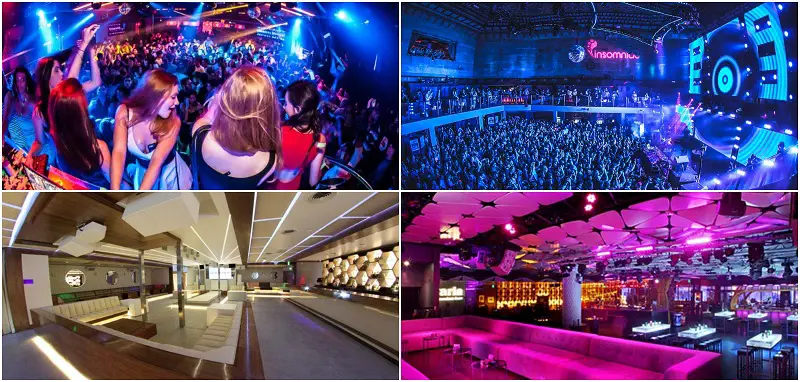 Dance the night away and mingle with the locals as you spend a night in LA's best clubbing hotspots.
Party like a star with VIP entry to 4 fantastic venues.
You'll be given special treatment including drink deals and express entry.
Follow your host and meet like minded party goers.
The nightclub crawls are on Friday and Saturday nights, starting at 8:30pm.
Duration: 4 hours
Meeting Point: Broadway Bar, 830 S Broadway, Los Angeles, CA 90014, USA
---
Where to Stay in LA
To make the most of your experience at night in LA, it's best to find a hotel nearby.
Then, you can stay out for as long as you want.
We've found some top-rated hotels to ensure you have the most fun in LA.
Check out these LA hotels:
Find More Things to do in LA at Night