You'll never be bored in Bangkok!
Thailand's largest city is filled with exciting adventures at every turn.
As a city known for its vibrant nightlife, you can rest assured that the fun doesn't stop just because the sun's gone down.
From embarking on a wild tuk tuk tour to enjoying a romantic dinner cruise on the Chao Phraya River, there are plenty of fantastic ways to spend an evening in the Thai capital.
Check out the 28 best things to do in Bangkok at night.
---
1. Bangkok Night Foodie Tour in Chinatown
Bangkok Chinatown is easily at the top of the list for travellers wanting to explore the city at night.
While it's named Chinatown, you will get the opportunity to taste all the different authentic foods across Asia, including some of Thailand's most popular dishes.
Join a local guide from Magical-Trip, who will lead you down Yaowarat Road.
This is where most of the buzzing Chinatown restaurants are located.
You'll be tasting some of the best local cuisines in the city including the iconic Pad Thai, yummy Thai sweets and freshly made satay skewers.
There'll be plenty of food provided by the guide as you hop between local restaurants, however, you can buy more food.
Also, have your cameras ready, as the streets light up from the colourful city neon lights on this fun 3 hour foodie tour.
Tour Details
Duration: 3 hours
Departure Point: MRT Hua Lamphong Station Exit 1
Inclusions: Local guide, different tastings of food, drinks and sweets.
---
2. Bangkok by Tuk-Tuk
Race around Bangkok's most iconic sites in a tuk tuk!
The four-hour tour begins along the scenic Chao Phraya River.
From there, you'll stop at several nearby temples and markets (including a 24-hour flower market).
See the famous golden pagodas of Wat Pho lit up at night, before sampling some authentic street food.
Finish off the tour with a delicious dessert at a mystery location only to be revealed once you're in the tuk tuk.
Tour details
Duration: 4 hours
Departure Point: BTS Krung Thonburi
Departure Times: 6:30pm and 7:00pm
Inclusions: English-speaking guide, Snacks, dinner, dessert, non-alcoholic beverages and drop-off at the end of the tour.
---
3. Bangkok Night Bike Tour
There's no better way to experience Thailand's famous temples than by bike at night.
It's the best way to see a different side of the city.
Hop on your bike and see the city's stunning Buddhist temples light up the night's sky.
It's the perfect time to explore as the temperature is cooler and the streets less busy.
Every tour visits Wat Arun and Wat Pho, as well as the Pak Khlong Talat flower market.
You'll even get to sample some delicious street food and learn about the history of the city from your professional guide.
To ensure the best experience, tours are limited to just ten people.
Tour details
Duration: 4 hours
Departure Point: Grasshopper Adventures – Bangkok Bike Tours
Departure Time: 6:00pm
Inclusions: Bike and helmet rentals, guide, snacks and drinks.
---
4. Phra Sumen Fort
A must-visit while in Bangkok!
The Phra Sumen Fortification dates back to the eighteenth century (1783 to be exact).
It was built by King Rama I to help defend the city against naval invasions.
It has a unique octagonal shape and sits along the river in Santi Chai Prakan park.
The eye-catching brick and stucco tower in the centre is a must-see for all history buffs, as it's one of only two of the original 14 watch towers still standing in Bangkok.
Phra Sumen Fort gets its name from Mt. Meru (which is called Phra Sumen in Thai).
Inclusions for most tours
Professional guide
Pick up and drop off at your hotel
---
5. Evening Food Tour
Bangkok is known for its food, so as a tourist, this is a side of the city you have to experience before you leave.
There's no better way to get your fix of Thai food than on an evening street food tour.
Eat with the locals and try up to 10 food and beverage tastings.
You'll sample dishes from the four regions of Thailand and experience flavours you've never tasted before.
Your sweet tooth will also be satisfied thanks to the traditional Thai dessert (made fresh daily!) that you'll receive at the end.
After this tour, you'll definitely be able to say you spent your time in Bangkok eating like a local!
Tour details
Duration: 3-4 hours
Departure Point: BTS Saphan Taksin
Departure Time: 6:30 pm
Inclusions: Local guide, Up to 10 food and beverage tastings, entry fees.
---
6. Dinner Cruise on the Chao Phraya River
Spend a romantic evening on the water!
A dinner cruise on the famous Chao Phraya River is the ultimate way to spend an evening in Bangkok.
The luxurious riverboat offers guests unparalleled views of the city skyline.
You'll pass under bridges, not to mention Bangkok's most famous temples: Wat Arun and the Grand Palace.
On board the boat, you'll find an extensive buffet of authentic Thai dinner and dessert dishes.
Plus, you'll be serenaded by a live band and other entertainers that have taken up residence on the boat for the evening.
Tour details
Duration: 3 hours
Departure Point: River City Bangkok
Departure Time: 7:30 pm
Inclusions: Local guide, dinner, hotel pick up and drop off.
---
7. Rooftop Bar-Hopping
The nightlife in Bangkok is unbeatable and a big part of that are the city's incredible bars and clubs.
Bar hopping is almost like a rite of passage in the city and it truly doesn't get any better than a rooftop bar.
Sipping on a cocktail overlooking the gorgeous city below? Yes, please!
Some bars even offer 360 degree views of the city, so be sure to snap plenty of pics.
This tour will take you to three different rooftop bars in Bangkok, each offering a new viewpoint.
In between bars, you'll also be treated to dinner at a local market.
Tour details
Duration: 5 hours
Departure Point: BTS Thong Lo
Departure Time: 5:00 pm
Inclusions: Alcoholic beverages, dinner, air-conditioned vehicle, and entry fees.
---
8. Baiyoke Sky Hotel
For unbeatable views of Bangkok, look no further than the Baiyoke Sky Hotel.
The Baiyoke Sky Hotel is located in the country's tallest skyscraper.
It has viewing decks on the 77th and 84th floors, each offering incredible panoramic views of the city and beyond.
You can even see the Gulf of Thailand from the top.
The main observation deck lies on the 77th floor, but you'll also have the option to visit the revolving view point on the 84th floor.
Telescopes and information kiosks can be found in both observation areas to explain what is down below.
Baiyoke Sky Hotel details
Duration: 2-3 hours
Address: 222 Ratchaprarop Road, Ratchathewi, Bangkok
Opening Hours: 9:00 am – 9:00 pm
Inclusions: entry fees, fruit buffet with drinks
---
9. Khao San Road
If you went to Bangkok and didn't walk down Khao San Road, were you really in Bangkok?
This Thai street has gained a reputation all over the world.
It is known for its cheap street food, budget accommodations, endless souvenir shops, and lively bars.
To ensure you experience all that Khao San Road has to offer, consider booking a tour with a local guide who can show you all the ins and outs.
From where to shop to where to eat, a local guide will help you navigate one of Bangkok's busiest streets.
Khao San Road is also a great place to book other tours and meet backpackers from all over the world.
Inclusions for most tours
Admission/entry fees
Lunch
Bottled water
Snacks
---
10. MBK Center
If you're a shopaholic, you've come to the right place!
MBK Center, otherwise known as the Ma Boon Khrong Center, is one of the biggest shopping malls in all of Thailand.
It contains over 2,000 stores and stands 8 storeys high.
You can find everything under the sun at this massive shopping centre, ranging from clothing and watches to shoes and electronics.
It's also a great place to find inexpensive souvenirs for your friends and family at home.
But we recommend visiting with a tour group as it can be quite daunting – the mall receives over 100,000 visitors each day.
MBK details
Opening hour: daily 10am – 10pm
Duration: 1-4 hours
Address: 444 Phayathai Rd, Khwaeng Wang Mai, Khet Pathum Wan, Krung Thep Maha Nakhon 10330, Thailand
---
11. Siam Square
A hub of all things exciting, Siam Square is considered by locals to be the centre of Bangkok.
It is where you'll find endless shopping and entertainment venues, top-notch hotels, and the BTS sky train stop.
Locals, expats, and tourists can all be found at Siam Square for a variety of reasons.
Shoppers will find designer clothing and accessories, while foodies will be treated to an array of restaurants and street food vendors.
Although it's called a square, don't be confused by the name.
Rather than looking like a square, the area is more like a maze of small streets and alleyways feeding into one another.
Siam Square details
Opening hour: Daily til 10pm
Duration: 1-8 hours
Address: Pathum Wan, Pathum Wan District, Bangkok 10330, Thailand
---
12. Night Market Tour
See Bangkok through the eyes of a local on this one-of-a-kind nighttime market tour.
A local guide will give you their insight into the best things to do in Bangkok.
After all, when travelling it's important to get to know the locals in order to get a feel for the city.
You'll start by exploring the popular Siam night market.
Next, you'll visit an off-the-beaten-track temple, before enjoying the nightlife.
History, food, and culture all in one – this private tour can't be beat.
Tour details
Duration: 2 hours
Departure Times: Various evening times from 5:00 pm.
Departure Point: Sam Yan
Inclusions: Entry fees and transportation
---
13. Madame Tussauds
Meet your favourite Hollywood A-listers at Madame Tussauds Bangkok.
This famous wax museum has locations in cities all over the world, with Bangkok being one of them.
Become the sixth member of One Direction or pose for a selfie with Johnny Depp.
Other celebrity figures include Brad Pitt, Angelina Jolie, Bruce Lee, Jackie Chan, and David Beckham.
There are even various political figures, such as Queen Elizabeth II and the Dalai Lama.
If you're a celebrity fanatic, be sure to visit Madame Tussauds and see replicas of your favourite television, movie, and musical stars.
Madame Tussauds details
Duration: 2 hours
Departure Point: Madame Tussauds Bangkok
Opening Hours: daily 10:00 am – 9:00 pm
Inclusions: Entry fee and Hotel pick up
---
14. Art In Paradise
Up your Instagram game at Art in Paradise.
Art in Paradise is one of the largest 3D museums in Thailand.
It has paintings of all styles and subjects, from adorable animals to classical landscapes.
As a specialty "illusion" museum, visitors are able to stand in front of the paintings and appear as if they are in them.
There are over 150 paintings to enjoy, divided up into two floors.
Whatever you do, don't forget your camera when you visit!
Art in Paradise details
Opening Hours: daily 10:00 am – 10:00 pm
Duration: 2-4 hours
Address: 99 Ratchadaphisek Rd, Khwaeng Din Daeng, Khet Din Daeng, Krung Thep Maha Nakhon 10400, Thailand.
---
15. SEA LIFE Bangkok Ocean World
Experience life under water at the one and only Ocean World.
Bangkok's very own under water amusement park allows you to get closer than ever to some of the coolest marine animals on the planet.
Over 3,000 marine and freshwater creatures call Ocean World home.
The park is divided up into zones, each zone showcasing a different kind of marine life, such as rock shore or deep reef.
Remember to take a walk (and snap some pics) in the 270 degree glass tunnel, where you'll be surrounded by sharks.
Other animals you can expect to see include stingrays, otters, jellyfish, and seahorses.
SEA LIFE details
Duration: 3 hours
Departure Time: 10:00 am
Inclusions: Entry fee, popcorn and Pepsi, round trip private transfer.
---
16. LINE Village Bangkok
Are you a fan of LINE games?
Then now is your chance to get up close and personal with your favourite characters!
This indoor amusement park features human-sized versions of all the biggest LINE characters, such as Brown, Leonard, Edward, Choco, Moon, and James.
The unique experience is divided up into 23 zones.
Whether you want to snap a selfie at the Digital Selfie VDO kiosk or play a game in the 4D VR Experience section, you'll never be bored here.
Before you leave, be sure to take as many photos as possible (the friendly staff on-site are also able to take photos for you!).
LINE Village details
Opening Hours: 10:00 am – 10:00 pm
Duration: 1-2 hours
Address: 338 Rama I Rd, Khwaeng Pathum Wan, Khet Pathum Wan, Krung Thep Maha Nakhon 10330, Thailand
Inclusions: Exclusive LINE sticker, Unlimited VR LINE digital games and entry.
---
17. Lazgam Laser Games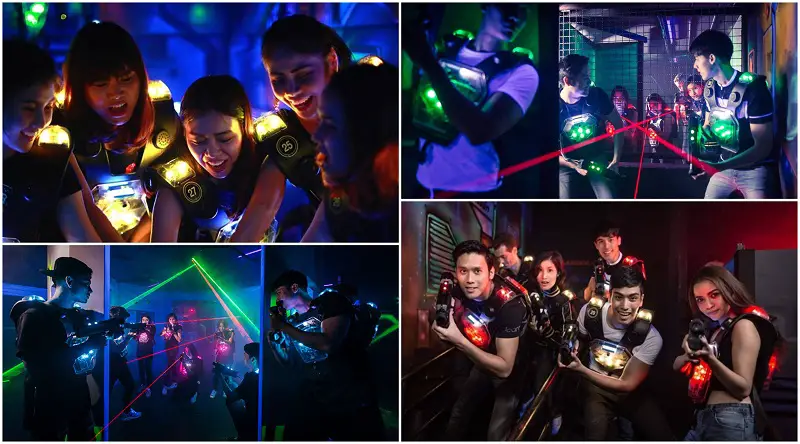 Tag – you're it!
Spend the evening playing laser tag at Lazgam Laser Games.
Lazgam Laser Games is the first ever laser tag facility in the city of Bangkok.
Located in the Holiday Inn Bangkok, it is the perfect place to spend a night with your friends.
Visitors will be treated to a 500 square metre setting complete with futuristic lasers, bright colours, and realistic sound effects.
Games are 15 minutes in length with a maximum of 32 players per game.
Live out your greatest Star Wars fantasies!
Laser Tag details
Opening hours: Sunday to Thursday closes 11pm, Friday and Saturday midnight.
Duration: 15 minutes
Address: 22 Sukhumvit Rd, Khlong Tan Nuea, Watthana, Krung Thep Maha Nakhon 10110, Thailand
Inclusions: Equipment required to play and entry.
---
18. Meditation Class at Wat Mahathat Temple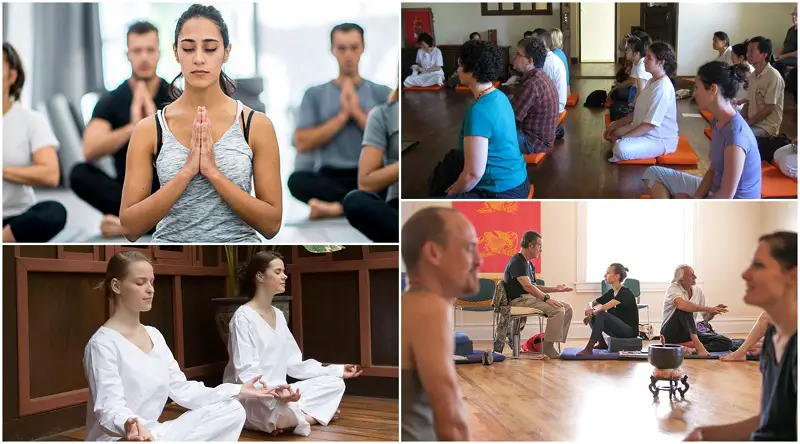 When in Bangkok, do as the Buddhists do!
Take a meditation class that will allow you to align your body with your mind.
The coolest thing about this class is that it's taught at Wat Mahathat, one of 10 royal temples in the city of Bangkok.
Learn techniques that you can take home with you from a certified English-speaking instructor.
This two-hour session is guaranteed to leave you in a calmer state of mind.
Plus, you'll get an authentic Thai experience that promotes relaxation and mindfulness.
Class details
Duration: 4 hours
Departure Time: 5:00 pm
Departure Point: Your Bangkok hotel
Inclusions: English-speaking instructor, hotel pick up and drop off, transport by air conditioned minivan or coach.
---
19. Nirvana Spa Experience
Utter relaxation is a click away.
The Nirvana Spa Experience at So Thai Spa Bangkok is like no other.
Get pampered from head to toe for five whole hours.
Every moment is as indulgent as the last, with body treatments ranging from hot wraps to massages.
This spa package is great for couples, friends, or even solo travellers.
Everyone deserves to relax and unwind.
So Thai Spa Bangkok details
Opening hours: daily til 10pm
Duration: 5 hours
Address: 267 Soi Sukhumvit 31, Khlong Tan Nuea, Khet Watthana, Krung Thep Maha Nakhon 10110, Thailand
Inclusions: Entry and light refreshments
---
20. Joe Louis Thai Puppet Theatre
Did you know that puppet shows are an important part of Thailand's culture?
Classical Thai puppet shows were first recorded over a century ago, but only recently gained in popularity once again.
Experience an authentic Thai puppet show at Bangkok's Joe Louis Thai Puppet Theatre.
Stories all relate to Thai culture, giving the audience more insight into the country and its customs.
Puppets all have intricate costumes and come to life through expert puppeteers.
If you're looking to take in a show while in Thailand, this is a great option.
Puppet Show details
Duration: 1 hour
Departure Point: Joe Louis Thai Puppet Theatre
Departure Time: 7:30 pm
---
21. Extreme Muay Thai Matches
There's nothing quite like a night at the Muay Thai ring.
This national sport has captured the hearts of people around the world, and there's nowhere better to see it than in its native country.
Sit ringside at a live Muay Thai boxing match in Bangkok.
This traditional Thai-style martial art is sure to get your heart pumping.
Accompanied by traditional music and in the setting of Rajdamnoen Stadium, this is sure to be a night you'll never forget.
Whether you're a sports fanatic or not, attending a Muay Thai match in person is a great way to immerse yourself in the local culture.
Muay Thai Match details
Duration: 5 hours
Departure Time: 7:00 pm
Inclusion: Entry fee, English-speaking licensed guide, air-conditioned vehicle and bottled water.
---
22. Bangkok Cabaret Shows
Enjoy a Broadway-quality cabaret in the heart of Bangkok.
Cabaret shows at the Calypso will enchant you with their dazzling costumes and incredible singers.
Each show features the best of Thailand's transgender artists and performers.
They put their heart and soul into each mesmerizing performance.
From the burlesque corsets to the feathered headdresses, there is so much to take in at the Bangkok Cabaret.
Step into a setting out of the 1930s, settle into your lamp-lit table, and let the show begin!
Cabaret Shows details
Duration: 1 hour
Address: Calypso at Asiatique Box Office
Start times: 7:30 pm and 9:00 pm
---
With so much to see and do in Bangkok, you'll never be bored at night!
We hope this list has inspired you to make the most of your time in the iconic Thai city.
Find more Things to do in Bangkok at Night