Are you a bit bored in Chicago at night? Or not sure what to do in the evening?
I had the same problem but after some research, we found some fun activities and attractions worth visiting!
Chicago, America's mid-west metropolis and bona fide world class city is famous for the food, music and the city's renowned skyline, including the second tallest building in the Western Hemisphere.
As impressive as it is in the light of day, it's even more exquisite at night.
If you find yourself in Chi-Town when the sun goes down, there's no shortage of cool ways to see the cityscape and immerse yourself in the culture and history of Chicago.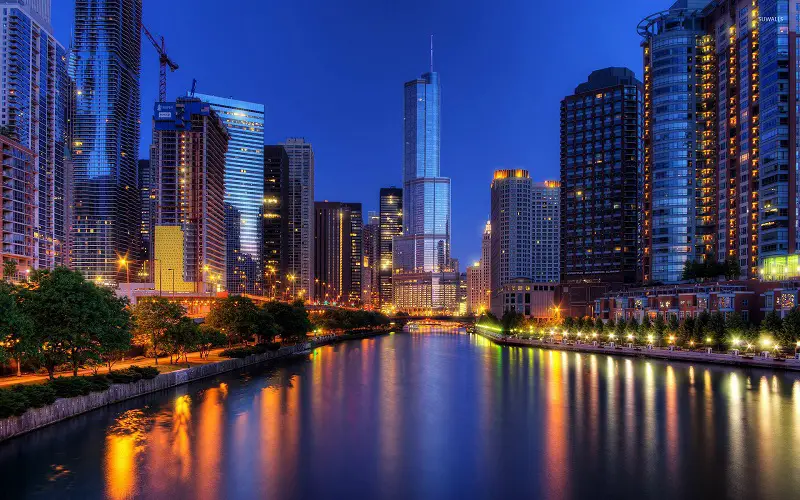 1. Cruising
Cruising is a great way to relax and see Chicago at night.
Like with most activities near the water, bring a light jacket as it can get breezy out on the lake.
Here are some recommended evening cruise tours in Chicago.
Private Sunset Sails
A bit more pricey, but for a unique and personal experience, set sail on this luxury boat on a 2 hour tour around Lake Michigan.
Chicago Summer Brew Cruise
Perfect for a small group of friends, enjoy a night out tasting beer, wine, or cider.
Pass by some of Chicago's tallest landmarks and admire its architecture while enjoy a drink.
Lake Michigan Sightseeing Cruise
For a cheaper option, board the Star of Chicago.
Take in the silhouette of the skyscrapers as the sun sets behind them and the city lights start to ignite.
The evening cruise leaves Navy Pier at 7:30pm.
---
2. Night Walking
Chicago Lakeshore
The city's lakeshore is another great place to stroll around.
The area has over 15 miles of urban green space and is home to museums, the planetarium, the aquarium and Soldier Field.
The lakeshore is dotted with beaches.
During the warm weather, it is teeming with visitors and locals.
Chicago Riverwalk
The Riverwalk is the centerpiece of the city. Not just a pretty view, there are plenty of things here other than just walking to keep you busy.
If you're feeling a bit peckish during your walk, try some of the great restaurants that line the river.
Chicago Segway Night Tour
Feeling lazy? Exhausted from day activities?
No worries.
You can still stroll through Chicago at night on a segway and see the city light up on this 2 hour tour.
---
3. Chicago Night Views
Helicopter Tours
There's hardly a better way to see a city lit up at night than from above in a helicopter.
Fly by the skyscrapers, over Lake Michigan, and get look at the city's landmarks from the air.
There are several helicopter tour operators in the city that offer night helicopter tours that range from 15 minutes to an hour.
Willis Tower Skydeck
Get a view of the city from the top of the tallest building in the Western Hemisphere.
The world famous Sears Tower's (now the Willis Tower) Skydeck offers visitors the chance to survey the entire region during the day.
At night, it's easily one of the best vistas of Chicago's lights at night.
Subject yourself to a little vertigo on The Ledge, a glass terrace jutting out from the side of the tower where you can look straight down to the sidewalk 1,353 feet below your feet.
360 Chicago
Formerly the John Hancock Observatory, 360 Chicago is Skydeck's rival, but you should take advantage of both since they offer different vantage points.
Further uptown and across the river, 360 Chicago, not to be outdone by The Skydeck's "Ledge", boasts 360's "Tilt".
A ride of sorts, you stand in front of a bank of window with grab bars on either side, then the floor and windows "tilt" forward till your facing about 35° down toward the sidewalk.
---
4. Dining
Signature Lounge at the 96th
After getting a glimpse of the skyline from 360, grab dinner and drinks at the Signature Lounge on the 96th floor.
Enjoy the breathtaking views with food and drinks.
Hard Rock Cafe
If you're a rock n roll fan seeking a temple to the bands who created your favorite music that also serves dinner and drinks, look no further.
The Hard Rock Café is decorated with the guitars and other memorabilia of some of the best artists of the last 50 years.
They feature live music every week including karaoke with a live band. Come in, eat, drink and play out your rock star fantasy.
---
5. Chicago Entertainment
Shows and Dining
If you want more than just food, there are some dining experiences that include entertainment like interactive detective plays or a Medieval times show.
You could even see major productions like Aladdin or the long running Blue Man group.
Alternatively, check out venues such as Auditorium theatre and Chicago Symphony Center for various shows.
Millennium Park
Prefer an old fashioned movie? Grab a blanket or a folding chair, throw some snacks and drinks in a cooler, and head down to Millennium Park to catch a movie.
Every summer, Chicago sets up screens in parks all over the city and shows films ranging from Hollywood's Golden Age to recent hits.
This is a relaxing way to spend an evening. If you're in the city in summertime, check the schedule and see if any of your favorites are showing.
---
6. Pubs and Bars
Chicago Prohibition Adults-Only Tour of Historic Speakeasies
They call it "A Sip of History".
You're taken by bus to different Prohibition Era speakeasies where you learn about the history of one of the most turbulent periods in American history.
Best part is that you get to drink, not one, but several samples.
The Chicago Prohibition Tours start at 4pm, and ends at around 7:30pm.
However, you can easily kick on into the evening and enjoy more drinks throughout the night.
Redhead Piano Bar
If you're looking for a fun place where you can mix and mingle with locals and out-of-towners in for conventions, look no further than the Redhead.
This popular nightspot has live music, top shelf booze, cigars and a cool Golden Age of Hollywood décor.
This is a good one for later on in the evening since they're open till 4am.
---
7. Attractions
Alder Planetarium
Jutting out into Lake Michigan on the NE point of Northerly Island, Alder Planetarium is a museum dedicated to the science of astronomy.
This place has enough cool stuff to see and do to keep you engaged, but it's the Doane Observatory telescope that surpasses it all.
Come to the Doane at Dusk nighttime telescope viewings with accompanying lectures by staff astronomers.
The telescope is powerful enough to furnish clear views of our nearby celestial neighbors, and galaxies that are trillions of miles into deep space.
Check the schedule on their website, and keep in mind the telescope viewings are weather permitting.
Navy Pier
For a fun night out of rides, visit Navy Pier which opens til 10pm or normal nights, and midnight on Friday/Saturday.
You can get another incredible view of Chicago from the Centennial Wheel!
---
Chicago is a buzzing city with an endless parade of amazing things to do after the sunset.
No matter what time of year you find yourself in Chicago, there should something on this list to keep you busy at night.
Find More Things to do in Chicago at Night