Are you planning a weekend getaway to London?
Or just need a break from all the work during the week?
Boasting new technology, first-class sports, Michelin restaurants, and centuries old historical sites, London is filled with fun.
We've picked out the 42 best things to do and places to visit this weekend to guarantee a fun day out.
Here are our recommendations.
1. The London Eye
Taking you 135 metres above the majestic city of London, the London Eye provides an intimate and unique observation experience.
The Ferris wheel is made up of numerous capsules where riders can stand or sit in comfort as they take in 360-degree views of London.
There are numerous packages available, from a basic 30-minute capsule ride to wine-tasting or romantic capsules.
From the ground it is a marvellous landmark, however, you'll need to ride inside a capsule to truly experience the London Eye's full value.
Weekend opening hours: 10 am – 8:30 pm.
2. Harrods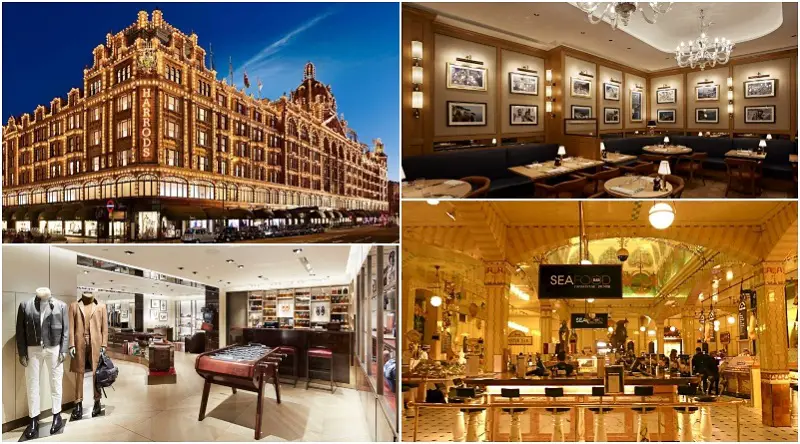 Visiting Harrods isn't anything like going to your local shopping centre.
Europe's largest department store offers a lot more than just items for sale in its 330 departments; items which can come as cheap as £2 or cost more than £1 million.
Harrods features an enormous food area, where you can select sweets, pastries, seafood and fresh meat.
Numerous rare and famous items can also be found inside Harrods including guitars used by famous rock stars, props from movies, and a memorial for Princes Diana and Dodi Al-Fayed.
Harrods provides a true experience of English-style upmarket shopping and fine dining, along with some spectacular sights and items that can't be found anywhere else.
Weekend opening hours: Saturday 10 am – 9 pm; Sunday 11:30am – 6 pm.
3. Trafalgar Square
Trafalgar Square is located in the heart of London and is guarded by the towering monument, Nelson's Column.
Most people visit the attraction as a place for relaxation, however, it is particularly crowded during events including Chinese New Year, St. Patrick's Day, and Christmas ceremonies.
Trafalgar Square is also often used as the starting point for London tours.
The name of the square reminds people of the famous Battle of Trafalgar that took place during the Napoleonic Wars which ended with the British naval victory.
Weekend opening hours: 24 hours.
4. The National Gallery
The National Gallery in London storesover 2300 paintings created by famous and emerging artists from all over the world.
You'll see unique paintings and special exhibits in the various galleries.
The Gallery is accessible for all types of visitors, with art-themed activities for children during the holidays, informative audio guides, educational lectures, regular film screenings for film lovers.
Additional services are available for anyone wishing to extend their stay, with three excellent places to eat and drink, and a gift shop selling prints of the Gallery's artwork and educational books.
Depending on your priorities, the National Gallery can be somewhere you visit quickly before another attraction or where you lose three hours.
Weekend opening hours: 10 am – 6 pm.
5. Camden Markets
The Camden markets, also commonly referred to as Camden Lock Market, is a tourist attraction formed from 6 adjacent large retail markets located in Camden Town.
They attract more then 100,000 visitors every weekend, making them the 4th most famous and popular attraction in London.
The stalls sell almost anything from fast food to clothing and crafts.
The peak period for the Camden Markets is on the weekend, especially Sundays.
Weekend opening hours: 10 am – 6 pm.
6. Buckingham Palace
Buckingham Palace is the main workplace and London residence of the British monarchy.
It often hosts royal hospitality and state occasions.
Today, the Buckingham Palace Garden is considered the London's largest private garden.
In the summer, parts of the palace is open to the public including The Queen's Gallery, The Royal Mews, The State Rooms and The Gardens.
Weekend opening hours: July – August 9:30 am – 7:30 pm; September 9:30 am – 6:30 pm.
7. Sir John Soane's Museum
Sir John Soane's Museum is located in Central London, the Holborn area, very close to Lincoln's Inn Fields.
Today, the museum includes models and drawings that Soane created over the years.
You'll also see his own collections of antiquities, drawings and paintings.
Guided tours are available for those interested in learning more about the collection of Sir John Soane.
Weekend opening hours: 10 am – 5 pm.
8. The Shard
The Shard is London's tallest building in Western Europe and offers the best panoramic views of London.
There are 2 viewing platforms.
The first one is an indoor gallery located on Level 69 while the second is situated on Level 72 showcasing an outdoor gallery.
It is also home to luxury hotel rooms, restaurants and some offices.
Take your family, your lover or your children, book your tickets and enjoy London at the very top.
Weekend opening hours: Saturday 10 am – 10 pm; Sunday 10 am – 7 pm.
9. Tower of London
The Tower of London, officially known as "Her Majesty's Royal Palace and Fortress", is a historic castle sitting in Central London, on River Thames' north bank founded in 1066.
The famous White Tower was built in 1078 by William the Conqueror.
Despite its name, the Tower includes several buildings that are protected by a moat and defensive walls.
Nowadays, it is one of the most popular tourist attractions in the United Kingdom.
Weekend opening hours: Saturday 9 am – 5:30 pm; Sunday 10 am – 5:30 pm.
10. Lord's Cricket Ground
Lord's, officially known as Lord's Cricket Ground, is a famous cricket venue located in London, St John's Wood.
The name of the venue comes from Thomas Lord, who was also the founder.
This venue also houses the oldest sporting museum in the world and it's considered to be the "home of cricket".
You can see the Ashes urn, which is the most famous trophy displayed at the museum.
Join a tour to learn more about London's historic sporting landmark.
Weekend opening hours: Tours are available on weekends unless there's a match. They are generally available on the hour between 10 am – 5 pm.
11. Kensington Gardens & Palace
Covering 111 hectares, Kensington Gardens represent one of London's royal parks.
They are located on the west side of Hyde Park and it is one of Central London's iconic attractions.
The park features numerous types of wildlife, grasslands, mature trees and 2 playgrounds.
And of course, a visit to the Kensington Palace is a must.
This is where Princess Diana lived and still houses princesses today.
Weekend opening hours: 6 am to dusk.
12. St Paul's Cathedral
St Paul's Cathedral is one of the greatest landmarks in the British capital.
It's located on Ludgate Hill, which is London's highest point.
It serves as the mother church for the London Diocese, the Bishop of London's seat and the Church of England cathedral.
The 17th century building design was signed by Sir Christopher Wren and is it the second largest Cathedral in the country, only surpassed by Liverpool Cathedral.
As you make your way to the Dome at the top of the Cathedral, you'll be able to galleries, monuments and collections.
Weekend opening hours: Saturday 8:30 am – 4:30 pm; Sunday is for worship only.
13. Legoland Windsor
Legoland Windsor is an amusement park for children and young fans of Lego.
The park is situated in Windsor, Berkshire and it is one of the most fun theme parks near London.
Legoland offers a wide range of activities and highlights including rides, shows, Lego models and workshops.
It has eleven themed areas: Adventure Land, The Beginning, Duplo Valley, Imagination Centre, Knight's Kingdom, Land of the Vikings, Kingdom of the pharaohs, LEGO City, Miniland, Pirate Shores and Traffic.
Make sure you have your camera as well.
There'll be some incredible life size models made from Lego all over the theme park.
Weekend opening hours: 10 am – 6 pm.
14. National Portrait Gallery
The National Portrait Gallery is an important museum in London.
It houses the world's largest collection of personalities and portraits, from the late Middle Ages to the present day.
The National Portrait Gallery reflects the law-makers and taste-shapers of British culture, from monarchs to musicians, actors, explorers and authors.
Besides the permanent displays, the gallery has a diverse program of exhibitions and free events.
There's a rooftop restaurant with views across the London skyline.
Weekend opening hours: 10 am – 6 pm.
15. Royal Observatory Greenwich
Royal Greenwich Observatory is a famous astronomical observatory located in Greenwich Park.
Before it was closed in 1998, it used to be London's oldest scientific research institute.
Nowadays, it hosts a museum displaying thousands of navigational and astronomical tools.
Here, you can see how scientists mapped the seas and stars for the very first time, admire superb inventions including the largest refracting telescope in the United Kingdom or even touch an asteroid that's 4.5 billion years old.
Weekend opening hours: 10 am – 5 pm.
16. Science Museum
Opened in 1897, the Science Museum showcases galleries of modern science and technology, attracting more than 3 million visitors each year.
The museum is publicly funded and is free to enter.
The Science Museum has an impressive collection of more than 300,000 items, divided into multiple galleries.
For instance, you'll see the Stephenson's Rocket, Apollo 10 Command Module, the oldest surviving steam engine, or a replica of the 1953 DNA model created by Crick and Watson.
Weekend opening hours: 10 am – 6 pm.
17. London Transport Museum
The London Transport Museum is located in Convent Garden and showcases the city's transport evolution through different galleries on three levels.
Most of the galleries are on the first floor.
Among the exhibits include the famous London bus, a steam locomotive and the old double-decker coaches.
Weekend opening hours: 10 am – 6 pm.
18. Museum of London
The Museum of London is the world's largest history museum.
It displays the history of London as it holds more than two million items kept in very good condition.
It was founded in 1912 and expanded to a second location in Docklands.
You will see several exhibitions that include genuine antique objects dating back to different historical times, from Pre-historical and Medieval to the contemporary and modern era.
Best of all, entry is completely free!
Weekend opening hours: 10 am – 6 pm.
19. Regent's Park
Regent's Park is a Royal Park located in London.
The park is London's biggest outdoor sports area that caters to cricket, rugby, softball and football.
You can also relax and visit the Open Air Theatre, Primrose Hill, the gardens, monuments, fountains of the park or the London Zoo.
Occasionally, ejoy different cultural or artistic events and spectacles that take place on weekends.
Weekend opening hours: Gates open 5 am. Closing times vary depending on the month with 4pm being the earliest from November to January.
20. Wembley Stadium
Wembley Stadium is a football stadium that was preceded by another which was demolished in 2003.
It has 90,000 seats so it can host some of the most important football matches in Europe.
This include the England national football team's home matches, the FA Cup Final, Football league play-offs, finals of the Football League Trophy, and the Football League Cup.
Join a VIP Access Tour and see the corporate boxes, FA Trophy Cabinet, The Player's Tunnel, England Dressing Room and Press Conference Room.
Weekend opening hours: Most football matches are played on the weekend and may disrupt tours. Check the official site for the latest opening hours.
21. Sherlock Holmes House and Museum
The Sherlock Holmes Museum opened in 1990 and is located in London at the already-famous address 221B Baker Street.
Since the house is situated between 237 and 241, the museum had to receive permission from the City of Westminster to utilize this address.
You'll see Sherlock Holmes' iconic pipe, walking cane and many other objects from the popular mysteries.
More importantly, you might get to meet Doctor Watson or the great detective himself.
Weekend opening hours: 9:30 am – 6 pm.
22. Victoria and Albert Museum
The Victoria and Albert Museum is the largest museum of arts and design in London, with a collection at over 4.5 million items.
Founded in 1852, it took its name from Queen Victoria and Prince Albert.
It's sponsored by the Department for Culture, Media and Sport, so since 2001, the entry has been free of charge.
You'll see the most complete costume collection in Britain as there are 14,000 outfits and accessories, some of them 400 years old.
Similarly, the on-site National Art Library has 750,000 books, paintings, photographs, prints and drawings displayed.
In other words, you might need the whole day to explore this amazing museum.
Weekend opening hours: 10 am – 5:45 pm.
23. Natural History Museum London
London's Natural History Museum is one of the three museums situated in South Kensington on Exhibition Road.
The museum has over 80 million items on display, however, its the dinosaur skeletons exhibition that catches everyone's attention.
Manuscripts, journals, artwork collections and books are also available in the Natural History Museum Library, but access is only provided by appointment.
You can join a guided tour of the entire museum to learn more about the exhibits.
Weekend opening hours: 10 am – 5:50 pm.
24. The London Dungeon
One of London's most interesting attractions, the London Dungeon is a sinister location presenting gory historical events with special effects, live actors and even rides.
20 actors put on 18 interactive shows for the visitors and characters portrayed include Jack the Ripper, the Plague Doctor and Sweeney Todd.
Despite the theme, London Dungeon has gradually transformed into a family friendly attraction.
Weekend opening hours: Saturday 10 am – 6 pm; Sunday 10 am – 5 pm.
25. Westminster Abbey
Westminster Abbey is an iconic religious building in London.
It is the primary place for the British royals' burials and coronations.
The church is not actually an abbey, like its name suggests, but holds the status of Royal Peculiar, having been a cathedral from 1540 to 1556.
On arrival, keep an eye out for the impressive roof, which features carved pendants and statues of 95 saints along the walls.
The beautiful stained glass windows also add extra lighting during the day.
Weekend opening hours: Saturday 9 am – 3 pm; Sunday closed.
26. Covent Garden
Located on the West End's eastern fringes, Covent Garden sits between Drury Lane and St. Martin's Lane.
This prominent shopping area was once a fruit and vegetable market.
Visited by millions of people every year, Covent Garden is popular for shopping, entertainment and cultural value.
You'll find glamorous designer brands such as Chanel, Dior, Burberry or Mulberry; to the ones that cover every-day needs, such as boots and casual shirts.
There are also a number of museums, theatres and street performers in the area.
Weekend opening hours: Saturday 10 am – 8 pm; Sunday 11 am – 6 pm.
27. Shakespeare's Globe Theatre
Shakespeare's Globe was opened in 1997 and is a replica of Elizabethan Globe Theatre.
Founded by Sam Wanamaker, who is both a director and an actor, the theater opened with Henry V.
Its site also houses the indoor theater that goes by the name of Sam Wanamaker Playhouse, also an Elizabethan replica.
Join a guided tour of the Globe Theatre and learn about the building and history dating back to 1599.
Weekend opening hours: 9 am – 5:30 pm, but can vary depending on shows schedule.
28. Tate Modern
Tate Modern is a British national gallery of international modern art.
The British works included in their collection date back to 1900.
You can take advantage of their free guided tours which run for about 45 minutes.
Tate Modern has about 5 million visitors per year, which makes it the world's most popular modern art gallery.
Weekend opening hours: 10 am – 6 pm.
29. London Bridge Experience
The London Bridge Experience is one of the most frightening tourist spots in London.
You can find it on Tooley Street, near the iconic London Bridge.
The attraction highlights the darkest moments in the British capital's history, including The Great Fire of London.
It also presents the history of all bridges that existed on the site.
Live actors and impressive props are part of the tour and you can always ask a staff member to guide you towards the exit, if it becomes too much for you to handle.
For those visitors, the Guardian Angel tour is more suitable which includes a friendly guide.
Weekend opening hours: 9:30 am – 6 pm.
30. Imperial War Museum
The Imperial War Museum in London is one of five branches of the British National Museum organization under the same name.
Opened for the first time in 1920 by King George V, the museum was originally housed within the Crystal Palace and later in galleries connected to the former Imperial Institute, before moving to its current location in 1936.
The Imperial War Museum covers World War I, World War II, and all British military operations since 1914.
Don't miss the Holocaust Exhibition and displays of families during war.
Weekend opening hours: 10 am – 6 pm.
31. Churchill War Rooms
The Churchill War Rooms in London is part of the Imperial War Museum.
It is dedicated to Winston Churchill and showcases the Cabinet War Rooms, Telephone Room and Map Room used during World War II.
You'll also see the books, documents and maps left behind when the war ended.
Churchill's room is particularly interesting.
While he has not spent more than a few nights here, this is where four of his speeches were made during the war.
Most notably his speech on Hitler from 11 September, 1940.
Weekend opening hours: 9:30 am – 6 pm.
32. Madame Tussauds
Madame Tussauds is a world-famous museum exhibiting numerous wax figures of celebrities, historical personalities, sports stars, actors and even murderers.
Founded my Marie Tussaud, who was a wax sculptor, the museum has steadily become one of the most popular tourist attractions in London.
Madam Tussauds has expanded to include various locations around the world including major cities such as Hong Kong, Los Angeles and Shanghai, but the original museum is based in London.
If you've always wanted to take photos with your idols, this is the place to do it.
Weekend opening hours: 9 am – 4 pm.
33. Sea Life London Aquarium
Sea Life London Aquarium is London's largest aquarium and one of the biggest collections of its kind in Europe.
It is located near the London Eye, on the South Bank of the River Thames,
You'll see more than 500 aquatic species including sharks, rays, piranhas, jellyfish, clownfish, green sea turtles, crocodiles, Gentoo penguins, corals and seahorses.
The museum was opened in London in 1997 and now has over one million visitors every year.
Weekend opening hours: Saturday 9:30 am – 7 pm; Sunday 10 am – 6 pm.
34. ZSL London Zoo
London Zoo has been opened since 1828 and is the oldest scientific zoo in the world.
It is one of the biggest zoos in the United Kingdom, at around 19,000 animals, encompassing 806 species.
You'll see the first official Aquarium in the world which was opened in 1853.
There's a fun area for kids call Animal Adventure, where they can get close to goats, donkeys, sheep, llamas, ferrets and alpacas.
Of course, it wouldn't be a real zoo without the popular giraffes, zebras and playful monkeys.
Weekend opening hours: 10 am – 6 pm.
35. National Maritime Museum
The National Maritime Museum in Greenwich is the biggest maritime museum in the world.
The institution boasts an impressive collection of almost 2.5 million items, of which most are located in other British museums.
Exhibits include models of ships, cartography, past documents, art and navigational instruments.
The Maritime Greenwich World Heritage Site also has the Royal Observatory, the Queen's House, the Cutty Sark and Greenwich.
Weekend opening hours: 9:30 am – 5 pm.
36. Tower Bridge
The Tower Bridge is a suspension bridge over the River Thames.
Two upper walkways connect the two towers of the bridge, 42 metres above the river, and provides scenic views of London including sights of St Katharine Docks, the Monument and St Paul's Cathedral.
More importantly, special windows have been installed to reduce reflection which allows for the best photo shots of London.
You can also see the Victorian Engine Rooms and the original steam engines used to put the lifts into function.
Weekend opening hours: 9:30 am – 5 pm.
37. British Museum
The British Museum has one of the largest collections in the world, with about 8 million items devoted to culture and history.
The items range from the beginnings of human culture to present times.
They come from all over the world, offering a detailed display of human culture over centuries.
Some notable displays not to be missed include the Rosetta Stone, Younger Memnon statue, Parthenon Marbles, and Egyptian Mummies.
Weekend opening hours: 10 am – 5:30 pm.
38. Warner Bros. Studio London
The film and media complex Warner Bros. Studios is located in Watford, Hertfordshire, about 30 kilometres from Central London.
Covering 80 hectares, it is one of the only places in the United Kingdom with the space to hold major productions.
Movies that were shot here include Star Wars, Golden Eye, Sleepy Hollow, Inception, and the studio's most famous production, the Harry Potter series.
One of the most iconic sites from the Harry Potter series is the Great Hall.
You'll also see a detailed scale model of Hogwarts which was built for exterior shots.
Although the studios are still being used for film productions, Warner Bros. have also added a studio tour (first run in 2012), which is visited by around 5,000 people daily.
Weekend opening hours: 8:30 am – 10 pm.
39. Piccadilly Circus
Piccadilly Circus is an entertainment and shopping area in London's West End.
It is most impressive at night when all the neon signs light up the streets.
A lot of people, especially tourists, visit Piccadilly Circus for the complete shopping experience, as it's a prime place for retail and also dining.
Weekend opening hours: Generally 10 am – 6 pm.
40. Hyde Park
Part of the group of eight Royal Parks, Hyde Park is one of the most popular and largest parks in London.
At 350 acres, it was once the site of the 1851 Great Exhibition, housing the famous Crystal Palace.
Though it merges with Kensington Gardens, the park does not include them, as the two were formally separated in 1728, by Queen Caroline.
However, together they form a massive recreational area of 625 acres, one of the largest in the world.
Make sure you snap some photos at Princess Diana's Memorial Fountain, Statue of Achilles and Serpentine Lake.
Before taking a break at one of the cafes dotted around the park.
Weekend opening hours: 5 am – midnight.
41. Windsor Castle
Home to the royals and situated in Berkshire, Windsor Castle is every bit as glamorous as you imagine it to be.
The castle hosted a series of kings in the past, starting with Henry I.
It is now a popular tourist attraction where visitors can see the unique architecture and Gothic furnishings.
See the Upper Ward of the castle where you can see 19th century decor.
St George Chapel located in the lower ward is another architectural work of art, holding the remains of ten monarchs.
At 11 am on Saturday, don't miss the Changing of the Guards ceremony which runs for 45 minutes.
Weekend opening hours: March – October, 10 am – 5:15 pm; November to February, 10 am – 4:15 pm.
42. Hampstead Heath
Hampstead Heath is a large and old London park located only 4 miles away from Trafalgar Square.
It is one of the largest green spaces in the British capital, covering an area of 320 hectares.
This public park includes one of the highest points of the city, offering a marvelous view over Central London.
The Heath is hilly and it features a training track, swimming ponds, playgrounds, an open air lido, sports pitches, the Golders Hill Park, the Parliament Hill and woodlands.
The Kenwood House is located ajacent to this park.
Weekend opening hours: 24 hours.
If you're still not sure where to go in London this weekend, have a look our day trips, various sightseeing tours, cruises and shows.
There's bound to be something to do in this exciting city.
Check more things to do in London